The Greatest Lake's Greatest Hits
The best way to discover the highlights of Lake Superior Provincial Park's spectacular coast is by sea kayak.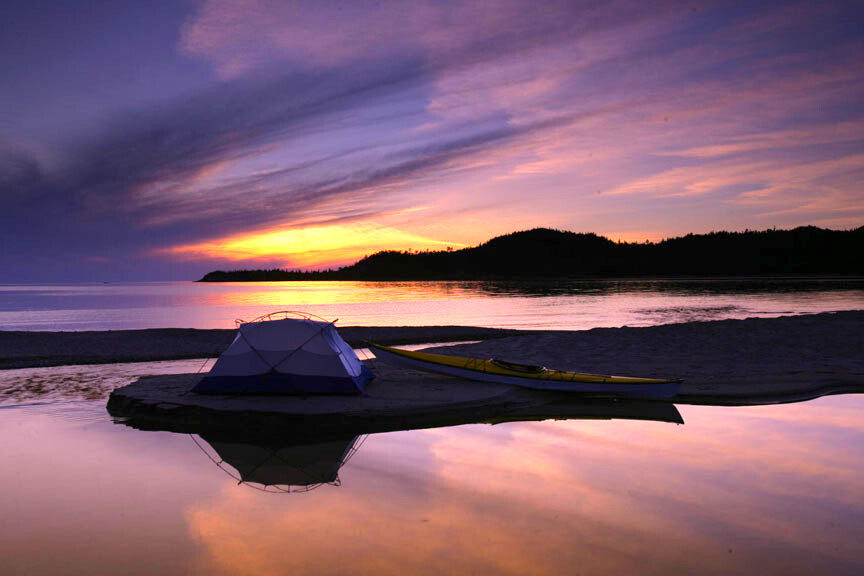 Lake Superior Provincial Park packs a little bit of everything into a 90-km, five- to seven-day wilderness trip for experienced sea kayakers.
Why not let the local experts do all the planning, food preparation, and packing? Naturally Superior Adventures offers a fabulous fully outfitted six-day Spirit of Lake Superior trip for advanced novice to intermediate paddlers. Paddle with a guide who'll share his or her knowledge of this spectacular coastline. 
If you want to do-it-yourself, Naturally Superior Adventures provides kayak rentals, vehicle shuttles, and bookend accommodations. Launch at their paddling centre at Michipicoten River, near the city of Wawa. Leave a second vehicle at the park visitor centre at Agawa Bay, and get ready to enjoy everything in between.
You'll need a park permit, but no campsite reservations for the beaches that are scattered along the shoreline. They are never too far apart to link with a day's paddle, so you are free to go wherever your sense of adventure leads.
Amazing Geology
You don't have to be a rockhound to appreciate the huge range of geological formations along the coastline of Lake Superior Provincial Park. Gaze through crystalline waters at the namesake features of Grindstone Point, where swirling boulders have drilled pit-like depressions into red sandstone; a different type of red stone, known as rhyolite, comprises a Mars-like section of barren, scalloped shoreline south of Gargantua Bay; polished granite slabs rivalling the finest countertops are found just north of Barrett River; and the brooding greenstone headlands cradling Brule Harbour are among the oldest rocks on earth. 
Brown Sugar Beaches
All that rock certainly raises the stakes for ocean coastal paddlers, with the potential for chaotic waves and limited landings. In stark contrast, the countless beaches of Lake Superior Provincial Park offer safe refuges. These range from the massive dunes of Sand River to secluded Beatty and Chalfant coves. My favourite coastal campsite is at Red Rock, a massive three-kilometre-long swath of sand and rounded boulders that's only accessible to paddlers. The sunsets here are worth the effort of paddling the 20 kilometres from the nearest launches at Old Woman or Gargantua bays. 
Cultural Heritage
Spend any amount of time on Lake Superior and you'll appreciate its unique energy. Ancient Ojibwe people made red ochre pictographs at the soaring canvas of Agawa Rock and left offerings at a jagged rock monolith known as Nanaboozho's Armchair, in recognition of the lake's power. Both of the features are best witnessed from the water, just don't forget to bring some tobacco to leave in thanksgiving.
Day Hiking
About half of the sea kayak route parallels the Coastal Hiking Trail, affording paddlers the opportunity to stretch their legs in the evenings or during layover days on one of Canada's greatest backpacking trails. The campsites at Warp Bay, Rhyolite Cove, and Baldhead are three of the best places to lace up your boots and hit the trail, with easy access to great viewpoints and new perspectives of the Lake Superior coast.
Wilderness Waterfalls
Lake Superior Provincial Park's tallest waterfall is only accessible to paddlers. About a two-hour paddle south of Old Woman Bay, pull ashore on a cobblestone beach and make the short hike to 25-metre-tall Till Creek Falls. The frothy pools below the falls are a wonderful place to soak on a hot day.
EXPERIENCE THIS ADVENTURE
All along the remote shoreline from Michipicoten River to Agawa Bay you'll catch glimpses of what makes Lake Superior's Canadian coast the greatest secret in sea kayak touring. Whether you go guided or do-it-yourself, be careful: this place is addictive. You may find yourself having to make frequent trips back.