CANOEING CARMICHAEL COUNTRY
Exploring Killarney Provincial Park's wild west side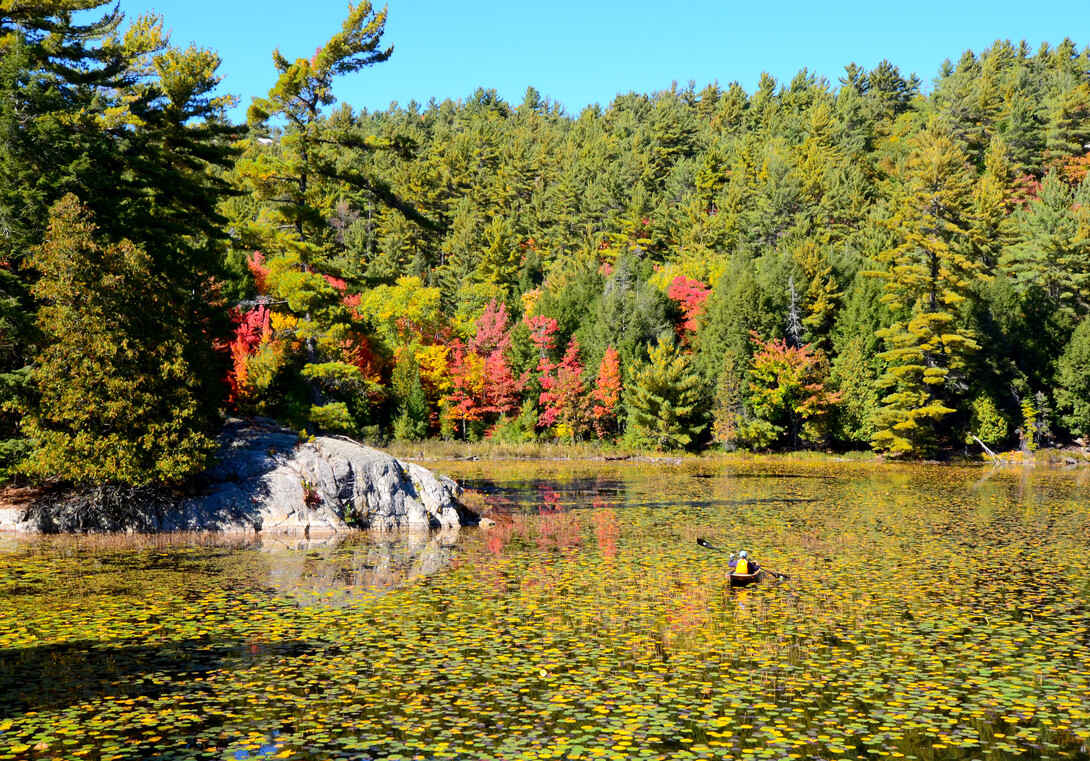 In a famous photograph of Franklin Carmichael, a founding member of Canada's Group of Seven, the landscape artist sits perched on a hillside, dwarfed by the landscape and fully exposed to the elements. Sheltered by the hood of his raincoat, Carmichael is surrounded by bald summits, overlooking the lobed shoreline of Grace Lake. The photo was taken in 1934, deep in the La Cloche Mountains of Killarney Provincial Park in Northeastern Ontario.
Killarney's rugged scenery made it a favourite destination for the Group of Seven. The area is especially prominent in Carmichael's work; smitten by the area, he bought a cottage near the park's western boundary to use as a base camp for sketching trips into the wilderness by paddle and portage. Mirror Lake, an austere watercolour, was likely inspired by one of these missions, as were numerous other quintessential pieces of Canadian art.
A backcountry canoe trip is still the best way to experience Carmichael country. Killarney's west edge, accessed by way of Highway 6, southwest of Sudbury, is far more rugged and isolated than the popular park campground at George Lake, making it best for canoe trippers who want to be challenged. This area receives fewer visitors, but it's still important to reserve your campsites in advance. A three-day loop takes intermediate paddlers through Charlton, Murray, Nellie, Carmichael, Grace and Frood lakes.
Launch from Widgawa Lodge (which provides secure parking and rents lightweight canoes) and paddle east on Charlton, navigating the twists and turns of Howry Creek to Murray Lake—a good spot to camp your first night. Howry's marshy shores are non-descript but critical habitat for moose; you'll encounter stunning scenery soon enough. The next morning, tackle the Notch portage, a steep climb with numerous side trails to Group of Seven-worthy lookouts. The reward at the end of the 1,470-metre carry is Carmichael and Nellie Lakes, aquamarine gems surrounded by white quartzite hills. Nellie is noted to have the clearest water in Killarney.
One more portage takes you to Grace Lake, a great location to spend night two. Grace has the feeling of an alpine lake; here, you'll quickly appreciate why the impeccable La Cloche Mountains inspired great Canadian art.
Your final morning includes a final portage to Frood Lake's Cranberry Bay, which teems with frogs and is carpeted by water lilies. From here it's a moderate paddle back to Widgawa Lodge, retracing Carmichael's path back to civilization.