Explore the La Cloche Area Through the Eyes of the Group of Seven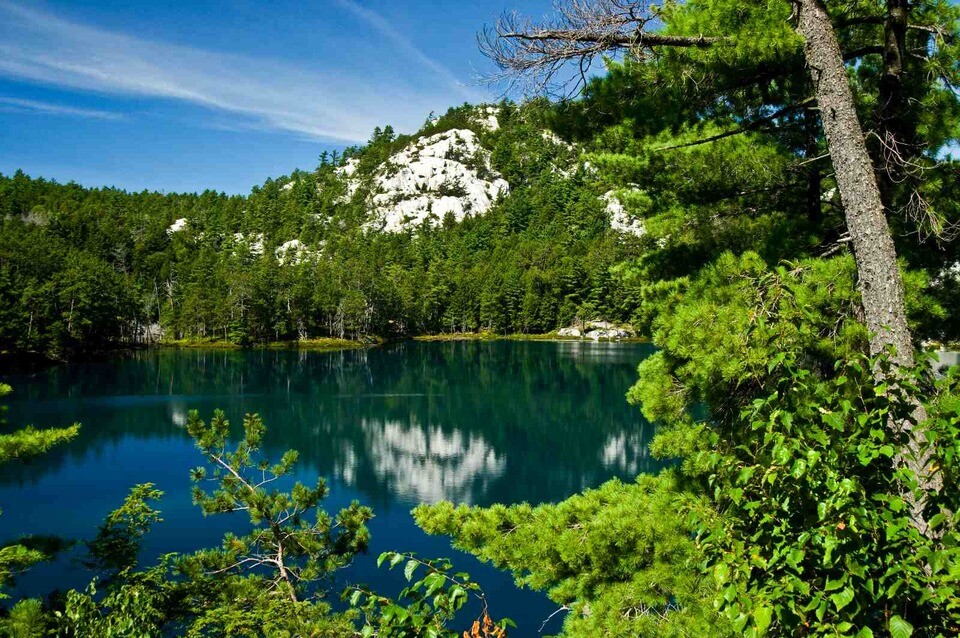 With legendary sites and views, it is no wonder adventurers and artists come to explore Northeastern Ontario. Nearly a century ago, members of the Group of Seven were particularly encaptured by the natural beauty of the region.
Whether it's your paintbrush, a camera, or your own two eyes, we invite you to delve into the areas where Group of Seven members Franklin Carmichael, A.Y. Jackson, Lawren Harris, A.J. Casson, Arthur Lismer and J.E.H. MacDonald had gone to sketch and paint.
Many of these locations have been found due to the journeys Jim and Sue Waddington have taken over the last 40 years. Through their dedicated search, approximately 400 sites across Canada have been located, and about 150 of those are within the La Cloche Mountain range of Northeastern Ontario.
La Cloche - Killarney
The white quartzite range was named La Cloche, meaning "bell" in French, because the rocks made a ringing sound when struck, which could be heard from a considerable distance. First Nations are said to have used the hills as warning bells for signaling. The range roughly extends from La Cloche Provincial Park, south of Massey, to Killarney Provincial Park, southwest of Sudbury, and is estimated to be one of the oldest on earth at 3.5 billion years of age. While it remains among Ontario's highest altitudes, it's believed to have once stood higher than the Rocky Mountains.
Casson, Lismer, Carmichael and Jackson were the members of the Group most known to camp, canoe, hike, and capture La Cloche, which includes the communities of West River, Willisville, Whitefish Falls, McGregor Bay and Birch Island. On the outskirts of the range, communities included Espanola and those around Georgian Bay, such as French River and Manitoulin Island. 
Atop Fire Mountain of Willisville is an abandoned fire tower, whose construction created a route of access into the La Cloche, and whose vantage point has been an inspiration to many an artist over the years, including local photographers Jon and Kerry Butler. In fact, as the founders of the La Cloche Mountains Preservation Society, the couple saved the mountain from mining by organizing community activism.
Years before, Jackson had a hand in the creation of Killarney Provincial Park after learning of potential logging in the area around Trout Lake. With the help of Casson and Carmichael, it was made into a nature preserve, and since then, the three have had lakes named after them.
As part of the Artist in Residence program, Friends of Killarney Park's volunteer qualified instructors encourage visitors to engage in the arts and appreciate nature through it by sharing the history and importance of the Group within the region. One such advocate is en plein air landscape artist Pierre Sabourin, Killarney's permanent Artist in Residence, using Sunset Rock Studio as both home and studio to paint in the style of the Group of Seven.
For a while, Carmichael lived and painted from the still standing family cabin on Cranberry Bay, but he and Jackson often painted in the areas around Grace Lake. Nellie Lake is where the Waddingtons' quest began in 1977 after discovering the site from which Jackson painted Hill (Nellie Lake) circa 1933. There is still the mystery of where the Group painted, but this discovery sparked their interest to reveal them, armed with a camera, canoe and a clip of miniature paintings for reference.
"And when you go there, you sit around and you feel you're there with them — they're still there. They've left their mark in the way they painted that scene, and one gets to feel good about that." This feeling Jim describes on finding a location has enabled him to understand the character of the man in whose footsteps he's following. For example, Jim says Casson stuck close to civilization and would rarely venture far from the canoe, while Jackson was an adventurer, often camping alone for long periods of time, making his sites a lot harder to find.
Onaping 
Thirty minutes outside Sudbury is a site popular to photographers and hikers, especially in the fall. So naturally, Onaping High Falls is also the site of Jackson's famous painting, Spring on the Onaping River, and a lookout point has been built and named after the painter.
The Art Gallery of Sudbury has programs geared toward the Group of Seven with trips, exhibitions and en plein air workshops to the La Cloche area, as well as Onaping Falls, which explains the significance of Jackson's work in the area.
Cobalt and the struggles of a changing landscape
Finding these locations is a fun puzzle for Jim, but a changing landscape can prove difficult, and at times, impossible for the Waddingtons. That's not necessarily a bad thing for the environment in the case of mining towns:
Carmichael and Jackson did a number of sketches and paintings in Cobalt, but after two fires in the area, the landscape, particularly where Carmichael painted A Northern Silver Mine, is now unrecognizable. Sudbury was once famously known for its resemblance to the moon, created from logging and pollution of the mines. But, in the past 45 years, it has undergone a transformation and the landscape has grown in with foliage.
To start planning your next trip to Northeastern Ontario, check out our website. And for more information on the Group of Seven, read my nutshell history lesson here.