Explore Like Never Before
Paddling Wabakimi Provincial Park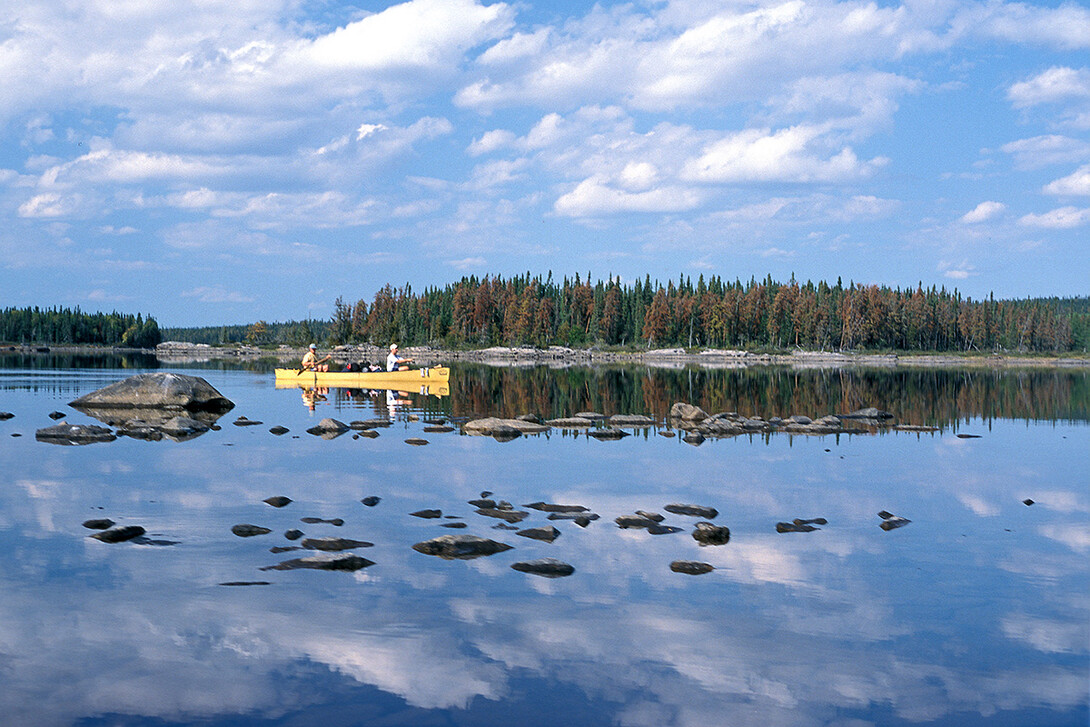 With canoes lashed below the fuselage, I gaze through opaque window of the DeHaviland Beaver down at the immense wilderness of Wabakimi Provincial Park. Its 900,000 hectares are sanctuary to woodland caribou, Indigenous settlements, pictographs and land forms reflecting a rich glacial history. But what is strongly reinforced from the air is the potential for paddlers; interconnected water systems stretch in every direction, part of thousands of kilometers of canoe routes. And if those paddlers are inflicted with the need to angle, like the four of us ogling from the window of the Beaver, paradise would be hard-pressed to top Wabakimi.
After touching down on Little Wabakimi Lake, partners Mike Cotterill, Neil Simpson, Claude Camirand and I step from the floats into loaded canoes. The drone of the aircraft is gradually displaced by the sound of rushing water as we head to the outlet of a small river system for the first of five days in Wabakimi.
Choosing a five-day trip through an area offering more than 2,000 km of canoe routes is mind-boggling, so we contacted WildWaters Nature Tours and Expeditions and presented them with a tall order: lake and river travel with some rapids, a few caribou, fewer people, and lots of fish. While there are several access points along the CN line and even a few roads penetrating the south end of the park, float plane is the only way to reach the core of Wabakimi quickly. WildWaters arranged a flight and we met at their Armstrong base, where staff pencilled in rapids, falls, portages, and a few fishing holes on our maps. 
So far, their advice has been right on. Casts in lakes over shoals, through narrows and off rocky points means stretching our hands around the backs of thick green walleye. In rivers, almost every pool adjacent to fast-water coughs up fish. Where shorelines converge to squeeze a river through narrows, hoards of walleye work the current to snap at jigs before they sink to the bottom. As we make our way from Smoothrock Lake to the Ogoki River and our final destination and pick-up point at Whitewater Lake, we hear the nasal laments of woodland caribou hiding on a cluster of islands. One of the shy animals, a male with a huge rack, emerges from the forest on the opposite bank to watch as we scout a rapid of the Ogoki River.
Beside parks like Algonquin or Quetico, Wabakimi is remote and virtually unknown. But with world-class canoe routes ranging from white water to tranquil lakes and rivers, Wabakimi will take its place as a top paddling destination.
Outfitters