Snowshoeing in Algoma Country
Get out and enjoy the abundance of snow this winter!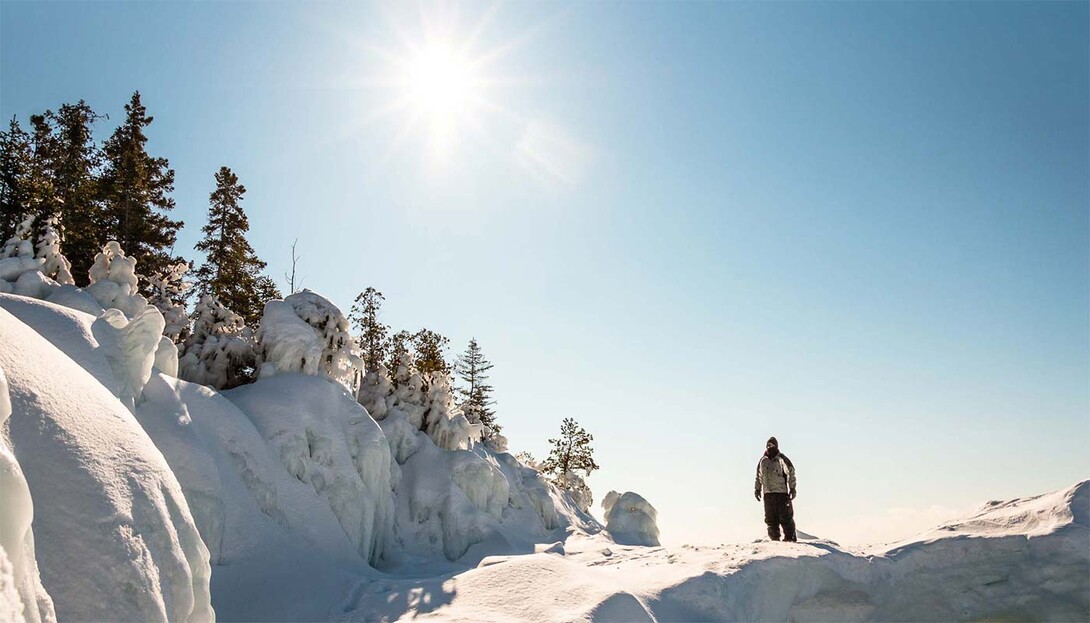 Snowshoeing is a sport that is over 4,000 years old. It was first used as a mode of transportation in the winter for hunting and gathering. Snowshoeing is once again becoming very popular in Algoma Country. Do you know you can burn more calories snowshoeing than running or walking at the same pace? For more fitness benefits, click here. It's relatively inexpensive, does not take a lot of skill, and is a family affair for all ages. The First Timer's Guide to Snowshoeing is a great site to help you get started.
Winters can be long and the days short in Algoma, so why not get out and enjoy the abundance of snow in our area? It's a great way to exercise and to go at your own pace. You can be very adventurous and break trail out in the wild, or you can venture to many wonderful venues that have the trails already groomed for you.
Always bring water and food with you on longer snowshoeing trails, and have your cell phone handy if there is service in the area in case you need help. Dress in layered clothing, as you might be cold when you start but you will quickly warm up! As a safety practice, always go with a buddy or a group of people, and tell someone where you are going and when you expect to be home. For more safety basics, click here. A good set of warm and comfortable boots and warm socks are a must. A set of snowshoes can run you anywhere from $70.00 to $250.00. You might want to invest in some snowshoeing poles to help keep you balanced.
There are many trails within and around Sault Ste. Marie:
Kinsmen Park/Hiawatha Highlands not only has excellent cross-country ski trails but also has wonderful snowshoeing trails. It is situated just minutes from the Sault. You can buy a seasonal pass to snowshoe or pay by the day. Snowshoe passes and rates can be found here. The snowshoe trails are well marked. There are 2-km, 3-km and 4-km trails. You can rent snowshoes at this location.
Crimson Ridge has Membership and Day Passes for their groomed snowshoeing trails. They are available Monday to Friday from 8 am to 4:30 pm in the Sales Office. You have to have your own snowshoes for this location. Crimson Ridge is located at 418 Fourth Line West, Sault Ste. Marie, Ontario, Canada (705) 450-2696. See map. There are no rentals at this location.
Other areas within Sault Ste. Marie that you could snowshoe that do not offer groomed trails, fees or rentals are Whitefish Island alongside the Sault Ste. Marie Canal, Bellevue Park, John Rowswell Hub Trail, and the Fort Creek Conservation Area.
Snowshoeing trails outside of Sault Ste. Marie NORTH
North of Sault Ste. Marie is Searchmont Ski Resort. If skiing isn't for you, Searchmont has snowshoeing trails and rentals. See the map for trails. For a list of opening days and hours, click here. Searchmont is located at 103 Searchmont Resort Road, Searchmont, Ontario. Call 1-800-663-2546.
Just outside of Sault Ste. Marie is a beautiful Stokely Creek Lodge, in the Algoma Highlands, which offers snowshoeing trails. You can even follow a trail up to the top of King Mountain. If you are quiet enough, you might even come across many of the wildlife found at Stokely Creek such as white-tailed deer, otters, moose, falcons and woodpeckers. The snowshoeing map can be downloaded and printed off. Make sure you stop behind the lodge and see the beautiful frozen waterfalls as you make your way onto the trails. For rates click here. Stokely Creek is located at 194 Pickard Road, Goulais River, Ontario 1-866-786-5359 or 1-866 STOKELY. Rentals are available at this location.
If you want more of a back-country snowshoe experience head north of Sault Ste. Marie to Lake Superior Provincial Park. It's a scenic drive along the shores of Lake Superior. It's very busy in the summertime but also offers much to do in the winter. Although the park is closed in the winter, visitors are welcome to ski, snowshoe and ice fish in the park. Trails range from one hour to seven days. Park regulations banning live baitfish, cans and bottles are still in effect. Maps for the park and the various trails can be found here. For more information click here. There are no rentals at this location.
Snowshoeing trails outside of Sault Ste. Marie East
On the mountain at Mountainview Centennial Park are beautifully groomed cross-country ski trails that you snowshoe alongside. To get to St. Joseph Island see the map here. It's on the corner of P Line and Hwy 548. There is a donation box here for you to donate some money to help keep the trails groomed. It's important that you don't snowshoe on the cross-country trails but alongside them. Trails here range from 0.6 km to 2 km, and many trails can be combined to make a longer journey if you so wish. There are no rentals at this location.
So, if you want to get out into nature, spend time with friends and family and get some great cardiovascular exercise, try snowshoeing as you can start slowly and work your way up to longer and harder trails. Enjoy the great white north and the best that Algoma has to offer!