The Wawa Goose
Welcoming visitors for over 50 years!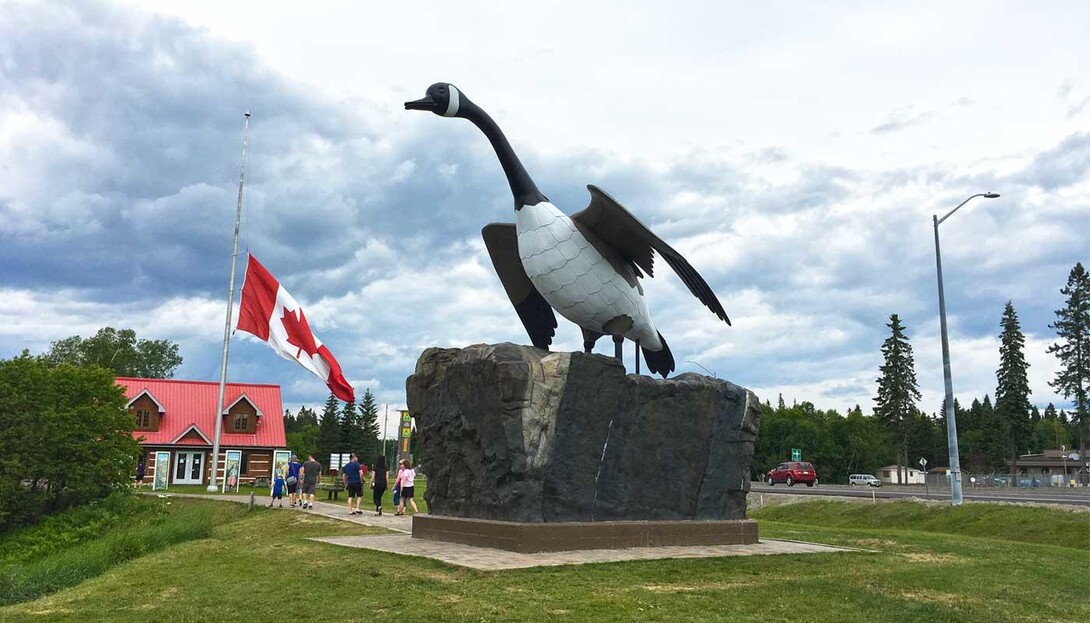 Since 1963, the Wawa Goose has welcomed visitors from around the world to the northern town of Wawa. Below are some fun facts about the famous goose that you may not have known.
1. Did you know the Wawa Goose Monument is one of the most photographed landmarks in North America?
2. It's the largest of its kind in Canada.
3. It's located at the junction of the last link of the Trans-Canada Highway.
4. The goose was developed to attract tourists to come to Wawa after the highway bypassed the downtown core.
5. The first goose was made of plaster and didn't stand up to the weather.
6. The goose is now made of steel.
7. The goose comes from the meaning of the word "Wawa" which means "Wild Goose or Land of the Big Goose" in Ojibwe.
8. The new goose monument was unveiled in 2017 thanks to the fundraising efforts of the town and its residents.
9. Stompin' Tom Connors sang the song "Little Wawa" about a goose that stayed behind when her lover Gander Goo got shot down with an arrow! Bet you didn't know that one!
10. The goose is 28 feet tall, 22 feet long, and has a wingspan of 20 feet.
11. The Wawa Goose has its own children's book: Wawa Goose Meeting at Fort Friendship written by Raymond MacDonnell. The Wawa Goose books have been read all over Canada, the United States, and many countries around the world.
12. The Canada Goose is not an official symbol of Canada. Only the beaver and the maple tree have this cultural status.
If you have any fun facts about the Wawa Goose that is not on this list, please send them to me at info@algomacountry.com and I'll add them to the list.
History of the Wawa Goose
The goose monument was the idea of local entrepreneur Al Turcott. Although not originally from Wawa, Al first came to the town in 1939 for work and became so fascinated by the area that he sent for his wife and children to join him. By the 1940s, Al began operating Turcott's Dry Goods and Clothing store and became very involved in the community. So much so, that Al played an essential role in securing the Lake Superior route of the then-proposed route of the Trans Canada Highway through Wawa. Concerned because the final plans had the highway bypassing Wawa, Al and other local businessmen created the idea of the Goose Monument to stop tourists on their TransCanada trips.
You can learn about Wawa here: www.Wawa.cc
Events in Wawa