Birch Bark Lodge
Although Birch Bark Lodge may be remote, it isn't lacking in amenities and incredible personalized service.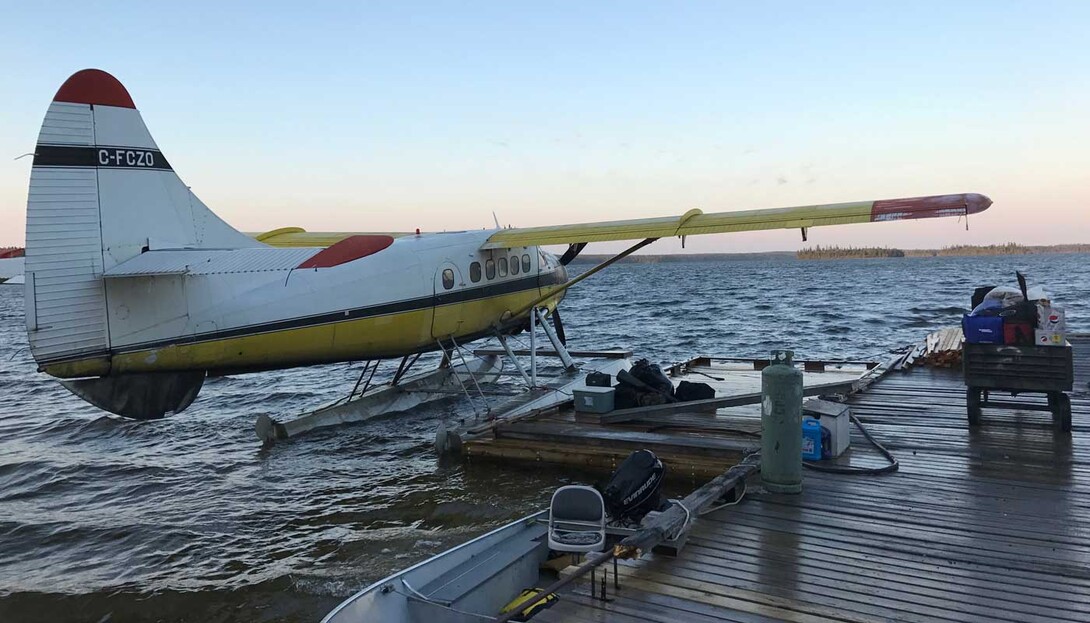 Are you looking for a remote destination? Northwestern Ontario's Birch Bark Lodge is the place, a slice of heaven located on Wigwascence Lake, 70 miles north of Pickle Lake, Ontario—and far beyond where the paved road ends. In fact, the nearest town is a native village some 50 air miles away.
Part of the 250-mile Pinemuta River system, Wigwascence Lake is 7.5 miles long with numerous islands and bays offering endless fantastic walleye and trophy pike fishing, as well as amazing moose hunting. 
Although Birch Bark Lodge may be remote, it isn't lacking in amenities and incredible personalized service. Birch Bark Lodge operators Mike and Kim Pierson treat visitors like long-lost family, catering to those looking for a truly memorable fishing and hunting retreat.
The two-cabin operation is intimate, keeping the focus on the remote wilderness experience—the surroundings are pristine, exactly the way they were thousands of years ago. The main lodge is a perfect place to relax after a day of great fishing or hunting. Sit on the deck overlooking the peaceful lake, then enjoy home-cooked meals that will help you forget the stresses of life. 
Mike and Kim can accommodate small to large groups. Book a trip for 12 and you'll be the only guests at the lodge! And whether you want to do your own cooking—or leave that to Birch Bark—it's entirely up to you, with both American and Housekeeping plans available.
Birch Bark Lodge History
From the 1930s to the 1950s, Birch Bark Lodge was the site of a small native village. The Ojibway people chose the site on Wigwascence Lake because of the abundant fish and moose. But as tourism grew in the province, the villagers populated other areas, and the site became a native-owned and operated tourist fishing camp.
Decades later, Mike and Kim bought the lodge from a company called Canoe Frontiers, who owned it for a short time but rarely used the place. Canoe Frontiers' main business was strapping canoes to floatplanes, offering guests 14- to 21-day canoe trips ending at Hudson Bay.
At the time of Mike and Kim's purchase, the lodge didn't have a name so Kim did some research, learning that "Wigwascense" translates to 'birch bark' or 'birch tree' from Ojibway. The name stuck, and Mike and Kim set about updating Birch Bark Lodge, its cabins, and infrastructure. They are now going into their fourth year of operation.
Moose Hunting
Lacking any competition from other hunters or lodges, the Birch Bark Lodge moose hunting experience is a total escape to the secluded wilderness. Just bring your gear, and weapon of choice, and spend a week chasing the trophy of a lifetime! What you'll experience is a hunt unlike most. Due to extremely thick-wooded terrain that's practically un-huntable by foot, most guests hunt exclusively by boat, as I did on my trip. This kind of hunt is really exciting, as you navigate and glass miles and miles of Lake Wigwascense's shoreline, islands, and river and creek edges, trying to catch moose coming to the water. Part of the program is stopping in prime moose-looking areas to give rutting moose a cow or bull call. The goal, of course, is to get them to call back and convince them to come running. The hopes of an emerging giant from every dark clump of brush and river corner keeps your adrenaline on high alert and your heart pumping all day!
World-Class Fishing
A great bonus to moose hunting on such prime fishing water is throwing a couple of rods in the boat. Where else can you look for moose and reel in walleye after walleye? We took a couple of hours on one of our hunting days to pull crankbaits and catch enough walleyes for dinner—an extremely fun bonus on this trip!
I had the opportunity to get owner Kim Pierson out of the lodge to have a little fishing competition. I learned quickly that Kim was more than a little competitive when it comes to fishing (Mike did warn me...LOL). Let's just say I met my match. Luckily, the walleye fishing was fast-paced and we literally caught our dinner in 10 minutes. We had a blast sharing lots of laughs, catching walleyes with different techniques—even catching them on big pike crankbaits! Wigwascense walleye are HUNGRY!!
If you would rather target big pike, anglers have the chance to boat multiple 40-plus-inch pike during their stay. Pitching or trolling big crankbaits, spinners or spoons are all great ways to entice these toothy giants. But be prepared when you're walleye fishing too because these hungry 'gators are mixed in! I found this to be true on multiple occasions. 
This wasn't my first trip to Birch Bark Lodge and definitely won't be my last. I became good friends with Mike and Kim Pierson during my first visit, which is why most of their guests become repeat customers, returning year after year.
For more information on Birch Bark Lodge, please visit: www.birchbarklodge.com