Crane's Lochaven Wilderness Lodge
Fishing for Muskie on the French River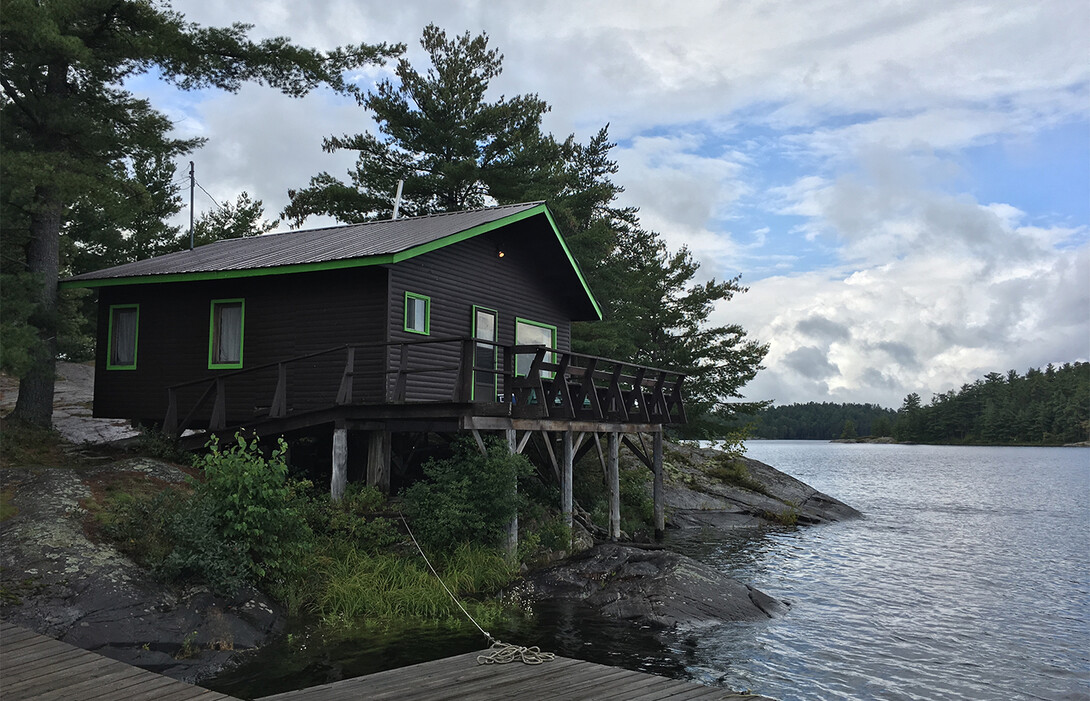 The winding rivers and scenery around Crane's Lochaven Wilderness Lodge reminded me of the award-winning film, The Revenant. The French River has such a deep history. The Ojibwe named it so, because of the many explorers from France, as it was a major trade route for both furs and logging. The French River flows from Lake Nipissing to the Georgian Bay of Lake Huron. Crane's is located just about in the middle of this amazing river system, just four and a half hours north of Toronto. The lodge is on a 4-square-mile island with six different whitewater rapids close by.
Ed and Sue Crane currently run the establishment, owned and operated by the Crane family since 1973. Sue first met Ed on a fishing vacation to the lodge; she hired Ed as a fishing guide, which eventually led to marriage. Now very much a member of the Crane Family, Sue runs the books and manages the kitchen; Ed is responsible for the buildings and machinery.
All 15 fully serviced private log cabins have spectacular views of the French River and private sundecks. There will even be a welcome bottle of their own private label wine awaiting your arrival! All cabins have automatic heat and bathrooms with hot and cold running water. Cottages range in size from one bedroom with a sitting area to six bedrooms with two living rooms. Our cabin was right on the river, which made for screen saver-worthy mornings with the fog. I even caught smallmouth fishing off our cabin's dock!
They are some outstanding fishing opportunities here. Walleye, smallmouth, and muskie are the most sought-after by guests. The day before we arrived, Dan Lukasiewicz landed a 54 1/4-inch lodge record muskie! You should see the video of this beast when the episode airs on The Sportsman Channel. He and his father make the trip there from New York every summer! Though I didn't get a giant like that, we caught lots of walleyes, smallmouth, pike, and even a nice Ontario largemouth bass! For the record, I did catch a (small and beautifully patterned) muskie. Before dinner, everyone gathers at the Boathouse to swap stories and hear how their day went. Besides fishing, you can also enjoy hiking, kayaking, and canoeing around the area.
The Full American Plan Package includes all meals, a boat, a motor, unlimited gas, ice, live bait, dock service, and fish cleaning. Breakfast and dinner are served in the dining lounge, with a choice of lunch in the dining room or box lunch, or shore lunch with your guide. Guests also enjoy a weekly fish fry and BBQ on the front deck. This is a great time, with live music, new friends, and delicious fresh fish, fries, beans, and barbequed ribs!
There is a big "rec cabin" to unwind in. It features a 6x12' snooker table for evening fun. The ceiling and walls around the billiards room and great room (with a stone fireplace) are adorned with hundreds of hats left by guests as a token of appreciation. I did end up leaving my Go Fish Ontario visor on the famous beaver (long story with this, maybe another time). I'll be back again and bring another hat to hang. What a fun time we had there! Last but not least, I have to include a photo of the friendly lodge dogs hard at work, guarding the property...
For more information visit: www.craneslochavenlodge.com