Go Junk Fishing
When You Can't Crack the Pattern Code, Junk Fish Instead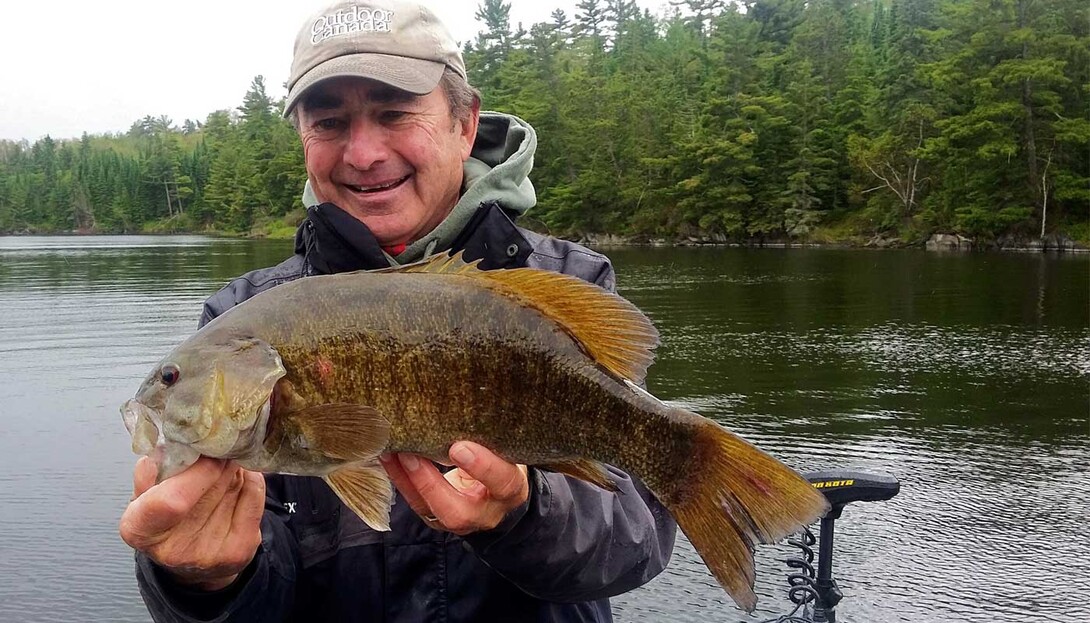 The key to fishing success most days in Northern Ontario is developing a game plan based on the specific structures, cover, and depth of water the walleyes, bass, trout, salmon, muskies, northern pike, and panfish are using, and then refining your presentation to match the mood of the fish.
When you hone the pattern to perfection, just like Babe Ruth standing at home plate and pointing to the bleachers in the outfield, you can pinpoint all the spots on the lake where you're likely to hit a home run.
But let's face it, no matter how hard you try some days, it seems that no pattern exists.
When this is the case, don't despair, go "junk fishing" instead.
Now, if I had to tell a tale out of school, I'd whisper to you that junk fishing is my all-time favourite way to catch fish, especially big Northern Ontario smallmouth bass. I simply love it when the fish are doing many different things and it is impossible to predict where and how you're going to catch the next one.
So, you arm yourself for every possibility.
And while you can encounter ideal junk fishing conditions almost any time of the year, the conditions are set up more frequently and more perfectly right now, in the middle of summer.
I think part of the attraction is the fact that you can rig up multiple rods with diverse baits and catch fish. You'll also run into short periods of the day when the fish are all seemingly doing the same thing, and then they change their minds en masse and do something completely different.
Usually, however, junk fishing is epitomized by picking up two or three bass at one spot on a certain presentation and then a few more at another location on a lure choice that is poles apart. And so it goes over the course of the day.
It is junk fishing at its finest.
It is also the reason I typically have six, seven, or eight rods—often more—rigged, ready, and laying on the deck. And if you asked me which one I was likely to use next, I wouldn't be able to tell you because it depends on what I find lying around the next corner.
For example, if we came around the pine-studded point of an island and spotted three or four boulders poking their heads above the shallow calm water, with a tiny patch of pencil reeds growing along the shore, I'd likely have you place your hand over my heart to calm it down, as I picked up a spinning rod rigged with a popper style surface lure like a Rapala Skitter Pop.
After we caught and released a couple of fat acrobatic bronzebacks with the topwater baits, we might continue working our way down the shoreline until we spotted two or three isolated rocks submerged in five or six feet of water. Noticing where the stones cast a dark shadow, we'd drop our surface bait rods, pick up the ones rigged with small finesse jigs, like black marabou bugs, pitch them into the tiny twilight zones, and let them flutter to the bottom. That is if they could make their way there before a big bronzeback shot out and grabbed them.
Eventually, we might electric all the way back into the bay and discover a sandy beach—the perfect place to pull in and enjoy shore lunch or go for a refreshing swim—with a patch of lush, red tobacco cabbage growing in one corner.
Better not put down the 'bou bugs just yet, because every time we pitch them a foot away from the boat and let them flutter down between the weed stalks, another big bass bolts out, grabs it, and races for the sky.
Junk fishing is so much fun.
But when one of the bass streaks out toward deep water, we spot a gull perched on a submerged rock pile lying inches under the water, out towards the main body of the lake. We can't let that gold mine go unexplored, so we drop our finesse rods, kick the electric into high gear, motor out to the wind-exposed rock pile and pick up the 7-foot medium-action spinning rods we've rigged with small to medium size jerk baits.
Because it is mid-summer and the bass are at their fittest, we don't waste time making namby-pampy retrieves. Instead, we cast the minnow imitations as close to the rocks as possible and begin ripping the lures back to the boat aggressively.
We pay particular importance, however, to hit the lure each time on a slackline, so it bounces forward from side to side, fast and erratically like a struggling minnow. And while we might have let the lure suspend and pause for several seconds a month ago, when the water was colder, we stop it in its tracks now for only a brief millisecond before ripping it forward again smartly.
And that is when a giant brown smallmouth almost yanks the rod out of your hand and menacingly steals a line from your reel. As you struggle to recover, I grab the net and suddenly hear you yell… "look at the size of the followers!"
That is when I spot the five or six smallmouths swooping beneath your hooked bass, eating the half-digested crayfish and yellow perch that it is spitting out. So, I drop the net, grab the rod that I have pre-rigged with a heavy tube jig, drop it over the side of the boat, watch my slackline suddenly straighten out, set the hooks, and double up.
Welcome to junk fishing at its Northern Ontario finest.