Northern Ontario is Great for Fall Bass
Extreme Angler highlights the best regions in the north for fall smallmouth and largemouth bass fishing.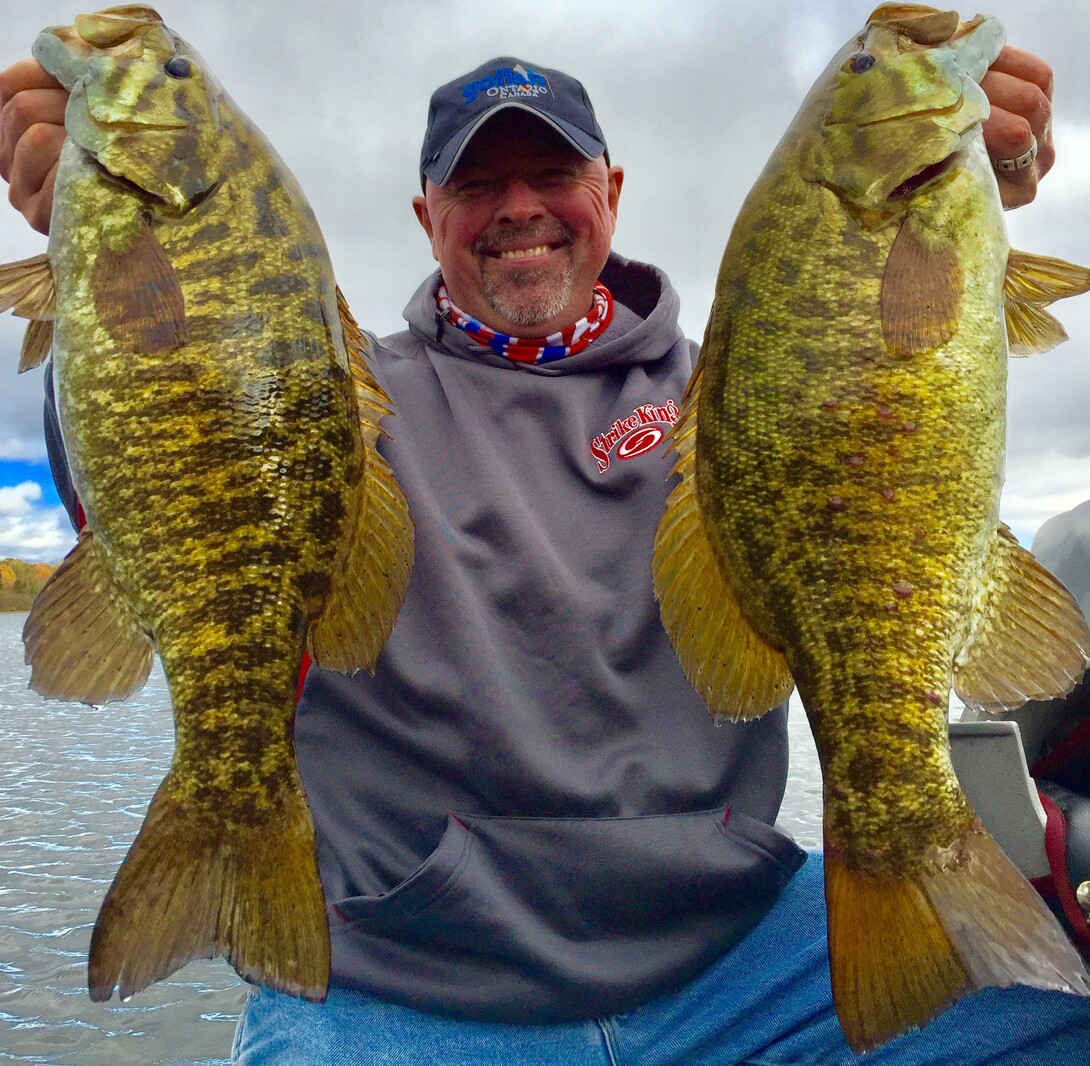 With thousands upon thousands of lakes across Ontario that harbour countless numbers of bass, it would simply be unfair to pinpoint individual lakes that are popular with bass anglers across the globe. Instead, let's take a look at some of the regions across Northern Ontario with a vast assortment of lakes, that all differ in one way or another but share a common theme: the excellent fishing for bass during the autumn timeframe. This season is easily my favourite time of year to fish for bass.
They are stacking up in larger schools like pack-hunting wolves in preparation for the coming hard water season of ice and snow and can be caught on a wide selection of artificial lures and presentations.
There are large lakes and smaller lakes.
Rocky lakes and weedy lakes.
Deep lakes and shallow lakes.
Lakes with river systems and lakes that scream "fish factory" with all the natural elements that smallmouth bass flourish within.
Chasing largemouth bass all summer long is fun, especially the hunting factor while pitching, flipping, and casting to the heaviest cover available on some of these exact same lakes or regions. But come fall, it's the bronze bomber that gets 90 percent of my angling attention, for the exact reasons I mentioned earlier.
I mentioned smallmouth, right? And for good reason.
Fishing for fall smallmouth bass can result in some of the biggest catches and best fishing for numbers of bass of the entire year. I can easily recall fall trips where the smallmouth bass are feeding non-stop from sunrise to sunset. During the peak times of the day (mid-afternoon), the fishing can be insane, with multiple fish caught on repeated casts to the exact same locations!
Here are three Northern Ontario regions that are favourites of mine and could become favourites of yours, once you experience the same kind of awesome bass fishing I have experienced.
Northeastern Ontario - Temagami Region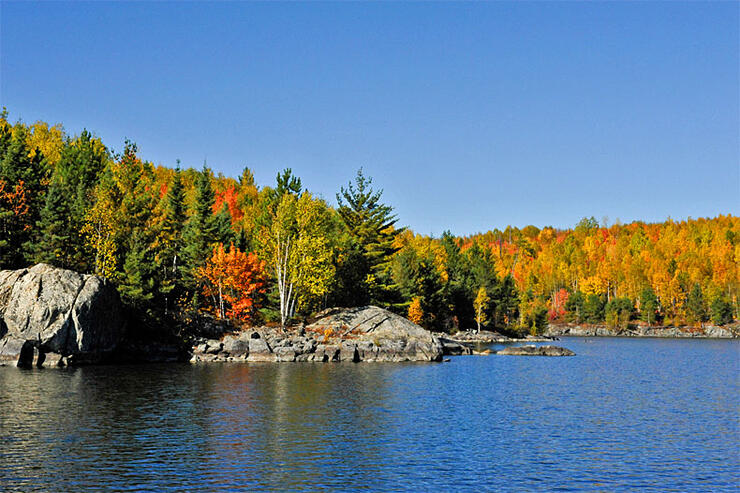 Temagami, formerly spelled as Timagami, is a municipality in Northeastern Ontario, Canada, in Nipissing District with Lake Temagami at its heart. The Temagami region is known as n'Daki Menan, the homeland of the area's Indigenous community, most of whom are Anishnaabe (Ojibwe). Some of the main tourist attractions within the community include old-growth red and white pine, Lake Temagami, Caribou Mountain, fishing, showings of Grey Owl from the 1930s, and over 4,000 km of canoe routes.
It is also known as the staging point for cottage vacationing and wilderness canoeing trips on Lake Temagami, in Lady Evelyn-Smoothwater Provincial Park, and vast tracts of wilderness in the area. There are lots of fishing outfitters here that cater to outdoor activities.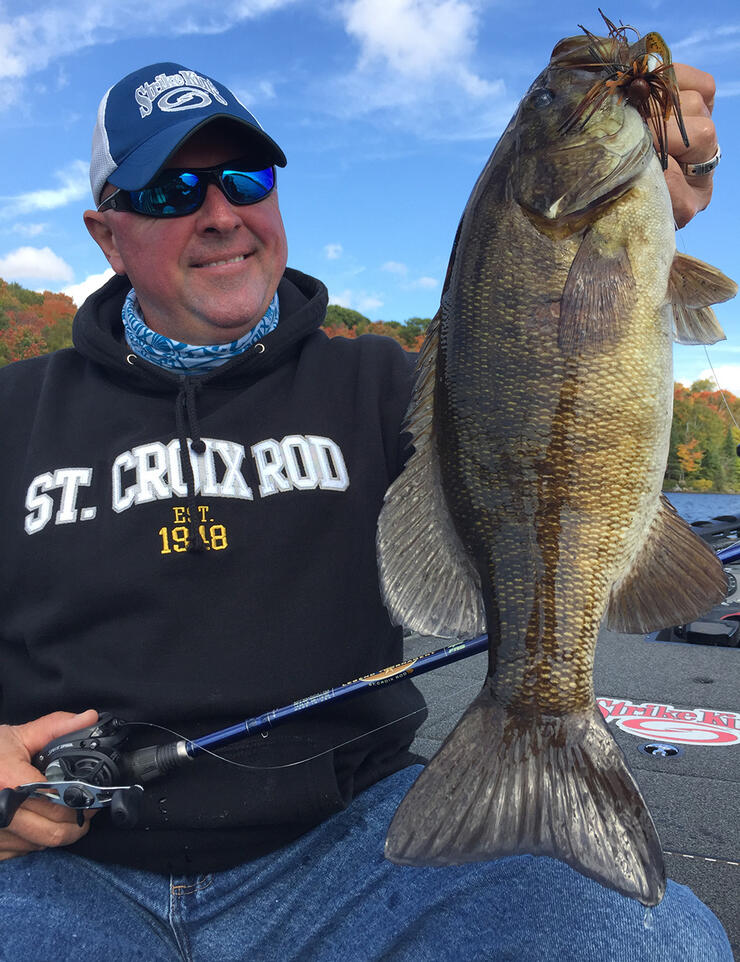 The community is home to the Finlayson Point Provincial Park, which itself offers access to Lake Temagami. The Municipality of Temagami also includes the communities of Lake Temagami, Marten River, and Temagami North.
What draws me to this region is the vast opportunities offered by both operators on Lake Temagami and the surrounding region. The lakes and rivers in this area abound with smallmouth bass of all shapes and sizes.
Variety is the spice of life, and the same can be said for bass fishing.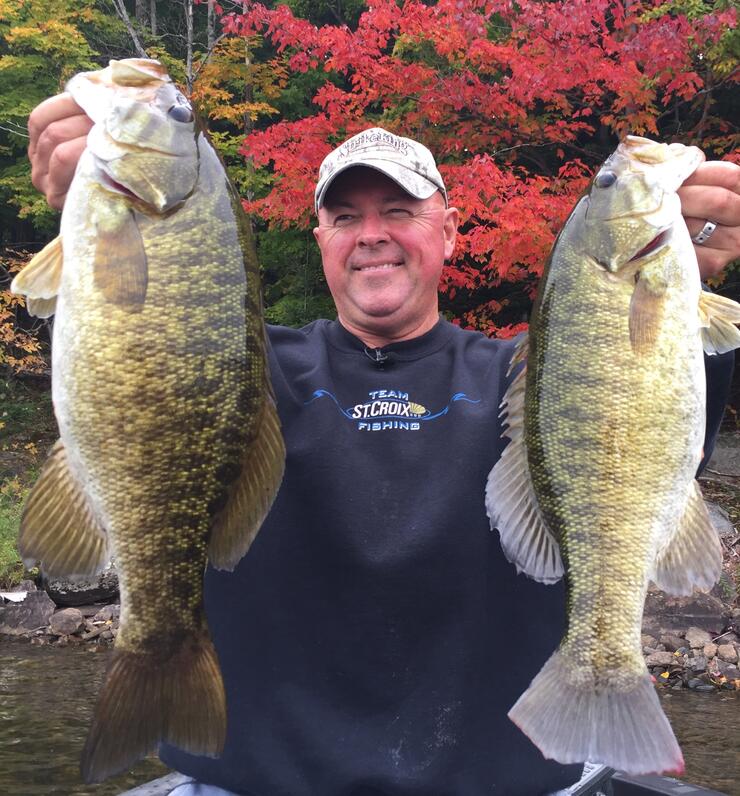 This region is excellent if Mother Nature decides to toss you curveballs in terms of inclement weather on your trip, forcing you to stay off the larger lakes. The Temagami region has lots of smaller lakes and operators who welcome bass anglers to experience superb fall fishing, with no worries about high winds, waves, or unsafe boating conditions, yet still offer great bass fishing.
The standard smallmouth bass favourites all produce good numbers and size of bass during the cooler fall season in the Temagami region. Four-inch tube jigs, jerk baits, deep running crankbaits, stick worms, drop shot: you name it, it catches bass in this region. Visit the Northeastern Ontario website and find a lodge operator who specializes in fall trips for bass, and you're well on your way to fishing some new lakes for bass that have never seen you before!
Northwest Ontario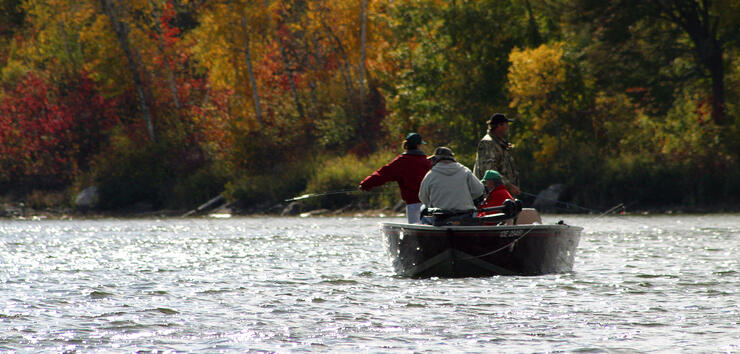 Another favourite fall bass destination of mine is Northwest Ontario, where there are so many lakes and rivers that harbour smallmouth bass that it is a challenge to just fish one region on any given trip.
The region is vast, and so are the options for fall bass fishing in the Northwest.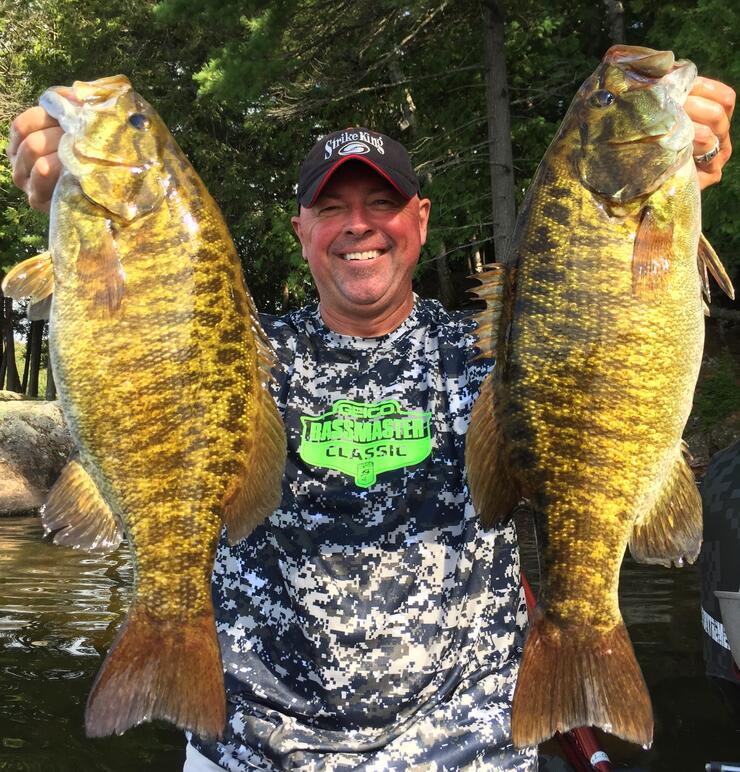 Northwestern Ontario is a region of Northern Ontario which lies north and west of Lake Superior and west of Hudson Bay and James Bay. It includes most of subarctic Ontario. Its western boundary is the Canadian province of Manitoba. Northwestern Ontario consists of the districts of Kenora, Rainy River, and Thunder Bay. Major communities in the region include Thunder Bay, Kenora, Dryden, Fort Frances, Sioux Lookout, Greenstone, Red Lake, Marathon, and Atikokan.
Northwestern Ontario is the province's most sparsely populated region—54 percent of the region's entire population lives in the Thunder Bay census metropolitan area alone. Aside from the city of Thunder Bay, Kenora is the only other municipality in the entire region, with a population of greater than 10,000 people. Less population, lots of lakes, and tons of bass fishing opportunities!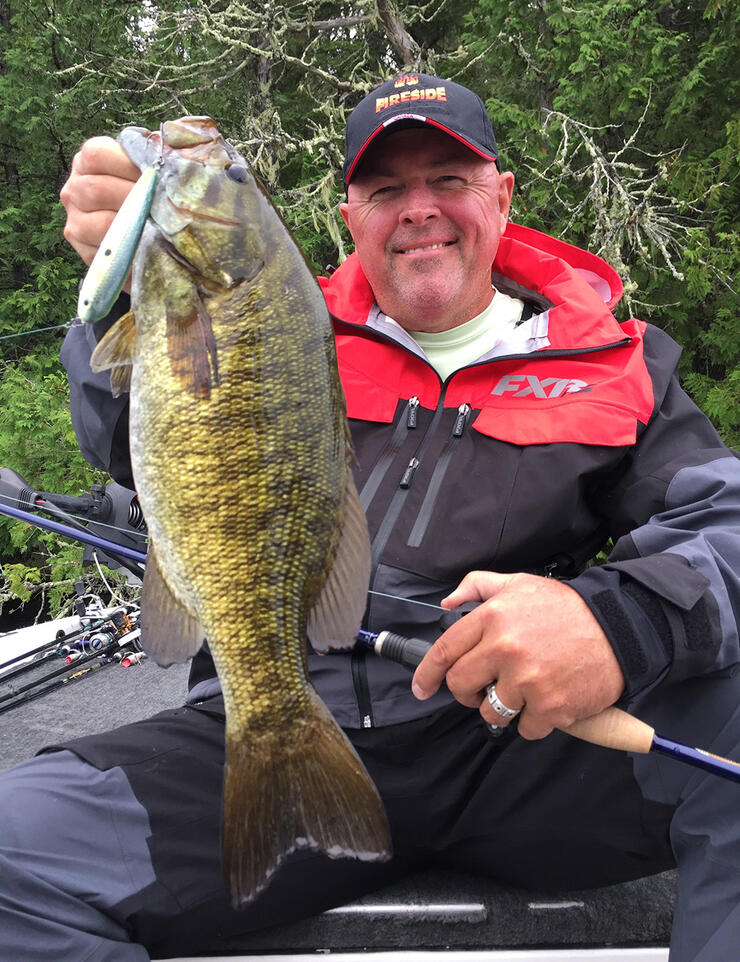 Again, another region that offers bass anglers a choice of big or small lakes, and just about every lake has a fishing operator on the lake or nearby who usually knows the ins and outs of the lakes fishery and is a great asset to first-time travellers or visitors to a new region or body of water. This cuts down on trial and error tenfold.
Most of the mentioned baits and presentations work in the Northwest as they do in Northeastern Ontario. Lots of natural structure elements such as rock piles, shoals, island points, ledges, and countless numbers of back bays harbour bass sometime or other during the fall period.
Algoma Country
And last but certainly not least is Algoma Country.
Algoma was created by proclamation in 1858, as a provisional judicial district of the Province of Canada comprising territory north of the French River as far west as Pigeon River (Minnesota-Ontario), including all Canadian islands in Lakes Huron and Superior. The district seat has been Sault Ste. Marie since 1858.
The rugged scenery of this region has inspired works by Canadian artists, particularly the Group of Seven. They rented a boxcar from the Algoma Central Railway to travel on excursions through this region. The rugged scenery is also a favourite of the big bad brown bass that call Algoma Country home!
This region is similar to the previously mentioned regions in terms of available natural structure elements that can harbour and produce excellent smallmouth bass fishing. As a bonus, some of the lakes have had accidental flooding in years past that transported baitfish such as smelt into some of the smaller lakes, which in turn offers the small-lake angler an opportunity to catch Great Lakes size bass without ever having to venture out into the big water.
Bonus? You bet it is.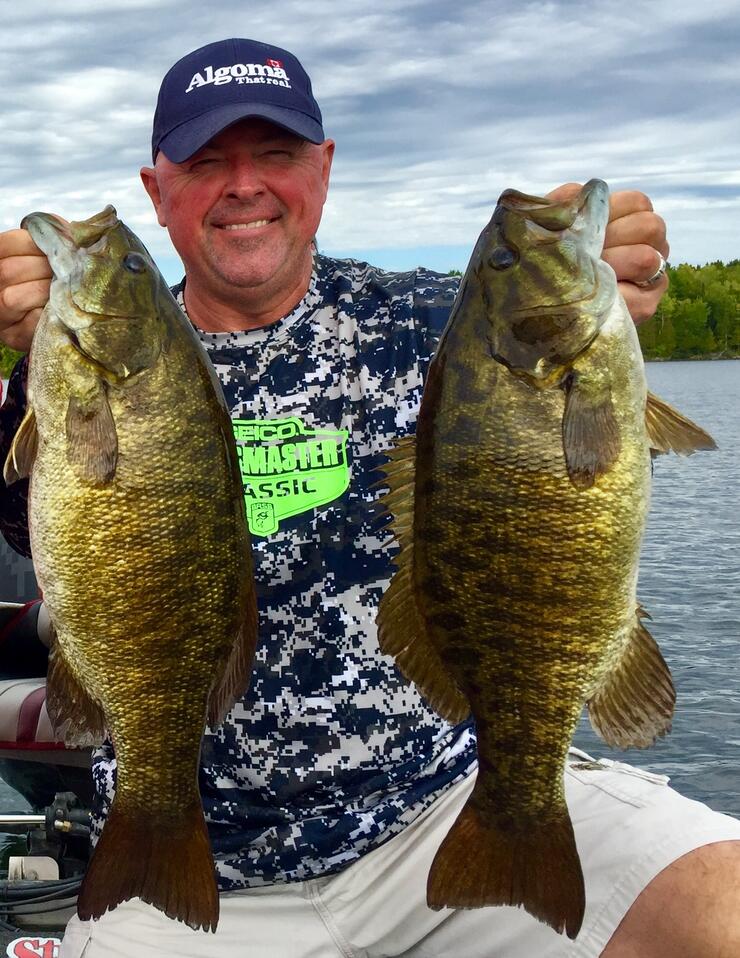 We have made numerous trips to Algoma Country over the years, especially during the cooler autumn period with some of the best catches of big bass of our entire life. The sheer bulkiness and shape of these "smelt-fed" bass have to be seen in person to truly be appreciated. Photos and television translate some of this, but a hands-on approach is what you need to plan because you will not be disappointed by the number of lodge operators on these lakes and how in-tune they are with regards to assisting you, their guests, with catching some of the biggest smallmouth bass of your entire life.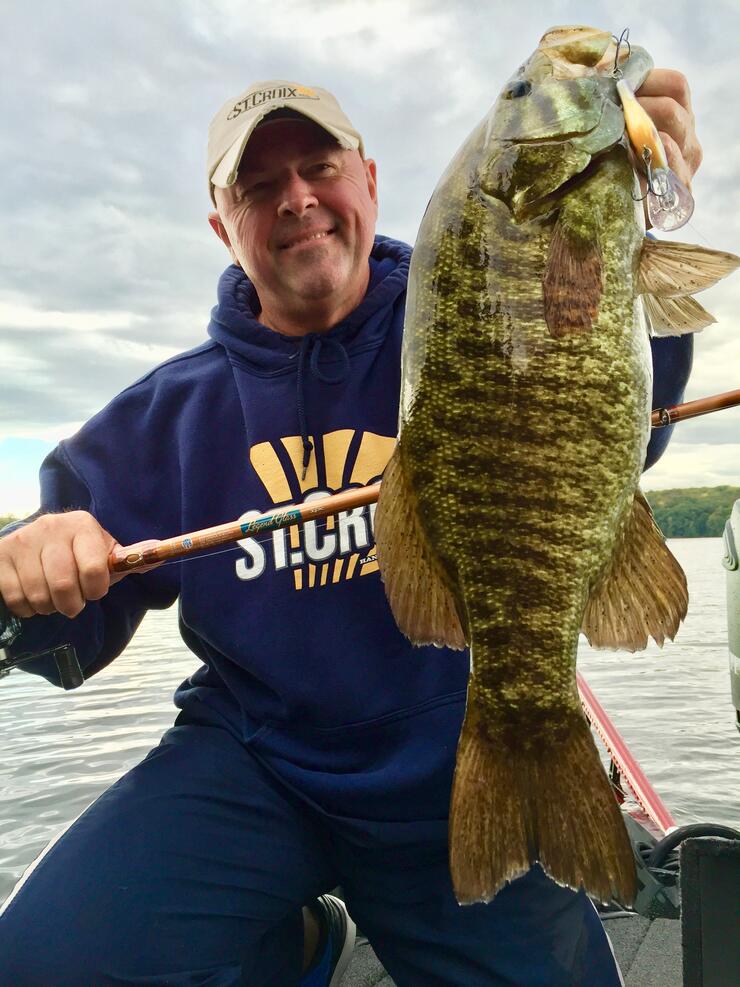 A favourite technique of mine for fall smallmouth bass in Algoma Country lakes is fishing for late afternoon bass literally in the middle of the lakes, over the deepest water present, and watching for actively feeding bass who are pushing up the smelt to the surface, which in turn attracts the seagull population to feed on dying smelt that have been injured by actively feeding bass in massive schools that resemble sharks in a feeding frenzy!
I will fish for these feeding, schooling bass with Strike King 5-inch caffeine shads rigged onto an extra wide gap hook, sixteen-pound line with a medium to medium heavy power St. Croix casting rod and make long bomb casts to the surface activity while making slow twitches of my rod tip to provoke these oversized bass to investigate. Once they see my bait, it's lights out, non-stop action with bass in the mid 5- to 6-plus pound range and sometimes on consecutive casts! Sound like fun?
Conclusion
It's insane fishing and can be yours by visiting these regions and experiencing it for yourself. Whether it's Northeastern, Northwest or Algoma Country, Northern Ontario has some of the finest fall fishing for trophy smallmouth bass in the entire world. These regions truly offer world-class bass, and they're waiting for you!