Fishing for Forage
Hopefully, this encourages you to forage your surroundings for fun, delicious and useful treasures along the shores of Ontario's beautiful lakes!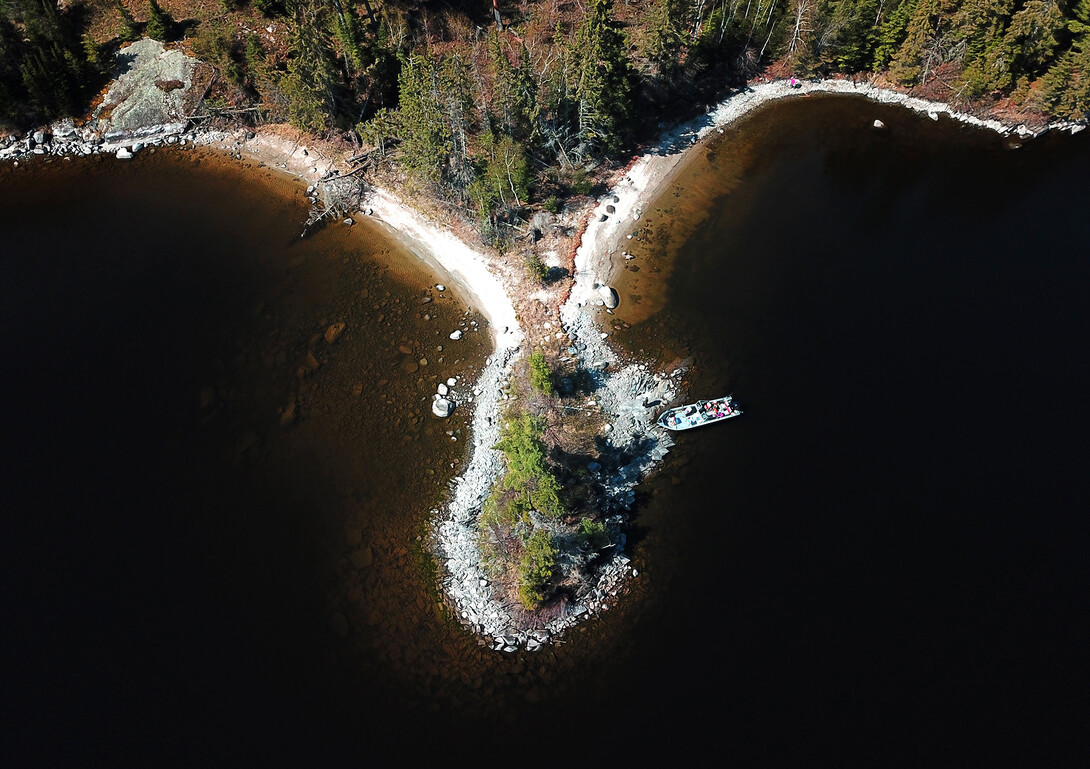 Open water is just around the corner here in Northwest Ontario, and although it's been, let's say, an extended melt, spring is here. Anglers everywhere are itching to get their boats and themselves out of hibernation and onto the nearest body of open water.
This time of year is always the most exciting for me because things are getting amped up; fish are overly active, and relatively shallow, and you can try new things with fishing tactics. I love summer, fall, and hard water seasons, but spring has a special place in my heart for many reasons. Aside from the fun opportunities spring fishing offers, it's also my favourite time to search for antlers during shore lunch, pick fiddleheads, and see if I can't luck into some wild leeks.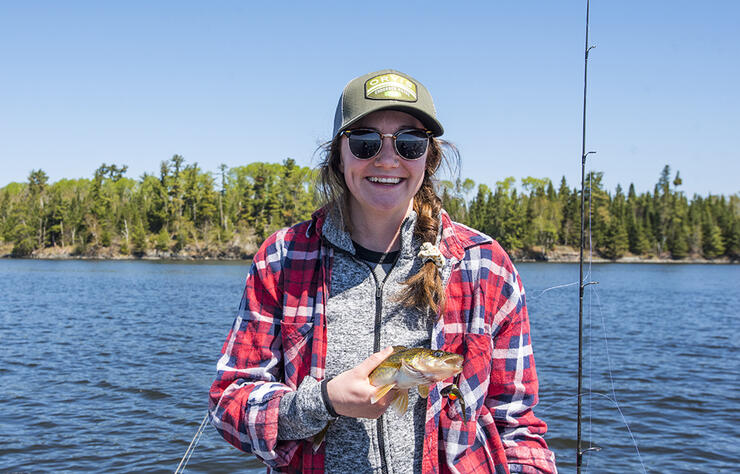 Although spring is my most anticipated season for foraging, it's certainly not the only time you can find useful plants, berries, mushrooms and resources during your time on the water.
If you haven't island-hopped, camped, or explored during your time on the water, I highly recommend you set some time aside this season to try it out. If you pay close enough attention, there are many opportunities for foraging across Ontario. Below is just a small sample of what's available by season.
Ground Rules FOR Foraging
Never harvest more than 10% of the crop.
If you're not after the root of the plant, say fiddleheads, for example, don't take the root.
Know what you're picking and know it well, especially with mushrooms, but this goes for sumac, fiddlehead look-a-likes, and more. Do your research.
Bring your fillet knife, snips, or a pocket knife.
Spring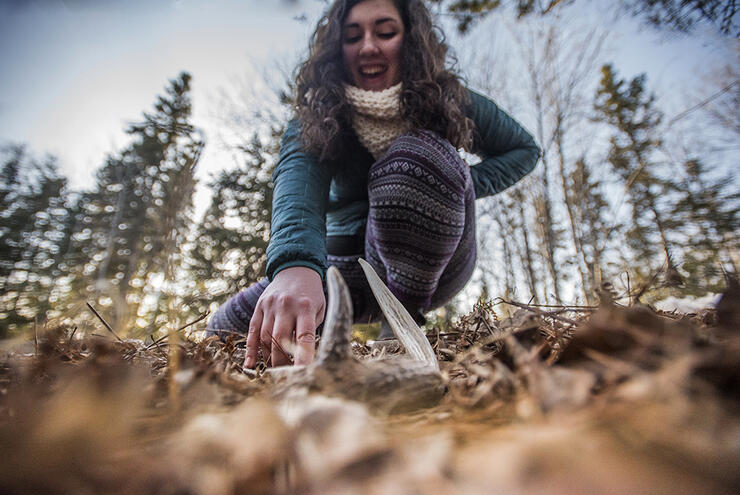 Fiddleheads: These scrumptious greens are incredibly tasty when fried in a pan with a bit butter of or bread crumbs. Warning: Fiddleheads can cause sore stomachs when they aren't blanched (boiled lightly) before roasting/frying or cooking them otherwise. There are also different types of ferns that look similar; make sure you do a full identification before setting off.
Morels: These mushrooms are a favourite amongst foragers and for good reason. Warning: Do not eat morels raw, and remember the old saying: "There are old mushroom pickers and there are bold mushroom pickers, but there are no old, bold mushroom pickers." In other words, know what you're picking.
Antlers: A fun scavenger hunt for "white gold" while you're out and about is never a waste of time. If you find one, look for its mate nearby; you may just get lucky.
Wild Leeks (Ramps): These garlicky-onion-tasting greens are great additions to camp breakfasts and dinners. Save the harvesting area some stress by cutting wild leeks off above the bulb. You'll have to dig a bit, but it's worth it, especially if you want to continue coming back to the patch you've found!
Summer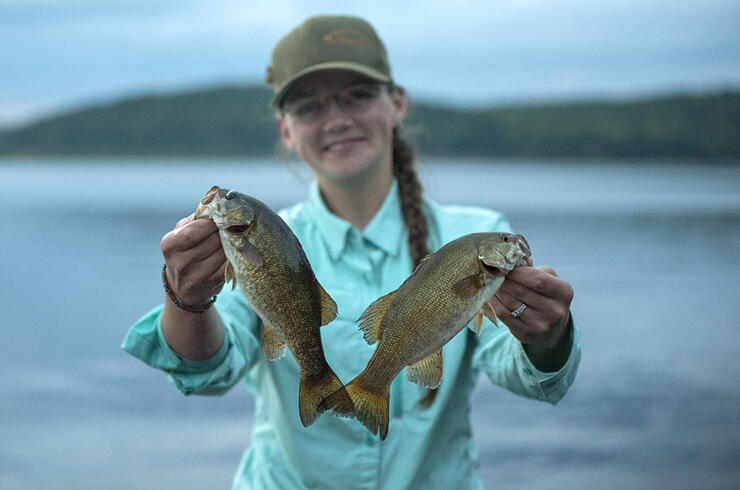 Wild Mint: While island camping a few years ago, I was doing dishes down by the shoreline and there was this overwhelming smell of mint. I was convinced it was my biodegradable soap that claimed to be odour-less until I realized it was from the wild mint suspended over the water by my feet. Once I returned home, I realized how easy it was to identify these plants, and since then I've been diligent to check along the water's edge.
Berries: Wild strawberries sometimes arrive as early as June, are abundant in July, and stick around until August. August, of course, is famous for wild blueberries, raspberries, and blackberries across the province. Those are the standard easily identifiable berries, but you can also look into choke cherries (wine/jams) and bear berries. Warning: Some berries can be deadly or toxic, know what you're after, and never sample the goods in the field unless you're 100% certain.
Giant Puffball Mushrooms: Relatively easy to identify, these mushrooms are common in deciduous woodland areas where the ground is relatively damp year-round, but not saturated. Warning: Like with all mushrooms and plants, know what you're picking and don't pick anything near polluted areas.

Autumn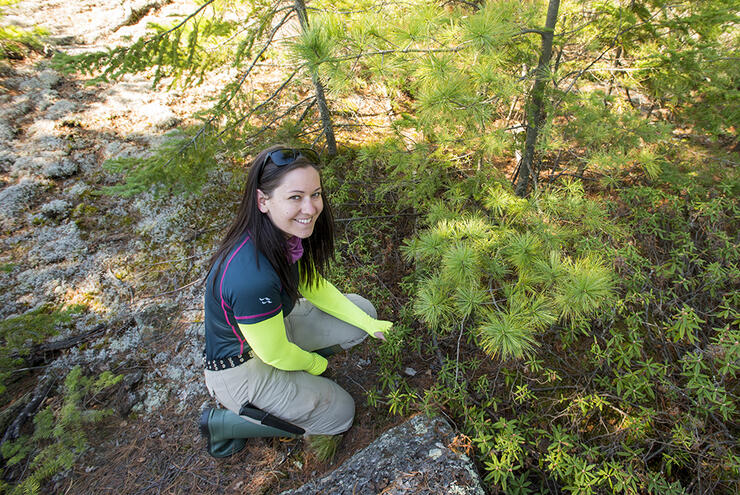 Wintergreen Mint: These delightful creeper perennials aren't actually in the mint family, but are just what I need after enjoying a dish that includes wild leeks. I'll take a leaf here and there and swish it around in my mouth. You don't have to chew, but you can. They can also be used for tea can ease headaches and aid fevers, the berries can be consumed freely as well. Warning: Don't walk extensively on the plant, you'll harm its growth.
Lobster Mushroom: A great fungi for beginners and children to get involved with, they are easily identifiable and delicious! Lobster mushrooms aren't mushrooms at all, but rather parasitic fungi like Chaga. They have no poisonous look-a-likes; once you have an idea of their identification, just be sure you only eat the ones with vibrant white stems and no bug holes! (Leave the roots, dig down, and cut as close as you can!)
Labrador Tea: You can harvest Labrador Tea leaves from Spring until fall; although it takes a lot of leaves to make tea, only take a few leaves from each plant to avoid harming them. Warning: Do not boil Labrador Tea leaves––only steep them. Boiling can release a toxin.
Winter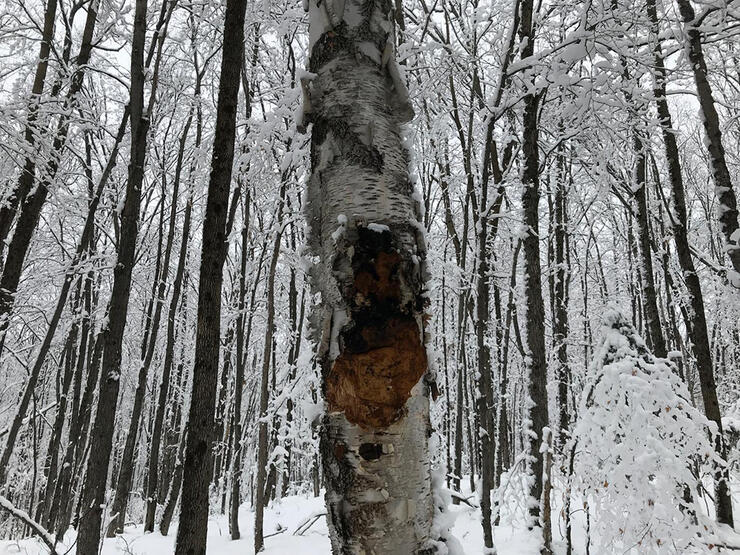 Chaga: My absolute favourite foraging item. This amazing fungus can be tea, a fire starter, an immune booster, replace coffee, and so much more. Check out my other article on Chaga's benefits.
Frozen Rosehips: These gems are incredibly high in Vitamin C and antioxidants. Delicious in tea, these tart wild rosehips can be used to make jam, lip balm and specialty syrups. Warning: Be sure you do some research on when to harvest them, and how to control the small hairs surrounding the seeds that can cause itching or irritation.
Wintergreen berries: The beautiful thing about wintergreen is it's completely safe for consumption. Identify it properly, and you can have an unlimited supply of fresh breath on hikes and berries in the winter to pick for fun recipes such as ice cream.
Hopefully, this encourages you to forage your surroundings for fun, delicious, and useful treasures along the shores of Ontario's beautiful lakes! There are many other advanced plants and mushrooms to be had; your best bet is to do as much research as possible, or pick up a laminated field guide made for hitting the water!