Off-Grid Ontario Fishing Adventures
Escaping into the wilderness and being off-the-grid at a remote outpost is a unique experience.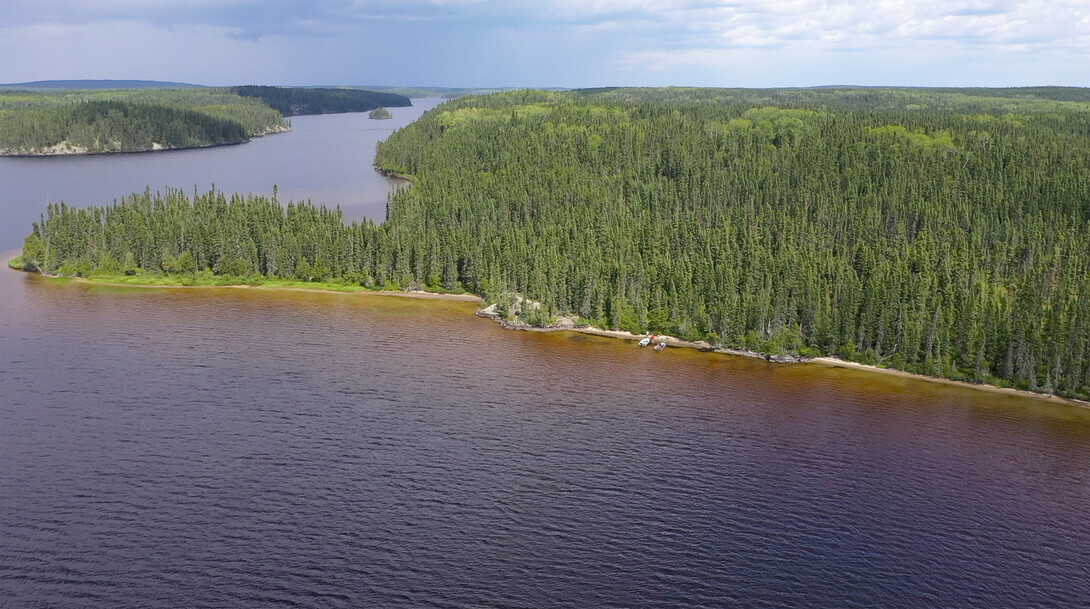 It seems like time goes by too fast. And the older you get, the faster it goes! Getting far away from the busyness of everyday life is a great way to slow time down and recharge. Being off the grid in a remote cabin is truly special, especially in today's fast-paced world. Here are a few options that offer incredible off-grid Ontario fishing experiences!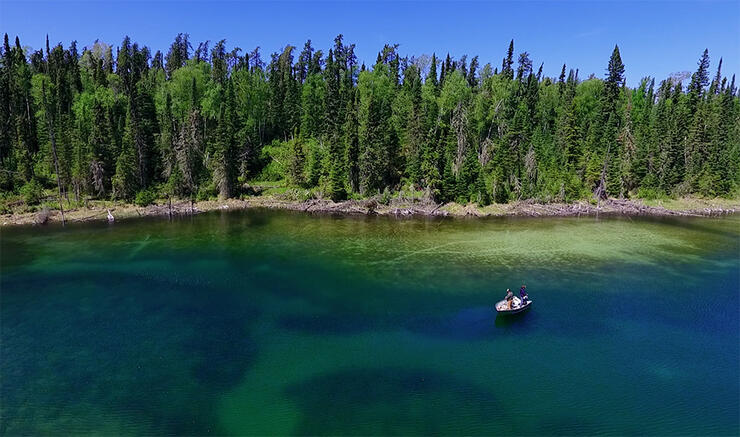 Troutfly Lake is 5 miles long and 1.5 miles wide, covering 2,500 surface acres and you have access to three different lakes by boat: Troutfly, North Troutfly, and Red. There is plenty of hungry walleye, whitefish, northern pike, and lake trout to target. And the cool clear water makes for exciting walleye sight fishing, something you don't see much across Ontario! The whitefish I caught there were the biggest I've ever had on the line. You have this amazing body of water all to yourself. Along with the two other adjoining lakes and a bonus portage for beautiful brook trout.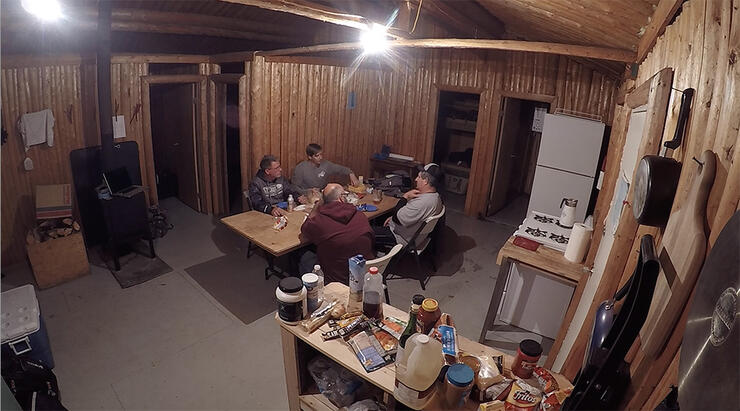 This whole cabin can comfortably sleep up to eight to 10 people. Owner Mike Pierson really set it up great! There are solar-powered lights, hot and cold running water, a heated shower, three bedrooms (two bunks, two singles), a wood stove, a big dining table, a propane cooking stove and oven, a grill, and all the cooking utensils you need. A port-a-potty outhouse is steps away out the side door. The two boats at the main cabin are outfitted with 20-HP Yamaha. And there's even a separate fish cleaning house next to the dock for those fresh-caught Ontario walleye. It has everything you need for an off-the-grid adventure!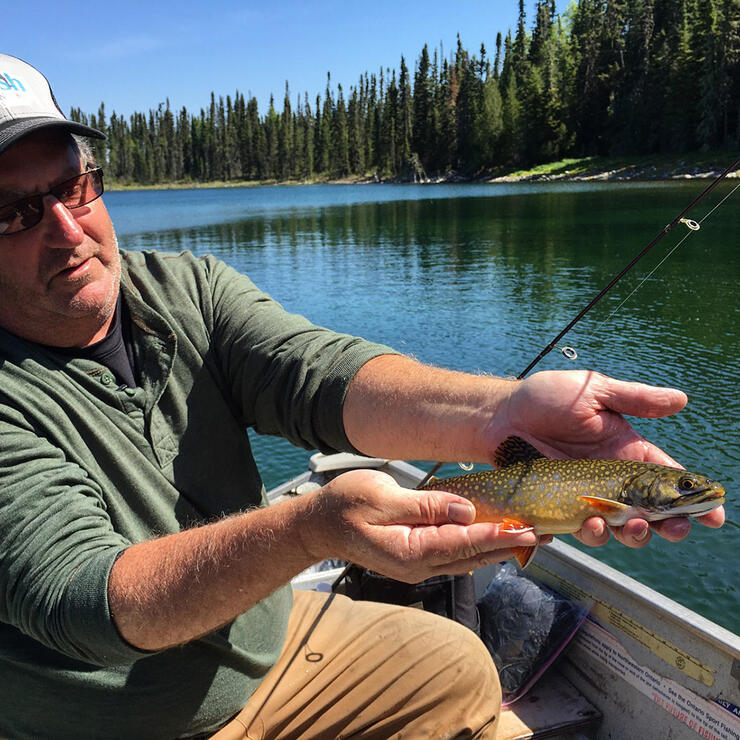 If you want to get away from it all and enjoy a rare clear-water-walleye factory… along with great whitefish, pike, and lake trout fishing, Troutfly Lake is it!
If you are looking for a trip that will surely have your arms on ice by the trip's end from all the hook sets and walleye nets, this fly-in Ontario Experience, Hidden Bay Lodge's Armit Lake is it. Just a 3 1/2-hour drive from the International Falls and Fort Frances border, and you're at the floatplane base. From there it's a short 20-minute floatplane ride to Armit Lake in the heart of Ontario's Sunset Country.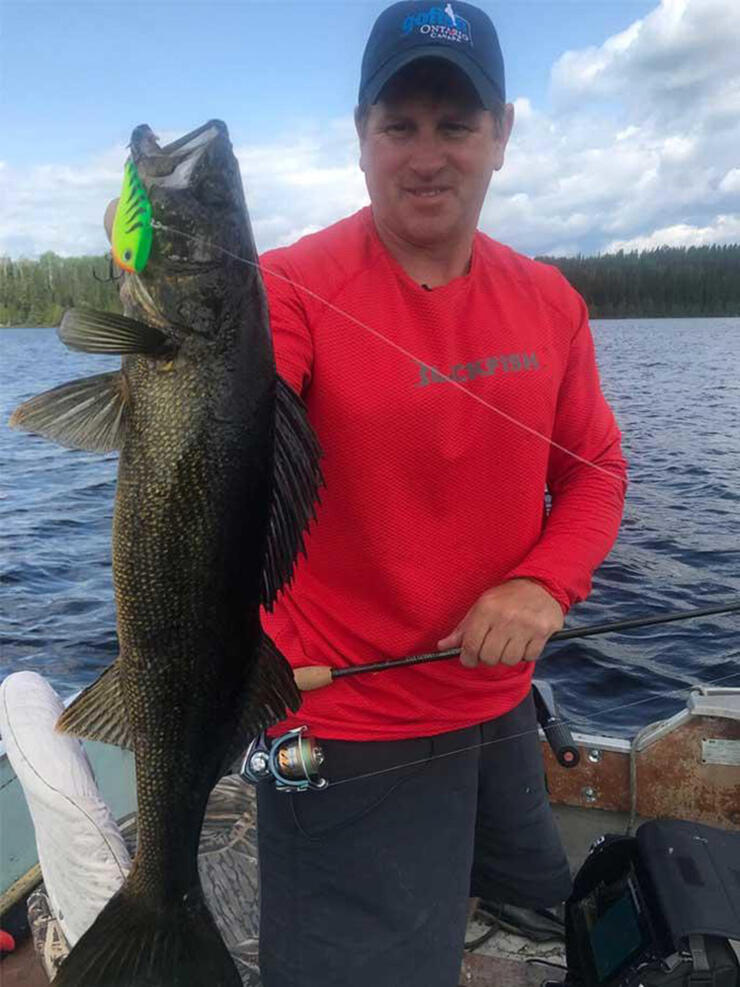 The outpost on Armit Lake had all you could ask for, including incredible fishing. Along with a very comfortable and reliable boat and motors, the camp had all the creature comforts of home.
All the outpost cabins at Hidden Bay feature satellite internet, phone service, kitchenette with stoves and refrigerators, hot and cold running water, showers, toilets, and solar-powered lights, giving guests the utmost convenience while still providing the true wilderness experience. All the camps accommodate up to four to 10 guests depending on the outpost. The outposts all offer clean and reliable 14-foot aluminum boats with comfortable seats and 9.9-15 hp outboards, decks with gas grills, propane deep fryers, and fish cleaning tables. Any trip to Ontario is not complete without a shore lunch. The remoteness of Armit Lakeshore lunch offers you a view much better than any restaurant can!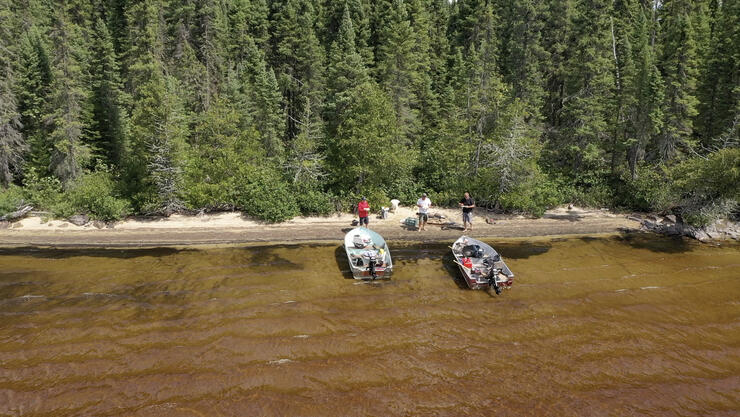 If you're looking for a place that will make you feel like, not a good fisherman, but a great fisherman, then Hidden Bay Lodge's Armit Lake definitely needs to be a top priority on your next Ontario Experience. Call your buddies or pack up the family and get ready for non-stop walleye fishing action. Hidden Bay Lodge is very proud to offer first-class fly-in fishing adventures on six different remote outposts: Armit Lake, Blackstone Lake, Gage Lake, Highstone Lake, Miniss Lake, and Raggedwood Lake, in addition to the main lodge.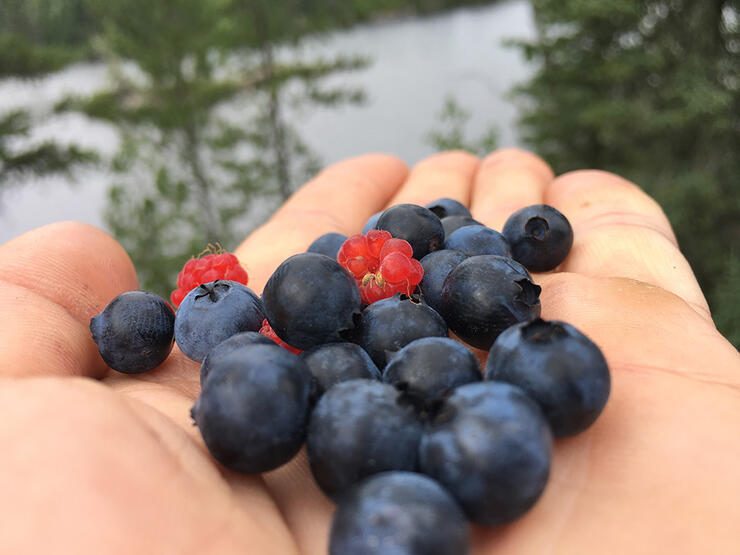 This is a perfect location for families and groups of friends who want to get away. Shawanabis Lake is six miles long and holds walleye, pike, and lake trout. The outpost is the only cabin on the lake. There are two bedrooms, a sauna, and an extra cabin if your group needs that. We cooked up some fresh-caught walleye and lake trout in the fully equipped kitchen (propane lights, refrigerator, and stove). The showers have hot/cold running water too. The location on Shawanbis has 14' and 16' boats, canoes, and kayaks to use. You've probably heard that there's nothing like a fresh shore lunch. Well, we had shore lunch and dinner with the delicious walleye and lake trout caught from there. It was tough to say which tasted better! And speaking of tasting good…the blueberries! There were patches of them all around the island. I picked more than a few handfuls.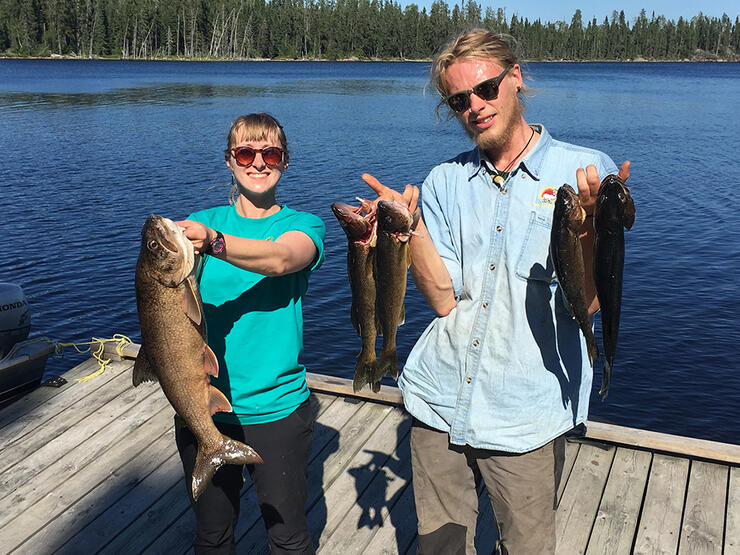 Your adventure starts at their Eco-Lodge Bed and Breakfast, located in Armstrong. It is just three hours north of Thunder Bay. What a great place to rest up and prepare before a trip. This eight-bedroom lodge has an awesome lake view, a hot tub for relaxing, and a big open main area for meals and meeting other guests. Brenda and Bert Zwicker run the place and will make you feel right at home with their hospitality, help, and home-cooked meals. This is way better than staying in a little motel! Wabakimi Outfitters offers many outpost options peppered throughout the park for getting back to nature. Because there are no roads, the only way to get in and out is by floatplane, train or canoe. Very remote! If that concerns you, don't worry, they have you covered. You always have two-way radio communication with the base.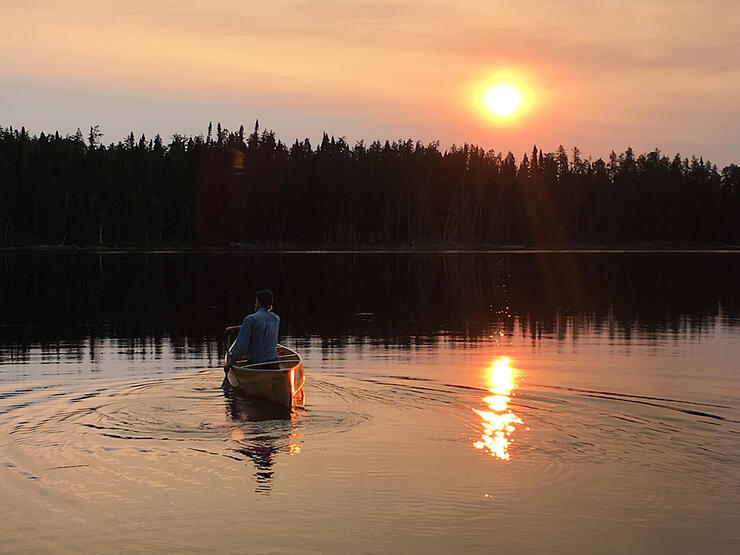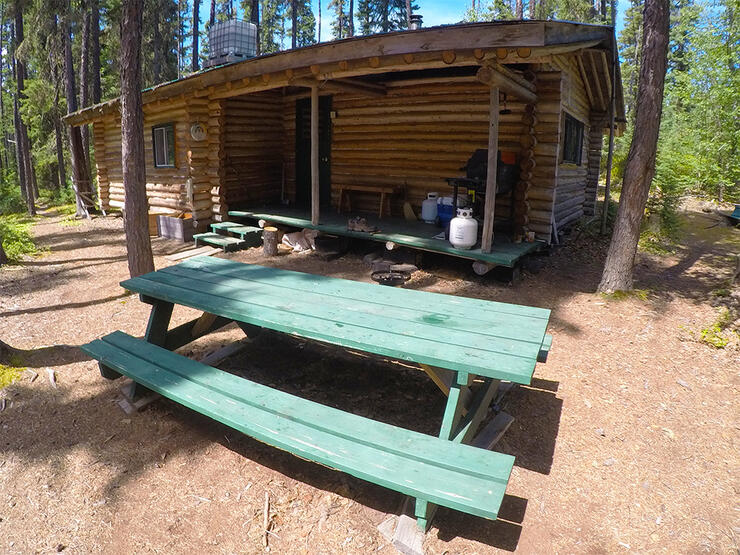 Wabakimi Provincial Park covers over 5 million acres and is the world's largest paddling area! To put that in perspective, it is five times the size of Boundary Water's Canoe Area and twice the size of Yellowstone National Park. Wabakimi Canoe Outfitters is the only full-service operation serving this massive area blanketing Ontario's Superior Country. There are thousands of interconnecting lakes, including both flatware and whitewater rivers, which offer near-endless exploring!
To book a trip visit: https://wabakimi.com/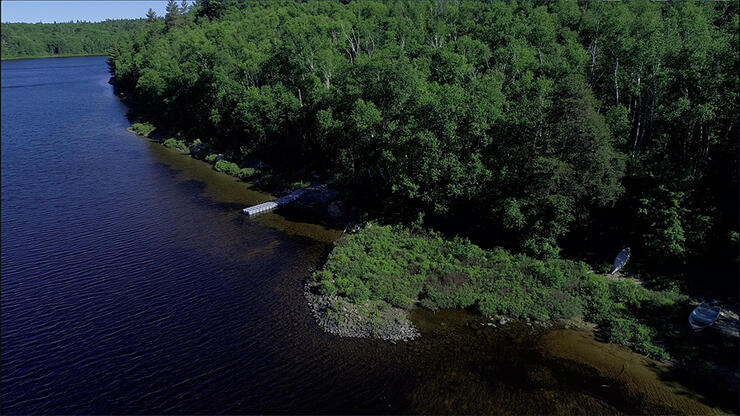 True North Airways specializes in remote outposts! They operate twelve, secluded fly-in-only cabins in Northern Ontario. The airbase is conveniently located just north of Sudbury, only a four-hour drive from Toronto and three and a half hours from the border crossing at Sault Ste. Marie. If you would be driving in through Buffalo, New York, it's just six hours from there. All the lakes are only 30 to 40 minutes away by air. You'll be fishing in no time after taking off in one of their floatplanes!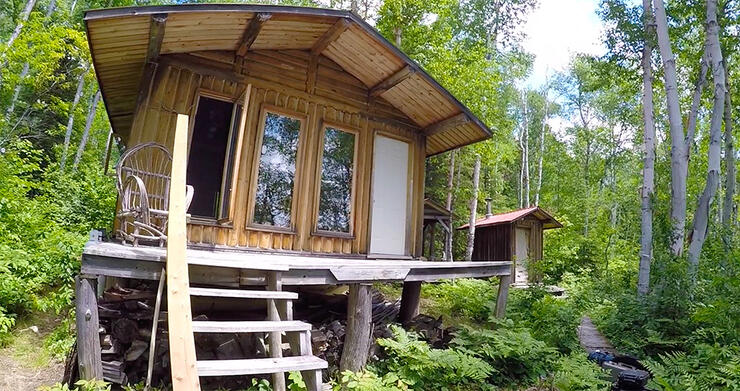 This unique location at Scotia Lake actually has two camps, one on the North end (accommodates up to eight) and one in the middle of the lake (accommodates up to five). Both camps have all you need for an off-the-grid getaway. There's a kitchen with a propane fridge, lights, a big cozy stove for central heat, and a propane stove for cooking. There's also a nice sauna just steps away, which is very relaxing after a day on the water. There are walleye in Scotia too, we caught some, but mainly targeted the abundant smallmouth. Basically,  just pick any rocky boulder shoreline and start casting! It won't be long before you're hooked up.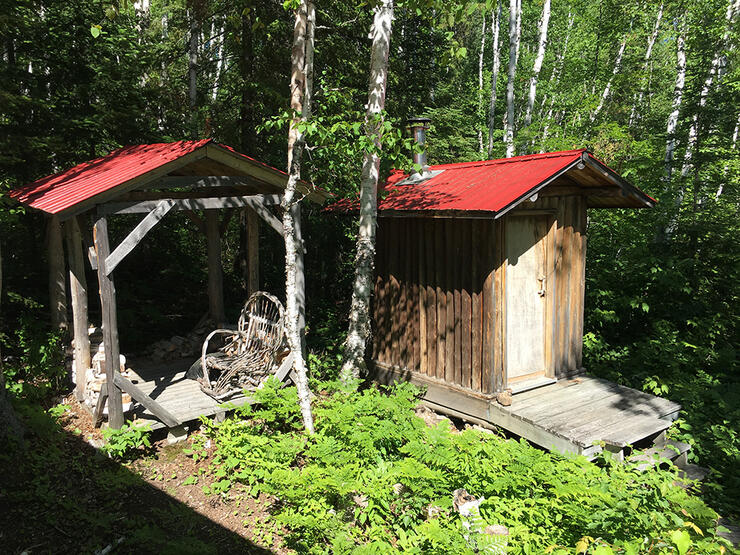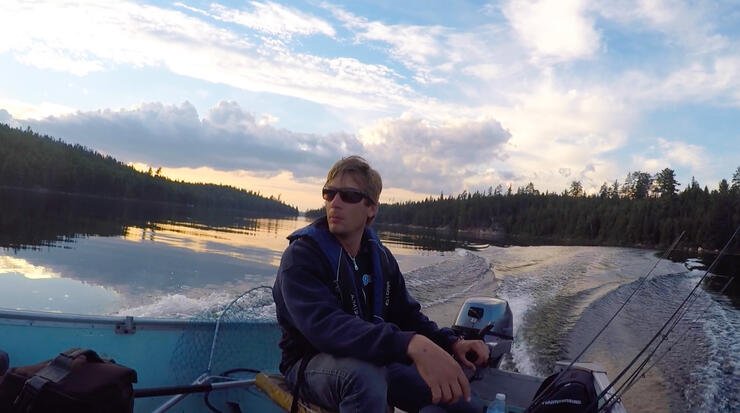 If you've travelled to an Ontario fly-in "lodge" before, consider one of True North Airways many lakes for your next trip. If you want bass, trout, pike, walleye…small lake, or big lake…the choice is yours! You have a lot of options and locations with Sudbury Aviation!