Ice Fishing On Big Lake Abitibi
Late season ice fishing for big walleye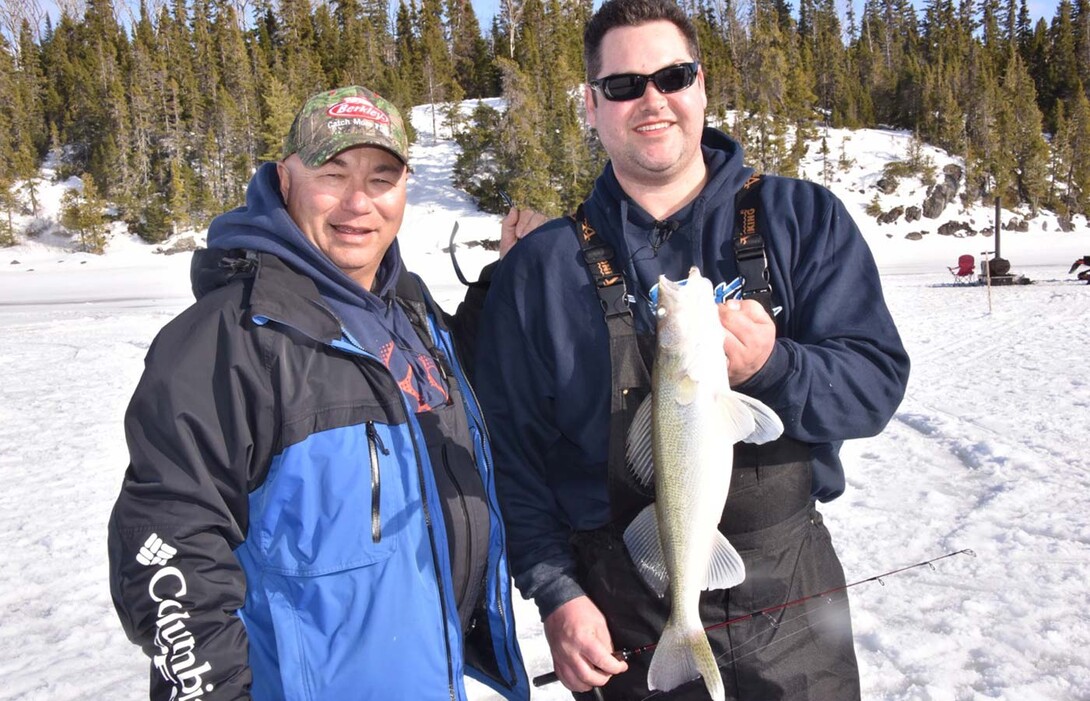 Way back in the '80s my brother Wayne and I fished a walleye tournament on Little Abitibi Lake. I remember that we finished the event in second place and we had a lot of fun catching big walleyes up there. I've always enjoyed fishing in the Cochrane region of Ontario and I've always wanted to sample the fishing on the biggest lake in the area, Big Lake Abitibi. In fact, fishing the big lake has been on my bucket list for years now.
Fast forward to the present and I finally had the chance to get up to Big Lake Abitibi for some late-season ice fishing. There was a group of 14 of us that made the trip to Cochrane to fish with the father and son team of Bill Froud and his son Mark, from Dunn Right Outfitters.
When we first got to Cochrane, Mayor Peter Politis met us at the Cochrane Polar Bear Habitat. This is the only human care facility in the world dedicated solely to caring for polar bears that can't survive in the wild. It covers 7 hectares of natural sub-arctic habitat, including the world's largest enclosed lake. When we were there they had three polar bears on-site, the biggest one weighing around 1000 pounds. We were fortunate enough to get a tour of this incredible facility and it was a real treat to see the polar bears up close.
We also got to take a tour of the Cochrane Classic Vintage Riders Snowmobile Museum which is located next to the Polar Bear Habitat's Welcome Centre. This place has close to 100 vintage snowmobiles on display and numerous historic photographs and memorabilia dating back to the '50s. It was pretty cool seeing all those old machines in one place. After our tour, it was time to get ready for the trip to Big Lake Abitibi.
For many years, Bill Froud ran extreme snowmobile tours up to James Bay with adventurous snowmobilers. He and his father also spent a lot of time fishing and hunting on Big Abitibi, but there were never many options on where to stay, so they invested a sizeable amount of blood, sweat, and tears into building their latest project called Halfway Water Lodge. The lodge is located on the northwest corner of Big Lake Abitibi, near the village of Low Bush.
Now we're talking adventure with this trip. Access is by an old railroad trail that you can drive in on during the spring-summer or fall. In the winter you need to use a snow machine. We decided to take two SnoBears in and I believe there were seven or eight snowmobiles as well. The ride was about 20 to 30 miles from where we parked off of the main road outside of the city of Cochrane. It was quite the adventure going in there. Crossing a couple of old bridges and riding along the old railroad line (that they do not use now) really made it feel like we were going far, far off the beaten trail.
When we finally got to the lodge we were very pleasantly surprised to see that everything was brand new. The first thing I noticed was that the lodge was very clean. The rooms were very soundproof and we couldn't hear the guests next door on either side of us. Some of the units have two bedrooms, others have three and they all have a full kitchen, a barbecue, a bathroom, hot and cold running water, and definitely all the comforts of home. Most of the power at the lodge comes from solar and they have some pretty extensive solar panels set up. They also have a large Kubota generator as a backup so there were no worries about power failures. I have to say that the Frouds really did a great job building this place.
This is a housekeeping lodge where you bring and cook your own food so, because there was a fairly large group of us, I decided that I would invite a friend of ours, Executive Chef Matt Maurice, up with us. Matt's been a friend for many years and I'll tell you, he can cook up a storm. We definitely made sure we weren't going to go hungry on this trip! During our short stay at the new lodge, Matt prepared Udon noodles and shrimp, Panko/parmesan-crusted walleye, and beef tenderloin for us.
The Frouds also have something pretty unique -- a cast iron wood-burning cook stove that was on a sled. On one of the days we were out fishing, Chef Matt cooked us up some walleyes three different ways on that stove and we ate fresh walleye with some wonderful noodles and salad right out on the ice. Even though we were way back in the wilderness, this was definitely not roughing it!
One of the cool things to mention about this particular facility is that it offers ice fishing right into the middle of April. Where I live, in Southern Ontario, most of the ice fishing ends around the end of March so you get a full extra month of ice fishing up on Abitibi. There's still plenty of good ice and there are many days you can be out there catching walleye and pike in a tee shirt or sweatshirt because it's so warm out on the ice.
On our first night, there were three fellows of Polish descent from the Greater Toronto Area staying in the unit next to us. They were on the last day of their trip and they told us that they have been up there a number of times and they love fishing Lake Abitibi. They came over and introduced themselves to us and ended up having a party over at our place. Between the homemade polish sausage, smoked bacon, and vodka they had, they were definitely having a good time. They also brought over some freshly cooked walleyes so it was nice to get a taste of the fish before we even got out ice fishing.
One thing that has always amazed me is the sheer size of Lake Abitibi. It has somewhere in the neighbourhood of 800 or 900 miles of shoreline and the lake has an average depth of 8 feet. You will never run out of places to fish on a lake this size! There's a lot of colour to the water, which means fertility, and fertility means lots of fish. This lake is an absolute walleye factory and there are numerous ling, sauger, and pike to be caught as well.
The ice was about 3 feet thick, and in some places, we were catching walleyes where there were only 2 feet of water under the ice. One of the keys was that we set our lines in a grid pattern by punching numerous holes spread out anywhere from 10 to 20 feet apart so we could cover a wide swath of an area.
On this trip, I took a lot of jigging-type baits with me. I took some Sebile Flatt Shads, which is a lipless crankbait; I took a lot of different types of jigging spoons and Vibratos, as well as a bunch of regular jigs. My intention was to jig up these walleyes, but most of the fish we caught through the ice were caught either on tip-ups or deadsticking with an ice fishing rod set in a holder. The colour of the water made live bait more effective so our lines were baited with either a half of a minnow or a whole minnow and we just sat and waited for those fish to come and bite. And bite they did. It wasn't long before everybody had tip-ups or deadsticking rods set up and we ended up catching a lot of fish over the course of our 2 and half days of fishing. Although we didn't get any of the really big walleyes or pike the lake is known for, we caught lots of decent ones and the action was pretty steady.
It's been a long time since I've been on a trip like this and I have to say that it was a lot of fun going on this one. Halfway Water Lodge is the perfect place to go with a group of friends or family who is looking for clean, comfortable accommodations and great fishing in a true wilderness setting.