Ontario's Monster Pike Fishing Adventures
Ontario is home to first-class accommodations and an incredible fishing experience for northern pike.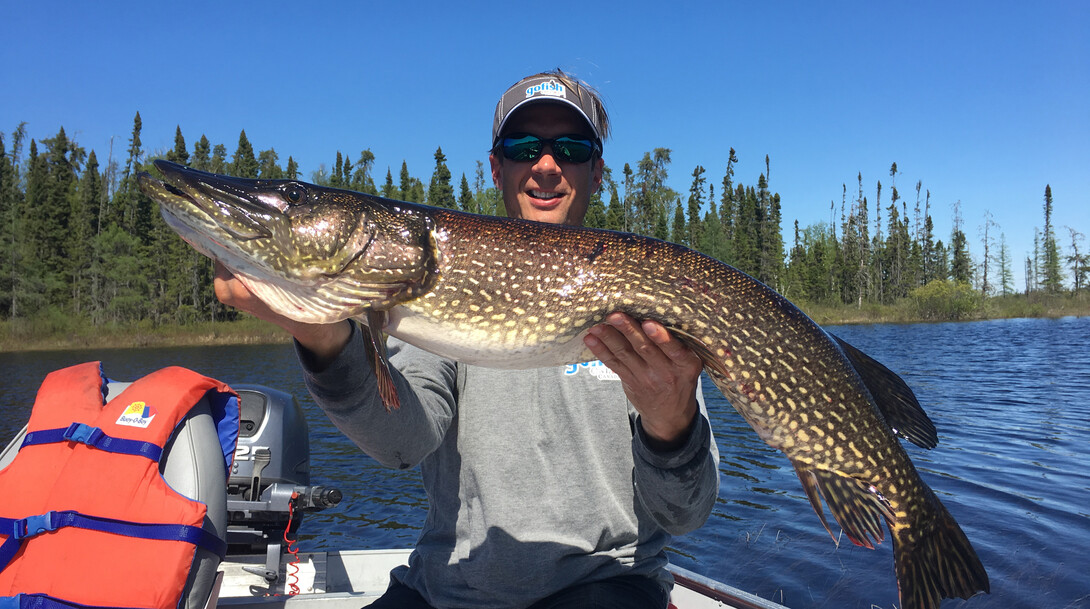 Northern pike grow to big sizes in Ontario. And they are an underappreciated fish in the United States, in my opinion. The smaller ones make for a great shore lunch alternative to walleye, and tough to tell the difference in taste when freshly caught and fried up. For size and fight, the pike has a lot going for them. Forty inches are common in Ontario. All you have to do is find cabbage weeds beds and you'll find big pike! They are not as finicky as other fish and bite just about anything you throw near them.
The lodges listed here offer anglers a shot at the pike of a lifetime along with first-class accommodations.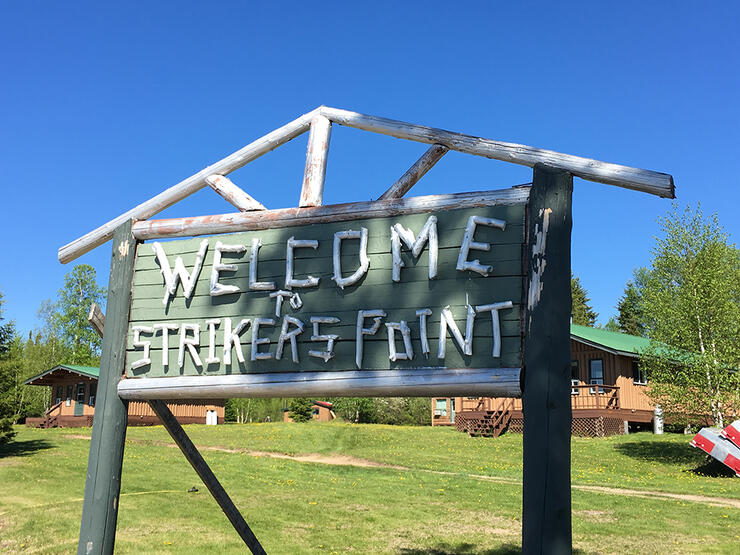 With the remoteness of so many great Ontario lodges, fly-in adventures are the only way there. As is the case with Striker's Point Lodge, one of Wilderness North's many lodges in the area. Located on Whitewater Lake, it's a 26,000-acre fish factory full of walleye and trophy northern pike! The amazing wilderness of Wabakimi Provincial Park serves as a screen-saver backdrop. This is a full-service lodge with vertical log cabins, featuring full-sized fridges, a full bathroom, and a comfortable sitting area with couches and a wood stove. Bring your appetite. The filling breakfast prepares you for a day of catching fish. Made to order to your liking, of course. You have a choice of either a customized sandwich and snacks or a shore lunch kit. Their peach tea thermos is a thirst quencher during the warm summer days! The 16-foot Lund boats are set up great with quiet 25HP 4-stroke outboards, anchors, life jackets, and swivel seats. Live bait is also available.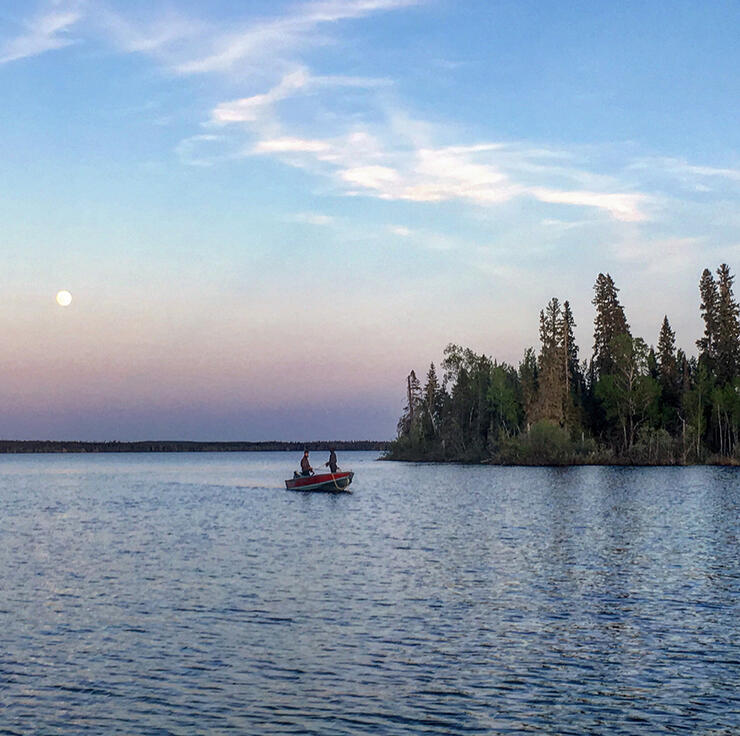 Striker's Point offers a great location on the lake to target large northern pike! This is what draws many anglers to visit. All season long, you have the chance to catch a monster. And you also have the option to take a break and catch countless walleye! Many guests bring a clicker counter with 100-200 fish days are common.
Wilderness North is a large operation, and this is just one of their lodges. Along with Striker's Point, they offer many different adventures from paddling the Albany River to incredible fly-fishing opportunities. At Miminiska Lodge, you can fish for wild native Ontario brook trout, up to 6 pounds!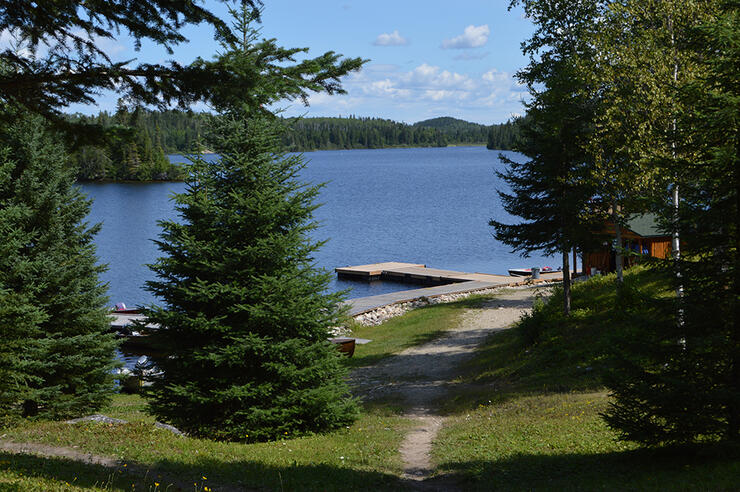 The MacLachlan family has been operating Lodge Eighty-Eight for almost 60 years! Ian MacLachlan built Camp 88 in 1959 and, over the years, it has expanded. When you stay here, you are surrounded by history! The train ride from White River to the lodge is a perfect way to experience Ontario's backcountry. The scenery through the train car window was a gorgeous cinema: the early-morning sun peaking through treetops, fog burning off the water, a moose standing solemn in the spongy bog—it's a great way to relax, reflect, and prepare for remote fishing. And you can't help but feel a little nostalgic for the way things used to be. There are three large cabins or the authentic upright log suites of the Eagle's Nest. You can choose the ultimate in pampering via their American Plan or the freedom of their Deluxe Housekeeping Plan. The spacious cabins are great for larger groups and the rooms of the Eagle's Nest accommodate small families or groups of two perfectly!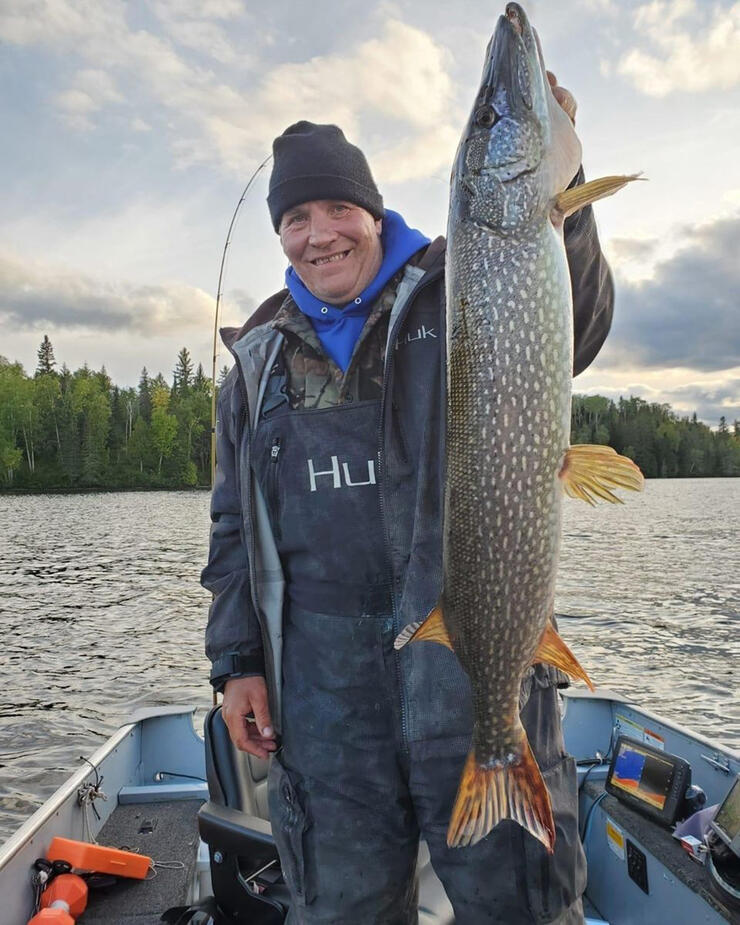 Esnagi Lake, located in Ontario's Algoma Country, is about 27 miles long and covers over 10,000 acres. It is a multi-species fishery, and home to walleye, northern pike, perch, and whitefish. You also have access to Rock Lake, which is nearby and accessible by portage. You have the opportunity for some fantastic brook trout fishing at Rock!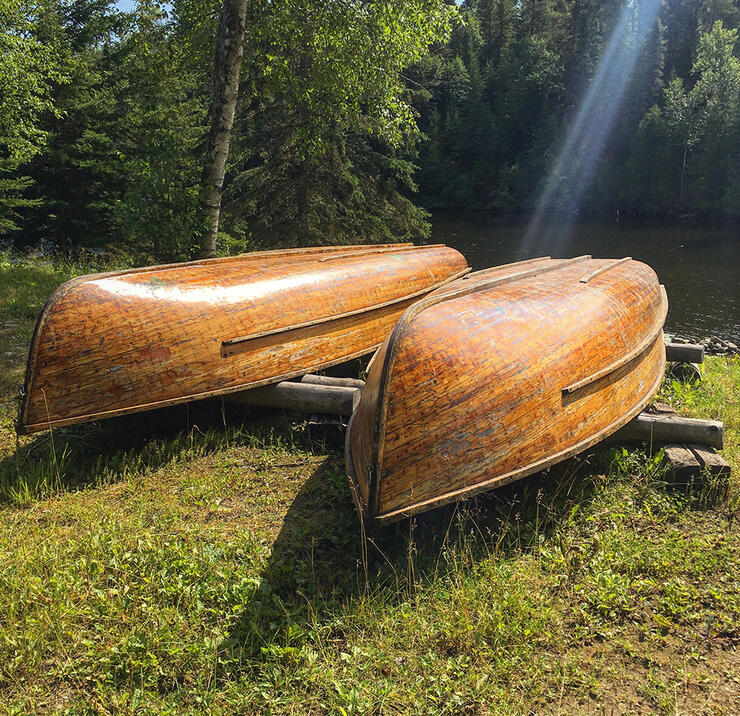 The name of the game here is walleye and pike. You can catch good numbers of both and BIG ones, too! Lodge Eighty-Eight offers both cedar strip boats and fully outfitted Lund aluminum V-hull boats. The stable 18-foot cedar strips are beautiful and have been in use since 1958. For something more modern, they have a fleet of 16-foot Lund SSV and Fury models.
For more information visit: lodgeeightyeight.com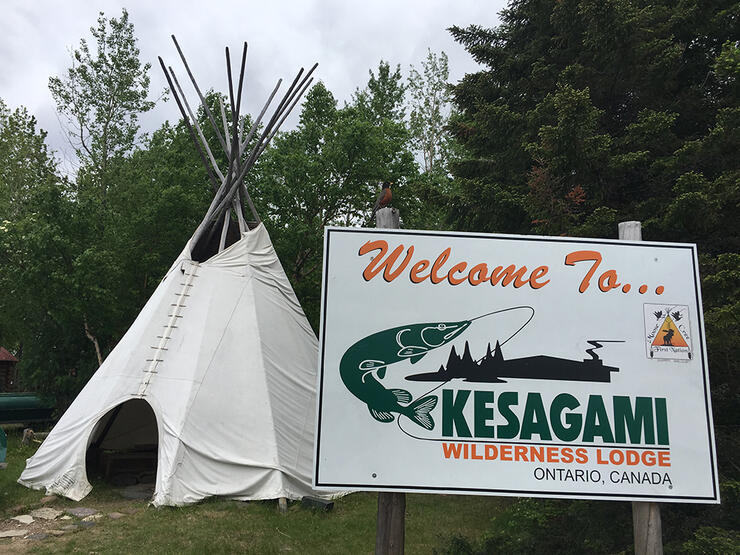 First off, let's talk ribs and then pike. This lodge was formerly owned by the world-famous restaurant Michelbob's Ribs (locations in Naples and Marco Island, Florida). The ribs are served twice a week and are not to be missed! The entire staff is very friendly and accommodating. There are 10 motel rooms in the Main Lodge, and beautiful log cabins are available as well.
Now let's discuss fishing. Kesagami Lake is located in the sub-arctic Kesagami Provincial Park.  An amazing fact is that this giant body of water averages only seven feet deep, but is home to pike OVER 50" and tons of 40 inches! Hundred-fish days per boat are commonplace, with occasional 200-fish days… switching gears from walleye to pike is easy at Kesagami.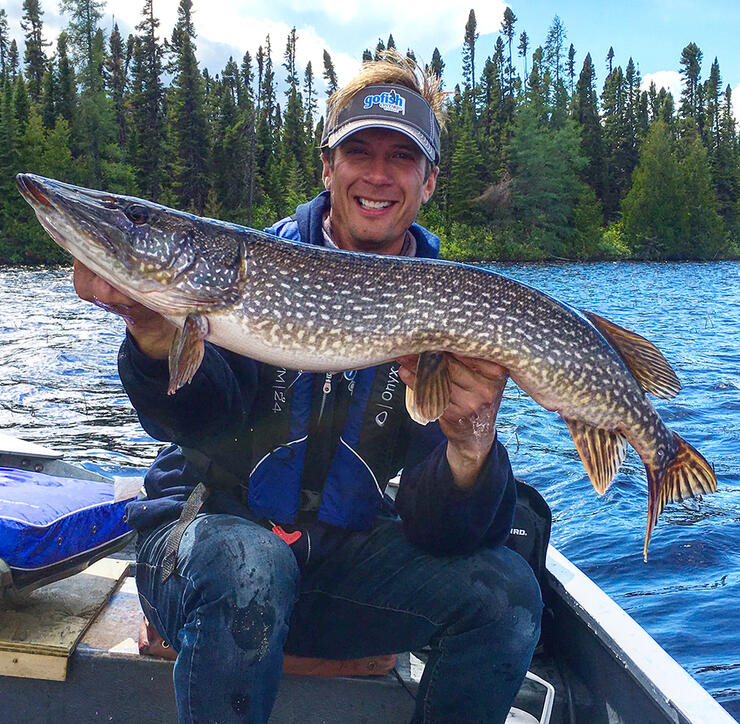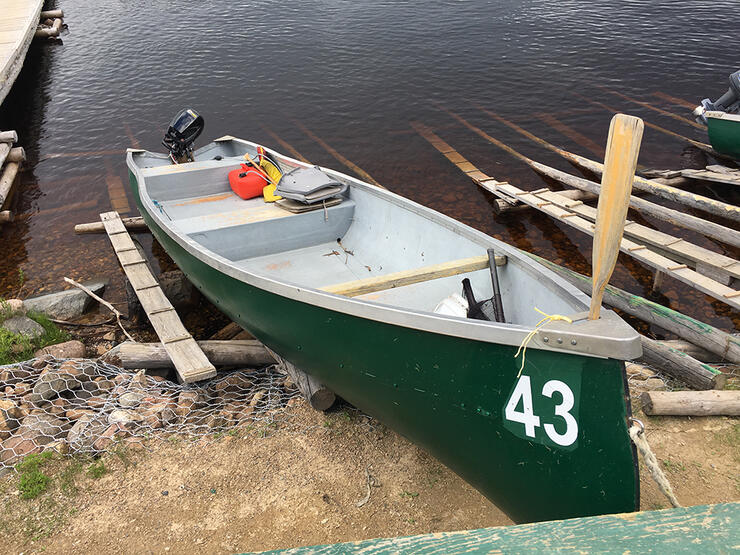 The boats are unique. Big and stable 22-foot Scott Canoes provide ample room for all your gear and make fishing with two or three people a breeze. No, not your typical canoe fishing experience—more like a modernized version of Voyageur-style travel that recalls early exploration.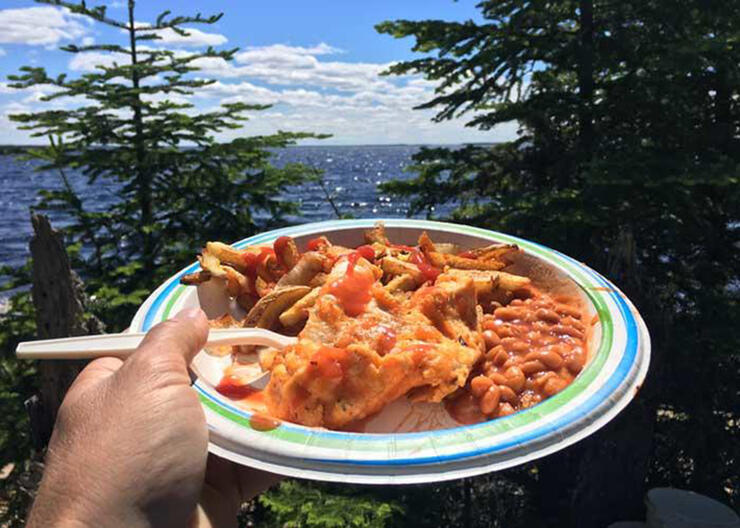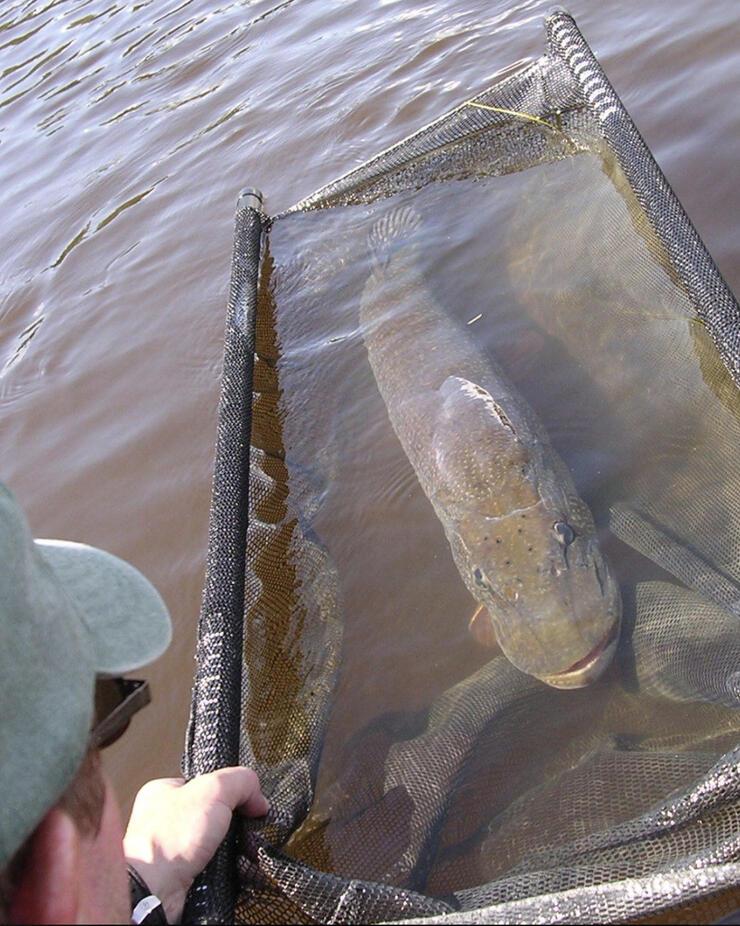 To keep the population healthy, one single barbless hook can be used. This is no problem when the fish are so aggressive. In fact, with so many catches, single, barbless hooks make unhooking and releasing fish that much faster to get your line back in the water to catch another one. You can also feel good that the trophy pike is released unharmed. Along the same lines, cradles are provided for handling the big pike. This is definitely a must for incredible remote-like fishing…and award-winning ribs!