Twitchbait Smallies
Open water smallmouth fishing in Atikokan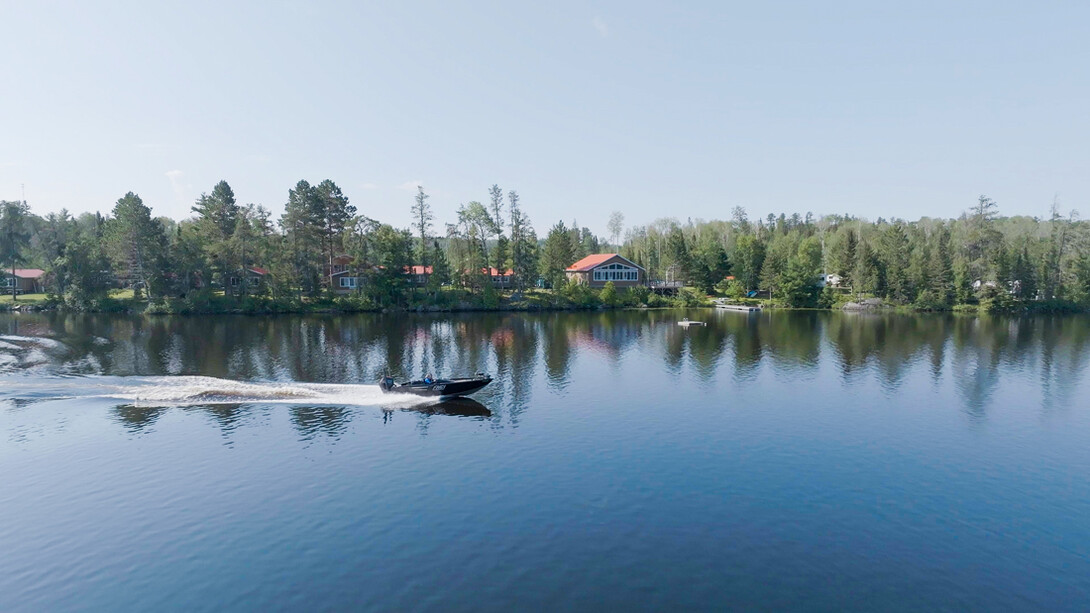 Hey everyone and welcome to the premiere episode of the 2023 airing Fish'n Canada season. We thought we'd start this year's shows out with a bang and feature one of the most exciting shows we've ever aired!
We were fishing in northwest Ontario in the Seine River system near Atikokan, Ontario with a target species of smallmouth bass. We say "system" because the river is made up of a chain of lakes. The lake that we featured in this episode is called Calm Lake.
Now don't let the name fool you because during our first two days here, the area of the lake we wanted to shoot in, was anything but calm. Our production team couldn't film due to rain, nasty whitecaps, and big rollers.
At least it gave us a chance to record an episode of the Outdoor Journal Radio podcast!
Our intended area, by the way, was a narrow area that opens up to the main lake… big water indeed!
This narrowed-down area apparently has a phenomenal amount of roaming Cisco throughout the summer months. Of course, with bait like Cisco, come gamefish of all sorts, and if smallmouth bass are present, they could be the dominant predator. That includes pike and walleye. With smallies being a schooling fish, they essentially take over these areas.
So, as we said, the wind was ridiculous so we looked for protected water in and around our intended "narrows" area. And, when each window of opportunity came that we could film, we caught everything that we didn't want…AKA little hammer-handle pike, and couldn't BUY a smallie. We knew they were there, we just had to wait'em out!
Hopefully, tomorrow will be a better day…
A NEW DAY
FINALLY… the weather, she has broken. You have no idea how difficult it is, to either be locked up in a cabin for a day or two or worse yet, be out on the water and not able to shoot.
This was the day we'd been waiting for…a perfect smallie day.
We headed to our intended fishing location and low and behold… this time the conditions were bang-on! Upon arrival, we could instantly see fish on our Garmin…both baitfish as well as predator fish… it's exactly the scenario that we've been waiting for…
Now, although what we're going to describe to you sounds like a unique situation, it actually is quite common worldwide where smallies exist…so long as there's also a population of pelagic baitfish to support it.
The smallies we're after today are part of a special fish segment that prefers to feed in big open waters. This large predatory group of bass is set up in a funnelling area perfect for corralling and busting into big schools, or "balls" of Ciscoe, a high protein baitfish throughout this system.
As we mentioned earlier, these Ciscoe are Pelagic, meaning they roam the waters away from shore and away from bottom. Essentially, they're huge floating cafeterias that attract pelagic predators, like these marauding smallies.
To better describe what is actually going on here today, we captured some amazing LiveScope footage.
Before forward scanning technology came along, it was hard to see what "baitballs" looked like or exactly where they were and what they were doing. Now it's a no-brainer. Imagine being a big smallie, walleye, or pike hovering underneath a massive source of food, waiting for the dinner bell to go off!
At any given time, it seemed that these Smallmouth were in one of two modes. Actively cruising around midway in the water column getting ready to attack the cisco balls or not paying any attention to the bait above instead relating to bottom structure like boulders and wood.
There are even times when for whatever reason, the roaming baitballs swam down to the Smallmouth near the bottom. Looks like Cisco suicide!
However, once these marauding predators decide to feed, it's an all-out attack! The odd time it's a single Smallie blitz, but most of the time, it's an entire wolf pack onslaught! 
OUR PRESENTATION
Want to see how the boys from Fish'n Canada caught their fish? Head over to fishncanada.com to see their full breakdown!
BRANCH'S SEINE RIVER LODGE
Nestled in the heart of Sunset Country in Northwestern Ontario Canada, Branch's Seine River Lodge is a modern, full-service, drive-in fishing and hunting lodge. We're only 70 miles east of the Fort Frances, Ontario / International Falls, Minnesota border!
Main Lodge
Overlooking Banning Lake, it has a pined, cathedral ceiling, large windows and a beautiful view of the lake. Storms are amazing to watch from the comfort of the lodge and it's positioned so that you can have a great view of the northern lights on a clear night when they are flickering across the northern sky. In the late evening, we enjoy some beautiful sunsets as the day winds down.
Aside from our kitchen and dining area, it also features:
an office and (small) store with tackle, ice, bait, maps and other supplies
a lending library with several hundred books to take back to your cabin (or in the boat or in the woods) - or sit and enjoy reading in the lodge
board games to play while relaxing
American Plan meals in the lodge and we are in the process of applying for our liquor license and are developing a short-order menu
a large screen TV to watch "the game" if you want
fireplace, darts, pool, and a small bar
As for the meals, Ang, Pete and the production crew rate Branch's Seine River Lodge as some of the absolute best food they've encountered in all of Ontario…it's that good!
THE FISHING
The Seine Chain Smallmouth Bass: Pound for pound there is no better freshwater sport fish that gives an angler a better fight and better action than the smallmouth bass.
The Seine Chain of Lakes is home to some of the best smallmouth bass fishing in Northwestern Ontario, and we welcome die-hard bass fishermen from all over the United States and Canada year after year to enjoy the action that our scrappy smallies provide.
The Seine Chain Walleye: The Seine Chain of Lakes offers an incredible array of walleye fishing opportunities throughout the system. In a time when many lakes are facing declining walleye stocks, nettings by the MNR on the Seine Chain indicate population levels are strong, consistent and perhaps even rising.
Aside from being able to access 30 miles of water and five lakes right from our dock, our pickerel anglers appreciate many other features of the Seine River System.
The water on the Seine is a stained shade of rust - some say it's from the iron formation upstream in the Steep Rock Lake / Atikokan area. Others say it's from other naturally occurring causes. Our walleye anglers say it's great because it enhances their fishing success at any time of day.
The Seine Chain Northern Pike: With a surplus of ideal habitat - shallow & weedy bays, deep drop-offs, islands and reefs and a healthy baitfish population, the northern pike thrive on the Seine Chain.
If you're just throwing a line in, not trying for any particular species, often the pike is the fish you'll wind up reeling in.
Read: How We Caught'em Calm Lake Smallmouth Bass
GETTIN' THERE
To get to this outstanding "slide and glide" Smallmouth Bass fishing we first drove north on Hwy 400 to Hwy 69. From there we travelled west on Hwy 17. We next took the 102 bypasses at Thunder Bay. From there we headed west on Hwy 11 and finally turned north on Banning Lake Road, which took us to the beautiful Branch's Seine River Lodge.
This great resort has updated and modernized cabins and has some of the most outstanding meals in all of northern Ontario. 
It's all about amazing food, spectacular accommodations and awesome fishing!