Quite Simply World Class
Experienced pro Len Perdic explains why Ontario is a world class fishery for carp and how to get started catching the most pursued freshwater fish in the world.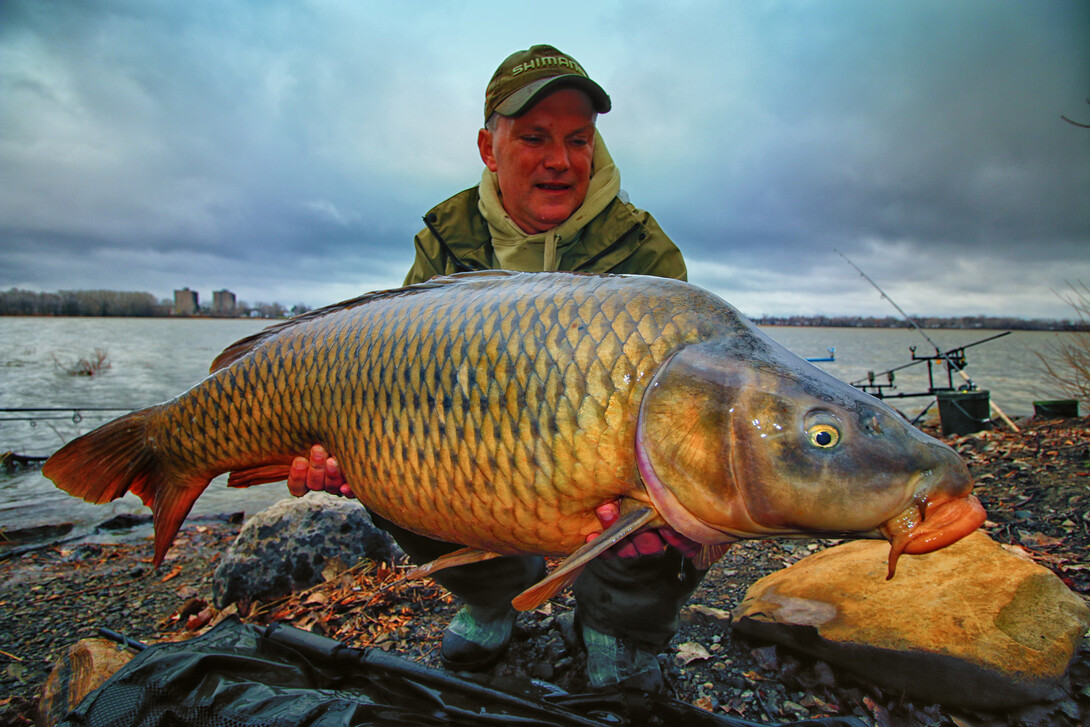 "Quite simply the best in the world," says Len Perdic, when I ask him to sum up the carp fishing opportunities in Ontario.
And Perdic should know. 
As a Team Canada member at the World and North American Carp Fishing Championships, he has travelled extensively and fished for carp in many of the premier venues. But he chuckles and says that most of the other destinations are mere shadows compared to the excess of riches Ontario has to offer.
"Carp fishing is an unstoppable addiction in the rest of the world," says Perdic, whose personal best Ontario carp weighed 52 pounds. "But we have so many other species of fish that they often bounce to the bottom of the scale. Part of the reason is that carp are extremely intelligent. They're not necessarily easy fish to catch without spending a little time preparing for a successful outing. But when you put a good game plan together, the number and size of fish that you can catch in Ontario are astonishing."
Indeed, as hard as it is for most Ontario anglers to fathom, Perdic says that in Europe and much of the rest of the world, where carp reign supreme and fishing for them has become a way of life, anglers routinely spend a week on a small 200- or 300-acre lake and rejoice if they land 20 fish. He routinely catches more than that during a leisurely afternoon at any one of a number of Ontario locations.
"Because we're blessed with such amazing fisheries," says Perdic, "we can't understand what it means to catch four or five fish a year. Most UK anglers are travelling to France, Italy, Hungary, Spain and Germany to fish some of the famous stocked and managed lakes over there. They're paying huge amounts of money for a single week of fishing and most of them do it three or four times a year. Remember, carp are the most pursued freshwater fish in the world."
Against this backdrop, Perdic says that Ontario has more wild carp swimming in its 400,000 lakes and rivers than the rest of the world combined. 
Is that crazy or what? 
And yet, only a handful of avid carp aficionados take advantage of the almost unlimited, easily accessed, and free fishing opportunities.
"Once they get large enough to escape the jaws of walleye, bass, northern pike and muskies," says Perdic, "carp in Ontario waters have no natural predator, so they grow large. Our fish have a slightly shorter life span than their European cousins due to our cooler climate. And they eat primarily natural sources of food, instead of being artificially fed in managed lakes. So I would say the average size carp I catch in Ontario is between 25 and 35 pounds. But I guarantee we have plenty of 50- to 70-pound fish swimming in our waters. It is the reason the carp fishing in Ontario is the best in the world."
When asked to name a few of his favourite provincial haunts, Perdic chuckles and tells me if I were to ask a European angler the same question, he or she would shutter and be tight-lipped, because the best spots everywhere else are closely guarded secrets. But because Ontario has so many superb natural venues -- including the largest freshwater system on Earth –- it is a non-issue.
"My favourite carp fishing spots are probably within the 386-km Trent-Severn Waterway, that flows between Lake Ontario and Georgian Bay," says Perdic, who has caught 79 carp in Ontario that weighed more than 40 pounds. "All of the Kawartha Lakes offer exceptional fishing, but I particularly like the Otonabee River around the city of Peterborough.
"The St. Lawrence River, between Kingston and Cornwall is also much-loved, as are massive Lake Ontario and Lake Erie. These two Great Lakes, in particular, have some of the finest carp fishing that you will anywhere."
With so many exceptional fisheries at our doorsteps, however, where does a greenhorn begin?
"Most anglers already own a steelhead or catfish outfit," says Perdic. "As long as the rod is at least 9 feet in length and the reel is spooled with a couple of hundred yards of fresh line, you're good to go. The key thing to remember, however, is that you need to keep the bail or clutch open, or you'll lose everything when a carp takes your bait.
"Most beginners do not have to complicate things in order to catch fish. Sweet corn straight out of a can is perfect for bait unless you're fishing where gobies are present. Then you'll want to tie the corn in small bags, the same way you would prepare spawn sacs for rainbow trout.
"Just be forewarned, because once you catch a few giant carp, you're going to become addicted like the rest of us. This is when I would suggest you join a carp fishing club.
"Fortunately, too, every year more and more tackle shops, including many of the big box stores, are carrying quality, inexpensive carp tackle. Everything from bait-running reels and alarm systems to pre-made chum and pre-tied hair rigs."
We have the finest carp fishing in the world in Ontario, so now let's show the world that we also have the finest carp anglers.