Boundary Waters Guide Service
A black bear hunt is always more enjoyable when you're with great friends
This article was written in collaboration with Michael Higgins.
Hunting in Ontario is always a pleasure, but getting the opportunity to drive from Southern Ontario to Northwestern Ontario, for a spring bear hunt, is an experience we rarely pass up.
Our adventure began with an early wake-up and loading of the truck in Peterborough. Joining us on this hunt was good friend John Ward from Camillus Knives. We were now in the truck and heading to Boundary Waters Guide Service, which is located an hour southwest of Thunder Bay. In what seemed like no time at all, we were surrounded by some of the most beautiful scenery as we drove up Highway 17. From the deep green pines to the almost neon green poplars, the forest became thicker and thicker and eventually gave way to the stunning blue water of Lake Superior, which was protected by the towering cliffs that surround the lake. As we drove, we had encounters with black bears and moose feeding along the highway, which kept fueling our excitement for the hunt.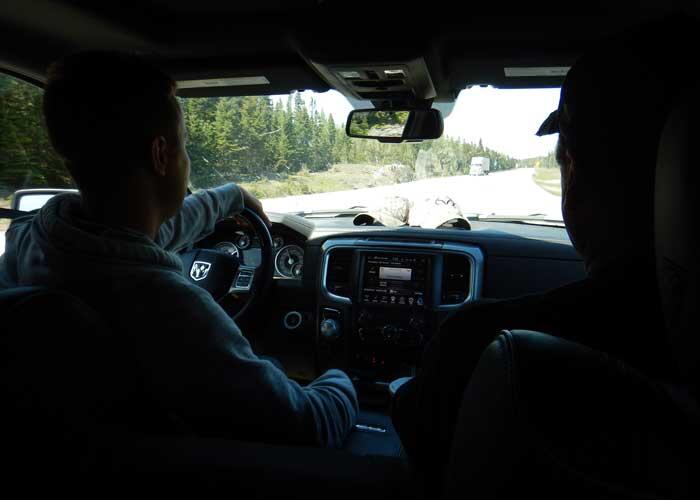 We arrived 16 hours later and were greeted by the owners, Andrew and Betty Romu. Their remote and rustic log cabin is a unique sight to behold, with a towering, slanted roof design and wooden shingle siding. In fact, Andrew's father built the cabin himself in the 1970s, and Andrew grew up in it with his family for many years. As you duck to walk inside this fully off-the-grid cabin, you walk into a time long ago, with oil lights now converted to propane but still lit by hand, and walls and ceiling made of beautiful hand-carved logs. A large cast iron fireplace sits proudly in the corner, along with a small kitchen and an island.
Beyond the entrance are our living quarters for the week and there are four beds, one in each corner of the room, with dividing walls. The main living area is decorated with old hunting pictures and a couple of deer mounts and has a table and couches for relaxing while listening to a battery-operated radio in the corner. Though there is no power or running water, they have a great solar shower.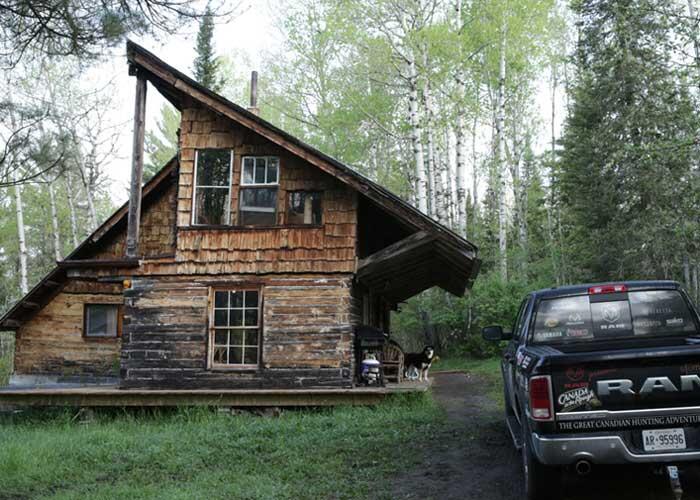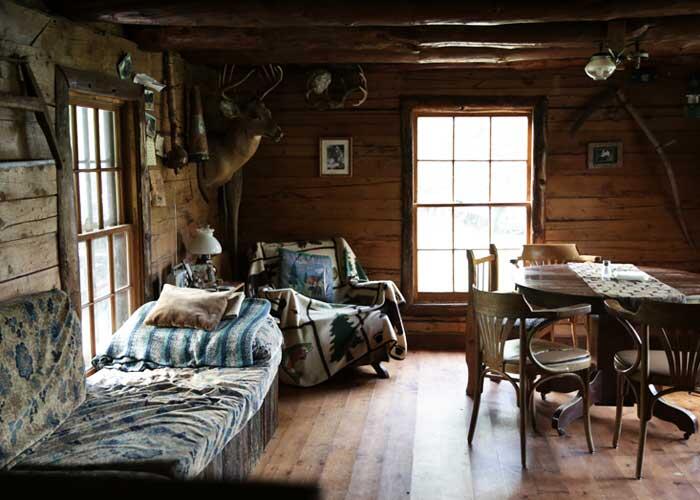 Our first day of the hunt began the following afternoon after confirming our Excalibur Crossbows were still on and checking a few of Andrew's baits. As it came to be, our week of hunting was going to be a challenging one. We had many days of unusually high winds, which sent our scent in all directions, alerting our quarry. We sat most mornings and every evening through all types of weather, including some good rainfalls and blistering hot conditions. The bears seemed to be taking shelter in the thick forest for the most part, but we did have some entertaining encounters throughout our week.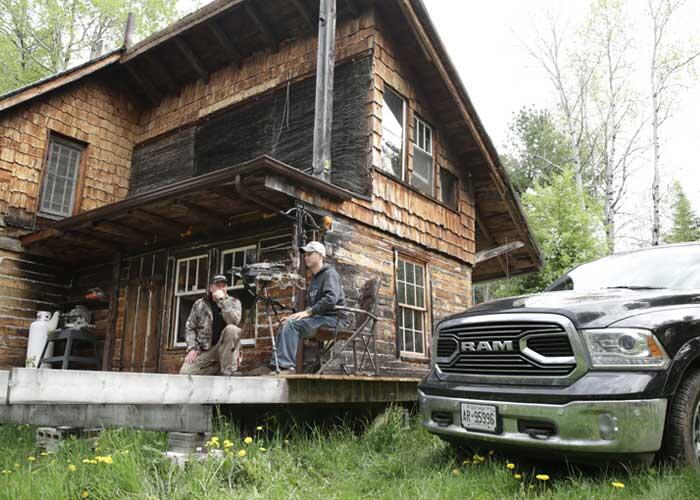 There was a large sow that came into 10 yards one afternoon, and a young playful boar that had it out for the energetic chipmunks and squirrels. We were even privileged to witness a cow and bull moose foraging in a lake as we drove to one of our baits and a rare encounter with a family of wolves, with one pup howling away when he was separated from his pack. On the second last day of the hunt, our guest John was able to harvest a bear with a great 38-yard shot and the bear was down in no time. We were thrilled that John was going to be headed home with some great meat.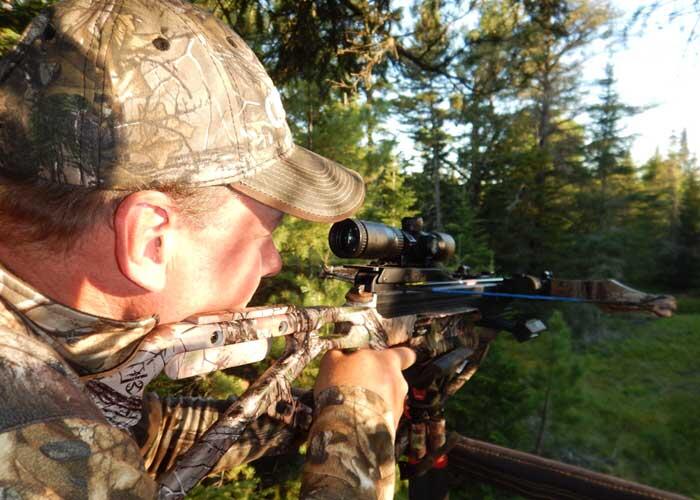 With the bad weather that we had seen, the week came to a close, and Kevin had not pulled the trigger. So, Andrew decided that he would have Kevin come back when the fall hunt started in the middle of August.
The summer flew by; before Kevin knew it he was back having dinner with Andrew and Betty at their beautiful lodge, and Andrew was showing him some big bears on trail camera. The first night in the stand Kevin had some great encounters. First, a giant sow came into the bait and entertained them for 20 minutes, and then with 40 minutes left of daylight, a sow, and three cubs came in. The cubs put on a great show, climbing up and down the tree and playing around, but the night ended with no boars showing up.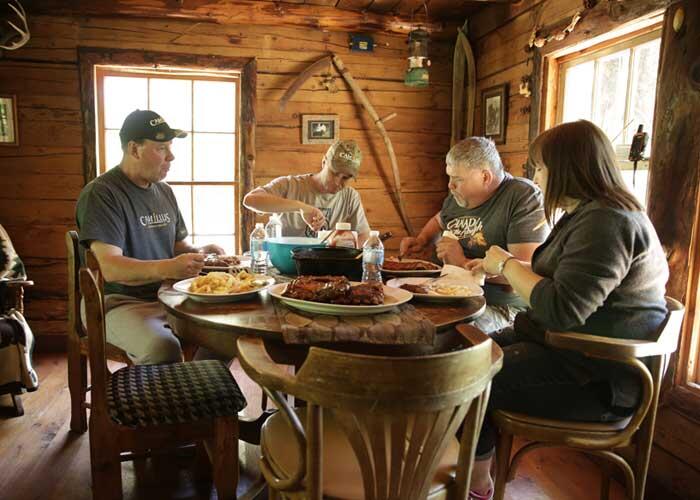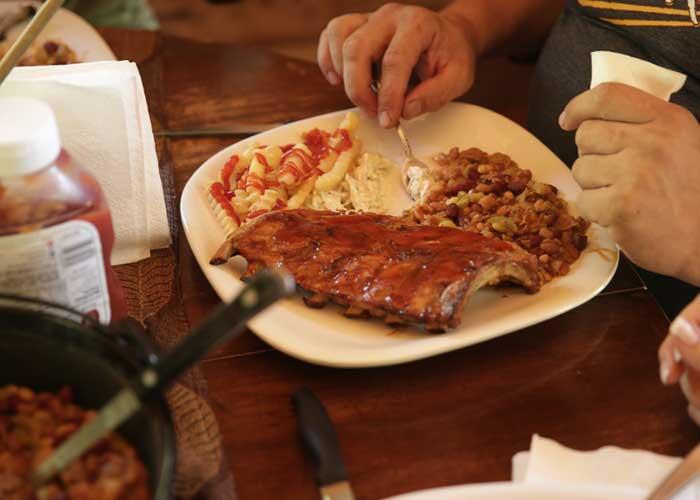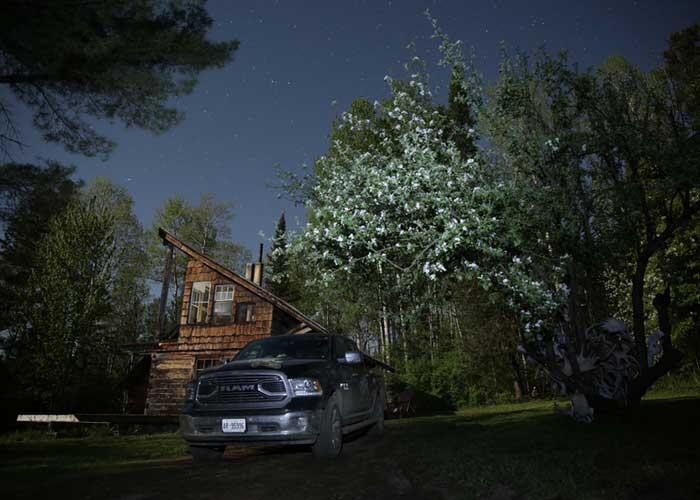 The next morning, we were back in the same stand and the cubs came back to entertain; unfortunately, that was all that we saw for the day. The next morning, we arose early and changed locations, and within 15 minutes of being in the stand, we had a young sow in front of us. She fed for 45 minutes and then that was it for the morning. We were back in the tree by 5 pm and by 6 pm, the young sow was back in front of us. She worked her way off to our left and disappeared into the thick forest. An hour and a half later we caught movement from where we last saw her. When the bear cleared the trees we immediately realized that it was a boar and with the crossbow all set, the safety came off, and as soon as the boar stopped, Kevin made the shot count. The boar ripped off into the woods and with a loud crash; he was down 60 yards away. Kevin waited for Andrew to arrive, and soon they had their harvest back to the lodge.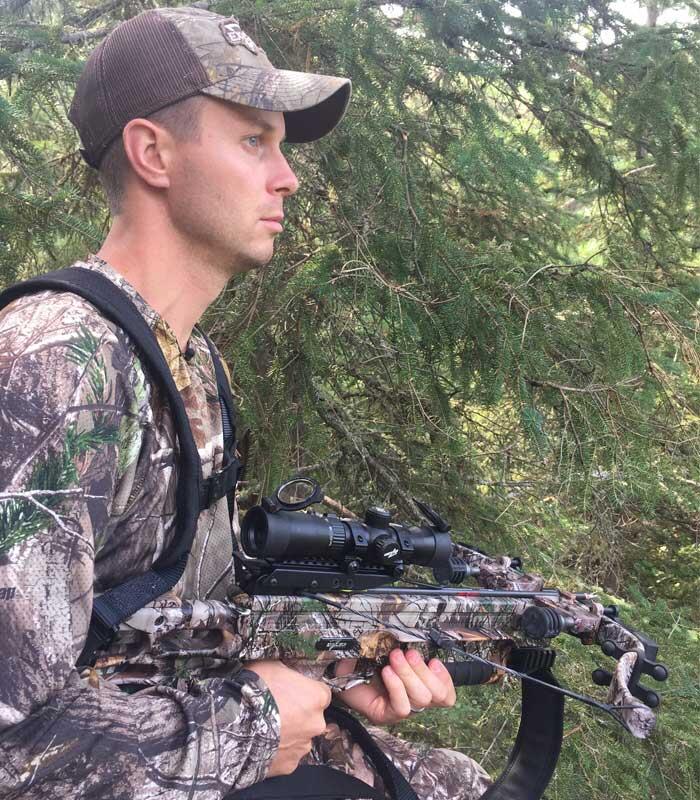 There is something special about bear hunting, and being able to do it with a great friend makes it that much more enjoyable. To be able to see the reaction on their faces after a harvest is something to witness. We always enjoy heading up to Northern Ontario to hunt and we can't wait until we are up there again!