A Beginner's Guide to Hunting in Ontario
Amanda Lynn Mayhew, producer and host of "THAT Hunting Girl," helps to demystify hunting for newbies.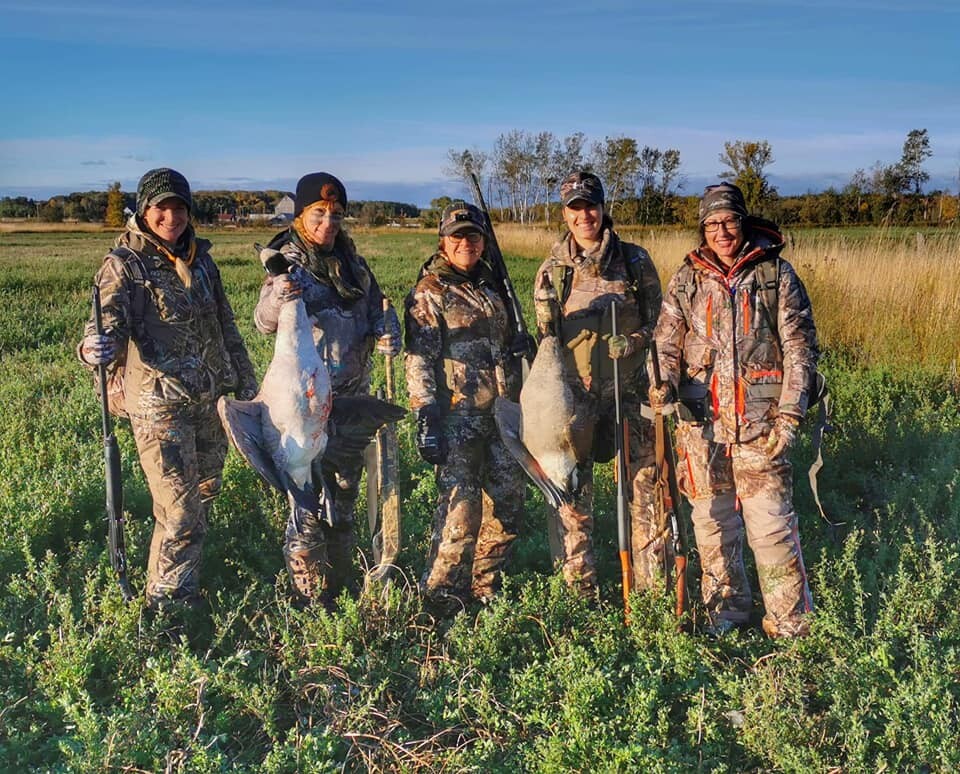 As a skill that's traditionally passed down from one generation to another, hunting can feel intimidating to break into if you don't have an experienced outdoors person in your life. From understanding regulations and the licenses you need, to knowing which gun or bow to use, how to shoot it, and the correct way to process any game you might bag, it can be overwhelming, to say the least!  Luckily, Ontario offers a host of guiding programs and guided trips for beginners, making it easy to experience hunting safely for the first time. 
Amanda Lynn Mayhew is one of those expert guides. Wildlife Enthusiast Magazine named her one of the "30 most influential females that hunt in North America," and she is passionate about mentoring newcomers to the sport, particularly women. In fact, her desire to help others break into hunting led her to found Just Hunt Inc., where she offers a variety of foundational programs for folks wanting to develop their outdoors skills, making her the perfect person to approach with these beginner hunting questions.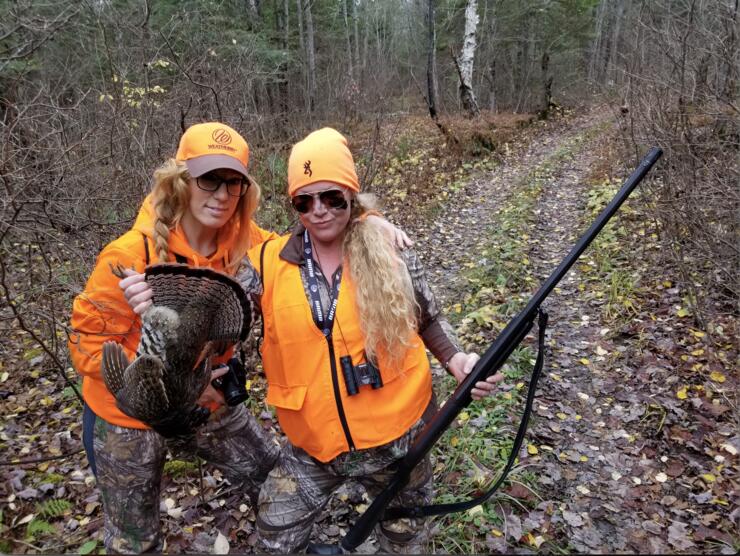 What is a realistic goal for someone's first hunt in Ontario?
Once you have all the accredited licenses that you need: firearms, hunting, small game type, whatnot, your easiest hunt to have even a small success rate, would be a Northern Ontario grouse hunt of some sort. A high percentage of people can recognize the grouse, and they're a fairly easy bird to hunt, and you definitely can be successful, depending on your determination and your location. 
Any favourite spots to hunt grouse? 
Anywhere from Sturgeon Falls, which is by North Bay, all the way across to the Manitoba border is just amazing for grouse.
What are some of the ways a novice can prepare in the lead-up to their first hunt? 
Have the proper firearms, so ask somebody, or look at the regulations. I do an event called Range Day and that gets you familiar with all sorts of firearms. If you don't have a lot of knowledge or experience with firearms, it's a great place to start. There are so many organizations in Ontario that have different events, like Ontario Federation of Anglers and Hunters (OFAH) has a Women's Outdoor Weekend, where you can go and gain some knowledge of chain-sawing and fishing and hunting and butchering, and all those things.
And you offer a Take Me Hunting program – what does that weekend with you look like?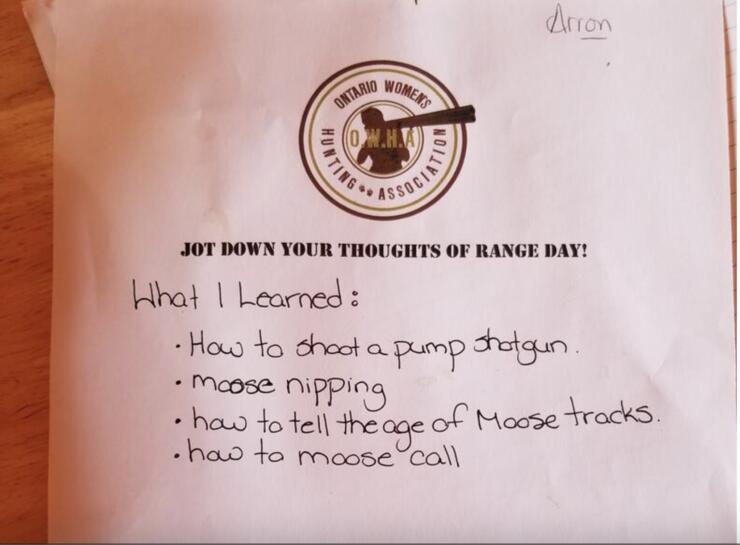 We go in on the Friday and get to know each other. I get to know how comfortable you are with your firearms. On the Saturday, we go to the sandpit and I want to see you shoot your gun – show me that you're familiar with it, that you're comfortable and confident with it. And then the rest of the day is out on the adventure and then Sunday is another adventure of cleaning up.
Your programs were initially geared toward women – is there anything for men who want to learn how to hunt? 
I have men who email me and say, "Hey, just because I'm a guy doesn't mean I know how to hunt." And it's very true because people generally assume that if you are male, then [knowing how to hunt] is just an automatic thing, but it's really not. And so I've been trying to be very inclusive of everyone. 
My idea is to someday have a lodge, where people can come and play and learn and hunt and fish and just do everything on one site.
What are some of the values that folks can get out of hunting, beyond putting meat on their table?
First and foremost, you're reconnecting with untouched wilderness. You're being independent and learning dedication and patience. Pulling the trigger is the ultimate last thing that you're going to do, besides cleaning [your game] and putting it in your freezer. It's everything that's leading up to that: the intention, the grass, the smell. And then when you do pull the trigger? Then you're gonna do something with that animal and you're gonna feed your family, you're gonna feed your friends.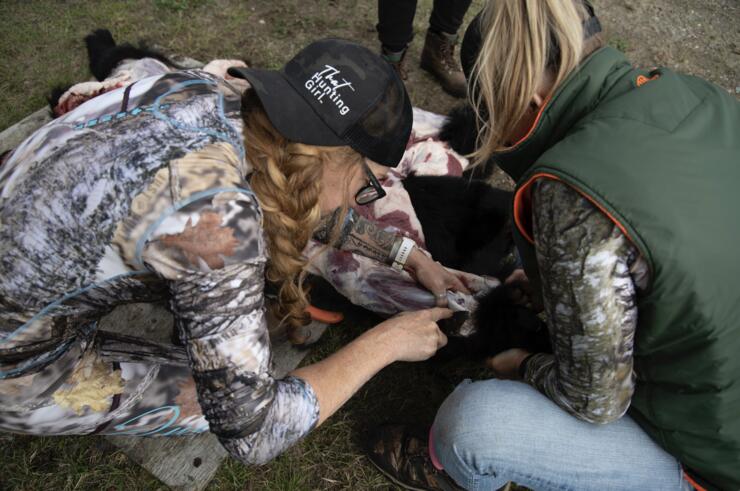 Amanda's safety tips for new hunters
"Always be ready" is definitely a term that every hunter goes into the bush with, it doesn't matter how experienced they are.
Become familiar with where you're going. So look at a satellite map. Make sure you have a compass, GPS, and a paper map.
Carry a bear bang or bear spray and whistles and bells, just like if you were hiking or canoeing or fishing or anything in Northern Ontario.
Not sure where to begin? Check out these links for required licenses, regulations, and beginner-friendly ways to break into hunting, including lodges offering guided hunts, the Ontario Hunter Education Program, and Amanda Lynn Mayhew's Take Me Hunting Outfitters.
Still aren't sure if hunting is for you? Check out Mayhew's TV show, airing on Sportsman Channel Canada, which lets you accompany Mayhew on her outdoor adventures— many taking place in Northern Ontario—from the comfort of your own home!