Winter in North Bay
North Bay is packed with things do to during the winter months. From fat biking to Nordic skiing, there's a world of adventure to discover in Ontario's Gateway to the North.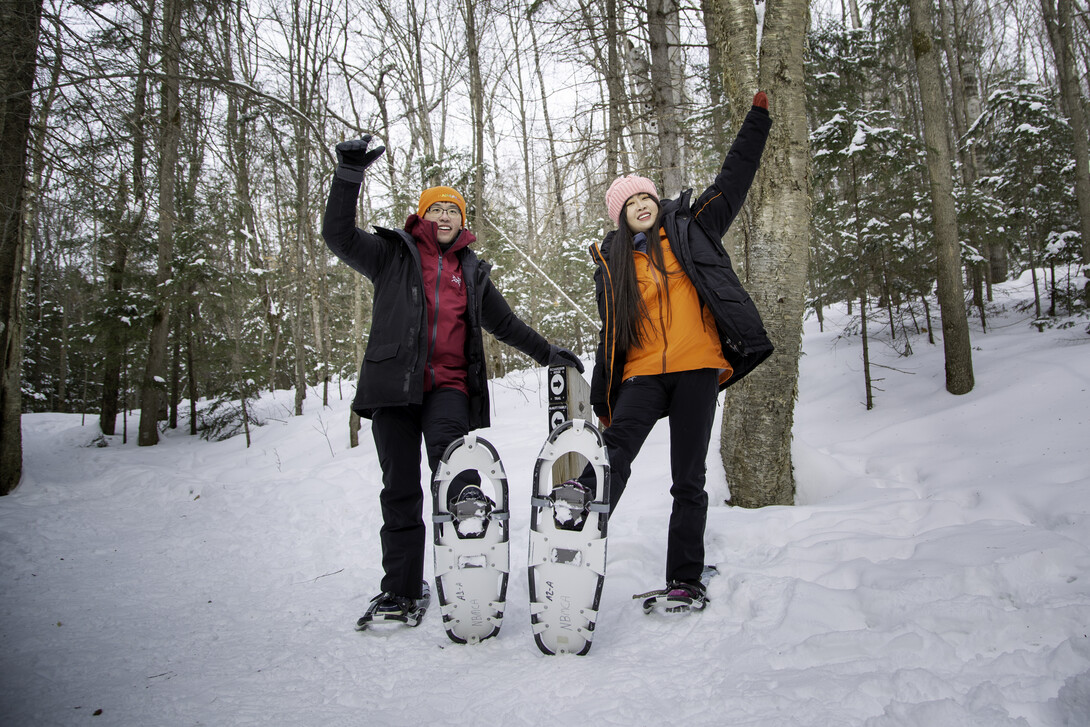 The city of North Bay knows how to do winter. This Northern Ontario destination boasts a wealth of cold-weather activities ideal for a weekend outing, memorable afternoon, or a cool staycation. Set along the scenic northern shore of Lake Nipissing, North Bay serves as the perfect gateway to Canada's outdoor offerings. Whether you're looking for a leisurely afternoon of ice skating or high-impact fat-biking experience, North Bay is a winter-lover's dream.
Here are six great ways to enjoy the winter in North Bay.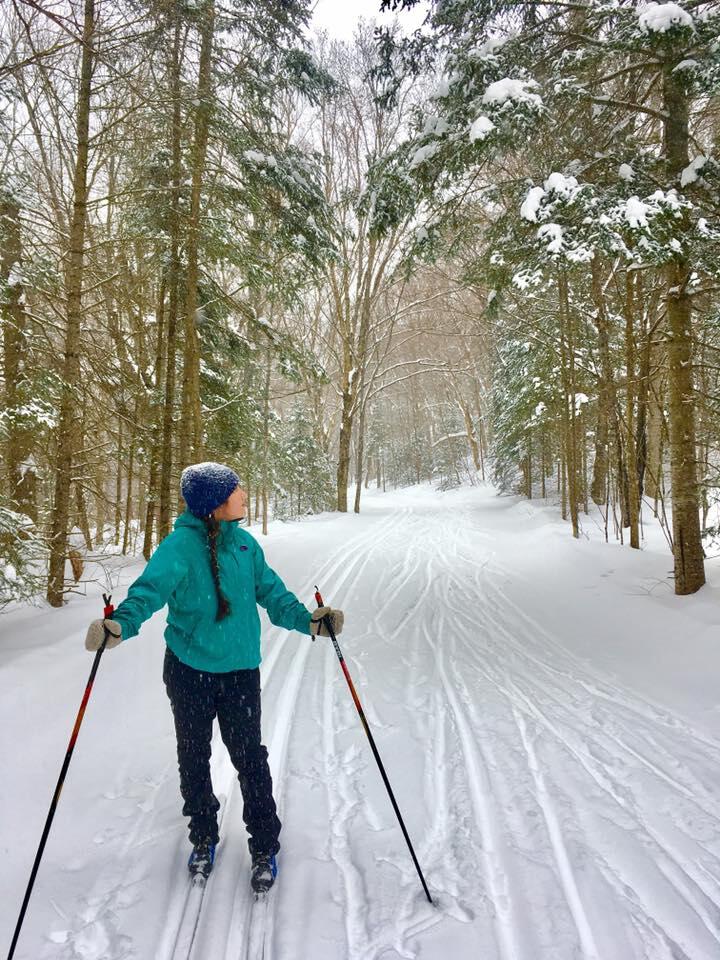 One of the best ways to take in the wintry landscape of this region is through an outing on cross-country skis. North Bay's Nordic Ski Club offers a range of trails for a wide range of skill levels and distances. These range from the 0.6 km Sprint trail along mostly flat terrain, to the 18 km Green trail, which will take skiers into the remote wilderness, rewarding them with incredible views of Trout Lake and more. Those seeking something in between can try the 3 km Purple trail—the club's most popular—which offers gradual uphill climbs and scenic rolling hills. There is also the more challenging Blue trail, which takes skiers through 8 km of bush that overlooks the stunning High Lake.
Skis, boots, and poles are available to rent, and for skiing newcomers or those getting back into the habit, Nordic Ski Club also offers a variety of lessons for all levels of expertise, instructions on waxing skis as well as group lessons.
 
Crush Some Powder in Snowshoes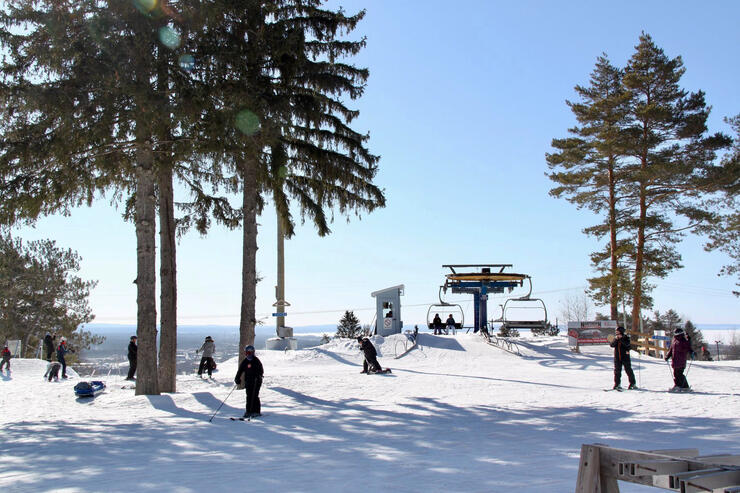 Nordic Ski Club is also a great option for snowshoeing, with trail maps that will take visitors to the Ice Falls and along cliffs, through maple and poplars, and offer views of Trout Lake and Lake Nipissing, depending on which route is taken. Keep your eyes peeled for rabbits, deer, fox, marten, and otter, among other wildlife. 
Laurentian Escarpment Conservation Area provides a great jumping-off point for a number of public snowshoe hikes and should also be at the top of any snowshoer's list. Snowshoes can be rented from Laurentian Ski Hill, or purchased from local hot spots Lefebvre's Source for Adventure and Cheapskates.
Whatever level of route you try, you can round out your day in the snow with a local beer at one of the city's beloved local breweries, such as New Ontario Brewing or Gateway City Brewery.
 
There are few winter activities as whimsical and romantic as ice skating (assuming you're able to stay up without a problem). Those looking to lace up have a variety of outdoor rinks to choose from—as well as the scenic skating oval at Lee Park—all located at convenient points throughout the city in playgrounds, parks, and other scenic spots. Of course, whether these rinks are open depends on the weather, so check the City of North Bay's list of rinks for the latest status on the rink's condition before heading over.
Ride Through the Wilderness on a Fat Bike
Fat biking is a favourite winter activity throughout Northern Ontario, and North Bay stands out for its offerings in this department. Locals can enjoy some fat biking on much of the Kate Pace Way and Kinsmen Trail, and the North Bay Mountain Bike Association has developed a network of trails that cater to those looking for a high-adventure ride through the winter landscape. Trailforks also provides updated information on trail conditions.
To buy a fat bike or equipment, you can pay a visit to local bike shop Wheelhouse or Cycleworks, who can provide the info and supplies needed to ensure a safe and exciting bike outing.
Finish the day with a nice dinner after your ride at one of North Bay's many delightful restaurants. For something a bit upscale and locally focused, be sure to make a stop at the popular White Owl Bistro, which offers a wide selection of farm-to-table dishes.
Ski or Snowboard Down the Slopes 

Of course, traditional downhill skiing and snowboarding is also a popular pastime in North Bay, with slopes fit for winter sports fans of all skill levels. Laurentian Ski Hill features challenging trails such as the Aeroplane and Lower Jack's Back, intermediate ones such as Maples and Poutine Pitch, and newbie-friendly choices such as Beginner Hill and Ron's Run.
Equipment rental of snowboards, skis, and accessories is available at Laurentian Ski Hill, and those who prefer to own their own equipment can pick up the latest and most stylish offerings at Cheapskates. 
Cut a Hole in the Ice and Start Ice Fishing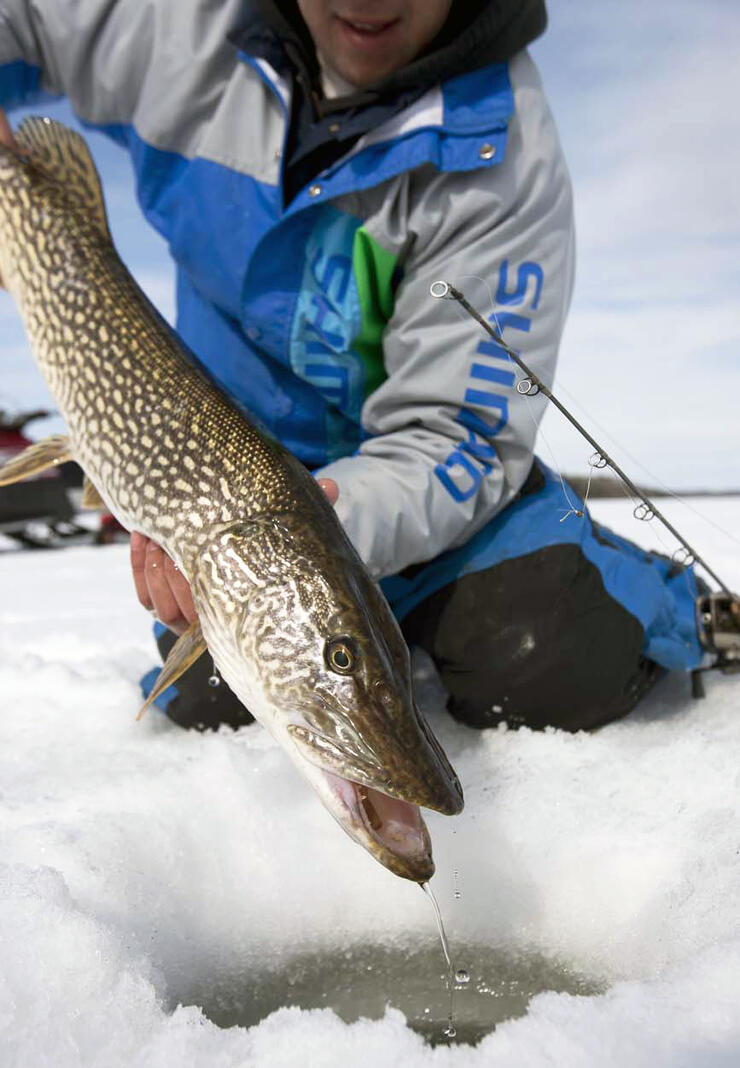 Few experiences say "winter" as much as an ice-fishing outing and Lake Nipissing can offer terrific conditions for catching some walleye, perch, or pike. Perhaps your best bet for ice fishing on the lake is to reach out to Bam's Tours, which provides ice bungalows for groups of two to six people (from within your social bubble, of course), which include a kitchen and washroom as well as vent furnaces. You bring the pillows and sleeping bags, and Bam's provides the facilities, hole drilling, and bait. Easy!
For those looking to just make it a day trip, ice huts are available from sunrise to sunset, as well.
Before heading out to the ice, make a stop at one of North Bay's many coffee shops and cafes for a fresh cup to keep you going on the ice—Twiggs Coffee Roasters and Opera Bakery and Café are both local favourites.
Plan your winter activities in north bay now
There's so much outdoors to explore this winter in North Bay. Whether you opt for a solo snowshoe trek or a nordic ski outing with your family, there's never been a better time to explore your own Northern Ontario backyard. Visit Tourism North Bay for more details and to plan your adventure.