A Pop of Colour
This scenic waterfront city is the perfect place to explore Northern Ontario's fall colours. We've rounded up the top five hikes for any skill level that promise a colourful payload.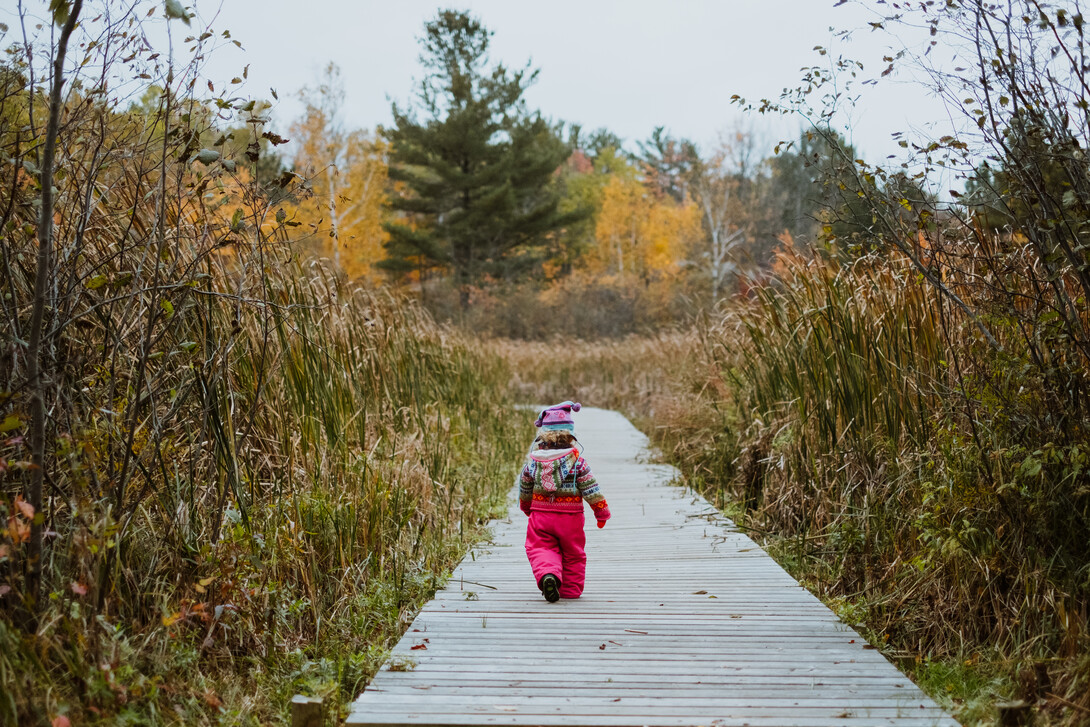 Some things to do may not be available due to COVID-19.
For the most up-to-date information on where and when it is safe to travel please visit: covid-19.ontario.ca
No matter what direction you're visiting from, North Bay's fall colours are worth the trip. The lush forested hills that surround this scenic waterfront city make it the perfect place to experience Northern Ontario's massive boreal forest as it changes from summery green to a sea of reds, oranges, and yellows.
Not only is North Bay known for its scenic beauty during all four seasons, but we also have the best hiking trails Northern Ontario has to offer. Visitors travelling here in autumn will get a glimpse of the region's incredible fall colours along with some stunning views of our bridges, gorges, and waterfalls. Picking a trail may be difficult but here are our top five to get your started.
Just a few steps outside North Bay on Highway 17 you'll find yourself at the base of North Bay's most iconic trail: Duchesnay Falls. While anytime is a good time to hike here, you won't regret a fall visit to check out the colours framing the waterfalls cascading down the escarpment–a view that every camera needs to capture at least once. Continuing along the 11+ km trail system, you'll find these sights everywhere you turn, and it will keep you wanting more. Experience some of the best views this trail has to offer from the top of the falls–the combination of the view, the colours and the fall breeze is incredible. After your hike check out nearby hot spot and enjoy a cold craft beer at Gateway City Brewery. You and your crew can quench your thirst and take a trip down memory lane with a game or two on of their vintage pinball machines. 
If you are looking for a day trip to an amazing hiking spot look no further than the Eau Claire Conservation Area. Just a short 40-minute drive down Highway 17 East towards Mattawa, don't forget to pack lunch for a quick picnic on your hike. Our suggestion: subs from Between the Bun. Not only is this one of North Bay's local gems, but it's also located on your way out of the city. Once you reach Eau Claire Gorge Conservation Area you'll discover an area with a rich history and a gorge like no other. Take in this 2 km trail with sights that include the scenic Eau Claire Gorge and the Amable du Fond River. The route map lets you explore the history behind the log cabin, slide, and dam that make every step on this trail a memorable one. Take in the fall views and colours in the background of all the historic sights on this trail. This will be a trip you want to make again with family and friends!
The Laurentian Escarpment is another hot spot in North Bay! Just a short drive up Airport Road you can find an extensive network of trails for all levels of hikers. The two most popular trails are the Fred McNutt Family Trail and the Richardson Ridge Trails. Both will lead you to amazing views of North Bay and the nature that surrounds the city. Bring your family, friends, and dogs to these trails; you will come here for the hike but stay for the views. Take in the fall sights overlooking the city and watch the sun disappear into Lake Nipissing atop of this escarpment. Be sure to download the official North Bay Pocket Trail Guide for more trails in North Bay. 
Before heading to one of many regional trails be sure to make a pit stop at Lefebvre's Source for Adventure for all your last-minute hiking needs.
4. Endless views from Redbridge Lookout
A short 20-minute drive east on Highway 63 North is the Redbridge Lookout trail. This 4 km hike on rougher terrain may be the workout you're looking for. Although there are no obstacles throughout the trail, there is a steep incline that will get your muscles firing on this hike. This trail will guide hikers through the forest until you reach its vantage point. Once here, you'll enjoy a never-ending view of the forests surrounding North Bay and Redbridge as far as the eye can see!
Roughly 15 minutes from the downtown core, you will find one of the city's best-kept secrets: Otter Lake. Aside from Lake Nipissing and Trout Lake, Otter Lake is the largest lake in North Bay. This area is a pristine, undeveloped, very large natural area with exciting geographical and natural history. The best part of this trail is that it's beginner friendly but can also appeal to people that like a more challenging hike. Its main trail is easy to follow with additional routes that allow you to explore outside of your comfort zone and keep you close to the lake. The picturesque reflection of the colourful tree line on the lake makes for a gorgeous photo. Pack a lunch, go for a swim (weather permitting), or even canoe or kayak. This area is a must hike for anyone visiting the North Bay area.
Located within North Bay, an honourable mention goes to Laurier Woods Conservation Area. Despite being surrounded by urban activity, this hike promises easy-to-navigate loops and stunning birdwatching. A whopping 33 species nest in this 240-acre haven in the heart of the city. From the forest to the wetlands and wooden walkways, to hiking trails, this 10 km hiking area is what you are looking for. You will definitely work up an appetite hiking this trail system–luckily there are a few local delights nearby. Head to one of two Burger World locations–a local favourite in North Bay for a classic homemade burger. 
While you're out on the trail, check out a unique North Bay podcast and learn some forest science. Forest Talk Radio, Laurier Wood Edition, weaves together folktales and forest science for an old-fashioned radio comedy experience delivered right to your smartphone. Download the app, pop in your earbuds, and press play. It's the perfect accompaniment for your autumn stroll. 
The hiking opportunities are endless in North Bay and this scenic region has so much to offer. Take in the true beauty and scenery of North Bay and head out on our trails this fall season. You'll come back with memories that will last a lifetime. Be sure to download the North Bay Pocket Trail Guide for more fall colour hiking hot spots!