12 Best Things to Do in Ontario with Kids This Summer
Exciting summer vacation plans to entertain and enrich every member of the family in the outdoors.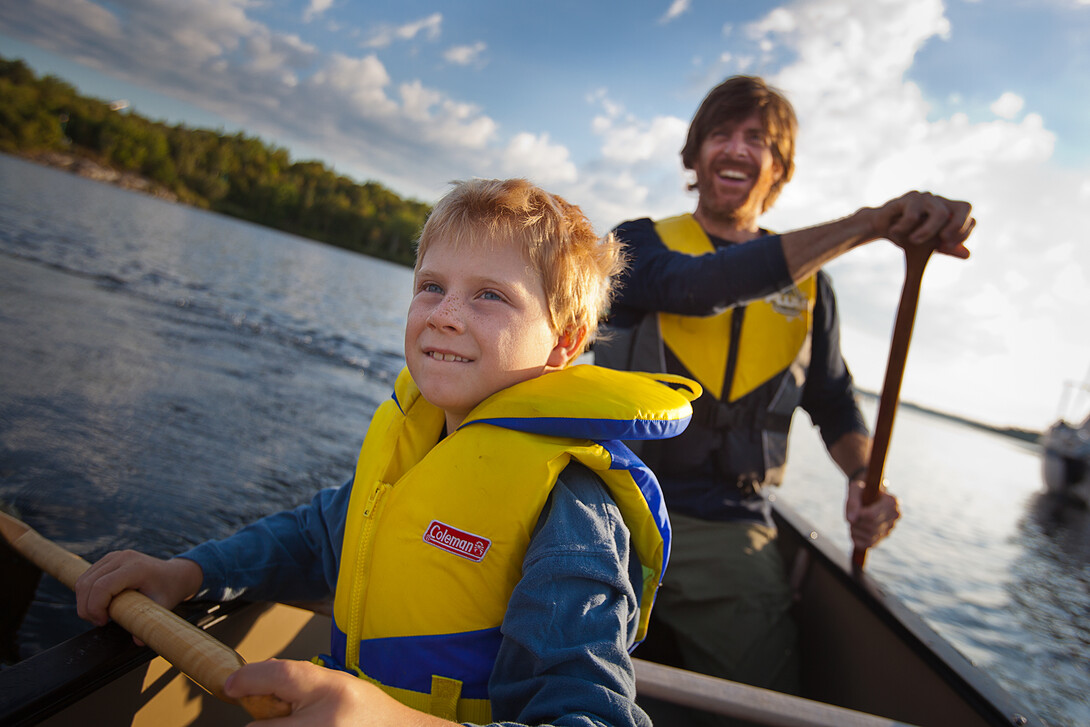 From day trips to weeklong road trips, there's no shortage of amazing things to do in Ontario with kids this summer. With an abundance of kid-friendly activities, parks and adventure centres across the province, there's something to entertain and enrich every member of the family, from tots to teenagers. Whether you want to share a learning experience, discover a new passion or kick back for some simple outdoor fun—try these kid-pleasers for your family's best summer ever.
1. Go on a Canoe Trip
Nothing brings together all the quintessential summer pleasures—swimming, campfires, warm breezes and long days—like a family canoe trip. If you're a seasoned tripper, plan a kid-friendly route with manageable portages and a flexible schedule that gives young paddlers plenty of free time for swimming and exploring. For new canoeists, going with an experienced outfitter is a fun, worry-free introduction to overnight canoe tripping. These family-focused guided trips are also perfect for busy families looking to simplify planning and logistics. Even better, group trips give adventurous kids a safe, inclusive space to paddle, play and explore with others their own age.
2. Take a SUP Class
For a fun new take on family-friendly paddlesports, try standup paddleboarding (known as SUP for short). With origins in surf culture, the beauty of SUP is equal parts accessibility and independence. Kids love the freedom of being in control of their own board, and lightweight, youth-sized equipment makes it easy for young paddlers to quickly master balancing and basic strokes (adults may find the former a bit trickier at first). The best part? Falling off is part of the fun—SUP boards also make great swim platforms!
3. Ride Bikes at Ontario Parks
For family cycling adventures from mild to wild, Ontario Parks offer a wide range of quiet roads and challenging trails for riders of every age and ability. Visit for the day, or combine biking with camping or a rustic cabin stay. Some parks even offer convenient, on-site bicycle rentals for simplified vacation planning.
4. Get Up Close to Wildlife
Ontario's vast forests and wetlands, along with endless lakes and rivers, make this province home to a wealth of astonishing wildlife. Large mammals like moose, bear and wolves roam the wilderness, while beavers, fox, otters, deer, waterfowl and birds of prey are more commonly spotted. Dedicated sanctuaries and nature parks offer children the chance to experience intimate and unforgettable encounters with these precious creatures while learning about the role each species plays in the natural ecosystem. As if that isn't reason enough to go, your visit also supports education, conservation and rehabilitation efforts.
5. Go Glamping in the Woods
An increasingly popular twist on overnighting in the great outdoors, glamping is all about experiencing the magic of the woods in comfort and style. Look around the province, and you'll find glamping accommodations ranging from romantic couples' retreats to activity-rich family escapes. Your woodsy glamp might be a stargazing dome, treehouse, canvas tent or traditional yurt—expect rustic comfort and crackling campfires surrounded by blissful nature. Here are some of our family favourites:
Nestled in a remote wilderness setting overlooking the Laurentian Mountains near Mattawa, Nature's Harmony Ecolodge allows families to share in an active, off-grid lifestyle while learning about environmental sustainability. Hike, bike and paddle by day, then cozy up beneath the stars in your choice of unique glamping sites—including domes, yurts, tents and log cabins.
Enjoy the spectacular Lake Superior coastal views, wild sand beaches and world-class hiking trails of Pukaskwa National Park without compromising on camping comfort. Get a good night's rest in the park's oTENTik sites—a cozy cross between a tent and a cabin—then take a canoe or SUP onto the tranquil waters of Hattie Cove, or hike to the jaw-dropping White River suspension bridge.
Imagine a private, 5-acre island surrounded by the sparkling waters of Lake Temiskaming and sprinkled with a handful of comfortable canvas tents. Accessible only by canoe, kayak or pontoon boat shuttle, Farr Island Glamping Resort is an idyllic family getaway with plenty to keep curious kids entertained. Ask the resort about their nature-based games, challenges and pirate treasure hunt!
6. Learn to Paddle Whitewater
Discover an exhilarating new activity while making family memories. Take a whitewater course or join a guided river trip to learn how to ride waves and paddle splashing whitewater. These outfitters specialize in safe, fun learning experiences for kids and adults—family bonding at its best.
Develop paddling skills together on the Madawaska River with Madawaska Kanu Centre. For a one-day taster, their Zero to Hero program is a kid-friendly (ages 12 and up) intro to canoeing or kayaking, starting on flatwater and moving into gentle rapids. For even more family-focused fun, check out their Family Weekends and Family Weeks. On-site accommodations range from wooded campsites to private cabanas.
With a great progression of easy swifts and beginner-friendly rapids set in a wonderfully scenic wild valley, the Spanish River near Sudbury is a perfect first whitewater family canoe trip. Contact Agnew Lake Lodge to arrange shuttles, outfitting, or a fully guided trip.
Share an unforgettable day on the historic Mattawa River with the experienced guides at Algonquin North Wilderness Outfitter. You'll follow in the portage steps and paddle strokes of the voyageurs on this beautiful Canadian Shield river.
7. Stay Up Late Stargazing
Looking for an inspiring theme for your next family getaway? Base your explorations around one of Ontario's stellar Dark-Sky Preserves, where near-zero light pollution makes for mind-blowing astral displays. Marvel at the Milky Way, learn the constellations together, and if you're really lucky, spot the Northern Lights. In Ontario, the further north you go, the better your odds of seeing a dramatic aurora display. Bonus: Kids love any reason to stay up late!
On Manitoulin Island, Manitoulin Eco Park is a Dark-Sky Preserve enjoying the inky firmament above northern Lake Huron. Offering private campsites, tipi-tenting and rustic cabins, this quiet oasis hosts guided stargazing night hikes and astronomy evenings.
One of Ontario's newest designated Dark-Sky Preserves, Killarney Provincial Park has beautiful backcountry campsites for canoeists, kayakers and hikers, as well as a recently upgraded night sky observatory that hosts guest astronomers throughout the summer.
The world's largest freshwater lake boasts some of Ontario's most expansive horizons and darkest skies. View the fathomless vault of stars—and keep watch for aurora—from the shores of Lake Superior Provincial Park. Prime skygazing spots are easily accessible from Highway 17, or sling a hammock between the beachside pines at Agawa Bay campground.
8. Go Sea Kayaking
Sea kayaks enable water-loving families to roam beyond the beach and explore open waters. The lower seating position of a sea kayak puts the water within easy reach of smaller paddlers. Kids as young as 12 can pilot their own single-person kayak, while younger children can ride along with adults in sea kayaks designed for two paddlers.
Perched on the shores of Lake Superior near Wawa, Naturally Superior Adventures offers guided family sea kayaking journeys from one to 5 days. Discover hidden waterfalls on the Michipicoten River, or venture out into the wide blue yonder of Michipicoten Bay. Rentals and accommodation are also available.
Surrounded by the wild islands of the Rossport Archipelago, Such A Nice Day sea kayak tours include half- and full-day explorations of this scenic island group on the north shore of Lake Superior. Bald eagle sightings and visiting a historic lighthouse are just a couple of the highlights.
Paddle among the piney islands and wave-polished islets of Lake Huron's North Channel and Georgian Bay with Horizons Adventures. This Sudbury-area outfitter specializes in sea kayak instruction, day trips and beginner-friendly intros to kayak camping.
9. Hike to Spectacular Lookouts
Going for a hike is one of the easiest, most rewarding and budget-friendly things you can do with kids this summer. All you need is sturdy shoes, a picnic lunch, and some inspiration on where to find Ontario's most spectacular trails. Our favourite routes are manageable for every member of the family. The views from these hikes will take your breath away, but thankfully the hike up won't.
The Algoma region spoils summit seekers—loads of great lookouts rise within an hour's drive of Sault Ste. Marie. Head to the Algoma Highlands Conservancy for an easy 5 km loop that tops out on the Robertson Cliffs for jaw-dropping Lake Superior views. Base your stay in the Soo at the Water Tower Inn; the extensive pool and spa facilities are a treat for kids and adults alike.
Climbing to the lofty heights of the Niagara Escarpment, the Cup and Saucer Trail on Manitoulin Island is known as one of Ontario's finest day hikes. The main trail loops 4 km to a series of overlooks atop the 70-m cliffs. Kids also love the Adventure Trail, a 500-m side trail that offers a more challenging approach to the cliffs—complete with rock scrambles and wooden ladders. Nearby, the cozy Manitoulin Inn has spacious housekeeping rooms and suites perfect for families.
Best known for its fabulous canoe routes, the Temagami area is also rich with scenic hiking trails. Visit Devil's Rock and the Caribou Mountain Fire Tower, rising above the ancient pines of the White Bear Forest. The friendly folks at Smoothwater Outfitters & Lodge can recommend even more fantastic day hikes in the Lake Temagami area; this cheerful lakefront lodge is also the perfect Temagami basecamp.
10. Visit an Animal Rescue Sanctuary
For a feel-good family day with a positive impact, plan a visit to one of Ontario's dedicated animal rescue facilities. These sanctuaries provide a safe, loving environment for injured, orphaned or neglected animals, including wildlife and farm animals. Most sanctuaries and rehabilitation facilities are volunteer-driven and depend on donations—visiting helps support their care while giving young animal lovers the chance to learn from the animals' guardians
Tucked away on over 150 hectares of natural habitat in the heart of Muskoka, Aspen Valley Wildlife Sanctuary welcomes injured and orphaned wildlife, with a focus on rehabilitation and reintroduction back to the wild. Guided tours through the property introduce you to the sanctuary residents, including black bears, wolves, coyotes, bobcats, lynx, fox and moose. Private tours (call ahead) and scheduled Family Special Events are available.
Operating as a haven for farm animals in need, Wishing Well Sanctuary is also committed to creating a space where human guests can learn how to be kinder and more responsible stewards towards each other, animals and the environment. Get in touch with staff to ask about their tour schedule, all-ages classes and special events.
Dedicated to the care of rescued animals and public education about its namesake residents, Serendipity Farm Alpacas & Llamas in Lanark County offers all-ages farm tours and popular guided llama walks (ages 16+). Tours and llama walks must be booked in advance.
11. Take Part in an Indigenous Cultural Experience
There are many Indigenous tourism operations across Ontario where your family can participate in educational programs while gaining insight into First Nations culture and communities. With roots in this land dating back at least 35,000 years, these ancient cultures have much to share and teach.
Manitoulin Island is home to six Anishinaabe First Nations communities. Check out the world's largest pow wow drum, peace pipe, and dreamcatcher in Sheshegwaning, visit the Ojibwe Cultural Foundation in M'Chigeeng, and join a guided hike or sunset canoe journey on Georgian Bay. Owned and operated by the island's Indigenous communities, the waterfront Manitoulin Hotel and Conference Centre in Little Current makes for an indulgent home-away-from-home.
Located minutes away from famed Killarney Park, Point Grondine Park is entirely Indigenous-run and features beautiful hiking trails and canoe routes. Kid-friendly, nature-based cultural experiences—including guided hikes and paddles—are perfect for families.
Experience the Haudenosaunee culture of the Six Nations of the Grand River through guided cultural and outdoor tours at Chiefswood Park Six Nations. The idyllic setting in Carolinian forest along the Grand River—with canoe and kayak rentals, camping, glamping huts and over a dozen gorgeous new log cabins—makes it easy to plan a longer stay.
12. Trek in the Treetops (and Go Ziplining!)
Satisfy thrill-seekers with a high-flying family day at one of Ontario's daredevil adventure centres. Zip through the trees, tackle an aerial obstacle course, or take a more sedate stroll through the leafy forest canopy—there's no shortage of vertigo-inducing excitement here!
Plan Your Trip Now
Whether you are planning an extended summer staycation or just looking for something fun to do with the kids for a day, Ontario is home to a wealth of inspiring family activities. Choose one of the incredible experiences on this list, and start making family memories to last a lifetime.