16 Picture-Perfect Fall Hikes in Ontario
Add these trails to your bucket list.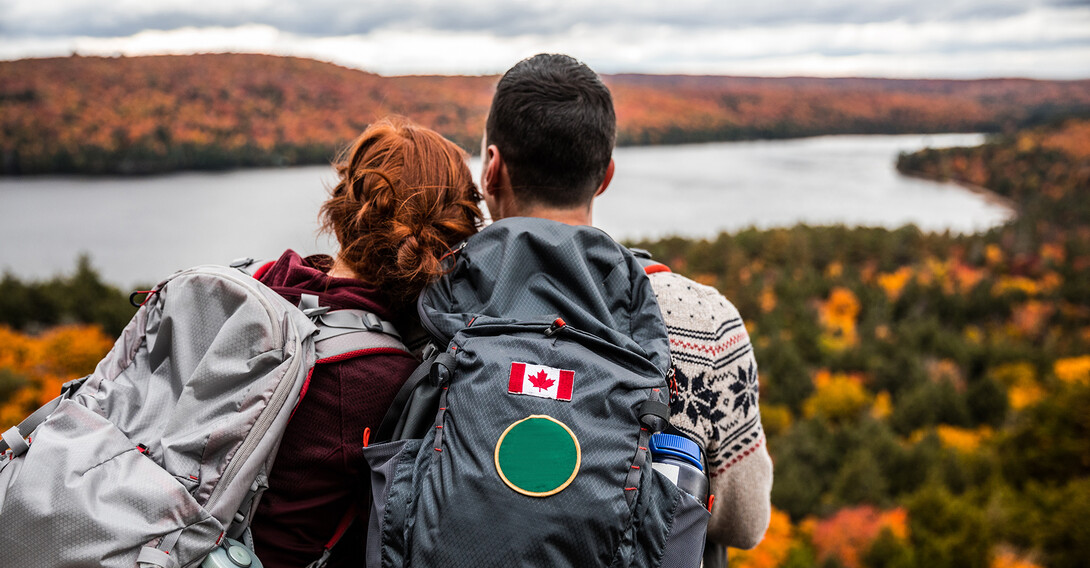 Ontario encourages everyone to travel safely during this time and follow public health guidelines. Learn more at Ontario.ca/coronavirus.
Ontario Parks has introduced advance sales of daily vehicle permits at select parks. Reserve your day-use permit online up to five days in advance here. Operating dates vary by park and change each year. Be aware that if you visit outside a park's operating dates, no facilities will be available and regular parking lots may not be accessible. Check which parks are currently open and view operating dates before arrival.
Best Time for Fall Colours in Ontario 
Between mid-September to mid-October, Ontario's landscape transforms into a brilliant tapestry with multiple shades of bright reds, vibrant oranges and golden yellows. It's the best time to travel Ontario, and in particular to go for a hike.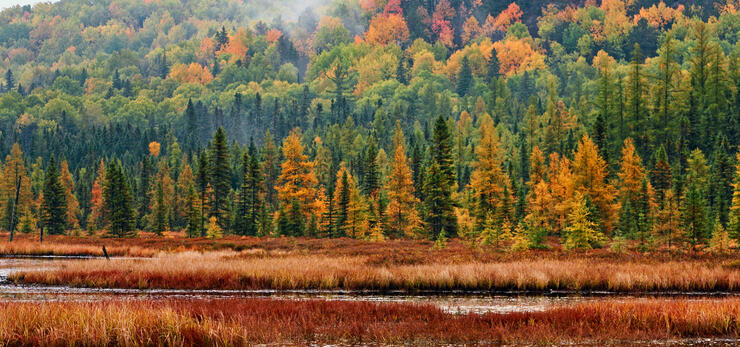 Where are the Best Fall Colours in Ontario?
The Ontario Parks Fall Colour Report tracks the changing colours in Ontario Parks across the province. It is updated weekly and provides a map to help you easily find where the colours are the best.
It's a great tool to help you plan your fall vacation or weekend getaway. Camp, RV or stay in roofed accommodation in a provincial park or a nearby town.     
We all know Algonquin's Highway 60 corridor is a mecca for leaf peepers looking for the best fall colours, so be prepared for plenty of company.
If you want to beat the crowds, check out some of the other Ontario Parks that offer excellent fall colours and exceptional hiking trails.
16 BEST FALL HIKES IN ONTARIO PARKS
With five trails—two of which take you to classic Arrowhead views over the bend on the Big East River and the bridge over Stubb's Falls—there's plenty of fall fun to be had at this Park. 
Park operating dates: Open year-round
1. Beaver Meadow Trail – 7 km, 2 hours
This is the longest trail at Arrowhead and passes by Porcupine Bluffs, the remaining shoreline of an ancient lake. While the bluffs are covered by the thick foliage in the summer months, in fall they are easily visible. There are plenty of wildlife viewing opportunities on this trail—you may catch a glimpse of otter, moose, heron, tree swallow and beaver. 
Where to stay:
Where to eat and drink:
Shop local:
Hike to the top. The best Algonquin trails for fall colours take you to lookouts with magnificent views that will take your breath away. Catch the maples at their peak, usually in late September or early October.
Park operating dates: All interpretive trails are open during the fall months
2. Centennial Ridges – 10.4 km, 3-4 hours
This very demanding loop trail offers spectacular views along two high ridges of some of the Park's most outstanding scenery. You must be in good condition with good footwear to hike this trail, but it's worth the effort.
3. Hardwood Lookout – 1 km, 30 minutes
This short trail winds it way up through a typical Algonquin hardwood forest to a lookout over Smoke Lake.
4. Lookout Trail – 2.1 km, 1 hour
After hiking this fairly steep and rugged trail, you'll be rewarded with a stunning view of the Algonquin landscape.
Where to stay:
Local shops and outfitters:
At 1,556 km sq, there's a lot of ground to cover at Lake Superior Provincial Park. There are 11 hiking trails total, each which will give you a unique look at the beautiful landscape surrounding the world's biggest freshwater lake. The hilly, forested landscape affords plenty of leaf-viewing opportunities, as you gaze out over kilometres of vibrant trees to the expanse of Lake Superior.
Park operating dates: May 21, 2021 to October 12, 2021
5. Coastal Trail – 65 km, 5 to 7 days
The most challenging and demanding trail in the park, the Coastal Trail takes you along the high cliffs and rocky beaches of Lake Superior. You'll be taken up to stunning lookouts over the colourful forest and sparkling waters, and through a canopy of fall foliage as you hike near the water's edge. The trail extends from Agawa Bay to Chalfant Cove. There are many access points along the way, which make it possible to hop on and off for a day hike. Find out more about Hiking The Lake Superior Coastal Trail. 
Where to stay:
Local shops and outfitters:

You'll find six hiking trails at Restoule Provincial Park, spanning a range of distances and difficulty levels. No matter which you choose, you'll be able to take in fall foliage as you walk through the hardwood forest. 
Park operating dates: May 21, 2021 to October 12, 2021
6. Fire Tower Trail – 4.1 km, 1.5 to 2 hours
The Fire Tower Trail ascends through mixed forest cover and provides the opportunity to experience several stages of natural history including forest fire and severe wind events. The reward for your hard work is a spectacular view from atop the 100-metre-tall Stormy Lake Bluff and a close inspection of a historic fire tower.
Where to stay: 
Shop local:
Enjoy the seven trails Charleston Lake Provincial Park has to offer, spanning a range of difficulty levels. Visit historic landmarks, take in views of gorgeous Charleston Lake, and experience a diversity of habitats and landscapes. 
Park operating dates: May 14, 2021 to October 12, 2021
7. Blue Mountain Trail – 5.7
Hike to the highest point in Leeds County along the Blue Mountain Trail. At the top, you'll get views of Mosey Lake, Charleston Lake, and even the distant Adirondack Mountains in New York State on a particularly clear day. Of course, you'll also see spectacular colours in the fall, stretching out in all directions.
The trailhead is only accessible by water via Huckleberry Hollow at the south end of the lake and is, therefore, intended for more experienced paddlers and hikers. It's a 2.5-kilometre paddle from the Charleston Provincial Park boat launch or an eight-kilometre paddle from the village of Outlet. Day use at the park closes Thanksgiving weekend so be sure to plan ahead and make sure you're well prepared for a longer paddle if you're visiting later in the season. 
For those that choose the trail, however, the reward is the opportunity to see the highest point in Leeds County (Blue Mountain).
Where to stay:
Where to eat and drink:
Take your pick from six trails in Earl Rowe Provincial Park, taking in Earl Rowe Lake from many different perspectives.
Park operating dates: May 14, 2021 to October 12, 2021
8. Rainbow Run – 11 km, 3 to 4 hours
The Rainbow Run trail will give you the full experience at Earl Rowe, as it loops around the whole Park. Part of the trail takes you to a lookout platform, where you can get the best vantage of the area's fall colours. You'll cross the Boyne River, encircle Earl Rowe Lake, and leave feeling more connected to the natural surrounds.
Where to stay:
Where to eat and drink:
Five hiking trails in Ferris Provincial Park will take you past historic landmarks, rivers, creeks and falls. It all depends on what scenery you are looking for.
Park operating dates: May 14, 2021 to October 12, 2021
9. River Gorge Trail - 3.5 km, 2 hours
The highlight of this trail is the Ranney Gorge Suspension Bridge, crossing over the Trent River. Look upstream for a view of Ranney Falls. The river is hemmed in by forest, making for plenty of opportunities for colourful views. 
Where to stay:
Where to eat and drink:
With seven hiking trails exploring many different regions of Samuel de Champlain Provincial Park, you'll never be bored. Visit Moore Lake, the historic Mattawa River, Long Lake, Gem Lake and a variety of forest environments.
Park operating dates: May 21, 2021 to October 12, 2021
10. Red Pine Loop – 3km, 1 hour
This trail has the best view-to-difficulty ratio in the Park. It's a fairly moderate hike with lots of rocks to traverse and hills to climb but provides amazing views of the Mattawa River.
11. History Loop – 8.5 km, 5 hours
This is the longest trail in the Park and makes for a great day hike, including a nice place to stop for a quick lunch. Along the loop you'll take in spectacular views of the Mattawa River, challenge yourself on steep climbs and cross a beautiful bridge at "The Gut." The Gut is a great lunch spot, as the trail drops in elevation towards the Mattawa River.
12. Kag Trail – 2 km, 1 hour
If you're looking for a workout, the Kag is the trail for you. Difficult and rocky terrain will lead you to a beautiful view over Moore Lake. You'll travel through red pine forests, along the shore of Gem Lake and through oak highlands.
13. Wabashkiki Trail – 1 km, 30 minutes
This is a great place to see wildlife as you wander along a boardwalk through a marsh on a peninsula in the middle of Moore Lake.
Where to stay:
Where to eat and drink:
Beautiful and secluded Windy Lake is the perfect place to experience fall colours with its hilly, tree-covered surroundings.
Park operating dates: May 21, 2021 to September 6, 2021
14. The Transition Hiking Trail – 3 km, 1hour
This trail runs along the rim of what used to be a huge crater, created by a meteorite that impacted the Earth nearly two billion years ago. Hiking this trail today, you'll travel through a lush forest—envision being surrounded by thousands of colourful leaves as you ascend steep climbs and cross a boardwalk over the fern-covered ground.
Where to stay:
22 spring-fed kettle lakes formed by glaciers are spread throughout this incredible Park. Four hiking trails allow you to experience the beauty surrounding many of the Park's lakes. Find the best for fall foliage viewing at Kettle Lakes Provincial Park below.
Park operating dates: May 14, 2021 to October 12, 2021
15. Wintergreen Trail – 1.5 km, 1 hour
Take in beautiful views of Island Lake, one of the kettle lakes the Park is so named after. Despite being a fairly easy hike, there are some areas with rougher terrain and hills to climb.
16. Tamarack Trail – 2 km, 1hour
Loop around Tamarack Lake, glimpsing tamarack bog and jack pine hillsides—and of course, colourful fall foliage gracing the branches of stands of birch trees. 
Where to stay:
Where to eat and drink: