A Moose Safari in Algonquin
This trip runs only once in early June. Space is limited.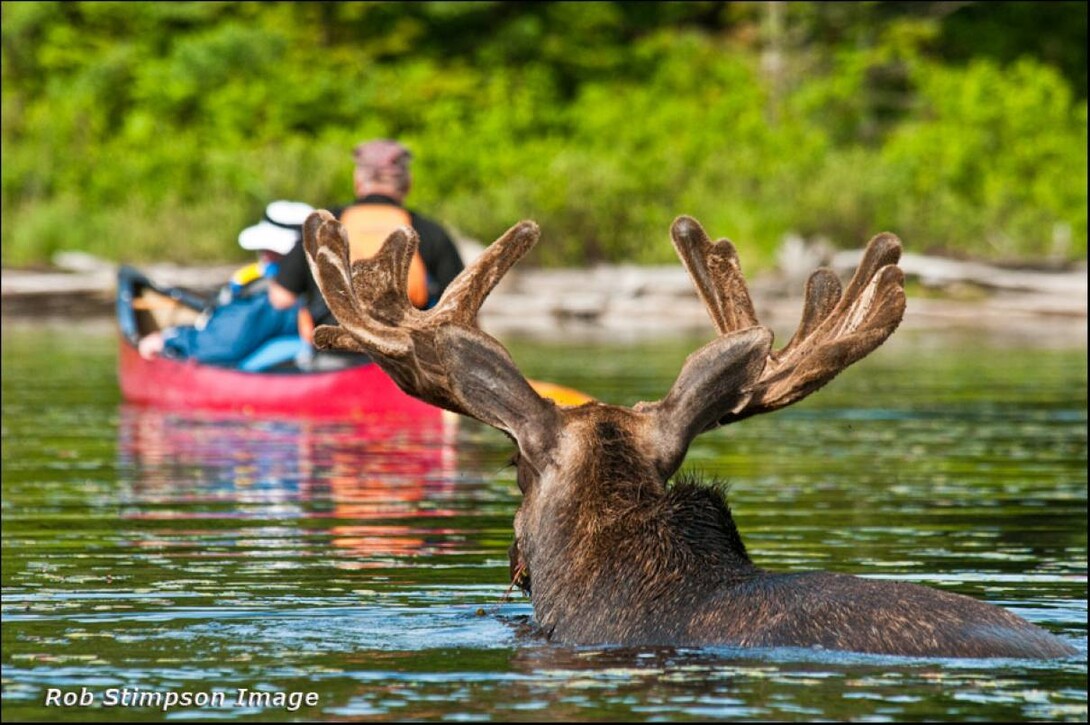 Our canoes drift ever so slowly towards the two moose in the marsh – a minute seems like an eternity but our tactics pay off as the moose accept our presence.
And so for the next 20 minutes, the click of shutters is mixed with the sounds of croaking bullfrogs, singing birds and the wind caressing the tree tops. This is the moose photography safari.
For the last five years I have partnered with Voyageur Quest to run a moose photography safari into Algonquin Provincial Park's backcountry. Every year is a bit different – in 2012, we saw 14 ungulates. Some from a distance; others allowed us into their space for a portrait session. Nature is amazing and seeing wildlife up close re-enforces that experience.
We spend a comfortable evening in Voyageur Quest's log cabin before heading into the Park. Our paddle in is short – three portages, a small stream and a couple of lakes later, we get to our site. The camp sits up on a sandy ledge with a great westerly view. Perfect for sunset shots! 
The guides handle most of the camp activities leaving us to unload our gear, grab our camera bags, and paddle to the back bays where the moose should be.
After a short paddle, a large cow presents herself. We go still. A few quiet minutes later, a bull swims across the lake. Our excitement builds. 
Rounding a corner in our canoes, two young males are in the distance eating. We must now show patience: our canoes drift towards them at what seems like a snails pace. They look at us, and then go back to their plants. This scenerio continues to play out: we inch closer – the moose look at us – we stop paddling – they go back to eating. All the while we are shooting frame after frame just in case they decide they have had enough of our antics. We do not want to stress the animals.
 We finally make our way back to camp. Our guides have prepared a feast for us: pork teriyaki, rainbow trout, fresh vegetables with a banana boat dessert. Laughter and conversation fills the air with tales of the day being told.
5 am came early, but the morning light makes it worthwhile. We climb into the canoes and head into the dawn's stillness. The lake is a mirror.
We see a few moose in the distance; we try to get close, but they want no part of us. A loon opens its wings for a big stretch – the sound of clicking shutters fills the air. We are ready for another meal. Once again the guides pull out all stops: cappuccinos, french toast, maple bacon and fruit. It is now time to head back.
As we enjoy a leisurely paddle back to the launch site, we reflect on the exciting and unforgettable experience that we had just had: photographing 1,000 pound moose in their natural habitat.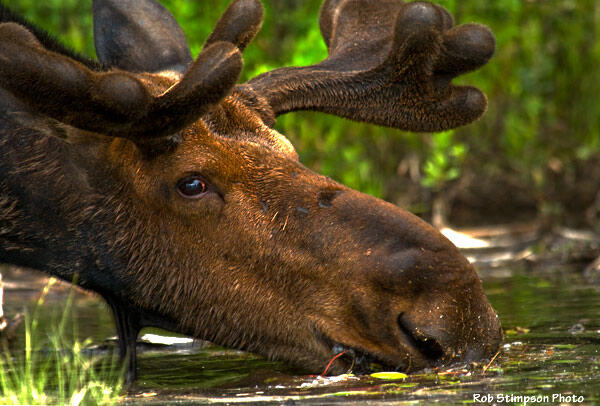 This trip is one of the ultimate wildlife photography adventures in Canada. It gets you up close and personal with majestic moose in the wilderness setting of Algonquin's backcounty.