19 Incredibly Fun Things To Do In Ontario This Winter
How many must-try winter experiences can you check off this snow season?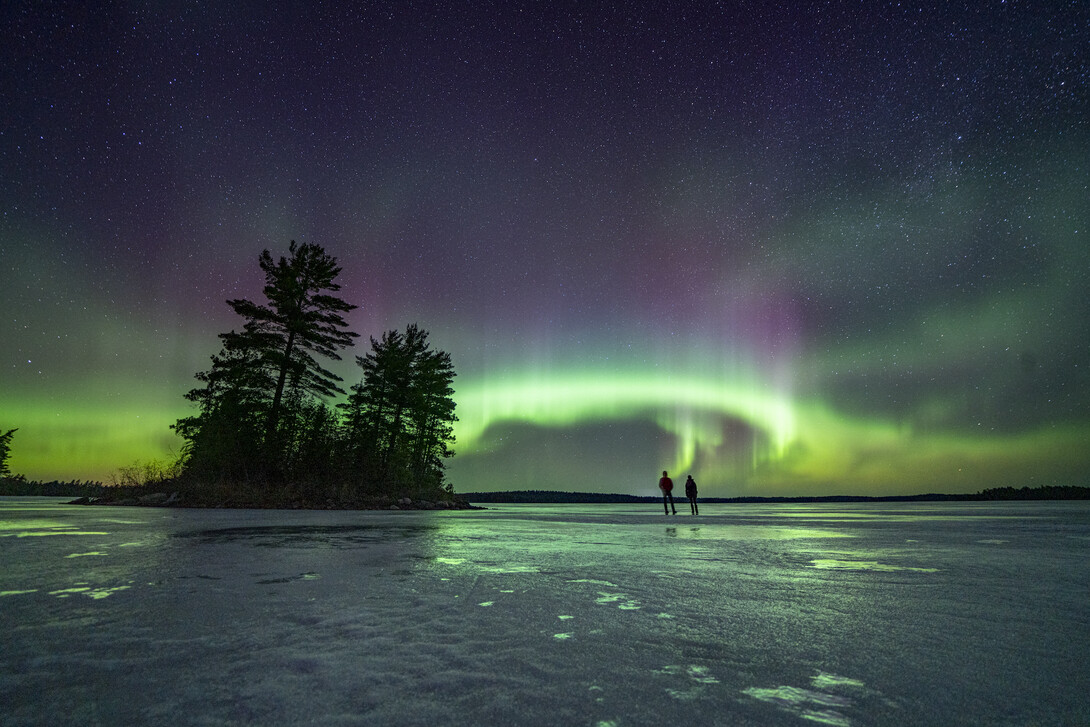 Ontario is a paradise for winter enthusiasts. The province boasts an abundance of fluffy snow with plenty of space to find both exciting adventures and solitude. Whether you're seeking an active family vacation in the great outdoors, the opportunity to learn new skills and challenge your existing ones, or a simply magical winter experience, look no further. Read on to learn about classic winter activities—maybe some you've never even heard of—and to find out the best places to do them.
We're sure you'll be convinced winter is the best time to experience Ontario's outdoors.
1. Tobogganing and Tubing
Here's a winter classic: put on your toque, grab your toboggan (or tube) and head to a snowy slope in Ontario for some good old-fashioned fun. Sliding is a great way to have fun in the outdoors, without committing to specialized equipment or skills. Imagine gliding downhill in a cloud of snow, laughing with your family and friends, and you'll have a good idea what tobogganing and tubing in Ontario is all about. Best of all, you'll find great places to slide all across the province.
Mount Jamieson Resort in Timmins operates a snow tubing park from late December through March, both days and evenings. All equipment is provided and you can take advantage of a rope tow to get you back to the top of the hill.
Barrie's Horseshoe Resort boasts Ontario's longest snow tubing hill, located barely an hour's drive from Toronto. Tubing is free for overnight guests.
Finn Hill in Sault Ste. Marie is a free tobogganing hill located adjacent to the city's popular Hub Trail, with easy access from the Highway 17 bypass
2. Cross-country Skiing
Ontario's vast and varied trail networks for cross-country skiing attract diehard winter enthusiasts from around the world. But they're also great for beginners. Whether you're looking to learn new skills, introduce your kids to an active winter pursuit, or experience endless glide on perfect snow, come to Ontario for a great cross-country skiing vacation.
Thunder Bay is a cross-country skiing hotbed with three great destinations located minutes from the city centre, including Lappe Nordic, Kamview and Kakabeka Falls Provincial Park. The groomed trails at Sleeping Giant Provincial Park, about an hour's drive from the city, rank among Canada's finest for iconic Lake Superior scenery.
Ontario's largest network of cross-country ski trails is located a short drive north of Sault Ste. Marie at Stokely Creek Lodge, a resort known for exceptional skiing on over 100 km of trails and an amazing atmosphere for families and couples alike. Meanwhile, Sault Ste. Marie's Hiawatha Highlands features 40 km of groomed trails for classic, skate and backcountry skiing.
Sudbury's Kivi Park features a large network of groomed trails in the city's south end. The Walden Cross Country ski club maintains 23 km of trails west of downtown.
3. Ice Climbing
There are few thrills that compare with the adrenaline rush of scaling an icy cliff face. Believe it or not, Ontario is a great destination for ice climbing—for beginners and experts alike. You can sign up for beginner courses in Central Ontario or tackle some of the toughest climbs outside of the Rockies on Lake Superior's north shore.
Liv Outside in Muskoka offers ice climbing packages for first-timers and experienced climbers
Haliburton is a great destination for ice climbing, and Yours Outdoors provides all-inclusive packages to give you a safe and exciting introduction to the sport
Even beginners can get a taste of Ontario's finest ice climbing on guided trips in Thunder Bay and Nipigon with Outdoor Skills and Thrills
4. Ice Skating Trails
Whether you love the nippy feeling of gliding on wings of steel with a cold breeze on your nose, or you're looking for a fun outdoor activity with kids, there's an ice skating trail in Ontario just for you. Skating trails offer a more natural, immersive experience than simply doing laps on an outdoor rink (though that's fun, too). Ontario's best ice skating trails offer unique encounters with nature for all levels of skaters.
The 1.3-km forested ice trail at Arrowhead Provincial Park, north of Huntsville, is undoubtedly one of Ontario's most popular places to skate. Go midweek to avoid the crowds.
The Clergue Park ice skating trail in downtown Sault Ste. Marie offers a unique skating experience next to the St. Marys River. Admission is free.
Bala's Muskoka Lakes Farm & Winery provides the amazing experience of skating along a 1.2-km trail through a vast cranberry marsh, with torchlight skating offered on Saturday nights
5. Outdoor Rinks for Skating and Hockey
There's little wonder why so many hockey stars and Olympic skaters come from Ontario. The province is a veritable mecca of outdoor rinks for skating and hockey—places where aspiring athletes and those just looking for a bit of fun can experience the joy of skating outdoors. You'll find outdoor rinks for skating and hockey in pretty much every Ontario community. Here are some favourites.
Sudbury boasts over 50 community outdoor rinks, making it Ontario's ice skating capital. For a unique experience, check out the skating path on Ramsey Lake. The Queen's Athletic Skating Oval is another local favourite for fitness skating and family fun.
Timmins is a northern town that loves winter. This spirit shines bright at Hollinger Park, a former mine site that features a skating trail as well as ice rinks for hockey.
Esposito Park in downtown Sault Ste. Marie is named after brothers Phil and Tony Esposito, two of the city's greatest hockey legends. It's one of several outdoor rinks and skating ovals maintained by the city with free access from late December through mid-March.
6. Fat Biking
The relatively recent phenomenon of fat biking (or winter cycling) is extremely popular in Ontario—with good reason. Fat bikes are stable and forgiving to ride, which makes fat biking friendlier for beginners than traditional mountain biking. All of Ontario's best places to fat bike have rental options for beginners and a variety of well-marked and maintained trails catering to first-timers and diehard enthusiasts alike.
7. Winter Hiking
Many of Ontario's best hiking trails remain open for adventure in the snowy months. You'll find plenty of great destinations across the province for an invigorating walk in the snowy woods on boot-friendly, well-packed trails. Make sure you pick up a pair of ice cleats for better traction in slippery conditions. Here are some great places to go winter hiking in Ontario.
Get a guided experience of Bruce Peninsula National Park's stunning limestone cliffs and grottos in the quieter winter months with EcoAdventures
Thunder Bay's Kakabeka Falls is especially spectacular when cloaked in ice, and the easy Mountain Portage Trail offers spectacular views of the gorge and cascades known as the Niagara of the North
Cross the lock at the Sault Ste. Marie Canal National Historic Site of Canada to access South St. Marys Island and a pleasant network of nature trails for easy walking, located adjacent to the city's downtown core
8. Downhill Skiing and Snowboarding
No matter where in Ontario you're located, there's likely a ski and snowboard resort close by. The province's ski hills offer exceptional conditions with a range of terrain, cozy accommodations and far fewer crowds. Spend a day on the slopes or book a family ski vacation and enjoy the friendly atmosphere of the ski town, too.
Thunder Bay's Mount Baldy and Loch Lomond are skiing and snowboarding staples in Northwestern Ontario, with rich histories and great views of Lake Superior
Searchmont Resort, located in the rugged and snowy Algoma Highlands just north of Sault Ste. Marie, offers 18 runs with a respectable 700 feet of vertical elevation. On-site villas and a warm and friendly lodge complete the experience.
Antoine Mountain in Mattawa, located an hour's drive east of North Bay, features Ontario's longest ski run measuring 2.9 km in length with great views of the Ottawa River
9. Winter Photography
Dedicated photographers are rewarded in winter with stunning frozen land- and waterscapes and starry skies. Pack your favourite lenses and come to Ontario to capture great photos of the northern lights and ice-clad waterfalls.
Northern Edge Algonquin's Fire and Ice Winter Getaway is a fantastic way to combine landscape and night-sky photography with an active adventure (think skiing and snowshoeing) in Algonquin Provincial Park, while keeping cozy in a lakeside cabin
Several waterfalls north of Sault Ste. Marie are transformed into ice cathedrals in the winter months. Check out the falls on Crystal Creek, located on easy snowshoe trails, at Hiawatha Highlands. Or, venture an hour's drive north on Highway 17 to witness the frozen cascades of the Chippewa River.
Haliburton's Yours Outdoors offers photography workshops to help you capture the snowy hills and frozen lakes of Central Ontario
10. Snowshoeing
Snowshoeing is the traditional way to get around in winter, and there's no better place to enjoy this wonderful Indigenous technology than Ontario. Snowshoes allow you to float atop the powder and get off packed trails, where you can experience the peace and quiet of the winter woods. Traditional wooden snowshoes offer tremendous "float," while modern alpine-style snowshoes with metal frames and grippy crampons provide traction in steep terrain.
Minaki Yurt Adventures near Kenora provides unique all-season accommodations on nature's doorstep, with great access for snowshoeing in the boreal woods of Northwestern Ontario
Stokely Creek Lodge maintains nearly 30 km of dedicated snowshoe trails in the Algoma Highlands, just north of Sault Ste. Marie, featuring stunning waterfalls and summit views of some of Ontario's highest mountains
Mattawa's Nature's Harmony Ecolodge provides quaint winter accommodations and great snowshoe trails for a closer glimpse of the winter wilds of the Ottawa River valley
11. Winter Camping
Camping in the snowy, cold-weather months isn't for the faint of heart. But with the right equipment—and, even better, with an expert guide—you, too, can enjoy the wonders of winter camping. A winter camping trip simply gives you more exposure to nature. You'll notice little details like animal tracks, wispy snowdrifts, the dazzling glare of ice, and unbelievably clear, starry skies—magical nuggets you'd likely miss on a shorter outing. The key is to make a solid plan with plenty of backup options, or choose a guided trip for maximum safety and comfort on your first winter adventure.
12. Climb a Winter Mountain
Ontario's highest peaks will never compare with the mountains of the Canadian Rockies. Yet the province is still home to some impressively high ground—summits to "bag" without the need for specialized equipment. Winter makes the experience even more impressive (and sometimes challenging), with crystalline air and spectacular views of the snowy surroundings.
Algoma is the rooftop of Ontario, with some of the tallest peaks in the province. Located just north of Sault Ste. Marie, Stokely Creek Lodge offers great access to King Mountain on groomed cross-country ski and snowshoe trails. A cozy warming cabin with a woodstove awaits at the summit.
Robertson Cliffs is another great winter hiking destination north of Sault Ste. Marie with summit views of the Goulais River valley from towering granite cliffs
Killarney Provincial Park is a popular destination for its spectacular vistas from atop the La Cloche Mountains. You can stay at the campground in the winter months (tent camping for the hearty or in heated yurts) and attempt to ascend The Crack, a quartzite ridge with outstanding views. Be sure to bring a pair of technical snowshoes with crampons for grip.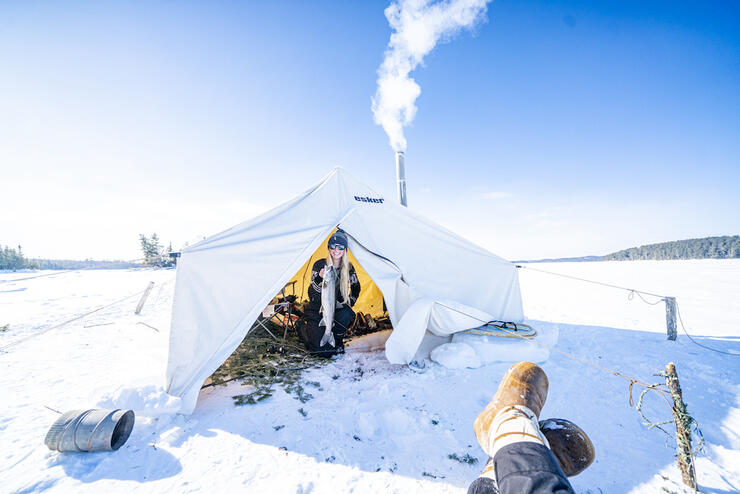 13. Ice Fishing
Dedicated anglers don't stop for the hard-water season. In fact, ice fishing often makes it easier to target exceptional fishing and Ontario is one of the world's best places to experience this unique form of angling. You can catch a variety of sport fish including walleye, lake trout and whitefish—with the benefit of a wealth of ice fishing operators who are dedicated to ensuring first-timers and seasoned anglers alike have amazing experiences. There's no reason to ever ice fish anywhere else.
Northwestern Ontario's Lake of the Woods is renowned for its size and mind-blowing 14,500 islands—not to mention its world-class fishing for trout, walleye and pike. The lake is an ice fishing hotspot, with outfitters in Sioux Narrows and Nestor Falls—including Crawford's Camp, Lecuyer's Lodge and Muskie Bay Resort—offering ice hut, snowmobile rentals and accommodations year-round.
There's no doubt Northeastern Ontario's Lake Nipissing, near North Bay, is the province's ice fishing capital. This destination is the perfect place for beginners and experts alike, where it's easy to jig for walleye, pike, perch and whitefish from cozy ice houses set up for you by local outfitters including Bear Creek Cottages and Snowfari Adventures.
Windy Lake Provincial Park, near Sudbury, offers ice fishing packages including all the equipment you'll need to catch lake trout and whitefish. You can stay on-site in a heated yurt in the park's campground.
14. Explore Freshwater Ice Caves
Part of the allure of ice caves along the shorelines of Lake Superior and Lake Huron is that they don't form every year. But when the alchemy of splashing waves, early winter storms and flash-freezes transform rock ledges and cliffs into ethereal caverns of aqua-blue ice later in the winter, you won't find a more magical experience. Late February and March are the best times to explore Great Lakes ice caves. Be sure to bring a pair of ice cleats for traction and talk to trusted locals to verify ice conditions.
Pancake Bay Provincial Park and Lake Superior Provincial Park are the best places to discover Lake Superior ice caves north of Sault Ste. Marie. This is remote, rugged country; beginners should go guided with Forest the Canoe to ensure safety and learn more about the area's natural history.
EcoAdventures offers guided cross-country ski adventures in Lion's Head Provincial Nature Reserve and if you're lucky, you may get to experience unique ice formations along the steep cliffs of the Bruce Peninsula
15. Skijoring
This niche winter pursuit combines cross-country skiing with dogsledding, yet only requires one or two dogs. Best of all, skijoring allows you to develop a closer bond with your canine companion as you work together to navigate snowy trails. It's best for experienced Nordic skiers and mid-sized dogs (30 pounds and up) who love to pull and run. Does this sound intriguing? There are several great Ontario destinations where you can try skijoring for yourself.
16. Winter Birding
Spring migration garners a lot of hype among birders—and a lot of crowds. Winter is a great time to enjoy peace and quiet in nature while admiring the resiliency of Ontario's year-round resident birds, including Canada jays, chickadees, kinglets, woodpeckers and more. You may even encounter iconic northern species like snowy owls, making winter the best time to add these rare birds to your life list.
Eastern Ontario Birding offers winter birding tours in Algonquin Park
Want to see owls? Join a night hike offering known as Owl Prowl with EcoAdventures on the Bruce Peninsula near Lion's Head.
Algoma is a great destination for winter birding, with South St. Marys and Whitefish islands, located in the heart of Sault Ste. Marie, offering plenty of opportunities for independent birding. The Sault Naturalists provide plenty of excellent resources for the region.
17. Backcountry Skiing
Decades of dedicated effort from a handful of backcountry skiers is finally making Northern Ontario known for outstanding backcountry skiing. The Canadian Shield hills of the Algoma Highlands and Algonquin Park provide ample elevation for downhill thrills—with the added bonus of receiving mountains of lake-effect snow courtesy of the Great Lakes. Backcountry skiing is a great option for those looking for a challenging alternative to resort skiing.
Bellevue Valley Lodge, located north of Sault Ste. Marie, has been committed to great backcountry skiing for over 30 years. Owner-operators Robin Macintyre and Enn Poldmaa offer guided backcountry ski tours and instruction, as well as chalet accommodations and a traditional Scandinavian sauna.
Check out the West Wind Highlands Ski Touring Association for more information about backcountry skiing in Central Ontario's Algonquin Highlands and cottage country areas
18. Horseback Riding
Are you crazy about horses? Imagine trail riding in a snow-covered forest, listening to the soft crunch of snow under hooves. Winter horseback riding has a special magic anyone who loves horses needs to experience.
Von Doeler's Ranch, located off the Trans-Canada Highway between North Bay and Mattawa, offers guided winter trail rides, lessons for all levels of riders and gorgeous accommodations near the historic Mattawa River
Whispered Dreams Ranch provides year-round trail riding in Northwestern Ontario, near Thunder Bay. Packages include half-day and overnight equestrian tours.
19. Dogsledding
Driving a team of huskies through the snowy wilderness is at the top of the list of iconic Canadian activities. Several Ontario dogsledding outfitters offer authentic experiences all across the province. Dogsled adventures range from short day tours to overnight trips. All will give you a greater appreciation of the will and determination of working dogs and a great taste of the winter landscape.
Northwestern Ontario's Borealis Sled Dog Adventures offers introductory dogsledding day trips and multiday wilderness adventures where participants sleep along the trail in heated canvas tents and a cozy log cabin.
Passionate dogsledder and outdoor guide Craig Lawrence is a mushing legend in Ontario. Check out his tours at Snow Forest Adventures if you're looking to go dogsledding with a pro in Temagami.
Ravens Adventures provides personalized dogsledding tours departing the Northeastern Ontario community of Cochrane
Discover the Joy of Winter in Ontario
Winter truly is a magical time to explore Ontario. This is the only time of year when you can enjoy fabulous winter sports like snowshoeing, cross-country skiing, downhill skiing and snowboarding, ice skating, tobogganing and more. Keep this extensive list of winter activities in Ontario handy when the snow flies—and make sure you get out and make the most of this spectacular season!