7 of the Best Backpacking Trails in Ontario
There are a wide variety of multi-day hiking trails to choose from, regardless of whether you're just getting started or are looking for your next challenge.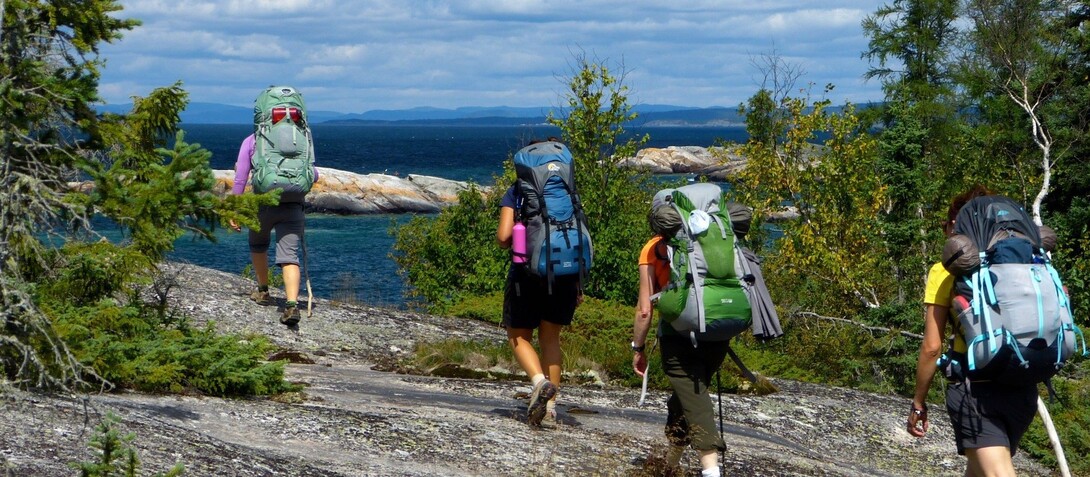 If you've already spent time on Ontario's day hiking trails, you know how much beauty and quiet this province holds. And while you don't necessarily have to hike far to see incredible views and places, it's also true that some places are somehow made even more incredible by their isolation and the difficulty it takes to reach them. For many, this is the allure of staying overnight on the trail. The sun going down no longer dictates how far you go—how many supplies you can carry on your back does. And with this, suddenly the whole of Ontario's backwoods are available to you.
Going on a backpacking trip doesn't just allow you to see places few others will, though. Some enjoy backpacking for the challenge, others for the ability to experience an area more deeply. Still others just like the chance to camp away from the crowds—doing something that requires a little more planning and effort will often accomplish this. Going on a multi-day hiking trip requires additional knowledge, skills and gear to what is needed for a day hike or frontcountry camping trip. But you don't have to be an expert or have the most expensive gear to get started. Ontario has backpacking trails that are various lengths and levels of difficulty, meaning that beginners and experts both will find something up their alley. Each trail holds a piece of beauty—sometimes blatant and arresting, and other times unassuming and more subtly affecting—that's waiting to be discovered by you.
Whether you're looking for an adventure of a lifetime or to break in your hiking boots, you'll find what you're looking for among the best backpacking trails in Ontario below.
Western Uplands Trail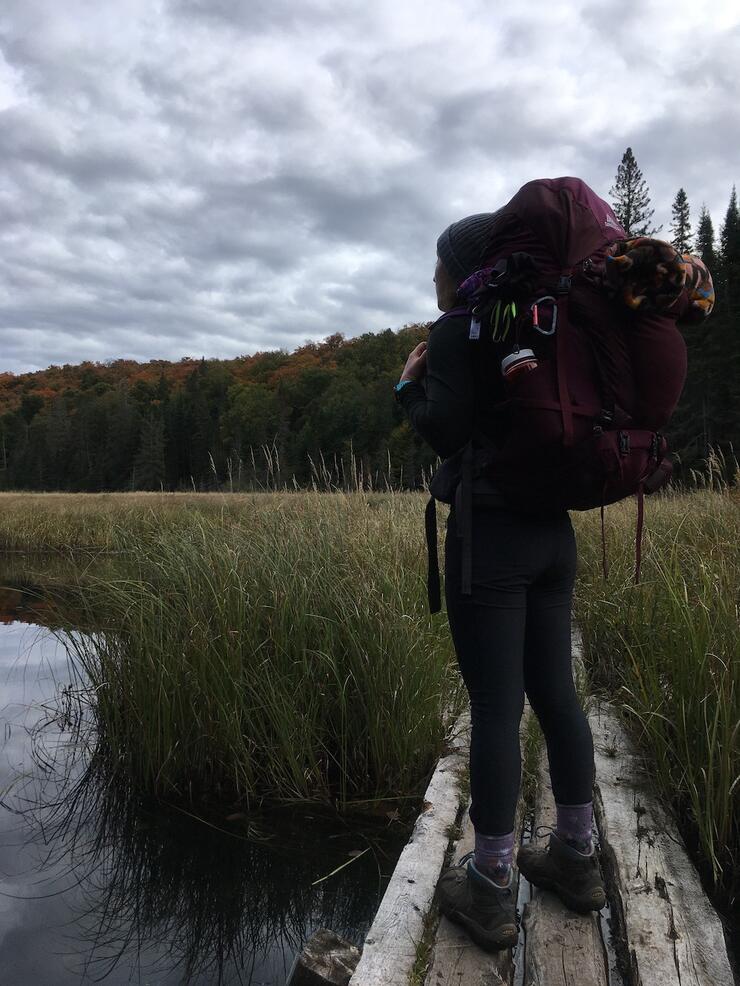 With its expansive backcountry, accessible frontcountry, abundant wildlife and proximity to Southwestern Ontario, it's no wonder Algonquin Provincial Park is such a popular place for outdoor adventures. Algonquin's backpacking trails in particular see high traffic in the summer months, as they provide a range of experiences for beginner to advanced backpackers. Those seeking to go on their first multi-day hike will do well to book a trip on the Eastern Pines backpacking trail. The next step up is the Highland backpacking trail, covering longer distances and more rugged terrain. Both trails offer two loops, allowing you to choose from a shorter or longer distance depending on your desired trip length and ability. Arguably Algonquin's best backpacking trail, though, is the Western Uplands. On this trail, you'll cover longer distances, allowing you to truly immerse yourself in the wilderness and see more of the beauty of the Park.
TRAIL FACTS: Choose from three loops, about 32 km, 54 km and 80 km in length, respectively. It's recommended that you give yourself 5 days/4 nights to hike the biggest loop. You can start from either the trailhead on Highway 60 (located at kilometre 3.0) or from the Rain Lake Access Point on the western edge of the Park. This is considered to be a difficult backpacking trail with many steep climbs, lots of uneven terrain and true remoteness.
WHAT YOU'LL EXPERIENCE: Skirt lakes and camp on secluded sites, traverse ridges and tap across boardwalks, climb boulder-strewn hills and descend root-entangled embankments. There's a little bit of everything on this trail. As with many trails, the farther from the trailhead you go, the fewer people you'll see. The small loop is quite popular; for greater seclusion, journey the second or third loops.
MAKE IT HAPPEN: Backcountry reservations in Algonquin are made by lake, not by site. Use the Ontario Parks online reservation system to book a lake (or sometimes side of a lake) and then take your pick of the unoccupied sites upon arrival. If you're an advanced backpacker and plan to hike big distances each day, you'll need to call the Park to make your reservations (1-888-668-7275) as the online service puts limits on the sites you can book consecutively if the distance between them is too large. Don't have your own equipment? Rent from Algonquin Outfitters or Algonquin Bound Outfitters, which both have locations just outside the West Gate. Order your backpacking trails map from Algonquin Outfitters or Friends of Algonquin Park.
WHILE YOU'RE THERE: Algonquin has much to offer visitors. The Lake of Two Rivers Cafe & Grill is located in the middle of the Park and is a great place to go for a post-hike burger and ice cream cone. On your way out, stop in Dwight for fresh baked goods from Henrietta's Pine Bakery, homestyle cooking at the Moose Cafe, and unique Canadian-made souvenirs at the Dwight Trading Post.
Bruce Trail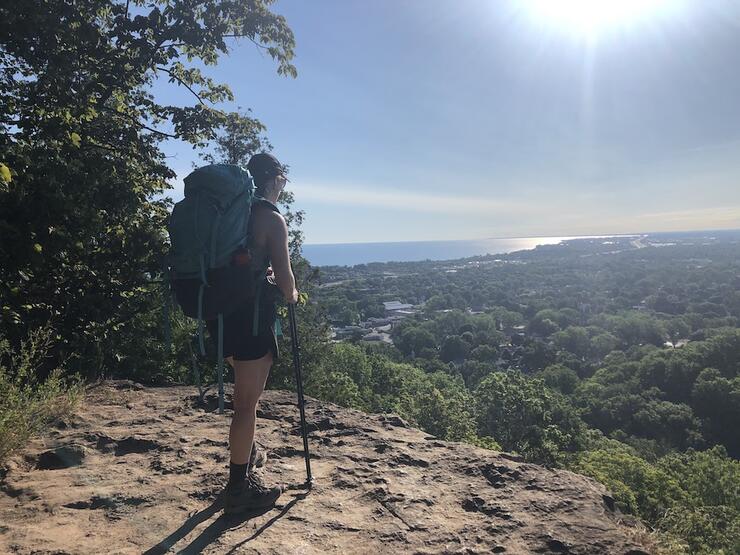 Canada's longest and oldest marked footpath is located right here in Ontario—and cuts through the most populated part of the province. The Bruce Trail stretches from Tobermory on the tip of the Bruce Peninsula to Niagara, cutting through urban centres along the way such as Owen Sound, Caledon, Hamilton and Grimsby. The Bruce Trail Conservancy (BTC) works to preserve the trail and consists of nine clubs, each of which is in charge of maintaining and promoting a section of the trail. The BTC only owns a portion of the land the trail crosses—the ownership of the rest is a mix of the Government of Ontario, local municipalities, local conservation authorities and private landowners. While many trail users are simply out for an afternoon hike, in the 50+ year history of the BTC, 4,000 people have hiked the trail end-to-end.
TRAIL FACTS: At 900 km long, backpacking the Bruce Trail is a journey that will take at least a month to complete. You can choose whether to hike it from north to south or south to north. The Southern Terminus Cairn is located in Queenston Heights Park in Queenston, while the Northern Terminus Cairn can be found on Little Tub Harbour in Tobermory. The distance of this hike alone categorizes it as advanced and only experienced backpackers should attempt to complete it in one go. Many opt to section hike the trail instead, negating the need to carry camping equipment or find places to sleep.
WHAT YOU'LL EXPERIENCE: The Bruce Trail follows the Niagara Escarpment, taking you through forests, up to lookouts, to bases of waterfalls and much more. The trail is a mixture of urban and rural, civilized and wild, hilly and flat. You'll pass by farmers' fields, quarries, backyards and golf courses, cross country roads, city streets and rail bridges, and travel through conservation areas, provincial parks and national parks. As the trail is well-used by day hikers, you'll most likely see many people along the way, especially in the section south of Caledon.
MAKE IT HAPPEN: Thru-hiking the Bruce Trail can be challenging as campgrounds along the trail are few and far between, and camping in undesignated areas along the trail is illegal. Accordingly, it is necessary to intersperse campground stays with nights at B&Bs, hotels and lodges. You can make reservations at campgrounds and book your roofed accommodations in advance to prepare for your journey. Following the white markers will keep you on the main trail (while blue markers indicate side trails), but it's important to purchase a Bruce Trail map from the Bruce Trail Conservancy or MEC and carefully study it before you set out. If you need to rent equipment, you can do so from CampKit and Toronto Outdoor in Toronto. Select camping equipment can be rented from Thorncrest Outfitters in Tobermory. Outdoors Oriented in St. Catharines is the place to go to purchase gear for your trip.
WHILE YOU'RE THERE: Your journey on the Bruce Trail will take you directly to many interesting and beautiful sites, but don't be afraid to venture off on side trails and take breaks from the trail altogether to check out nearby attractions and restaurants. Visit the ruins of the Hermitage Gatehouse in Dundas Conservation Area, an early 19th-century industrial hamlet in Balls's Falls Conservation Area, glacial potholes at Lion's Head, lime kilns at Limehouse Conservation Area, the waterfall at Inglis Falls Conservation Area, and the lookout at Mount Nemo Conservation Area.
La Cloche Silhouette Trail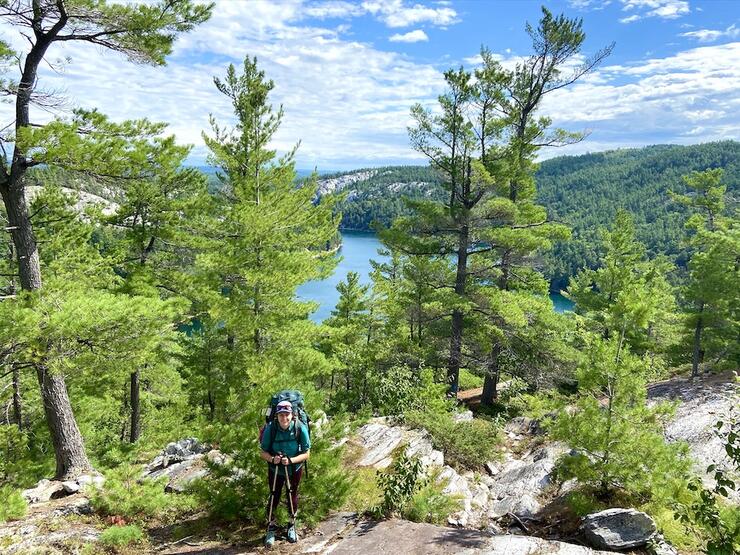 Killarney Provincial Park is considered to be the crown jewel of the Ontario Parks system, due to its unique landscape and plentiful opportunities for outdoor recreation. Paddling its crystal-clear lakes or hiking its granite ridges will give you a taste for the beauty of this area, but to experience Killarney at its most rugged and wild involves hiking the La Cloche Silhouette Trail. Encircling the Park, this Killarney backpacking trail is known for being a worthwhile challenge.
TRAIL FACTS: Although the trail markers at either end read 100 km, the actual distance of this hike will vary depending on where your campsites are along the way. Many sites are on the water and involve hiking down a side trail and doubling back in the morning to continue on. Seasoned thru-hikers shouldn't be deceived by the distance—this trail is rugged and strenuous, involving big ascents and descents over rocky (read: bouldery) terrain. Most guides recommend seven to 10 days to complete the trail, but experienced backpackers can do it in five or less. The trailhead is located at the George Lake campground.
WHAT YOU'LL EXPERIENCE: Hike along exposed granite ridges, beside crystal-clear, sapphire-coloured lakes, beneath wind-blown pines, up piles of boulders and across streams. This hike is not for the faint of heart, but will take you to some of the Park's most beautiful places including dreamy Topaz Lake, the ridge above Little Mountain Lake, the top of Silver Peak (the highest point in the Park), and through The Crack. You'll spend evenings at lakeside campsites, watching the sun dip behind the white La Cloche mountains and listening to the wolves howl over the next ridge.
MAKE IT HAPPEN: To plan a La Cloche Silhouette backpacking trip, you'll need to book your campsites well in advance using the Ontario Parks online reservation system. While canoe trippers book by lake, hikers book by site so you'll know exactly where you'll be stopping each night. If you need to rent gear, Killarney Outfitters offers complete outfitting for backpacking trips while Killarney Kanoes offers select camping gear. You can purchase your Killarney hiking map from Friends of Killarney Park and read our guide to Hiking Trails in Killarney to prepare.
WHILE YOU'RE THERE: After you've accomplished the hike, you can head into the small town of Killarney for some well-deserved fish and chips from the world-famous Herbert Fisheries. Book a room for the night at Killarney Mountain Lodge so you can rest up in a comfortable bed before your drive home. And take a walk down to the Killarney East Lighthouse and look out to beautiful Georgian Bay before closing the chapter on your Killarney backpacking adventure.
Kabeyun Trail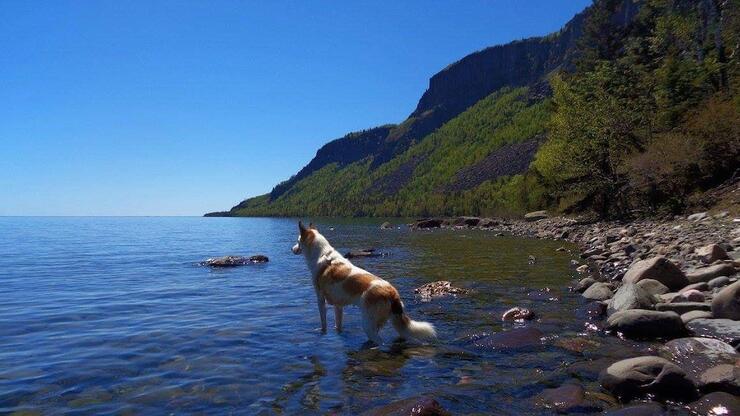 Sleeping Giant Provincial Park is one of the premier hiking destinations in Ontario, due its 100-km network of trails criss-crossing the beautiful landscape of the Sibley Peninsula jutting into Lake Superior. Located an hour east of Thunder Bay, the Park offers an escape from the city into lush forest, around inland lakes, and to the top of incredible lookouts over the vast expanse of Superior. The frontcountry campground is a great place to set up a base for a weekend of day hikes, bike rides and swimming, but those who are looking for more challenge and seclusion will want to take to the Kabeyun backpacking trail.
TRAIL FACTS: The Kabeyun Trail follows the western edge of the peninsula down to the "Sleeping Giant's feet" and then travels along the southern shore. It covers 37 km point to point and is best completed in 4 days/3 nights to truly enjoy the sights, although 3 days/2 nights isn't too much of an undertaking. You can choose to start from either the north or south terminus, the north located at the Thunder Bay Lookout and the south at the South Kabeyun Trailhead on Highway 587. The Kabeyun Trail is a jumping-off point for many other popular trails in the Park, so the section from the southern trailhead to the Talus Lake Trail sees ample foot and bike traffic. These side trails provide the opportunity for many detours on your backpacking trip—for example, many choose to set up camp at Tee Harbour and then hike to the Top of the Giant. The Sea Lion and Thunder Cape Bird Observatory are also worthwhile pit stops.
WHAT YOU'LL EXPERIENCE: While not a true coastal hike as there is often a wall of trees between you and the water, you will catch many glimpses of Lake Superior along the way and have opportunities to camp at the water's edge. The southern portion of the trail is quite flat and well-trod, with the terrain growing more difficult the more north you go. In particular, the section between Lehtinen's Bay at the Sleeping Giant's feet can be slow-going as you scramble over a talus slope, which becomes even more treacherous in wet conditions. As noted in the previous section, there are opportunities to hike up to lookouts for impressive views over Lake Superior, but to do so involves making side trips that should be planned for in advance.
MAKE IT HAPPEN: Reserve your campsites ahead of time by using the Ontario Parks online reservation system. Instead of booking a specific site, you book by "zone" and select your site on a first come, first-served basis upon arrival. Note that there are fewer campsites on the northern portion of the trail between Sawyer Bay and the Thunder Bay Lookout, so factor this into your trip planning. Since this is a point-to-point trail, you will need to park a vehicle at each end, arrange for a shuttle, or hike it out-and-back. The road to the Thunder Bay Lookout at the north end of the Kabeyun Trail is single-lane and can be quite rough; prepare to take it slow, especially with a vehicle with low clearance. You can find the Sleeping Giant trail map here. If you need to purchase gear, head to Wilderness Supply, Gear Up or Chaltrek in Thunder Bay. 
WHILE YOU'RE THERE: While on the peninsula, be sure to visit the historic Silver Islet General Store for a bite to eat and to purchase locally made gifts. Looking for more adventure? Take a kayak day tour with Such A Nice Day Adventures or a light keeper tour with Canadian Lighthouses of Lake Superior. If heading west, be sure to stop off at Kakabeka Falls; if your next destination is east, the Ouimet Canyon is a short detour off the highway.
Lake Superior Coastal Trail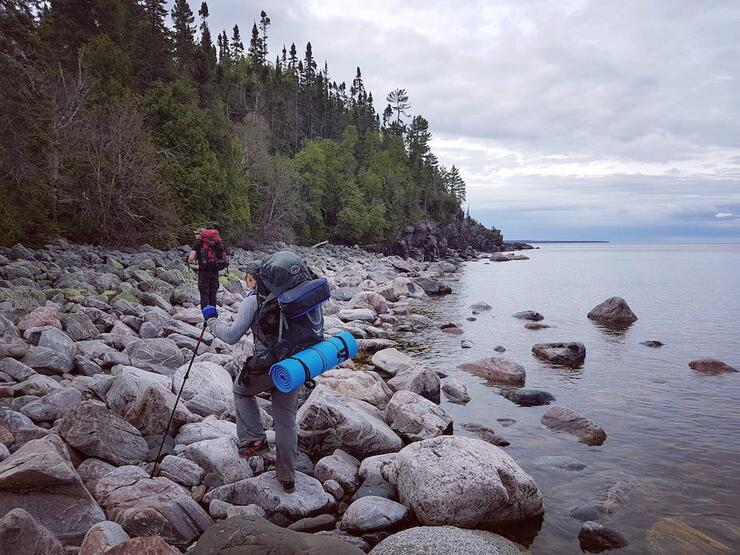 Just driving the coast of Lake Superior is a treat in natural beauty, as you wind through forested hills, pass bays framed by towering cliffs and stop off at sandy beaches where you'll get the chance to dip your toes in the lake's icy waters. While views like these inspire awe and amazement at the fact that such places exist in Ontario, a true appreciation for this wilder and more rugged part of the province can only be gained with your feet on the ground. For adventurous types, the Lake Superior Coastal Trail beckons and is indeed a must-hike for backpackers. The trail follows the eastern coast of the lake, spanning the length of Lake Superior Provincial Park. Backpacking Lake Superior will allow you to experience the many moods of the lake, and will leave you alone with your own thoughts and feelings as you walk through places that are only accessible by foot or paddle.
TRAIL FACTS: The Lake Superior Coastal Trail is 65 km long and takes five to six days to complete at a pace that still allows you to appreciate the scenery. You can choose to hike the trail north to south or south to north. The southernmost point of the trail is the Agawa Bay Visitor Centre; while the northernmost point is at Warp Bay, the most northern access point to the trail is at Gargantua Harbour, which is about 8 km south of Warp Bay. This means you'll need to hike up to Warp Bay and back down if you wish to hike the true length of the trail. The whole of the provincial park is designated as a Dark Sky Preserve; in fact, it's one of the darkest in all of Ontario, meaning you'll get incredible views of the stars over Lake Superior each clear night you have on the trail.
WHAT YOU'LL EXPERIENCE: The coastline of Lake Superior is rugged, making for a technical hike that will require patience and resilience. You'll pass by cobblestone and sandy beaches, climb up to craggy cliff tops, weave between moss-covered trees, swim in ice-cold waters, watch fog descend over the lake, witness some of the most beautiful sunsets you've ever seen, and come in contact with hardly another soul the entire trip. You'll get to know Lake Superior well on this trek, witnessing both crashing waves and moments of stillness.
MAKE IT HAPPEN: There's no option to reserve campsites on this route. Instead, you are required to purchase backcountry permits the day you begin your hike. Self-registration kiosks are located at either end of the trail, and permits are also available at the Agawa Bay Campground office. Sites on the trail are first-come, first-serve. Since this is a linear trail, you'll need to park a vehicle at either end or arrange for a shuttle. U Wanna Cab and Naturally Superior Adventures offer shuttle services to any road-access point along the trail. Note that the road to get to Gargantua is 14 km long and is quite rough, so you'll need to allow for 45 minutes to make the journey in or out. A wide range of gear can be purchased at Great Lakes Outfitters in Sault Ste. Marie, while a smaller selection is available at Naturally Superior Adventures. Trail maps can also be purchased at Naturally Superior Adventures, the Park offices or online. For more detailed information on planning your trip, consult our Lake Superior Coastal Trail Hiking Guide
WHILE YOU'RE THERE: After your hike, get a well-deserved, greasy meal at Krazy Fries and spend a night in comfort in a cottage at the Pine Portage Lodge in the small town of Wawa. If you're looking for more adventure in the area, you can go on guided and self-guided hiking adventures with Blaq Bear Eco Adventure Routes. Paddling day trips and instructional clinics are offered by Naturally Superior Adventures.
Pukaskwa Coastal Hiking Trail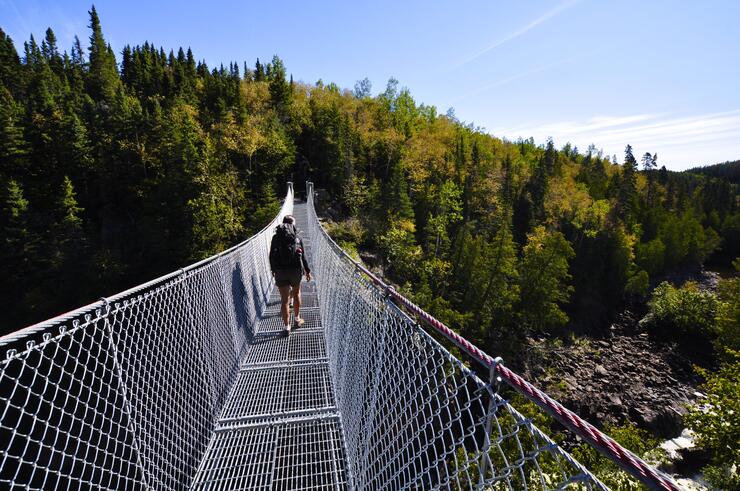 Pukaskwa National Park is Ontario's only wilderness national park, providing backcountry experiences in an area that remains largely untouched by humans and is abundant in wildlife and vegetation. The Park sees only 10,000 visitors each year, most of which stick close to the established frontcountry campground at Hattie Cove. The only road access to Pukaskwa is located at Hattie Cove at the northern end of the park—the rest is only accessible by paddle or foot. The Pukaskwa Coastal Trail runs along the coast of Lake Superior, leading you across rugged terrain and leaving you exposed to the elements at all times. How "good" or "bad" of a time you have on the trail is really a matter of perspective—even bad weather and aching muscles are a lesson in the power of nature and the rewards of perseverance.
TRAIL FACTS: The Pukaskwa Coastal Trail is 60 km long from point to point. It'll take you 5 days/4 nights to hike it in its entirety, maybe more if the weather is poor. The trail stretches from Hattie Cove in the north to the North Swallow River in the south—however, only Hattie Cove is accessible by car. This means you'll need to plan for a water shuttle, or else hike the trail in an out-and-back fashion.
WHAT YOU'LL EXPERIENCE: The coast of Lake Superior is rugged and requires your full attention (and a set of sturdy boots and hiking poles!). You'll scramble across bouldery beaches, climb steep hills, traverse sloped slabs of the Canadian Shield, cross deep rivers and feel the full force of Lake Superior's weather systems, whether that's driving rain or blistering sun. The snack breaks at dramatic views, camps at cobblestone beaches and suspension bridge crossings make it all worth it, though. You'll navigate using rock cairns and know that you are truly going it alone out in this wilderness area.
MAKE IT HAPPEN: Since only one end of the trail is accessible by road, you'll need to choose from a few different trip itinerary options. The first option is to start at Hattie Cove and do an out-and-back hike for a total distance of 120 km over the course of 10 days/9 nights. The second is to start at Hattie Cove and do an out-and-back hike to Oiseau Bay, the halfway point on the trail, for a total distance of 60 km over the course of 5 days/4 nights. To complete the full trail without doubling back, you will need to arrange for a water taxi to drop you off (if you are starting the trail at the south end) or pick you up (if starting from the north) at North Swallow River. To arrange a shuttle, call the Park (807-229-0801) or contact Naturally Superior Adventures, True North Charters & Tours or North Shore Adventures. You'll need to book your campsites along the trail in advance using the Parks Canada online reservation system. Keep in mind that it's a good idea to build in days for bad weather as wet conditions can make for slow-going or even 0-km days. You can download Parks Canada's trip planning guide here.
WHILE YOU'RE THERE: Marathon is the closest town, located just to the north of Pukaskwa. While there, visit the Marathon & District Historical Society and Museum, have a post-trip meal at The Oar House, and rest your weary bones at the Lakeview Manor Bed and Breakfast.
McKenzie Trail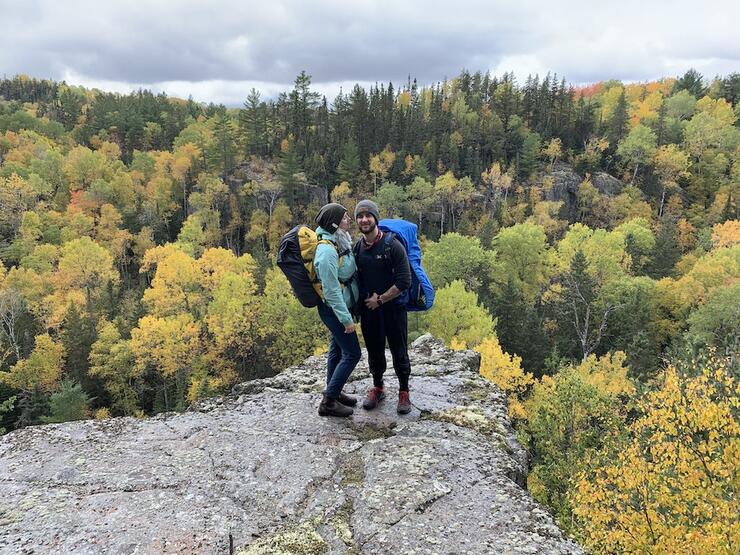 Located north of Elliot Lake, Mississagi Provincial Park is one of Ontario's best-kept secrets. Set off by itself, you'll have to go out of your way to get to this Park, but it's more than worth the drive. Even its frontcountry campground feels secluded, and its network of trails make every hike feel like an adventure. When it comes to backpacking trails for beginners, you can do no better than the Park's McKenzie Trail. The trail was named for Bill McKenzie, an Royal Canadian Air Force pilot who had to make an emergency landing in the Helenbar Lake in 1946 after getting caught in a storm and being low on fuel. The jet fighter sank and McKenzie spent 26 days on the shore of the lake waiting for rescue as there were no roads here at the time. Today you can explore the landscape of Mississagi on established trails and, yes, arrive by car and not aircraft.
TRAIL FACTS: The McKenzie Trail is 22 km in length, but you'll need to take the Semiwite Lake Trail from the campground to get there. The Semiwite Lake Trail loops around Semiwite Lake for a total of 6 km, with the McKenzie Trail looping off of it. After completing the McKenzie Trail and returning the Semiwite, you may choose to take the Helenbar Lake Trail back to the campground instead, for an additional 7 km of hiking. This trip combined can be done in 2 days/1 night, but add a couple more days on to really enjoy the journey and explore more of the Park's incredible trails.
WHAT YOU'LL EXPERIENCE: This area is anything but boring with wetland crossings, steep climbs, stunning lookouts and many opportunities for wildlife viewing. On the easternmost section of the McKenzie Trail, you'll be treated to a series of lookouts over the Stag Lake Peatlands in addition to an outcrop over the Brush Lakes. If you choose to take the Helenbar Lake Trail, you'll pass a huge boulder called an erratic before climbing up to a peak with views over Helenbar Lake and out to the Boland River Valley in the distance.
MAKE IT HAPPEN: You'll have your choice of five backcountry campsites spread out in the network of trails in the Park. Two are located on the Semiwite Lake Trail, two on the McKenzie and another on the north side of Helenbar Lake. Book a site in advance using the Ontario Parks online reservation system. This will ensure you have a campsite in the backcountry, but the sites themselves are first-come, first-serve. Sudbury is the closest city for outdoor equipment sales and rentals. Limited gear is available for rent at Laurentian University. The Outside Store and Ramakko's are the places to go to buy your own gear. You can purchase the Chrismar Mississagi Provincial Park & Area Map from Algonquin Outfitters, Outdoors Oriented and Ontario Park Maps.
WHILE YOU'RE THERE: The town of Elliot Lake is located south of the Park and has a few attractions you can check out while you're there. Visit the Fire Tower Lookout for panoramic views of the area's former mine sites (now returned to their natural state) and views of Manitoulin Island in the distance. Onsite is also the Nuclear Mining Museum, where you can learn about the history of the area from the time it was a First Nations settlement to the period in which it was a mining hub to today. Grab a bite to eat at Georges Restaurant or Mum's Place before you head out.
Shoulder Your Pack & Grab Your Hiking Poles
Whether the trail takes you through boreal forest, along rocky shores, up to stunning lookouts, or to the base of enchanting waterfalls, you'll come away from your backpacking trip with a greater appreciation for Ontario's wilderness landscapes. You'll be amazed by the places your feet can take you, and how little you really need to bring with you in order to thrive on the trail. So pack up your things, make for the trailhead, and start putting one foot in front of the other. We can't wait to hear about where you end up.