The Best Hiking Trails in Thunder Bay
From the famous Sleeping Giant to the Flett railway tunnel, Thunder Bay's trails offer a range of hiking opportunities for every skill level.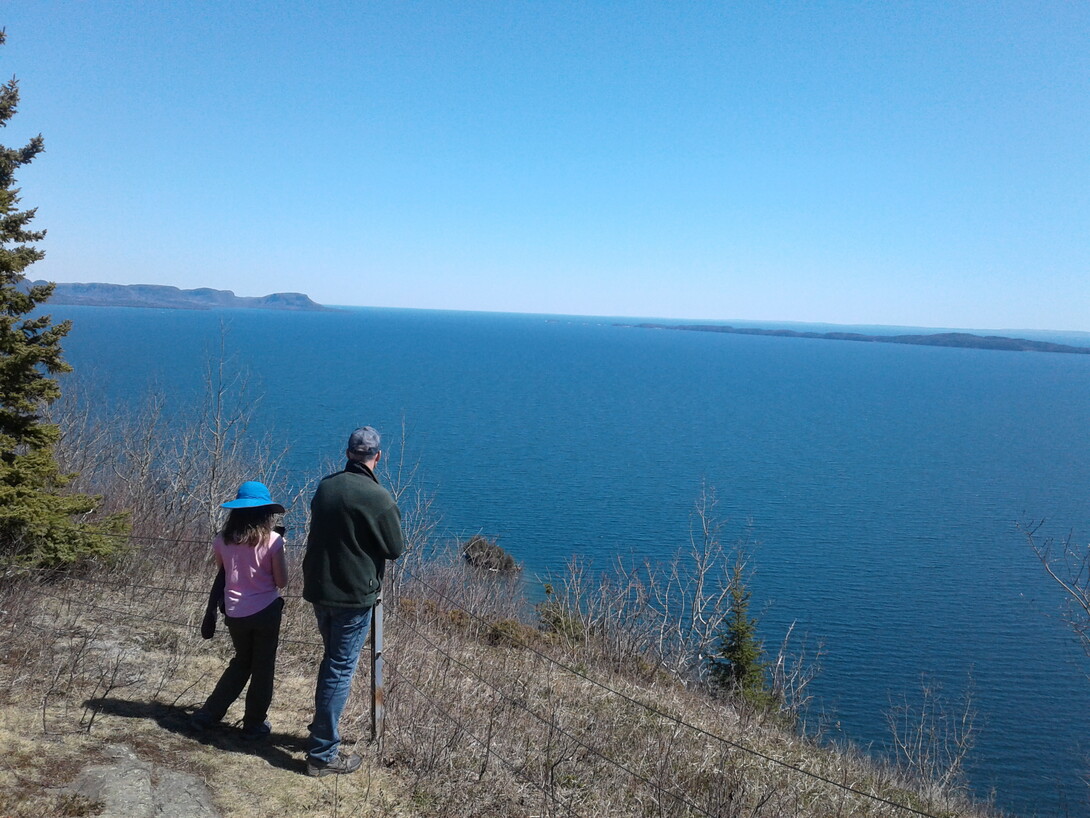 Want to hike to a waterfall? How about a stunning view over Lake Superior, a quiet cobblestone beach or serene walk through the boreal forest? Thunder Bay has a fantastic variety of hiking trails in and around the city. Here are some excellent ones to check out. All are accessible year-round, although snowshoes may be required in the winter months. Here are some great places to hike in Thunder Bay. 
1. Mink Mountain
Located about 45 km south of the city off Highway 61 (go east on Sturgeon Bay Road), Mink Mountain overlooks Lake Superior and has seven beautiful hiking trails that are open to the public. The Picnic Point trail is only 450 m long but has rugged terrain and very steep ascent/descent part way along. You emerge onto an unfenced rocky point with crashing Lake Superior waves (use common sense in wet or icy weather) and stunning views of Sturgeon Bay. It is definitely a wonderful place for a picnic. The Mink Mountain Trail winds up through the boreal forest to the top of the mountain, 183 m above the lake, where you can take in jaw-dropping views of Isle Royale, Pie Island and the wild blue yonder of Superior. It's perhaps a kilometre long, one way, but you can continue on the Valley Trail loop that's about 3.9 km in total. These trails are accessed at the Island Avenue trailheads.
More info at Mink Mountain Resort and trail map.
This popular area is found in city limits at the north end of Thunder Bay, with Cascades Conservation Area on one side and Centennial Park on the other. There are lots of trails to choose from, but one moderate option is the 2-km loop trail. Start at the Kinsman Park parking lot and take the northern part of the trail through mixed boreal forest with some beautiful white pines, the municipal campground (said to be haunted, if you're in a spooky mood) and a couple of arched bridges, which may just have padlocks on the railings, put there by other hikers to symbolize true love. Along the way you'll be able to check out the Current River rapids and rocky natural steps. The loop finishes at the playground near the parking lot. 
3. The Flett Tunnel 
This is not a difficult hike but it is definitely a memorable one—how often do you see a tunnel blasted through solid rock? This trail, located northwest of the town of Kakabeka Falls, follows an old railroad bed, which now has the tracks removed. It was used to transport iron ore and you can still see the pellets spilled here and there on the ground. The main attraction is the old train tunnel that goes directly through a rock face, with plenty of cool echoes and photo ops. From Kakabeka Falls, go west for about 15 minutes on the TransCanada Highway, and turn north on Finmark Road. When it forks, take the right fork onto Flett Road (about another 15-minute drive on slightly rough roads), and park when the road ends. The trail is on the west side and it's about 1 km to the tunnel, on a flat trail with a rock face on one side and steep slope on the other. This property has recently come under private ownership and you'll need a day-use permit. Make sure to stop in Kakabeka Falls for ice cream (seasonally at several locations) or butter tarts at The Eddy!
4. James Duncan Nature Trail
One of the newest trails in the Thunder Bay area is found in a new Nature Conservancy of Canada nature reserve, Big Trout Bay, about 50 km south of the city and accessed by Highway 61. The James Duncan is a 9.9-km through trail. One trailhead is at Little Trout Bay Conservation Area (which begins with a somewhat steep rocky climb with numerous lookout points over Lake Superior) and the other trailhead, with a more moderate beginning, is at Memory Road. One shorter option is to start at Memory Road and do a 3.3-km hike, one way, starting at the rehabilitated wetlands with plenty of wildlife to observe, like red-winged blackbirds, chubby tadpoles and jewel-like dragonflies, and hike through the winding boreal forest. You come out on a Lake Superior cobblestone beach, a lovely place to have a snack, search for a bit of beach glass and contemplate the big lake.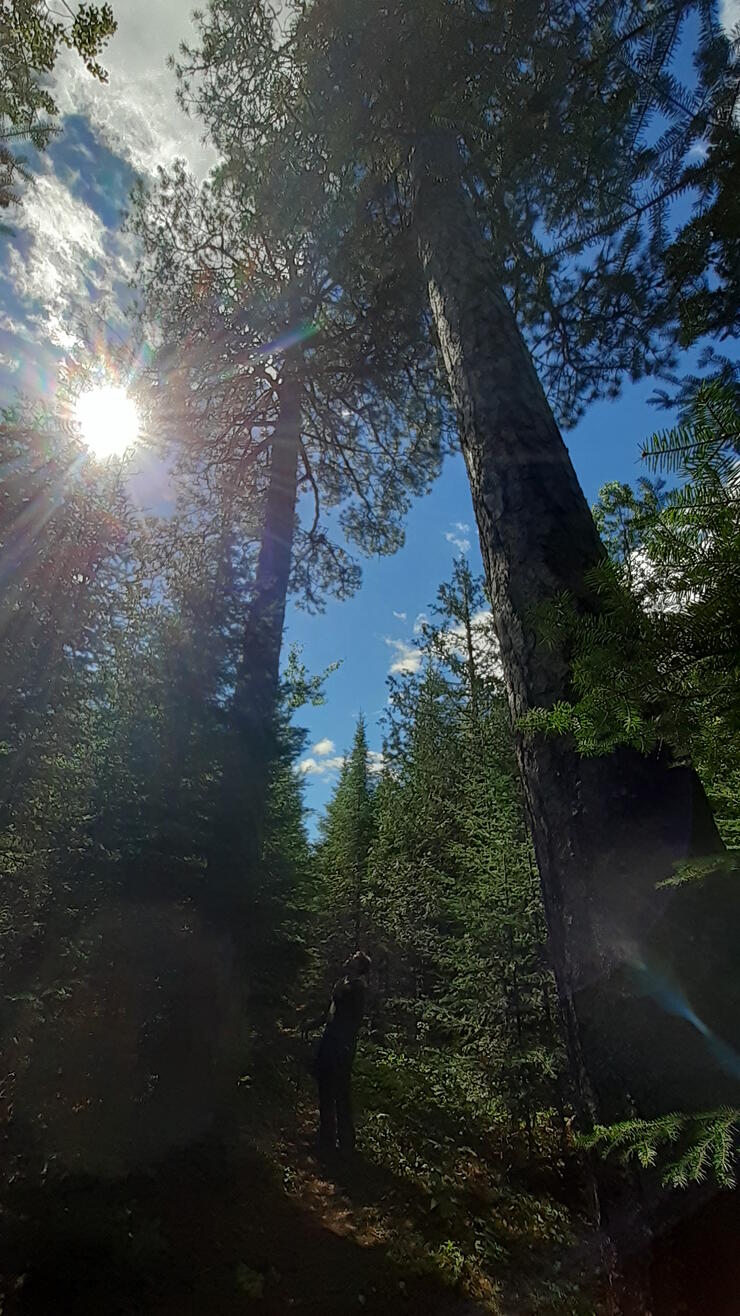 Sleeping Giant Provincial Park is located about 80 km east of Thunder Bay, on Sibley Peninsula that hooks down into Lake Superior. With over 100 km of hiking trails, it's a fantastic place to explore. Experienced hikers put the challenging Top of the Giant trail (nearly 22 km, ascending the tallest cliffs in Ontario) on their must-do list, because it's a chance to experience the Sleeping Giant, Thunder Bay's most famous landform, in a whole different way. Less demanding but still beautiful hikes include Middlebrun Bay (4.6 km round trip through the boreal forest and Lake Superior shoreline to a long secluded sandy beach) and Piney Wood Hills (3 km round trip, winding through huge cedar, white pine and red pine up to 200 years old, then a steeper section overlooking Joeboy Lake). 
Found just before the Canada-US border on Highway 61, about 60 km south of Thunder Bay, this day-use park has several great trails. If you have small kids or are using a wheelchair or mobility scooter, there's the Boardwalk trail, a 350-m accessible trail through the shoreline trees, marked with information plaques, with striking metal artwork and benches at the final platform on a Lake Superior beach. High Falls trail is a 2-km loop along an old logging route to the impressive High Falls waterfall roaring through a steep gorge. You can wave to visitors on the American side of the falls just a short distance away! You can retrace your steps and go back the same way you came, or descend a steep staircase to walk along the Pigeon River, with lots of opportunities to see birds and investigate the foundation of an old homestead.
Be sure to check out the locally created WAYfinder app, which is a great resource for trail information. 
Hiking in Thunder Bay is always fun and rewarding. Get out there and explore everything Thunder Bay's hiking trails have to offer.
Happy trails!