The Ultimate Guide to Winter Camping in Ontario
Discover the joy of snow while winter camping. Find out where to go and how to camp safely.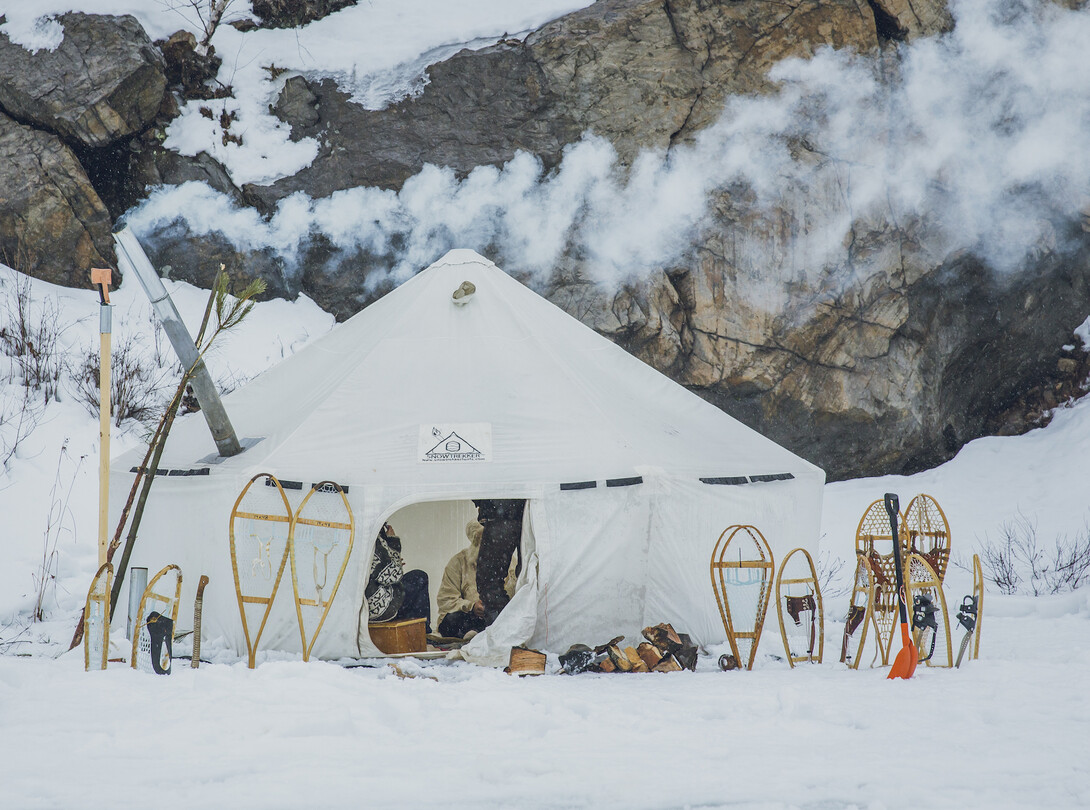 Canadians don't let a little (or a lot) of snow stop them from going camping. In fact, many outdoor enthusiasts actually prefer to explore Ontario's wilderness during the quiet season. Visiting an Ontario Park between December to March not only guarantees a secluded place to camp, but it also offers you a fabulous winter wonderland to play in.
Best places to camp in winter
Right now, we must stay close to home to limit the spread of COVID-19. That doesn't mean you can't dream about future winter camping trips, though. In your downtime, this winter, plan a Northern Ontario winter camping vacation to experience all the natural beauty this area has to offer.
Sunset Country
Home to Quetico and Woodland Caribou Provincial Parks, Sunset Country is a great place for a backcountry winter camping vacation. Minaki Yurt Adventures offers heated yurts and lots of room to cross-country ski and snowshoe. Here are some resources that will help you in your winter camping trip planning and getting geared up:
Superior Country
In Superior Country you'll find Sleeping Giant and Wabakimi Provincial Parks, great places for backcountry winter camping. Here are some resources that will help you in your winter camping trip planning and getting geared up:
Northeastern Ontario
Northeastern Ontario is a mecca for winter camping enthusiasts. Killarney Provincial Park offers excellent winter backcountry camping, campground camping and yurts. Windy Lake Provincial Park offers cozy yurt camping. There are two adventure outfitters, Lure of the North and Temagami Outfitters, that offer guided, fully-outfitted hot tenting adventures. Here are some resources that will help you in your winter camping trip planning and getting geared up:
What is Winter Camping?
There are two main types of winter backcountry camping: cold camping (staying in a four-season tent with no heat source) or hot tenting (staying in a large canvas tent with a wood stove). You can also build and stay in a quinzhee (a snow shelter), however, this takes a long time and requires specialized knowledge. If you're not ready for winter backcountry camping, you can stay in a cozy yurt.  
Winter camping in the backcountry is a special experience. After loading your gear onto a toboggan you then snowshoe into the wilderness. You can set up camp anywhere you want but preferably somewhere with lots of wood to cut so you can keep warm. You most likely will have the place to yourself and will enjoy the absolute silence and peace.
If you stay in a yurt, you'll have your own heated living space. Yurts are a simple eight-sided tent, mounted on a wooden deck. Each yurt sleeps four adults or a family of six and comes equipped with beds, lights, kitchen furniture and electric or wood heat.  
Winter offers the opportunity to see more wildlife. They are easier to spot and much easier to track. You can snowshoe or ski on your favourite trails – without the crowds. As it gets dark so early, you'll have lots of time to take in the night sky. You'll see spectacular stars and may have the opportunity to be awed by the northern lights dancing across the sky.       
There are 5 Ontario Parks in Northern Ontario that allow backcountry camping during the winter: Quetico, Killarney, Woodland Caribou, Sleeping Giant and Wabakimi. Killarney also offers walk-in campground camping. Yurt camping is available at Windy Lake and Killarney. Learn more about winter camping in Ontario Parks and keep updated on all trail and snow conditions with the new Ski Report. 
Going winter camping or visiting an Ontario Park will be a little different this year given the COVID-19 pandemic. This article will go over everything you need to know to have a safe and healthy winter camping experience.
Is it safe to go winter camping this year?
Any place people congregate carries with it a risk of transmission. However, winter camping takes place outside and in large, open spaces where it's very easy to spread out, which inherently makes it lower risk than activities that take place indoors or even outdoors in limited quarters.
Backcountry camping in the winter is much more challenging than camping in the summer, so it's best to go with at least one person who is experienced. You'll need to ensure you have the right equipment (rentals are available from Lure of the North) and know how to stay warm and dry. Find out if it's right for you. 
If you don't have the right gear and knowledge, you could consider going on a guided hot tent winter camping adventure with Lure of the North or Temagami Outfitters. Or stay in an Ontario Parks yurt, Nature's Harmony yurt or Minaki Yurt Adventures.     
If you are travelling with members from within your bubble, then sleeping in the same tent, sharing meals and space is not an issue. Depending on where you go winter camping, it's likely you won't meet any other people. If you do, there will be lots of space to social distance from them.
If you decide to go camping with people from outside your bubble, you will need to consider how to social distance and respect common COVID-19 precautions.
It will be easy to keep a two-metre distance while loading up your toboggan and snowshoeing to your camping destination. At camp, you can safely gather wood, cook food and eat while social distancing.  
The biggest risk to consider will be where you sleep. Obviously staying in your own tent is the safest choice. Typically groups going hot tenting all relax, eat and stay in one large tent heated by a wood stove. This is the most comfortable way to enjoy backcountry winter camping.
The benefits of winter camping are considerable. It's a unique adventure with magnificent scenery, peaceful seclusion and incredible quiet. Exercising and spending time in nature can relieve stress, strengthen bones and muscles, improve your mood and even boost your immune system.
Weighing the risks and benefits can help you make an informed decision about the relative safety of going winter camping this winter. Get informed about the precautions winter camping outfitters and Ontario Parks are making to their operations to keep guests and employees safe and healthy.
How winter camping providers are responding to COVID-19
Ontario Parks is offering many of their usual facilities and services, however, some modifications or restrictions may apply. Be sure to check with the Park that you are considering visiting before travelling. Visit their COVID-19 webpage for more information.
Ontario Parks is counting on you to be responsible when enjoying the parks. The following are some of the rules and practices that you are asked to abide by when visiting a Park in Northern Ontario:
Practice physical distancing by keeping at least two metres apart from others in all areas – indoors and outside.
Wear face coverings where required - indoors and anywhere else physical distancing is challenging to maintain.
Wash your hands regularly with soap and water or use alcohol-based hand sanitizer if soap and water are not available.
Postpone your visit if you have any symptoms of COVID-19 or have been asked to isolate.
The safety of visitors and staff is their top priority. They have implemented measures to ensure extra cleaning and disinfection in essential areas and high-touch surfaces in public areas. They have addressed overcrowding by limiting the number of daily vehicle permits sold or the number of campsites available for reservations.
Lure of the North is offering a variety of guided winter camping events this winter. They would be happy to answer any questions and concerns that you might have regarding health risks on their trips.
Temagami Outfitters is offering winter weekend getaways and winter family camping trips. For all clients from COVID-19 hotspots or are joining a group outside of their bubble, they have instituted a 'test then travel' policy to ensure the safety of all guests and the community of Temagami.
Minaki Yurt Adventures is an ideal place to enjoy the great outdoor playground of the boreal forest. Contact them for their COVID-19 safety practices.      
Nature's Harmony Ecolodge has 485 acres of wilderness to explore. Contact them for their COVID-19 safety practices.
For up-to-date information about what restrictions are in place for regions of Ontario, visit: https://covid-19.ontario.ca/zones-and-restrictions.
Go Winter Camping
Discover the joy of snow on a winter camping trip in Northern Ontario. Snowshoe through the snow-covered forest and across sparkling frozen lakes. Embrace the absolute silence. Look up at the night skies where millions of stars shine brightly. Winter camping is a safe and fun way to enjoy the quiet season.