An Adventure Cycling Dream Come True
The Great Lakes Waterfront Trail is open for your exploration. Check out the Lake Huron North Channel expansion for a cycling trip to fit your fancy.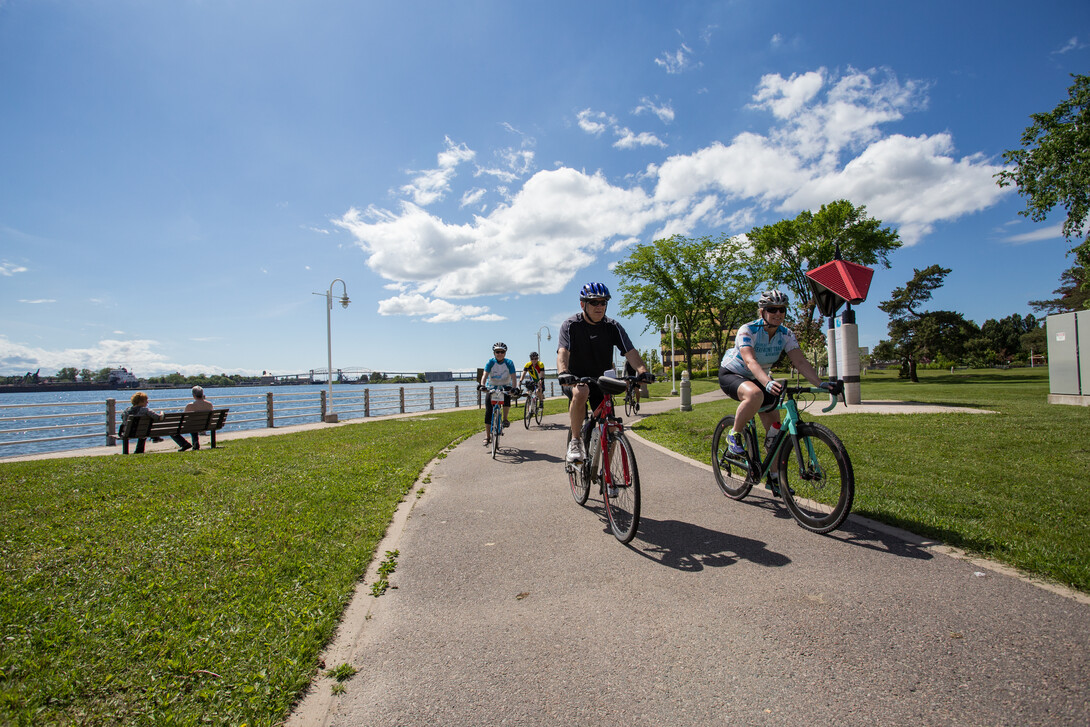 The Great Lakes region is one of the most beautiful parts of Canada. And it's one that travellers driving across the country often don't have time to stop and soak in. But what if you could travel the area by bike, taking in the sights and making comfy stops along the way? Well, guess what—now you can.
The Great Lakes Waterfront Trail—part of the longest recreational trail in the world, Canada's Great Trail—has been in the works for the past 20 years, thanks to the efforts of Ontario charitable organization the Waterfront Regeneration Trust. This summer, when it's completed, it'll be a bucket-list destination for any cyclist with a sense of adventure. 
With a starting point on the Quebec border at the east end of Ontario, the trail skirts the shoreline of Lake Ontario and Lake Erie before turning north. The multi-surface trail is already an adventure cycling dream, but it's the latest segment addition that will take the adventure to a new level. Welcome to Northern Ontario and the Lake Huron North Channel expansion.
Stretching 380 km from Sudbury to Sault Ste. Marie, the trail travels along quiet back roads and paths as it traverses some of the most spectacular landscapes in Ontario, serving up rocky shorelines, picturesque Mennonite and Amish farmsteads, rushing waterfalls, gently flowing rivers, sandy beaches, and thick forests. Twenty-six communities and First Nations dot its length, offering opportunities to stop, rest, and explore. Stay the night in a lakeside cottage, partake in some locally caught smoked fish, or enjoy a refreshing end-of-the-day local brew.
While the full 380-km route makes for a very pleasant five-day excursion, there's no need to consider this trip in all-or-nothing terms, as there are plenty of opportunities along the route to explore a day or two at a time, and skip highway sections altogether. In both Sudbury and Sault Ste. Marie, the Great Lakes Waterfront Trail uses existing trail networks, making for excellent day trip opportunities, especially with kids in tow. Travelling families should be sure to check out Science North in Sudbury and the Bushplane Museum in Sault Ste. Marie.
Here are some routes along the trail that can be enjoyed back-to-back or as their own separate day trips, depending on your schedule.
Sudbury – Ramsey to Robinson
A 9-km, family-friendly trip between Lakes Ramsey and Robinson in Sudbury via the Great Lakes Waterfront Trail and Junction Creek Path. Note: cyclists must dismount on the Bell Park boardwalk and when entering the tunnel beneath Elgin Street.
What to see
Where to stay
The Townplace Suites by Marriot: An Ontario by Bike-certified hotel.
Rider resources
There are no bike shops on this route; however, the following bike shops are located in Sudbury. They offer parts, service, and rentals (where noted).
Espanola to Massey
Enjoy a 28-km, one-way tour between the towns of Espanola and Massey, through the scenic LaCloche Range.
What to see
Where to eat
Where to stay
Pinewood Motor Inn in Espanola or Mohawk Motel in Massey.
Sylvan Circle Route
A 96-km loop for experienced cyclists, this tour incorporates over 40 km of the Great Lakes Waterfront Trail before travelling the scenic Sylvan Valley.
What to see 
Where to eat
Where to stay
Bruce Bay Cottages: Scenic cottages on a private island with a classic lighthouse.
St. Joseph Island
A great weekend getaway, popular with local cyclists. Make the 70-km trip around the island on low-traffic roads, visiting beaches, heritage forts, and the villages of Hilton Beach and Richards Landing.
What to see
Where to eat
Where to stay
Rider resources
There are no bike shops on St. Joseph Island. The following location offers limited bicycle parts:
Hitting the highway
Please keep in mind that while this route makes every effort to stay on country roads, there are a few instances where traveling along Highway 17 cannot be avoided. The Ministry of Transportation is paving the shoulders of these sections to assure a safe cycling experience. To learn the status of this work, people are encouraged to visit the interactive map below. A gray line indicates work is ongoing, red indicates the route is ready to ride.
"One of the challenges to establishing a route for the North was six sections (about 60 km) where we were required to use Highway 17 to achieve continuity," explains Marlaine Koehler, the Trust's executive director. "As part of its CycleON strategy, the Ministry invested $9M to construct paved shoulders on those sections of the highway." It is this historic level of participation and investment that opened Ontario's North for cycle tourism. The new shoulders will greatly improve conditions for the seasoned rider; however, cycling Highway 17 is not for novices. The route has high traffic volumes including consistent truck traffic.
While the new Lake Huron North Channel expansion puts Northern Ontario on the cycle touring map, the Great Lakes Waterfront Trail is not quite finished yet. With new Grand Bend to Tobermory and north to Manitoulin Island sections well underway, the vision of the longest recreational trail network in the world becomes that much closer to becoming a reality. If you consider yourself an adventure cyclist, a "bike packer," or you just like a good old-fashioned bike ride, pack your bags—Northern Ontario and the the Lake Huron North Channel expansion are waiting for you.
Looking for more ideas? Visit Ontario By Bike, or read about more Great Lakes Waterfront Trail options here.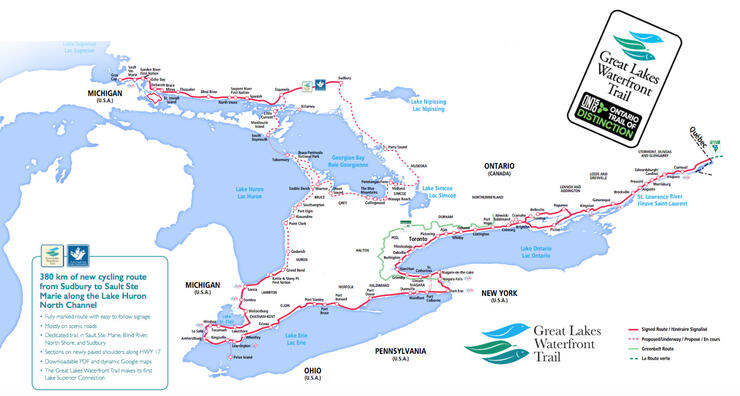 The Lake Huron North Channel expansion of the Trail was made possible with support from the Ontario Trillium Foundation, Trans Canada Trail, Tourism Northern Ontario, and Province of Ontario's Ministry of Transportation.