10 Easy Canoe Trips in Ontario
Safely explore the province's wilderness with a guided canoe trip.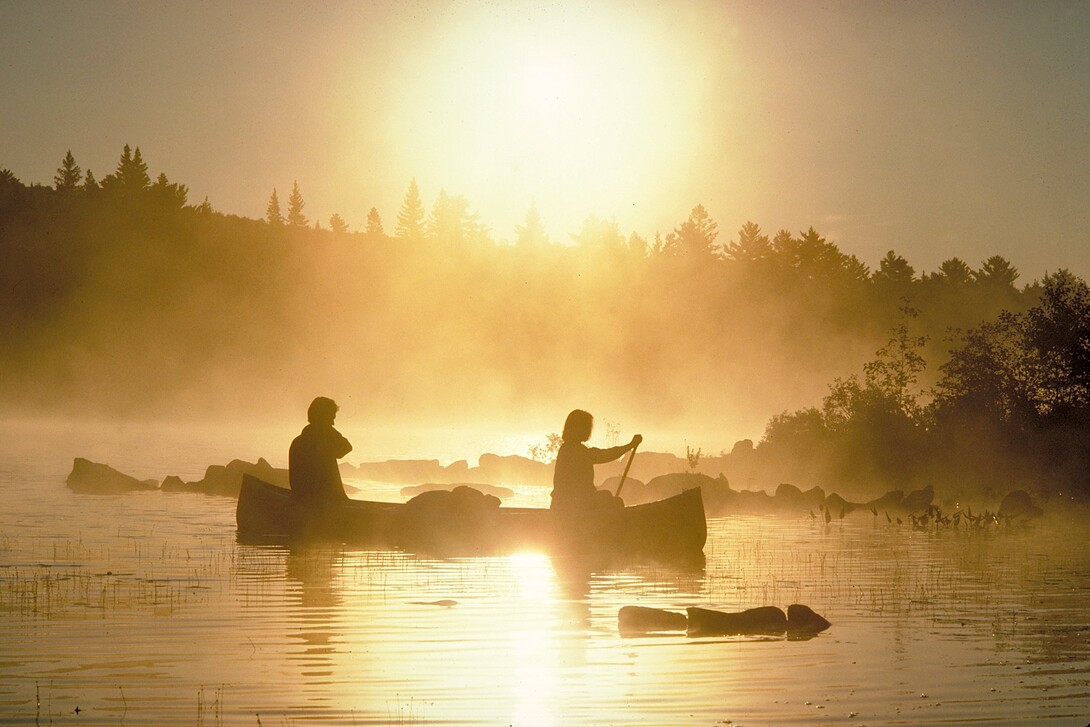 A canoe camping trip is the ultimate escape for a weekend or short getaway. Find solitude and discover the wonders of nature. It's important to realize backcountry paddling (travelling by canoe and paddling to your campsite) is different from car camping. It requires specialized skills, preparation, respect and knowledge.   
If you are a first-timer, we recommend you take a guided trip to gain valuable experience. Safety is the utmost priority in the wilderness.
With the help of your knowledgeable guide, you'll develop paddling, map-reading, weather-watching, portaging and backcountry camping skills. Plus you'll enjoy hassle-free planning. Ultralight canoeing and camping equipment is supplied, plus delicious backcountry meals. Just book and go.
If you have acquired basic canoing and camping skills and want to explore on your own, check out the list of Ontario Parks below that offer beginner backcountry canoe camping routes. Local outfitters can get you geared up and help you plan your trip. 
EASY 2-, 3- OR 4-DAY BEGINNER GUIDED CANOE CAMPING TRIPS – NO EXPERIENCE REQUIRED
Try one of these trips. It'll be a great way to get your feet wet and learn how to safely enjoy a canoe trip. 
Grand River 
Located in southern Ontario, within a one-hour drive from GTA, the 290-km Grand River and its major tributaries are the perfect waters for a beginner-friendly weekend canoe trip. Designated as a Canadian Heritage River in 1994, the Grand meanders past towns and winds its way through wetlands and rare Carolinian forests. See lots of birds and wildlife.   
Paris to Brant Park Route (Very Easy)
Grand River Rafting offers the perfect introductory canoe trip. Start with a one-hour lesson, then set out on a scenic, leisurely 13-km paddle from the quaint town of Paris into a pristine wilderness. Highlights of this two- to four-hour trip include perfect swimming areas, natural spring water and picnic stops.
All canoeing equipment is provided. Add a river guide to learn more about the valley. Campsites are available at the end point. A variety of routes are available for more paddling adventures. 
The Grand Canoe Camping Experience (Easy) 
This fully outfitted two-day, two-night guided canoe camping trip with Grand Experiences makes it easy for you and your family to experience a safe and unforgettable adventure. Develop your canoeing and camping skills in the heart of southern Ontario's largest nature region.
Trip includes a Paddle Canada-certified interpretive guide, all canoe and camping equipment, and shuttle rides. Check out their two-day Big Creek Eco-Adventure for more fun.
Algonquin Provincial Park
Known as one of the most beautiful and historic parks in Canada, Algonquin is a popular destination for canoeing, wildlife-viewing, hiking and outdoor adventures.  Located an easy drive from Toronto and Ottawa, the park is a perfect choice for a beginner overnight canoe trip. 
Classic 3-day Algonquin Park Guided Canoe Trip (Easy Wilderness)
Voyageur Quest has created a perfect three-day beginner canoe trip for those who want a safe, easy and authentic wilderness experience in Algonquin Park. Your guide will help you develop your backcountry skills as you paddle and portage through beautiful lakes and rivers in Northwest Algonquin Park.
Sleep comfortably in top-quality tents. Feast on delicious meals cooked over a campfire. Trip includes all the canoe and camping equipment, park permits and meals. Available Monday to Wednesday or Friday to Sunday from June to September.  
Guided Canoe Camping Trips Designed Just For You (Easy Wilderness)
Ideal for families or groups, a customized Algonquin Outfitters guided trip will teach you the basics of wilderness canoe tripping plus an extra level of comfort and safety to make your wilderness trip more enjoyable. Choose the Algonquin Outfitters guiding service that best suits your needs and budget.
Greenhorn Service: If you need just a little help, this is a cost-effective option that will start your trip off right. A guide will go over the gear and lead you on a "mini-trip" to cover skills like camp setup, food storage, portaging and paddling.
Guide for a Day: An experienced guide will travel with you on the first day of your canoe trip. Learn basic paddling strokes, portaging techniques, navigation, campsite selection and setup. Once you are safely on your first campsite with dinner cooking, the guide will depart, allowing you to finish the trip on your own.
Custom-Designed Guided Trip: This guided trip allows the first-timer to comfortably experience a true backcountry wilderness trip that meets your expectations, experience, abilities and interests.       
Customized Learning Canoe Trips For Adults, Youth and Families (Easy Wilderness)
Paddlefoot excels in organizing and guiding safe customized learning canoe trips for beginners to experts. They provide all the canoeing and camping gear and delicious meals. They will plan a route that suits your skill level and will teach you about the wonders of nature that you experience along the way.
French River
The French River, part of Ontario Parks, was designated a Canadian Heritage River in recognition of its natural and historical value. Paddle the route of Indigenous people, French Explorers, fur traders and voyageurs. Learn more at the award-winning French River Visitor Centre with its "Voices of the River" exhibit.
Beginner Canoe Trip For Families (Easy Wilderness Whitewater) 
Black Feather offers exceptional wilderness holidays for families with lots of opportunity to learn and practice new whitewater canoeing skills on this fun, four-day canoe camping trip. Camp each evening at a new site, dine on exceptional meals and share stories about the day's adventures. Enjoy swimming and exploring this beautiful natural setting.
Introductory Whitewater Canoe Trip (Easy Wilderness Whitewater) 
With some fun and fairly easy rapids, there are lots of opportunities to learn and practice whitewater canoeing skills on this fun four-day canoe camping trip with Black Feather.
Starting at Wolseley Bay, you'll paddle the most scenic section of the French River. There's lots of time for photography, swimming, sharing laughs and enjoying gourmet campfire meals. A Women-Only Adventure is also available.
Killarney Provincial Park 
Killarney's iconic landscape captivated artists including The Group of Seven. The La Cloche Mountains' white quartzite ridges and over 50 clear, sapphire lakes surrounded by Jack pine hills is like no other place in the world.
3-Day Canoe/Hiking Trip (Easy/Moderate Wilderness) 
Leave the city behind and join Overhang Adventures for a memorable three-day canoe/hiking trip. After a quick canoe lesson, you'll start paddling on spectacular Bell Lake. Your expert guide will teach you backcountry camping skills before being wowed by millions of stars.
After a short paddle, you'll hike to the top of Silver Peak to enjoy stunning views before returning to your campsite.
Madawaska River 
The Madawaska River is celebrated as one of the best places in North America to learn whitewater paddling. Rapids range from a gentle class I to a splashy class III.
Weekend Whitewater Learning Vacation (Easy Whitewater)
Madawaska Kanu Centre offers an excellent introduction to the exciting world of whitewater paddling for adults and whole families. Learn the basic strokes and boat control on flatwater, then use your knowledge on easy current in the afternoon. By day two, you'll be paddling up to class II rapids. A variety of camping and accommodations is available.
Rideau Canal 
The Rideau Canal is a 202-km-long scenic waterway running from Kingston to Ottawa. It is a National Historic Site of Canada, a Canadian Heritage River and a UNESCO World Heritage Site. Maintained by Parks Canada, it is one of the most scenic and historic waterways in North America.
Beveridges Locks Overnight Canoe Trip (Easy Heritage) 
Get fully geared up with Perth Outfitters and launch from their docks on the Tay River. Paddle through the renowned Tay Marsh to the Beveridges locks. Go through the locks and explore the lower Rideau Lake. Camp overnight in a Parks Canada unique accommodation called oTENTik, a cross between a tent and a cabin. Paddle back the next day. 
ONTARIO PARKS BACKCOUNTRY FOR BEGINNERS– SOME EXPERIENCE REQUIRED
If you have learned the basic skills for wilderness canoe tripping and now want to explore on your own for a weekend getaway or longer trip, these Ontario Parks offer incredible beginner-level backcountry paddling experiences. Learn about safety and etiquette.  
NORTHWEST ONTARIO
Neys – Located on the shore of Lake Superior, enjoy an incredible sand beach.
ALGOMA COUNTRY
Fushimi Lake – Offers exceptional fishing and wildlife viewing.
Wakami Lake – Paddle through boreal forest with old-growth white pine.
NORTHEASTERN ONTARIO
Esker Lakes – Explore dozens of kettle lakes, formed when glaciers retreated 10,000 years ago. Enjoy great bird-watching.
Halfway Lake – See bald eagles and great blue herons on the Two Narrows Canoe Route.
Killarney – Paddle this iconic park, known for its beautiful quartzite mountains and sapphire lakes.
Mississagi – Paddle and portage through a rugged landscape of ancient hills and sparkling waters.
Restoule – Explore the pristine waters at the base of a 100-metre-high bluff.
EXPLORERS' EDGE
Algonquin Park – Paddle the painted landscape, made famous by Tom Thomson.
Grundy Lake – A short five- to 20-minute paddle will get you to your backcountry campsite.
The Massasauga – offers 135 backcountry campsites accessible by water only.
SOUTH EASTERN ONTARIO
Charleston Lake Provincial Park - With 10 interior campsites, it's a perfect place to develop your backcountry canoe camping skills.
ONTARIO'S HIGHLANDS
Bon Echo – See one of Canada's largest visible collections of Aboriginal Pictographs.
Murphys Point – Paddle five to 45 minutes to access a backcountry campsite on Big Rideau Lake.
KAWARTHAS NORTHUMBERLAND
Kawartha Highlands – Explore the largest park south of Algonquin. Enjoy solitude, tranquility, wilderness and dark night skies.
ESCAPE NOW
If you are new to canoe tripping or just looking for a quick, hassle-free weekend adventure, it's easy to explore Ontario's beautiful landscapes with a two- or three-day guided canoe trip. Just pick your trip, book and go paddling.