14 of the Best Places to Kayak in Northern Ontario
Find out where to put in, rent, take guided tours and more.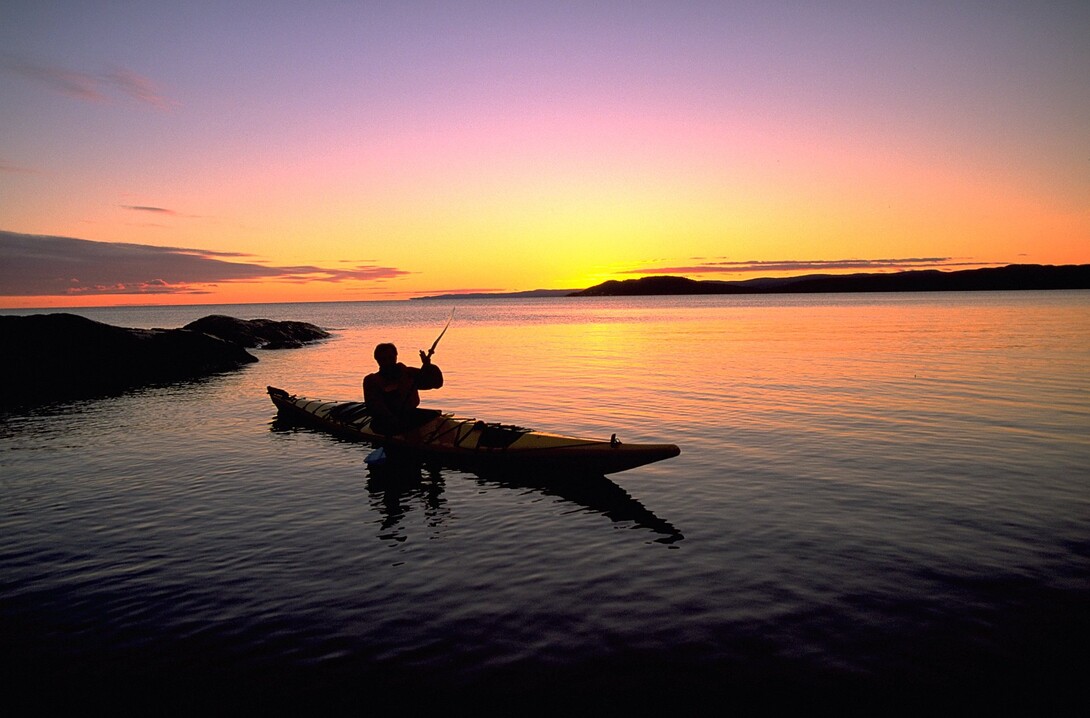 With its Great Lakes that create ocean-like conditions, smaller lakes connected by winding portage trails, whitewater rivers offering challenging runs, and meandering creeks cutting through marsh and forest, Ontario truly contains something every paddler will love.
Whether you're looking for an afternoon on the water complete with picnic lunch on the Canadian Shield, or a multi-day adventure weaving through the islands of Georgian Bay, these lists of the best guided kayak tours and the best places to kayak in Northern Ontario are sure to inspire you.
Guided kayak tours in Ontario 
Beginner or advanced, everyone can benefit from taking a guided kayak trip. You'll learn more about the area, receive helpful paddling tips, and enjoy peace and serenity leading up to your trip as you won't have to plan a thing or organize gear. Choose from half-day, full-day and multi-day trips of all lengths in beautiful places from world-class operators.
Day trips
Multi-day trips 
Where to kayak in Northern Ontario 
North Bay 
Hemmed in by water on all sides, North Bay makes for a great vacation destination to get some easy day-tripping in. Look to the North Bay Canoe Club for inspiration—they provide lessons and coaching for flatwater kayaking at Olmstead Beach on Trout Lake. If you'll be in the area for a while, consider enrolling in one of their instructional programs for recreational paddling or sending your kids to one of their week-long summer camps. 
North Bay is considered the Gateway to the North, so be sure to make a stop here for an afternoon of paddling if you're road tripping north. It's also only 3.5 hours from Toronto and four hours from Ottawa, making it accessible for a weekend getaway from the city if you want to explore more of what the area has to offer.
Lake Nipissing
The headwaters for the French River, Lake Nipissing is the perfect start for a kayaking trip out to Georgian Bay. However, with a surface area of 873 km sq and with so many islands scattered throughout, there's good reason to explore the lake itself. Peruse in and out of the lake's many bays and inlets, have a picnic on one of the pristine islands at Manitou Islands Provincial Park (a non-operational provincial park), and discover untouched sand beaches to pull your kayak up on and go for a swim from. Be sure to refer to Ontario's Crown Land Use Policy Atlas to see which islands you can visit without fear of trespassing.
Access Points 
There are access points at the end of almost every street in North Bay that runs perpendicular to the Lake Nipissing shoreline. Here are a few of the most popular.
Trout Lake 
Trout Lake is located to the east of North Bay and feeds into the Mattawa River. While smaller than Lake Nipissing, it'll still take you about half a day to kayak the length of the lake. Once you reach the eastern end of the lake, you'll come upon Camp Island, part of Mattawa River Provincial Park. This is a non-operating park, so you can take out and have a picnic or even campout on its serene shores.  
Access Points 
"The Cove"
Located at the south end of Lakeside Drive, North Bay
Olmstead Beach
Located at the north end of Lakeside Drive, North Bay
Mattawa River 
If a kayak camping trip is what you're after, make the journey from Trout Lake to Mattawa along the beautiful and historic Mattawa River. Enjoy some easy whitewater runs (or portage around), stop to read historical plaques, and take in views of rocky shoreline and waterfalls. Use this Guide To Paddling The Mattawa River to see route suggestions, access points, and outfitting.
Kayak Rentals in North Bay 
Thunder Bay 
Thunder Bay is an outdoor adventurer's paradise, making it a popular destination for climbers, hikers, mountain bikers and paddlers. Located right on Lake Superior, at the outlet of several rivers that empty into the Great Lake, and within driving distance of many smaller lakes, The Lakehead, as it's sometimes referred to as, has plentiful options for kayakers. 
Base your stay in Thunder Bay and make day trips out to surrounding rivers and lakes, peruse the urban paddling scene, or stopover for some paddling before heading into the wilderness north and west of town.  
Thunder Bay Harbour 
Paddle along the Thunder Bay waterfront for some spectacular views both on and off the coast. Gazing out to Lake Superior, you'll see the majestic Sleeping Giant rising up out of the water. Looking to shore, you'll see cargo ships unloading at Keefer Terminal, old grain elevators, and Alexander Henry—a museum aboard a Canadian Coast Guard ship.
Want to get away from the city skyline? Put in farther down the coast at Silver Harbour Conservation Area and explore Mackenzie Bay and Amethyst Harbour to the east. 
Access Points 
McIntyre River 
The McIntyre River runs from Trout Lake to Thunder Bay, where it becomes the Neebing-McIntyre Floodway which runs into Lake Superior. At 29 km in length, there are plenty of route options to choose from. When the water is high, there are many sections of whitewater so do your research before you set out. Check forums and reach out to local paddlers for more information on access points.
Kaministiquia River 
The Kam River, as it's commonly called, originates in Dog Lake and feeds into Lake Superior on the shores of Thunder Bay. It flows over Kakabeka Falls and past Fort William Historical Park. 
Access Points 
Boulevard Lake 
Go for a paddle in the heart of the Thunder Bay at Boulevard Lake. Technically a reservoir, the lake was created in 1902 with the construction of a dam on the Current River. 
Access Points 
Kayak Rentals in Thunder Bay 
Lake Superior 
As the world's largest freshwater lake (by surface area), Lake Superior is a sight to behold. And with shores of rocky beaches, towering cliffs and thick forest, kayaking its waters is an experience in beauty on all sides. The wind, waves, unpredictable weather and frigid water temperatures make conditions on Lake Superior similar to that of an ocean. For this reason, sea kayaks are the boat of choice for most paddlers. 
If you haven't done much sea kayaking before, it's recommended you go with a tour. You'll have a far more enjoyable—and safer—experience. Plus on overnight trips, all your gear and needs will be taken care of!
Lake Superior Provincial Park 
Experienced paddlers will enjoy the beauty of the coast along Lake Superior Provincial Park. There are many options for both day trips and overnight excursions. Famous sights such as Old Woman Bay are even more beautiful from the water. Paddle near the shipwreck in Gargantua Harbour and view pictographs on the rocks next to Agawa Bay.
Access Points
Pukaskwa National Park
A wild coast only accessible by foot or paddle, Pukaskwa National Park is the place to go for true seclusion. Pass by towering waterfalls, set up camp on serene beaches, float under suspension bridges and take in truly gorgeous sunsets across the water.
Access Points
Hattie Cove
Launch from the Hattie Cove Campground at the end of Pukaskwa Road 
Kayak Rentals on Lake Superior 
Timmins 
Enjoy small-city charm and adventure-inspiring surrounds in Timmins. Simply take a look at this area on a map to see what makes The City with a Heart of Gold such a great destination for paddlers. Base your stay in town to experience the local culture and delights, and spend your days kayaking on nearby lakes and sections of river. See all of the paddling opportunities Timmins has to offer here.
Mattagami River 
At 443 km long, the Mattagami River flows from Mattagami Lake just southwest of Timmins to Portage Island—the confluence with the Missinaibi River which forms the Moose River and flows into James Bay. In other words, this is a river you could spend weeks exploring. Hop on south of Timmins and paddle through town. It won't be long until you're heading into the wilderness. 
Access Points 
Jowsey and Dana Lakes 
Looking to explore some northern lakes for an afternoon? Head to Dana-Jowsey Lakes Provincial Park. Located 35 minutes southwest of Timmins, it's easily accessible off Hwy 101. Bring a picnic lunch and take a break from paddling on one of Dana Lake's many islands.
Access Points 
Dana-Jowsey Lakes Provincial Park
Take a right off Hwy 101 onto an unnamed road with signs for a boat launch. Drive 7 km to reach the put-in for Jowsey Lake on your right. Drive another kilometre for the Dana Lake put-in on your left.
Porcupine Lake and River 
Porcupine Lake, located east of Timmins, is a great spot to go for a sunrise or sunset paddle. If you're feeling adventurous, set out on Porcupine River, which runs out of the northern end of the lake. The river winds northeast before curving back south and feeding into Nighthawk Lake. This paddle will take two days. Refer to the Ontario Crown Land Use Policy Atlas to find an appropriate place to camp for the night.
Access Points
Kayak Rentals in Timmins 
The French River 
The French River offers both day and overnight camping trips to kayakers. You'll dip your paddle in the same waters the voyageurs did, travelling down the river into the open waters of Georgian Bay. Some routes will take you past Bustard Island's lighthouses, and still others to the ghost town of Copenanning. 
Depending which route you take, there may be rapids that are extremely runnable if you have whitewater paddling experience. Otherwise, there are easy portages around. If doing an overnight trip, you'll need to purchase backcountry camping permits, which can be done on the Ontario Parks reservation website (be sure to select the Backcountry Registration tab) and in-person at the French River Visitor Centre, Hartley Bay Marina, and other private tourism operators. Note that, depending where you launch from, you may need to pay additional ramp and parking fees.
Access Points 
Hartley Bay Marina
Put-in at the Hartley Bay Marina for a day paddle or overnight trip. Day trip ideas include the Old Voyageur/Black Bay route and Boom Island route. Choose from many multi-day, looped route options that will take you out to Georgian Bay and back again. Get in touch with the marina before you go for help planning your trip.
2870 Hartley Bay Road, French River, ON, P0M 1A0
705-857-2038
Lodge at Pine Cove
Base your stay at the Lodge at Pine Cove and explore the French River at your leisure. You'll find rapids, channels, bays, islands and more to paddle. Plus, instead of resting your head on a balled up sweatshirt at the end of the day, you can enjoy a good night's rest in one of their cottages. 
1013 Hwy 528A, Noelville, ON, P0M 2N0
705-898-2500
French River Supply Post and Marina
Starting your trip from the French River Supply Post and Marina will once again provide you with plenty of variety to plan a trip that suits your skill level and the amount of time you have to spare. Plan for evenings full of stargazing, afternoons full of rock jumping, and mornings full of quiet moments by the water's edge.
193 French River Supply Post Road, RR#2, Bigwood, ON, P0M 1A0
705-857-2128
Kayak Rentals for the French River
French River Adventures
PO Box 91, Noelville, ON, P0M 2N0
705-898-2500
French River Boat Rentals
1203 Hwy 64, RR #1, Alban, ON, P0M 1A0
705-857-2195
Grundy Lake Supply Post
20395 Hwy 522, Britt, ON, P0G 1A0
705-383-2251
Killarney 
The tiny town of Killarney is a gateway to the expansive, island-dotted waters of Georgian Bay on Lake Huron. Sea kayakers revel in the opportunity to camp on granite islands and take in famously beautiful Georgian Bay sunsets and starry skies. Be sure to know your skill limits, though, as wind and waves on these open waters can make for difficult conditions for even the most experienced paddlers. There are many guided paddles that run in the area that will ensure your safe passage, as well as friendly local outfitters that can help you identify dangerous conditions.
Access Points 
Chikanishing Creek
Driving west on Hwy 637 you'll see signs for the Chikanishing Trail on your left, just past the George Lake campground. Park in the lot at the end of this road and put-in on Chikanishing Creek. Paddle down the creek to Georgian Bay, from which point you can paddle out to Philip Edward, Collins Inlet, the Fox Islands and more. You can find more information about the various islands and landmarks you can explore from this access point here. You will need a park permit from Killarney Provincial Park to use this access point.
Point Grondine Park
Launch your kayak at The Trailhead in Point Grondine Park for access to Philip Edward Island. You'll paddle the Mahzenazing River and a series of lakes with short portages to reach Georgian Bay. For more details on this route, see the section on Coastal Campsites here. Campsites can be booked through Point Grondine Park.
Kayak Rentals in Killarney
Kayak rentals in Ontario 
There are many places you can rent kayaks across Ontario. Many of these are independent outfitters that service a particular area. However, there are a few businesses that have locations across the province where you can start your search.
A good bet is to check a nearby provincial park. Select Ontario Parks offer kayak rentals, usually for day use or sometimes a few days at a time. The Northern Ontario parks that offer kayak rentals are as follows:
Swift Outdoor Centre offers kayak rentals at two of their locations: Georgian Bay and South River. Algonquin Outfitters offers kayak rentals at their Bracebridge, Huntsville, Oxtongue Lake, Brent, Halibuton, Minden and Lake Opeongo locations.
Explore Northern Ontario by kayak 
Pick a destination because of its paddling opportunities or seek out whatever paddling opportunities you can find in a destination you're already visiting (trust us—it won't be hard to do in Northern Ontario). Whatever you decide, you're in for a kayaking excursion full of natural beauty and adventure!
Beginners should make sure to get proper instruction before heading out, and all paddlers should ensure they have the safety equipment and training they need to have an enjoyable time on the water. After that, it's simply time to disconnect and get paddling.