18 Excellent Alternatives to Algonquin Park
Ontario's canoe country isn't confined to Algonquin—escape portage trail traffic and discover incredible paddling at these parks less travelled.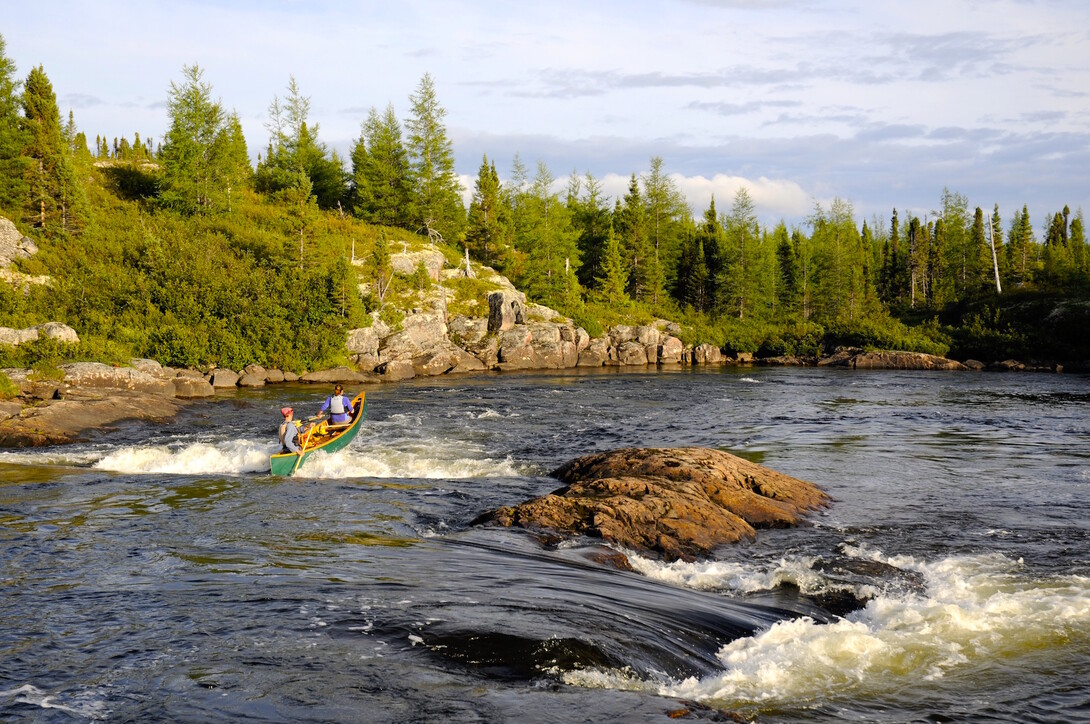 Ontario encourages everyone to travel safe during this time and follow public health guidelines. It is important to practice physical distancing, frequent hand washing and wearing a non-medical face covering where required or where physical distancing is a challenge. Learn more Coronavirus-related health and safety measures at Ontario.ca/coronavirus.
For the latest Ontario Parks updates, please visit: Ontario Parks and COVID-19.
The name Algonquin is internationally synonymous with Canada and canoeing, but the park's iconic status and easy access mean visitors will seldom have a lake or trail to enjoy all to themself.
This summer, why not explore one (or a few) of the 90-plus other Ontario Parks offering more secluded canoeing experiences? Of these, 30 provincial parks feature paddle-in backcountry camping where you can turn canoe-tripping fantasies into reality.
We've outlined 18 of our favourite paddling parks below. Use Ontario Parks' handy park locator map to find more canoeing parks based on their distance from your home, or by the other activities and facilities that you want during your visit.
Keep in mind that backcountry paddling requires some specialized skills to enjoy safely. Contact local outfitters for exceptional planning and outfitting services for guided or self-guided trips. Here's a complete list of the best backcountry parks and the services offered.
Northwest Ontario
Woodland Caribou Provincial Park
Vast and remote, Woodland Caribou Provincial Park is almost half a million hectares in size, yet it sees an average of only 600 paddlers per year. You're as likely to cross paths with the park's cloven-hoofed namesake as you are to meet other paddlers on a sojourn here. Bordering Manitoba, the park features a warm and dry "prairie boreal" climate that supports a unique hodgepodge of uncommon plants and animals. Experienced canoeists can plan a long-distance route linking lake chains through the park, or head west towards Lake Winnipeg on the scenic Bloodvein River. The community of Red Lake serves as gateway to Woodland Caribou—find outfitters, accommodation, and services here.
Wabakimi Provincial Park
Ontario's second-largest protected area, Wabakimi Provincial Park comprises equal parts lakes and wild rivers—the perfect boreal landscape for countless canoeing adventures from five days to several weeks. Access to this remote park typically requires train travel or chartering a floatplane, so expect intense solitude as you traverse Wabakimi's ancient portage routes, float its spectacular rivers, and settle into some of the 500 world-class backcountry campsites. Read about a 10-day bucket list itinerary, and find outfitters, accommodation, and service providers.
Quetico Provincial Park
Solitude-seeking paddlers would be hard-pressed to find better canoe tripping territory than Quetico Provincial Park. With 2,200 wilderness campsites, this nearly half-a-million-hectare park never feels crowded, and a rich heritage of Indigenous and fur trade travel adds cultural depth to the beautiful landscapes. Keep clear of Quetico's more-travelled southern region on this linear trip linking some of the prettiest lakes along the park's northern edge. Find outfitters, accommodation, and services here.
Algoma Country
Lake Superior Provincial Park
While some experienced big-water canoeists tackle Lake Superior Provincial Park's spectacular freshwater coastline, the park's eight interior canoe routes offer more suitable adventures for paddlers of all skill levels. Choose from easy and relaxing day or overnight trips on scenic and secluded lakes, or depart from Gamitagama Lake for a challenging, weeklong descent of the rugged, rapid-filled Sand River. Download route maps from the park website, or contact Naturally Superior Adventures for planning assistance, outfitting, and accommodation.
Missinaibi Provincial Park
Part of a historic canoe route between Lake Superior and James Bay, the Missinaibi River is an ideal intermediate river trip that dramatically illustrates Ontario's diverse topography. Through-paddlers will need 10 to 14 days to complete each of the Missinaibi's two distinct sections—the upper river is classic shield country with rocky campsites and pool-and-drop rapids; below Thunderhouse Falls, the river widens and settles into the James Bay Lowlands for its final, brisk push to tidewater. Finishing at the remote community of Moosonee requires trippers to return south by train aboard the Polar Bear Express.
If you're not prepared to undertake a 500-km river journey, consider a backcountry basecamp at Missinaibi Lake Provincial Park. This sprawling lake offers 20 quiet, canoe-in campsites around its perimeter, outstanding fishing and fantastic pictograph sites. Contact MHO Adventures and Missinaibi Outfitters for guided river trips and shuttles.
Mississagi Provincial Park
Only a short drive north of Elliot Lake is one of northern Ontario's best-kept secrets: a beautiful provincial park that's perfect for a first-time overnight canoe trip. Mississagi Provincial Park's three backcountry canoe sites are situated on the sparkling waters of Semiwite and Helenbar lakes—just a brief paddle and portage from the park dock—and the surrounding rocky ridges tempt paddlers to stretch their legs on some of the 40 km of scenic hiking trails. Rent canoes at the park, or in Elliot Lake at Adventure North. Pamper yourself post-trip with a cozy cottage or room at Laurentian Lodge on Flack Lake, across the road from the park.
Fushimi Lake Provincial Park
Tucked amid verdant boreal forest just north of Highway 11 and west of Hearst, the clear waters of Fushimi Lake form the centerpiece of isolated Fushimi Lake Provincial Park. Even first-time campers and canoeists can manage the short paddle (no portages!) to one of this northern lake's 13 pretty backcountry sites, including three sites on private islands. Each campsite offers something different—from sandy beaches to rocky points, small rapids or incredible sunsets—and all make for a perfect basecamp to paddle a section of the Valentine River system or enjoy excellent walleye and northern pike fishing. Canoe and kayak rentals are available from the park store.
Northeastern Ontario
Spanish River & Biscotasi Lake Provincial Parks
Spanish River Provincial Park offers a wide variety of overnight adventures and plenty of swiftwater and class I-II rapids for intermediate whitewater fun. Most of the rapids are of the learning variety, and all are easily portaged around, making the Spanish an ideal first moving water multi-day. Even better, there are lots of campsites and not too many paddlers.
Explore the East Branch of the river for more mellow travel on a series of narrow lakes and riffle-water channels, before meeting the West Branch at The Forks. Or take the train to Biscotasi Lake Provincial Park to start your trip on the wilder West Branch. Often overlooked as a destination in its own right, huge, island-studded Biscotasi Lake offers endless flatwater paddling and great fishing.
The full Spanish River experience goes all the way from the train drop at "Bisco" to Agnew Lake near Highway 17—you'll want nine or 10 days to enjoy this 160-km route. Multiple access points mean you can also plan a shorter trip focusing on the gentle-to-moderate whitewater of the river's middle section. Get a more detailed itinerary of this three- to four-day route. For more information, rentals, and shuttle info contact Fox Lake Lodge and Agnew Lake Lodge.
Halfway Lake Provincial Park
Located at the southern edge of the boreal forest, an hour's drive northwest of Sudbury, Halfway Lake Provincial Park offers two short canoe routes that are perfect for beginner backcountry campers. Paddle a series of small lakes on the Two Narrows canoe route and camp on Bailey Lake for a weekend tour through the heart of the park, where you can see nesting bald eagles, a great blue heron rookery, and forest-cloaked moraines created by glaciers thousands of years ago. Solitude is guaranteed on secluded Antrim Lake—this quiet lake is home to a single paddle-in campsite, so you can have the sandy beaches, spectacular cliffs and ample wildlife all to yourself. Canoe and kayak rentals are available from the Halfway Lake park store, or in Sudbury at the Laurentian University Outdoor Centre.
Killarney Provincial Park
Immortalized by Canada's famous Group of Seven artists, Killarney Provincial Park's shining white La Cloche Mountains cradle a panoply of pine-fringed, sparkling blue lakes. Paddle and portage this iconic park's interior on canoe trips ranging from a simple overnight to a comprehensive 10-day loop. Most visitors depart from popular George Lake or nearby access points along Highway 637. For a more secluded experience, head for the park's oft-overlooked north side, or launch from Killarney's west side and brave the long-but-oh-so-worth-it portages into gin-clear Nellie and Grace lakes. Begin or end your trip in a comfortable cabin at Widgawa Lodge—they can also get you outfitted and provide maps, permits and water taxi service. Find more outfitters, accommodation, and services here.
French River & Restoule Provincial Parks
Voted Northeastern Ontario's number-one paddling destination, the French River still offers plenty in the way of magnificent solitude. Spend a weekend or a week exploring the multitude of bedrock-lined channels that comprise the Lower French. Paddle canoes or kayaks down the river from Hartley Bay to its delta on Georgian Bay, nosing among an intricate archipelago of glacier-scoured islands, shoals, and sheltered passages. Or watch the landscape change as you navigate the entire length of this Canadian Heritage River.
The 150-km route begins at Restoule Provincial Park and connects with the Restoule and Little French rivers and Lake Nipissing before spilling over gentle rapids and through forgotten channels to Georgian Bay. Hidden gem-finders take note: Restoule Park itself is home to some superb, easy canoe routes with lovely backcountry camping. Go guided with French River Adventures or Black Feather, plus find more outfitters, accommodation, and services here.
Temagami Parks
While it's true the Temagami region is home to more youth canoe summer camps than anywhere else in the world, this legendary tripping destination retains a paradoxically lonely feel. Some 2,400 km of ancient canoe routes are steeped in Indigenous history, offering canoeists a wilder, more challenging—yet still accessible—alternative to parks like Algonquin and Killarney.
The Temagami area is actually comprised of a mosaic of interconnected provincial parks, waterways, and Crown land, ranging from recreational gateways to pristine wilderness. The aptly named Solace Provincial Park features unparalleled flatwater canoeing, while Lady Evelyn-Smoothwater Provincial Park's towering pine forests, rapid-choked rivers, and breathtaking waterfalls beckon experienced adventurers. Sound enticing? Check out this week-long bucket list route.
Contact Temagami Outfitting Co. and Smoothwater Outfitters for trip planning assistance. Lakeland Airways offers fly-in adventure options, or stay in rustic comfort at Cabin Falls Ecolodge. For do-it-yourselfers, there's no better resource than Ottertooth's Temagami home page and the interactive Temagami Canoe Atlas.
Discover a canoe route all your own
Each of these parks has something special to offer the solitude seeker. This summer, why not skip the crowded campsites and portage trails at Algonquin and paddle these canoe routes less travelled?
Where available, campsite reservations can be made up to five months in advance—but the pleasure of these off-the-beaten-path parks is that you won't have to worry about competition for first-come-first-serve sites.