8 Amazing Places to Paddleboard Near North Bay
Explore the area's pristine waterways by SUP.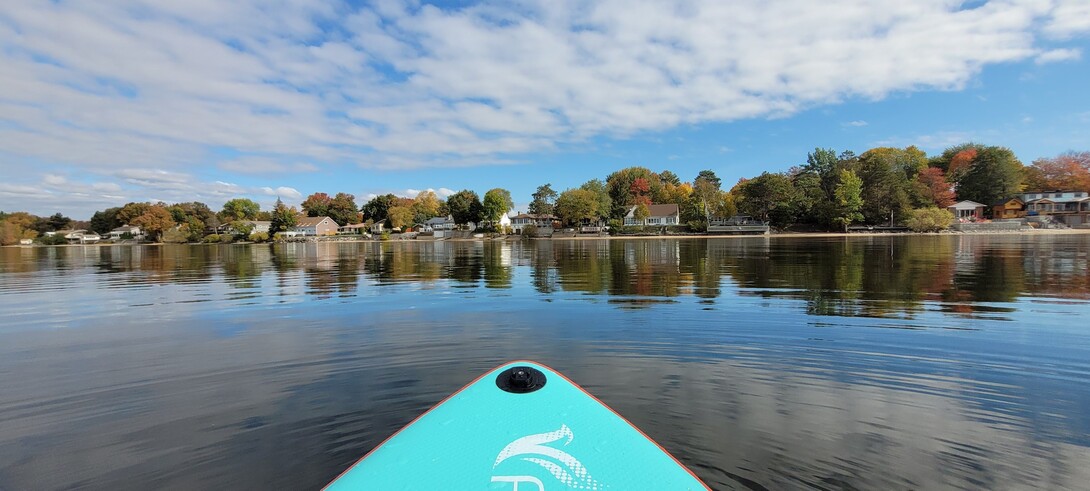 Paddleboarding near North Bay: Where to Go & Rentals
North Bay sits at the crossroads of Ontario's finest paddling destinations. With Temagami to the north, the French River and Georgian Bay to the west, the mighty Ottawa River to the east, and Algonquin Park to the south, all points of the compass lead to amazing paddling. But North Bay itself is also home to some incredible paddleboarding. Set out from the city's waterfront for a stunning sunset paddle on Lake Nipissing, or explore the deep clear waters and wild pine shores of Trout Lake. Whether you're passing through or planning a longer stay, there's a North Bay standup paddling adventure for you!
Before paddleboarding in Ontario…
Prior to venturing out, remember to check the weather, water levels and wind conditions. It's best to always paddle with a buddy, and always wear a SUP leash and life jacket or PFD. If you are heading out for a sunset or sunrise paddle, remember to carry a watertight flashlight. Review Transport Canada's rules for operating paddlecraft safely and always travel responsibly.
Marathon Beach, Lake Nipissing
Wrapping around the east end of Lake Nipissing, downtown North Bay boasts refreshing lake breezes and gorgeous sunsets all summer long. Launching your paddleboard from Marathon Beach offers the perfect introduction to the sparkling clear waters of this vast, glacially-formed lake. This popular spot features a long stretch of shallow water with a sandy bottom that's great for beginner paddleboarders as well as fun SUP surfing on a windy day.
Birchaven Cove, Trout Lake
For deep blue waters and rugged Canadian Shield shoreline, head to North Bay's "other" lake. Known locally as The Cove, this sweet little park and isolated beach area makes for a beautiful place to SUP, swim, and explore the natural scenery of Trout Lake. Departing from the sandy swim area, slip through a narrows into the hidden oasis of Camelot Lake. Or, paddle east across the cove to a cluster of rocky islets, and then continue along this undeveloped shoreline to Dugas Bay and more islands beyond.
Restoule Provincial Park
With a spectacular landscape of shimmering lakes, towering cliffs and beautiful maple forest, Restoule Provincial Park is a local favourite just one hour south of North Bay. Visit in the autumn and you'll be treated to some of the best fall colours in Ontario. The park offers standup paddleboard rentals and three vehicle campgrounds with private sites and sandy beach areas. Pick up a copy of the park's day paddling routes map for five recommended adventures on Restoule, Stormy and Clear lakes. If you're keen on SUP camping—or looking to test the waters on a first-time overnight—Restoule also provides an easy-access backcountry camping experience.
Mattawa River
History, scenery, waterfalls, beautiful campsites and incredible paddling—the Mattawa River has it all. For thousands of years, indigenous travellers used this east-west waterway to paddle between the Great Lakes and the St. Lawrence; later the Mattawa served as an important route for voyageurs, trappers and loggers. The river's historical significance and abundant natural beauty led to the creation of Ontario's first provincial waterway park in 1970. Today, recreational paddleboarders can enjoy a number of excellent day trips, while those equipped for overnight touring can spend two to four days paddling the full 76 km from Trout Lake to the confluence with the Ottawa River at the town of Mattawa.
Otter Lake
After Lake Nipissing and Trout Lake, Otter Lake is the largest lake within North Bay's expansive city limits. Set among tranquil scenery just 15 minutes from downtown, the lake is surrounded by pristine hillsides of maple forest, making Otter Lake one of the city's best-kept secrets. Aside from a beach area and hiking trails, there are no facilities here, just a wild shoreline for paddleboarders to explore.
Lake Nosbonsing
Twenty minutes southeast of North Bay, the inviting, spring-fed waters of Lake Nosbonsing offer a popular holiday escape from the city. Cottagers, campers, and day trippers enjoy the lake's sparklingly clear water, pine-fringed shores and first-rate fishing. Even better, a handful of family-friendly cottage resorts dot the shores; and public launches in the hamlets of East Ferris and Bonfield provide easy day-use access to the lake's west and east ends, respectively.
Kawawaymog Lake, Algonquin Provincial Park
North Bay serves as a gateway to the lightly travelled north side of Algonquin Provincial Park, allowing for easy day trips or weekend escapes away from the crowds. At the northwest corner of the park, just one hour from the city, Kawawaymog Lake is a scenic jewel dotted with islands and surrounded by rolling hardwood hills. Enjoy day paddles or venture into the park along the narrow, wildlife-filled Amable du Fond River for SUP camping on spectacular North Tea Lake.
South Bay, Lake Nipissing
The southern shoreline of Lake Nipissing is a vast expanse of undeveloped crown land, pristine forest and wild, island-filled outlets. Paddleboarders equipped for overnight touring could spend days exploring west from North Bay to the outlet that feeds the French River and beyond. But there are a number of equally exciting day trip possibilities in the lake's South Bay area. The cottage resorts of Nipissing Beach and the South Shore make convenient basecamps for venturing out into the South Bay island archipelago or enjoying a gentle journey on the South River.
Where to Rent Paddleboards in North Bay
Boathouse Rental Co
200 Memorial Drive, North Bay
705-825-3736
Located beside the municipal pier and Marathon Beach on the Lake Nipissing waterfront in downtown North Bay, it offers SUP, kayak, and bike rentals from May to October.
Algonquin North Wilderness Outfitter
16 Highway 630, Mattawa
705-744-3265
Serving the Mattawa River area and Algonquin Provincial Park's northern access points, located 30 minutes east of North Bay at the junction of Trans-Canada Highway 17 and Highway 630. Algonquin North provides paddleboard, canoe, kayak and camping equipment rentals, as well as shuttle service, complete outfitting packages and fully guided canoe trips.
Cozy Camp Cottages
49 Trails End Road, Corbeil
705-752-2085
Nestled on the edge of Lake Nosbonsing, just 25 minutes from North Bay, this charming cottage resort also offers daily and weekly paddleboard, canoe, and kayak rentals to non-guests.
Discover Exceptional Paddleboarding near North Bay
Base yourself in North Bay for easy access to northeastern Ontario's varied and beautiful waterways. Whether you are seeking solitude on a serene lake or looking for a more challenging river journey, North Bay offers something for paddleboarders of every skill level.