Remote Islands You Can Kayak to in Ontario
Enjoy your own private island while paddling the world's greatest lakes.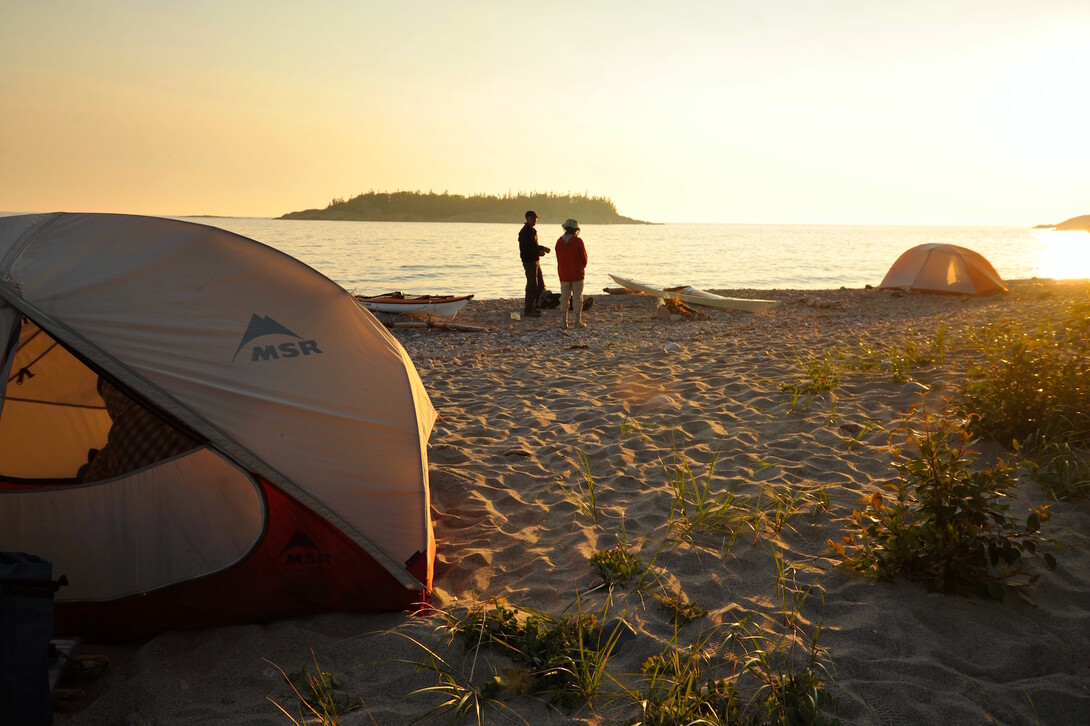 Kayakers in Ontario are blessed with incredible fortune—just like Sir Richard Branson, we get to enjoy virgin views and private islands. But while spending a night on Necker Island costs Branson's guests a cool $87,500 USD, you can experience Ontario's incredible paddling paradises for much less.
Unless you're an experienced open-water kayaker, the remote nature of Ontario's islands and waters means you're best making these trips with an experienced local outfitter. They know the best routes, campsites, local ecology, and weather patterns. They can also supply high quality kayaks, food, and gear to make your trip easy and fun. Read on for our short list of paddling paradises with recommended guide services for each.
Thunder Bay & Superior Country
The sparkling, azure waters and perfect sandy beaches of Lake Superior's north shore may look like the Caribbean, but don't be fooled. A dip in these fresh and fathomless waters is bracing even in the height of summer. On the other hand, Superior paddlers won't find any crowds—enjoy an ever-changing private kingdom as you kayak from one remote island to the next.
Near Thunder Bay, a chain of remote islands known to some steam-happy paddlers as the "Sauna Islands" stretch southwest from the imposing ramparts of Pie Island. Little Trout Bay Conservation Area offers the closest mainland access to these pristine Boreal beauties. Highlights include the Top of the World lookout hike on Spar Island, Thompson Island's cobble beach and lakeside sauna, and Pie Island's skyscraping tableland mesas. For guided trips to the islands, contact Such a Nice Day Adventures in Thunder Bay.
The largest protected area of freshwater in the world, the Lake Superior National Marine Conservation Area covers nearly 11,000 sq/km, extending 150 km along the north shore from the tip of the Sibley Peninsula to just east of Terrace Bay. The Lake Superior NMCA also embraces over 500 wildly remote and undeveloped islands; visit as many as you can on a seven- to eight-day kayaking expedition with Naturally Superior Adventures, Superior Outfitters or Such A Nice Day Adventures. Less ambitious itineraries—including a basecamp kayak trip to the Island Nation of Nirivia (the story of this enchanted place is as outlandish as it sounds)—are also possible.
A compact archipelago in the heart of the Lake Superior NMCA, the stunning Rossport Islands are accessible to day-trippers and kayak campers from the charming village of Rossport. Spot peregrine falcons on the cliffs of Quarry Island, visit one of Lake Superior's most spectacular lighthouses at Battle Island, or stick to the sheltered passages of the inner islands, home to some of the oldest rocks on earth. Superior Outfitters offers rentals and guided trips from their waterfront shop in Rossport (look for the bright red roof).
Tossed 12 km offshore at the east end of the Lake Superior NMCA, the Slate Islands are accessible by boat charter from Terrace Bay. This doughnut-shaped cluster of more than 20 islands was formed 500 million years ago when a 30-km-wide asteroid cratered into the earth. Today, paddlers who basecamp in the Slate Islands' placid inner harbour can make forays along the rugged outer coasts to view the archipelago's bizarre geology, historic lighthouse, and unique remnant herd of woodland caribou. Join a guided trip (five to six days) with Naturally Superior Adventures or Superior Outfitters to simplify the logistics and discover the very best of these remarkable islands.
Departing from Neys Provincial Park, experienced kayakers can paddle south around the imposing headland of the Coldwell Peninsula to a remote island trifecta. First up is the sweeping topography of Pic Island—inspiration for some of the most famous paintings by Canada's Group of Seven artists. Continue east to the sensuous smooth-rock shores of Foster Island and the raised cobble beaches of Detention Island—once the site of a World War II prisoner-of-war camp. Experience all three islands (and plenty more outstanding scenery) on a seven-day kayaking expedition with Naturally Superior Adventures.
Tucked near the bottom of Pukaskwa National Park—midway along a 190-km wilderness paddling route that comprises the longest undeveloped shoreline in all the Great Lakes—Otter Island is the definition of remote. Paddling there (and back to civilization) is typically a 10-day adventure—and the quintessential Lake Superior kayaking trip. Along the way, you'll discover incredible geology, powdery sand and colourful cobble beaches, beautiful wilderness campsites, breathtaking waterfalls, sacred Indigenous sites, and the heritage light station on Otter Island itself. Make this bucket list trip a reality with Naturally Superior Adventures. Learn how to become self-reliant during Ontario Sea Kayak Centre's 8-day training expedition kayak trip to Otter Island (June 28 to July 5, 2020).  
Algoma Country
South of Pukaskwa, islands are comparatively scarce along the Lake Superior coastline. One notable exception is a clutch of rocky and remote isles scattered around the Gargantua headland in Lake Superior Provincial Park. The Gargantua islands are accessible from the sandy beaches and backcountry campsites of nearby Warp Bay and Gargantua Harbour, but their craggy nature means you'll have to enjoy the view from the water. Glide silently beneath the cliffs at Devil's Warehouse Island and you may be treated to a display of aerial acrobatics by resident peregrine falcons, or witness an avian of a different sort—the faded form of a Thunderbird high on the rocks, painted there centuries ago by an Ojibwe artist. Learn more about the fascinating natural and cultural history of Gargantua on a guided Lake Superior Park trip with Naturally Superior Adventures.
Northeastern Ontario: North Channel & Georgian Bay
Lake Huron's northern perimeter is an exquisite natural wonderland for island paddlers. From the Whalesback Channel—where pods of wave-polished granite resemble cetacean silhouettes—to the labyrinth of tiger tail shoals in the French River Delta, you could spend a lifetime exploring these waters and never camp on the same island twice.
Southeast of the community of Spanish, the beautiful Benjamin Islands are a popular destination for North Channel sailors. While you can camp here, kayakers will find more solitude among the secret passages and smooth-rock campsites of nearby Eagle and Fox Islands. Paddling east beyond Sagamok Point rewards with a chain of small deserted islands strung like an unakite necklace offshore La Cloche Provincial Park. Explore the area on a five- to eight-day trip with Blackfeather or Wild Women Expeditions or take a day trip with Horizon Adventures.
Further east, Killarney Provincial Park provides access to a panoply of pine-topped and bald-rock islets skirting the outer coast of Philip Edward Island. Paddle out from the park's Chikanishing Creek launch, where a short crossing brings kayakers to the west end of Ontario's P.E.I., and then point your bow east. Killarney Outfitters offers rentals, shuttles, complete outfitting packages, and route info. Or go guided with Blackfeather. 
Nestled in the northeastern corner of Georgian Bay, the French River fragments into an intricate archipelago of glacier-scoured islands, shoals and passages. Kayakers can paddle down the French River from Hartley Bay to meander among the sheltered channels of the delta, or head offshore to the Bustard Islands. This isolated group is made up of about 600 granite islands and islets—a fascinating and wildlife-rich maze meriting a few days of exploration. Get equipped and informed at Killarney Outfitters, or explore the Bustards and French River Delta with Blackfeather.
Craving even more island escapes? How about 30,000 or so—discover kayaking in the heart of the world's largest freshwater archipelago, the UNESCO-designated Georgian Bay Biosphere Reserve.