3 Artisanal Cheese Spots to Check Out in Northern Ontario
Plus recipes for cheesy scalloped potatoes and gouda muffins!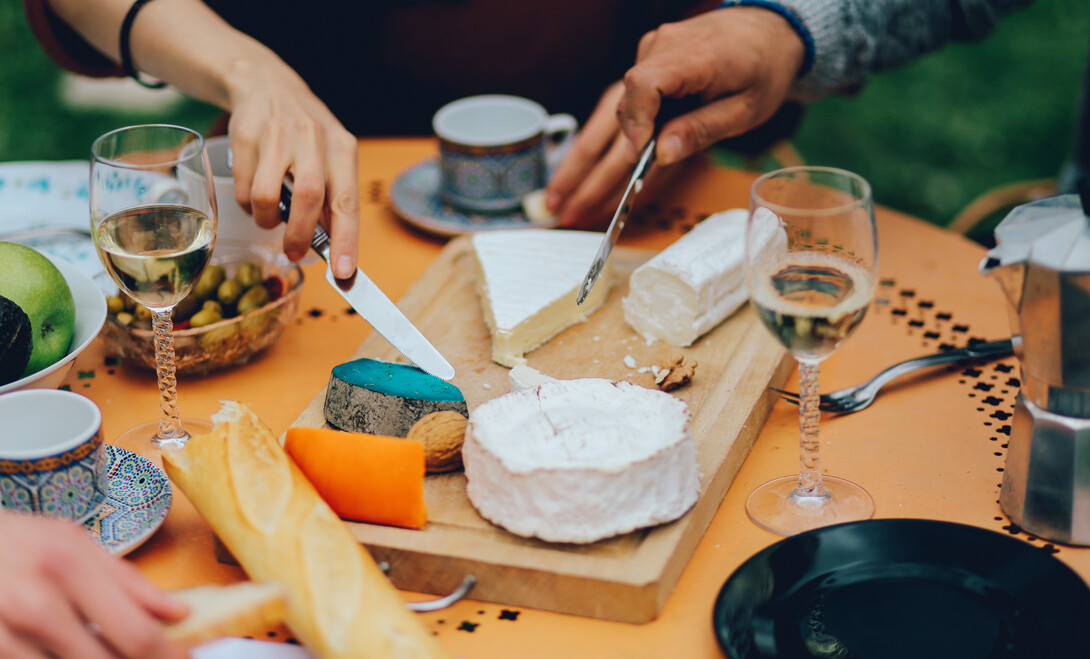 Fresh, artisan cheeses are being produced right here in Ontario by some incredibly talented and hard-working cheesemakers—and your taste buds need to know about them. If you're obsessed with grilled cheese sandwiches, homemade mac and cheese, potatoes au gratin, fondue, or poutine (or if you just love a good cheese platter paired with a glass of wine), then read on to find out which local cheese is right for you. Just to tempt your palate a little more, we've also included a recipe for the offerings of each spot.
1. The new-on-the-scene artisan craft cheese shop: Fromagerie Kapuskoise 
After studying cheesemaking in Quebec and France, François Nadeau opened up his own artisan cheese shop in Kapuskasing just over three years ago. Inspired by French cheeses and named after local rivers, Nadeau's must-try products have a loyal following among locals and fellow cheesemakers.
The soft Missinaïbi, for example, tastes a bit like camembert which makes it great for popping in the oven and serving warm with some crusty bread. The Kapuskasing is a creamy, buttery cheese with a vegetable-ash-lined center, inspired by a French Morbier. It's delicious with red wine and smoked meats, as well as salads and soups.
For cheddar lovers, try the Mattagami pressed cow's cheese. (According to Nadeau, Toronto cheesemaker Afrim Pristine of Cheese Boutique said the Mattagami has the potential to be one of the best cheeses in Canada.) And in true Canadian fashion, they also make cheese curds. Stop in for a tour of the cheesemaking and stock up on your favorites. 
Fromagerie Kapuskoise cheese board
Ingredients
3 of your favorite cheeses
1 bunch seedless grapes
1 package herbed crackers or sliced baguette 
Drizzle of honey
Directions
Arrange the cheese, grapes, and crackers on a cheese board and drizzle the cheese with a bit of honey. 
www.fromageriekapuskoise.ca
376 Government Rd E, Kapuskasing, Ontario 
Read our full profile of Fromagerie Kapuskoise here.
2. The Canadian classic for more than seven decades: Thornloe Cheese
An established cheesemaker for the last 71 years, Thornloe Cheese is 100% farmer-owned and operated, and is known for providing heritage cheeses made with grass-fed cow's milk to generations of cheese lovers all across the country. With one- and two-year-old cheddars as well as classics like Swiss and mozzarella, Thornloe has something for everyone (and every burger). 
For those with a more adventurous palate, try a wheel of Devil's Rock creamy blue cheese or a block of hot pepper Colby. Look out for their bags of fresh cheese curds with flavors like BBQ and dill at a grocery store near you, or stop in to their cheese factory and store to stock up. Located just off the Trans-Canada highway above New Liskeard, you'll be glad you stopped in. 
Thornloe Cheese Easy Cheesy Scalloped Potatoes
Makes 15 servings
Ingredients
1 pkg Philadelphia cream cheese (250g)1 pkg Thornloe Old Cheddar Cheese
1 cup chicken broth
½ cup sour cream
3 lb red potatoes, sliced
¾ of a deli-smoked ham, chopped
1 cup frozen peas
Directions
Preheat oven to 350 °F. Spray 13 x 9-inch baking dish with cooking spray. Mix cream cheese, Thornloe Old Cheddar Cheese, sour cream, and chicken broth in large bowl until well blended. Add sliced potatoes, ham, peas and 1 ¾ cups of the cheese; stir gently to coat all ingredients. Spoon into prepared baking dish. Sprinkle with remaining ½ cup Thornloe Old Cheddar Cheese. Bake 1 hour until heated through and potatoes are tender. 
www.thornloecheese.ca
999 697 Hwy 11 N., Thornloe, Ontario
Read our full article on Thornloe Cheese here.
3. The family-owned and operated gouda paradise: Thunder Oak Cheese Farm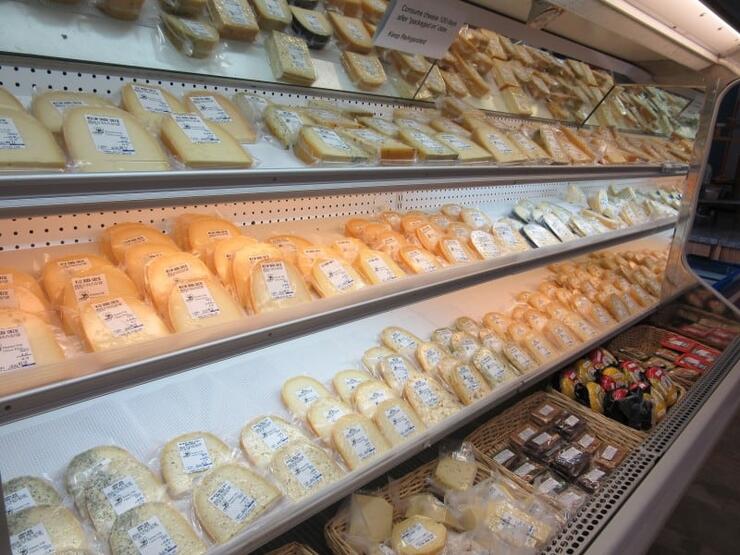 The founders of this cheesemaking shop originally came from the Netherlands and began making their own cheeses here in 1995. Preservative-free, the gouda is made with milk from the family's own Holstein cows, and Thunder Oak was actually the first farm in Ontario to produce gouda cheese. Their country store offers 13 different flavors of gouda from mild to extra old, in addition to specialty Dutch products like licorice and local products from the Slate Valley region. 
Can't wait? Order online and have all the cheese your heart desires shipped right to your door. 
Thunder Oak Cheese Farm Gouda Muffins
Makes 12 muffins
Ingredients
2 cups all-purpose flour
½ cup sugar
1 tbsp baking powder
1 tsp salt
1 ½ cups grated medium or flavoured gouda
1 cup plain yogurt
¼ cup melted butter
2 eggs
Directions
In a large bowl, stir together flour, sugar, baking powder, salt, and baking soda.
In a separate bowl combine yogurt, butter and eggs. Add wet ingredients to dry ingredients and stir until just moistened. Divide batter evenly into muffin tin. Bake at 400F for 18-20 minutes. 
www.cheesefarm.ca
611 Boundary Drive, Neebing, Ontario
Which of these cheeses are you most excited to try? Did we forget to mention someone here? Drop us a line and we'll include you on the next update!