10 Delicious Breweries, Wineries, and Distilleries to Know About
Check out Northern Ontario's best craft breweries, wineries, and distilleries.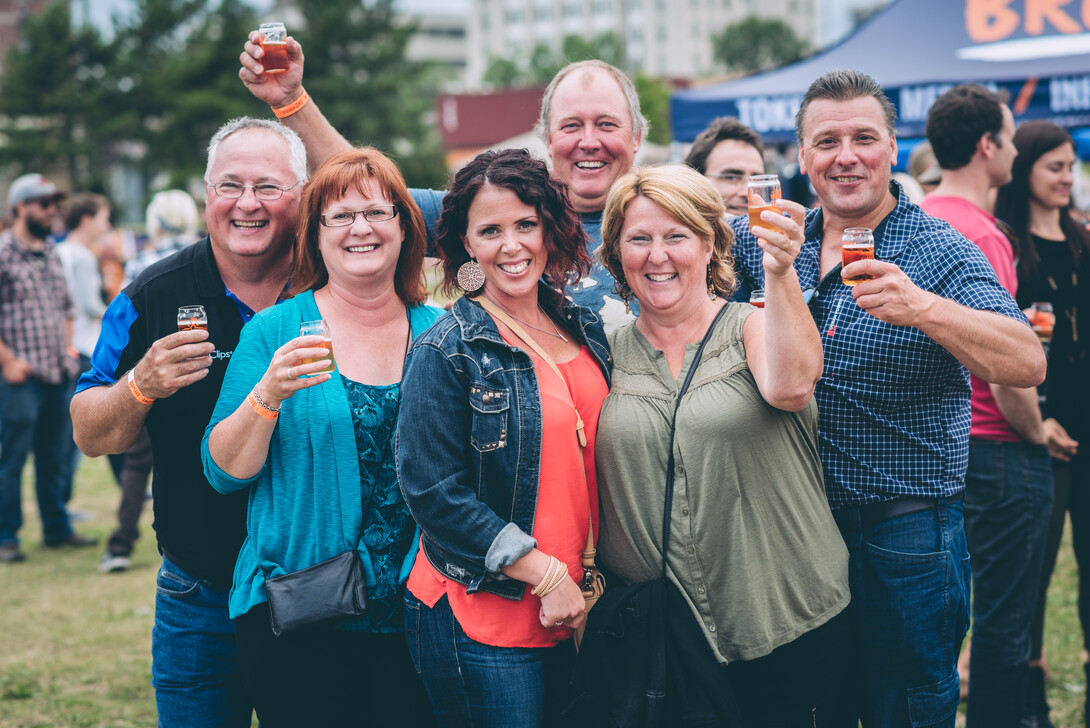 Canada's northernmost winery, an award-winning premium vodka, and a host of new breweries to check off your bucket list. What all these spots have in common—besides innovation, creative branding, and a pride of place—is an unpretentious and playful approach to their wares, made with love and grounded in local tradition. We've rounded up the spots you've got to check out. How many of these have you visited?
Vodka is second only to whisky when it comes to Canada's favourite spirit—but until recently, locally-made vodka wasn't easily found. Family-owned Rheault Distillery in Hearst has changed that with its premium Loon vodka that's taken the world by storm. Not only has the quadruple-distilled spirit won a best new product award from the LCBO, it garnered a silver medal at the 2014 San Francisco World Spirits Competition. Smooth and silky with 0% methanol (the chemical that gives you a hangover), this alpha wheat vodka is now available at the LCBO. The bottle alone is worth the investment, as the loon logo was designed by Indigenous artist Stephen Peltonen. 
If you're looking for a unique adventure, you've got to check out the distillery for a friendly tour. The business is run out of the Rheault family house—with a copper still in the living room and much of the equipment set up in the garage. So be sure to wipe your feet before you come in! 
www.rheaultdistillery.ca
#6, HWY 583 Nord, Hearst, Ontario
Located in a century-old fire hall in downtown Kenora, the Lake of the Woods Brewery and tap room is a must-stop not only for its innovative brews (wines, ciders, and cocktails are on offer, too) but for its hearty and delicious grub. Grab a Shore Lunch BLT made with beer-battered walleye or try the Brinkman—a grilled mac and cheese sandwich stuffed with brisket and served on beer bread. Round out your meal with a classic Lakeside kolsch or a Sultana Gold pale ale, or check out the seasonal Beer with No Name—a raspberry ginger wheat beer . With more than 2 million pints served according to the brewery's website, you can't go wrong. 
If you've ever been to a great brewpub and thought, "If only I could sleep here," you're in luck. Nearby is the Brewers Inn—perfect for travellers looking to explore or locals needing for a staycation. Book the Beer Lovers Craft Beer Package for an extra $65 and enjoy a behind-the-scenes tour of the brewhouse along with some nibbles plus a seasonal growler, eight tallboy cans, and two Lake of the Woods Brewing Company souvenir glasses. 
www.lowbrewco.com
350 2nd St. S., Kenora, Ontario
Read our full profile of Lake of the Woods Brewery here.
Sudbury's Stack Brewery has been serving up award-winning craft beer since 2013. With brews that give a nod to local lore and landmarks like Stack '72, Nickel City, and Saturday Night, the tallboy cans have become a staple at bars throughout the city and beyond. It's also branched out into a range of sour beers, specialty beers, and, well, superhero beers. Check out its latest superhero duo made up of Raspberry Renegade and Mangzaro. The former is a mango milkshake IPA and the latter a raspberry milkshake IPA—fruity, flavourful, and perfect for late summer drinking (and crime-fighting). 
If you're in town, stop into the Sudbury store to pick up your favourites, or grab a case at select northern Beer Store locations. 
www.stackbrewing.ca
1350 Kelly Lake Rd, Sudbury, Ontario 
Read our full profile of Stack Brewery here.
Since 2012, Thunder Bay's Sleeping Giant Brewing Company has been serving up innovative beers made with water from the world's largest freshwater lake (that's Superior for those readers who flunked geography) and malt sourced from nearby Canada Malting. With names like Mr. Canoehead and Beaver Duck American pale ale (the latter was awarded a gold medal at the 2013 Canadian Brewing Awards) the company offers a lighthearted and unpretentious approach to its seriously tasty beers. 
Visit the shop for a howler (32 oz), growler, keg, or some tallboys, or visit the tap room to relax with a fresh pint and maybe even catch some live music or a class on beer making. The tap room hosts tons of events including celebrations for Oktoberfest, St. Patrick's Day, and Valentine's Day, or book the space for your own special event—they do weddings and birthdays, too. The tap room offers light snacks, and patrons can also bring their own food.
www.sleepinggiantbrewing.ca
712 Macdonell St., Thunder Bay, Ontario
Read our full profile of Sleeping Giant Brewing Company here.
After the demise of Doran's Brewery in the early 2000s, Timmins was a city without a brewery. Now it's got two. Full Beard Brewing (est. 2017) has brought craft beer back to the city in a big way—and luckily for locals and visitors alike, the brewery has an inviting tasting rooms where you can relax and sample their wares. 
Flagship brews at Full Beard include a crisp pale ale called Five O'Clock Shadow and cream ales like Bearded Prospector and it also offers some fun, creative seasonal brews including a spruce tip pale ale, a "breakfast cereal" blonde made with Frosted Flakes, and a coconut stout. Sour beer lovers can check out the brand's Twisted Whiskers series—its strawberry rhubarb pie sour is made with local strawberries from Aidie Creek Gardens. 
The tasting room at Full Beard is open until 9 pm every night. Patrons can have a beer and watch the brewing operation in action. Cans, kegs, and growlers are all available from the on-site shop. 
Full Beard
www.fullbeardbrewing.com
219 Wilson Ave, Timmins, Ontario
New Ontario Brewing lies just off the Trans-Canada highway in North Bay. Established in 2015, this go-to spot for fresh beer and savoury burgers is actually named after another brewery in town that burned down in the early 1900s. In its signature bright red building (with parking for both cars and bikes), you'll find easy drinking beers to sample in a relaxed environment. The friendly staff can explain the extensive beer list, so don't be afraid to ask questions.
Looking for the perfect brew to ring in the cooler weather? Try a seasonal Sap Sucker Maple Brown Ale. Interested in a classic blonde ale or something hoppy? Try the flagship Bear Runner Blonde Ale or a Clothing Optional Session IPA. Once you've made your choice, relax on the patio and be sure to grab a beer-battered corn dog from Brewer's Burgers food truck. Growlers and cans are available to take home so stock up on your favorites before you head home.  
www.newontariobrewing.com
1881 Cassells Street
North Bay, ON
Named after Canada's national bird, the whiskeyjack (also known as the grey jay), this brewery is brand new on the beer scene. Based in Haileybury, Ontario, the fledgling spot founded by outdoor enthusiast Luc Johnson has five classic styles to choose from, including a Cold Front cream ale and an Abitibi amber. 
The brewery is located in downtown Haileybury and serves locally-sourced cuisine alongside its popular brews. Anyone looking for a fix can also find their beers on draft at places like Hardrock 42 Gastropub in Sudbury or Ali's Grill and Bar in New Liskeard. 
A trip to Manitoulin Island calls for a stop at one of the island's two breweries. Thanks to a successful Kickstarter campaign which raised more than $23,000 towards equipment and other startup costs, Split Rail Brewing Co. opened its doors in 2015 and has been a local favorite ever since. Founded by Eleanor Charlton and Andrea Smith, the brewery launched with Split Rail Copper Lager and a Hawberry Ale, which is made with the island's local hawberry. With beautiful views of Gore Bay, the tasting room is the perfect spot to pull up a deck chair and enjoy a fresh beer and a pizza—don't forget to grab a growler at the retail store to take home. 
Across the island, in the town of Little Current, lies the newly opened Manitoulin Brewing Co. and its tap room the Trough & Silo. Order a drink at the amazing outdoor patio bar made from an old grain bin or relax at one of the many picnic tables while the weather is nice.  
A good bet for those new to the brand is the brewery's classic Swing Bridge Blonde Ale, named after the bridge that connects the island to the mainland. Or grab a Cup & Saucer English ale and raise a toast to newlyweds Meghan and Harry. 
Split Rail Brewing Co.
www.splitrailmanitoulin.com
31 Water St., Gore Bay, Ontario
Manitoulin Brewing Co. 
www.manitoulinbrewing.co
43 Manitowaning Rd, Little Current, Ontario
Organic, sustainable, and biodynamic, the Boreal Berry Farm & Winery is a pioneer in the fledgling northern Ontario wine scene. As Canada's coldest climate winery, located just outside of Sudbury in the town of Warren, the business has focused on the local haskap berry as the key to its winemaking--chosen for its hardiness as well as its sweet flavor. Haskap berries are particularly suited to the cold climate as the fruit ripens early and quickly (the harvest is in June).
The winery also grows its own cherries, saskatoons, lavender, lingonberries, and goji berries. Many of these fruits go into making the delicious wines and ciders that the winery is known for. With a retail shop, tasting room, and lots of events to choose from, start with a tour of the winery and then enjoy a sampling of the wares out on the patio. The award-winning Manitoulin Maple Apple dessert wine or a bottle of organic haskap ice cider is a good place to start. 
The grounds are open year-round for tours and available for private bookings and events. 
www.borealwinery.ca
748 Little Brule Road, Warren, Ontario
Have you visited any of these spots? What are your favorite breweries and distilleries up north that we've missed? Let us know!