9 Best Healthy Food Options in Northern Ontario
Northern Ontario is chock-full of world-class comfort food. But what if you're in the market for something a little greener? Read on.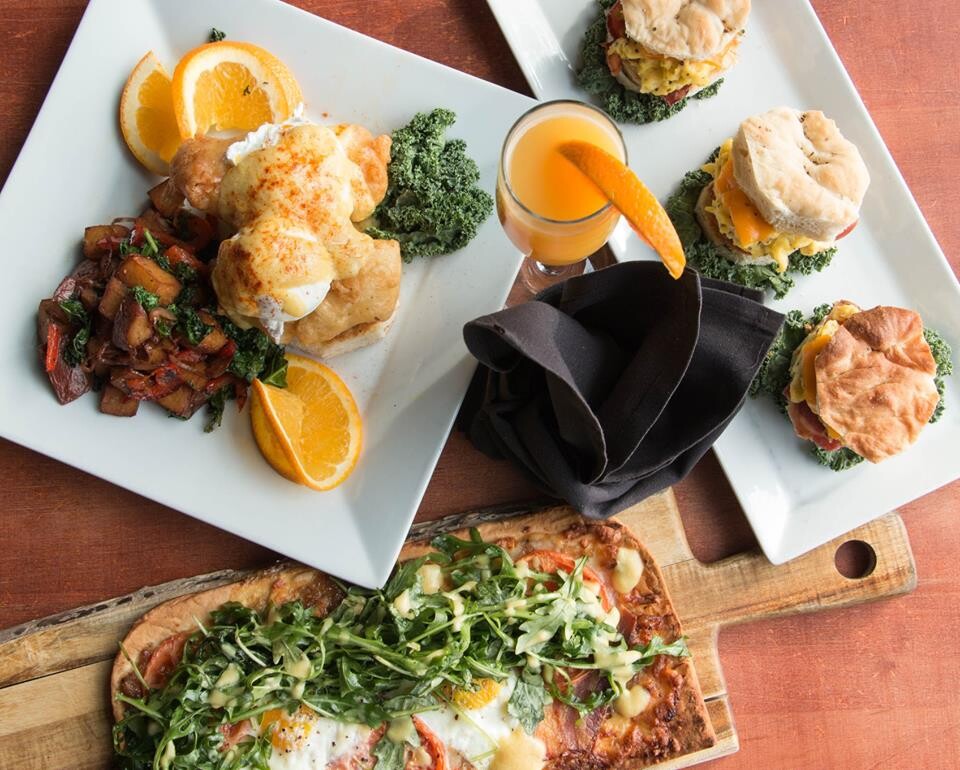 Sometimes it isn't easy eating green. Greasy diners, chip wagons, mom and pop burger joints—Northern Ontario is chock-full of world-class comfort food. But what if you're in the market for something a bit healthier? Perhaps even vegetarian or vegan-friendly? 
As a touring musician who has spent weeks at a time traveling the Trans-Canada Highway, I know from experience that subsisting solely on "brown foods" at greasy spoons and Tim Hortons will take a serious toll on the body—and mind. At a certain point, even the gravy-chugging deep-fryer devotee needs to stave off scurvy and seek out something green.
Fortunately, the region actually has a lot of good options, many of which are locavore, vegetarian, and vegan-friendly. The following is a brief sampling of some of Northern Ontario's excellent spots to find fresh, healthy, often locally-focused food options, listed from east to west—so if you're driving across the North, an unforgettable Canadian road trip which you should absolutely do, you can use this guide as you go.
North Bay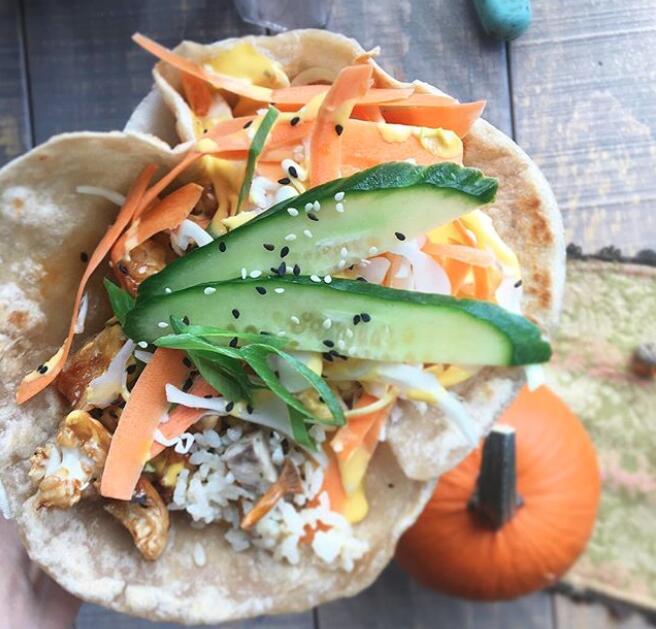 The North Star Diner
Have you ever been passing through North Bay and thought, "what I wouldn't give for a generous helping of sticky sesame cauliflower with Japanese slaw, wild mushroom miso sticky rice, and carrot maple ginger dressing on a homemade tortilla shell"? I know I have. Thanks to one travelling vegan food truck turned permanent vegan diner, this lofty wish may now be fulfilled. The North Star Café is a fun plant-based diner that also hosts cool live music events and offers a vibrant menu of playful vegan dishes; it's a must-visit for any traveller desperately seeking respite from the endless procession of "brown food" on the road.
Sudbury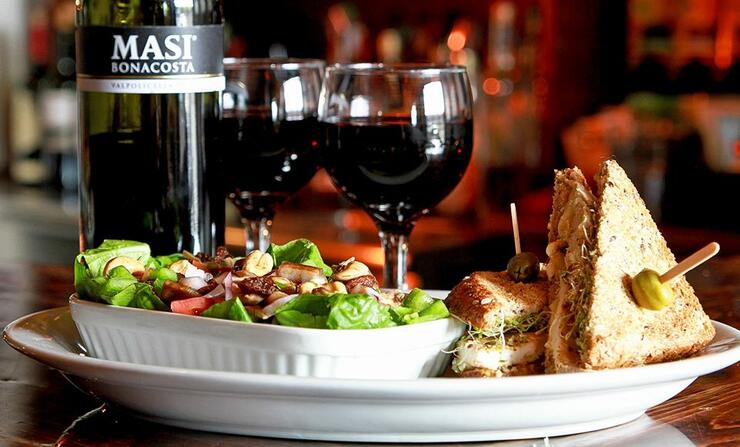 Laughing Buddha
Whenever a tour took my band to the venerated dive, the Townehouse Tavern in Sudbury, we would be sure to visit the excellent patio of the Laughing Buddha down the road for a healthy nosh and a beer. I love their pizza, but their menu also boasts a huge selection of sandwiches, like a vegan banh mi; salads, like their sesame quinoa salad; as well as a wide variety of house-made tapenades, dips, and snacks. Their pizza is also available with a gluten-free crust and/or vegan cheese if that's how you roll.
Tucos Taco Lounge
While the flavours at this Mexican-style joint are as authentic as you can get (at least this far north), the entire menu is 100% vegan. Some of their taco and burrito options are gluten-free as well. Locals and vegetarian travellers alike give the spot high ratings not only as one of the top veggie places in town, but one of the best places period.
Sault Ste. Marie
For fresh salads, wraps, and juices, downtown Sault Ste. Marie's outpost of Freshii is the place to be. 
Kakabeka Falls
Metropolitan Moose
After an afternoon taking in the "Niagara of the North," the Metropolitan Moose is the place to go in Kakabeka Falls for healthy, hearty fare. With freshly baked breads and seasonal ingredients sourced from their own garden, this family-run business is an essential stop for health-conscious travellers.
Thunder Bay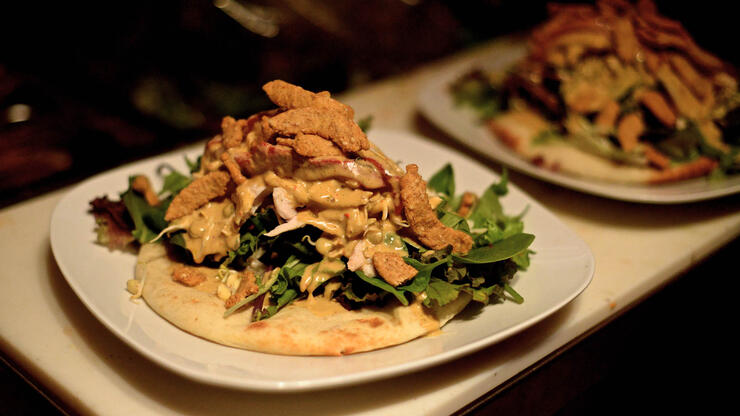 The Growing Season Juice Collective
Ask any local where to get a good healthy meal with an emphasis on sustainability and local ingredients, and they'll probably send you to the Growing Season. With a menu offering fresh and colourful wraps, salads, soups, desserts, juices, smoothies, and daily specials, the Growing Season is sure to please anyone looking for a healthy and satisfying meal. Also check out their new sister restaurant, Rebel Salad.
Thunder Bay Country Market
If you're fortunate enough to be in Thunder Bay on a Saturday or Wednesday, you need to check out Thunder Bay Country Market. With 75-100 venders, depending on the season, it's the place to source amazing super-local food and products in Thunder Bay—from local honey, to local Gouda, to takeaway Thai food, to local elk, to hot sauce, to fresh pasta, and the list goes on. 
Kenora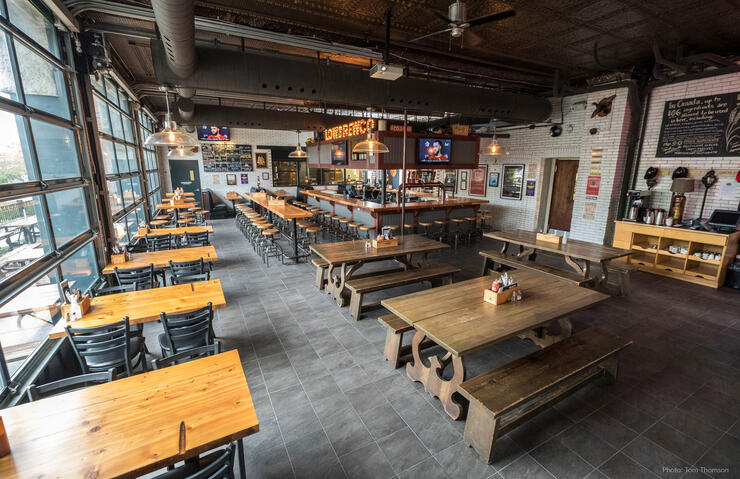 Lake of the Woods Brewing Co.
Kale and quinoa between Winnipeg and Thunder Bay? Impossible, right? Think again. The taproom at Lake of the Woods Brewing Co. has you covered with several great healthy menu items like kale and quinoa salad, thai noodle bowl, veggie pizza, fresh local walleye, and more. Located in a century-old fire hall in downtown Kenora and serving up some of the region's best craft beer, LOTW Brewing is a must visit. If you stop there and discover that you don't want to leave, they also have a charming boutique hotel just down the highway. (Read our full profile of LOTW Brewing here.)
Lord knows we love traditional road food, and there's plenty of that up here to be had. But you'll thank us for suggesting some healthy options too—and so will your stomach.
Have we missed any essential healthy spots in the North? Let us know!