Crossing the Border into Northern Ontario by Car? Read this.
A step by step guide of what to expect at the border, and tips for ensuring a smooth crossing. Remember to check those wait times!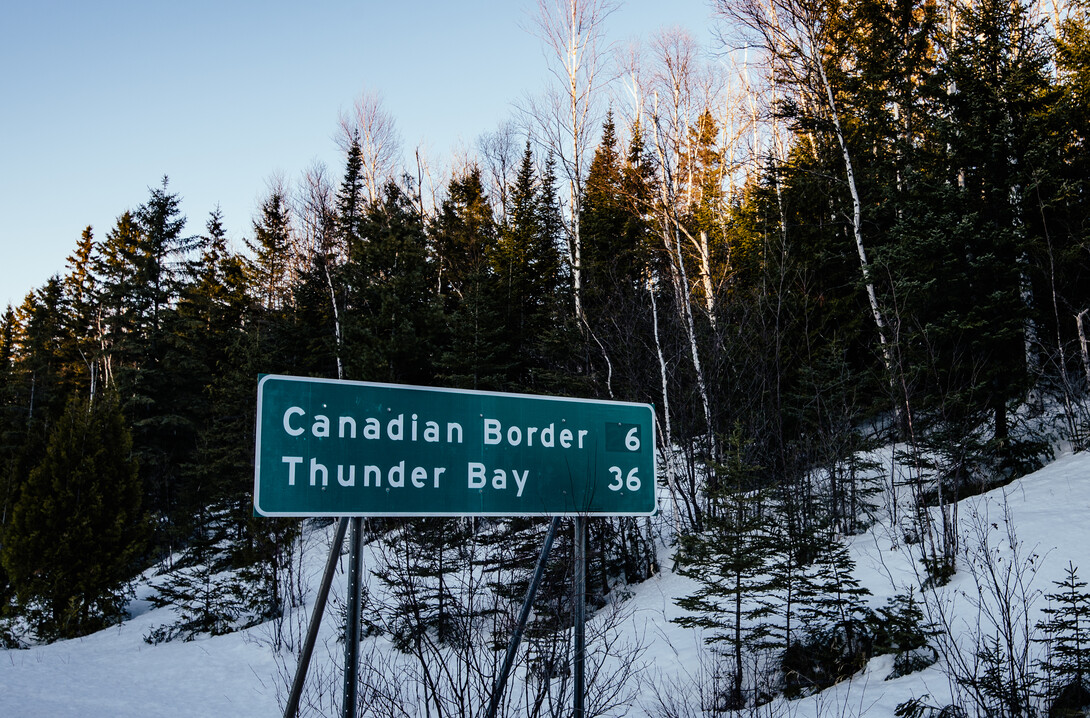 Over a million U.S. travelers drive across the border into Canada every month for work, pleasure, or to visit friends and family. It's a simple, straightforward process—especially if visitors come prepared. On rare occasions, a lack of preparation or knowledge of regulations can lead to extra inspections or even a fine, and no one wants that! So read on to discover everything you need to know to ensure a smooth entry into Canada. If all goes well, the whole process may take just a minute or two, and you'll be ready to begin your Northern Ontario adventure. 
A Note on COVID-19
Canada is open to all visitors regardless of vaccination status. As of fall 2022, there are no Covid-19 restrictions to enter Canada. Visitors are no longer required to show proof of vaccination or a negative test. For more information contact Border Information Service. A protective face covering may still be recommended in some health care settings. 
Check Border Wait Times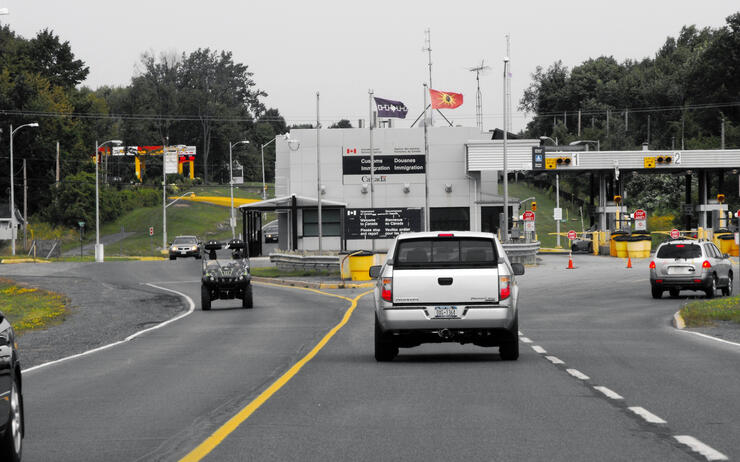 Before you head out, you'll want to double-check the border wait times. Delays are not unusual, especially during peak travel days and weekend evenings. Fortunately, the Canada Border Services Agency provides a helpful, frequently updated tracker of major border crossings, which notes slowdowns and gives current wait times.
Bring the Proper ID
If arriving by land, follow the road signs to the Canadian border where you will encounter the first checkpoint for a Primary Inspection. Choose a lane, wait your turn, and pull up when the vehicle in front has cleared the checkpoint. Here a border security officer will ask for your identification and other travel documents, take a verbal declaration, and ask you a few questions.
Since the first question you will likely be asked is to present your ID, you'd better have it. International travelers must carry approved identification—generally a passport though other documents may work in specific cases—and (if necessary) a valid visa.
U.S. citizens who are members of one of Canada's Trusted Traveller programs can use those membership cards as an alternative to their passport when traveling by land. Simply drive into one of the dedicated NEXUS or FAST  vehicle lanes, stop and hold up the membership card in front of the proximity card reader to be scanned. From there, you will proceed to the inspection booth for visual inspection. The border officer will either wave you through to Canada or may ask you to enter the inspection area. Note that U.S. permanent residents still must bring a passport, in addition to their NEXUS or FAST membership card. 
Answer the Border Security Officer's Questions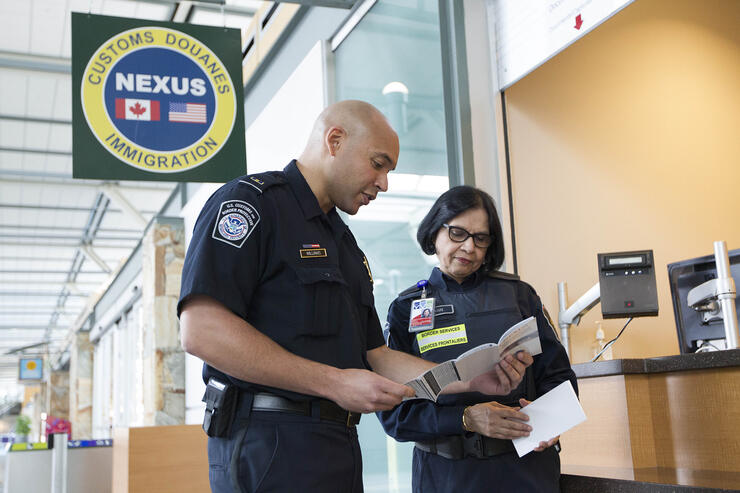 You may be asked a number of questions while at border security. Typical questions that you will be asked at the Canada border include:
What is the purpose of your trip?
How long do you intend to stay?
Where will you be staying?
What is your occupation?
Answer these questions honestly and to the best of your ability. If you have kids in your vehicle, the officer may even ask them a few questions, too, to ensure they're safe and travelling with people they know. Once the questions are out of the way, on to the next step! 
Make a Declaration
After presenting your ID and answering these questions, the border security officer will ask if you have anything to declare. You'll need to declare if you have any firearms or weapons, currency valued at CAN$10,000 or above, as well as certain types or amounts of food, plants, or animals (go here for those specific rules). Limited amounts of alcohol and tobacco products are permitted, but be sure you're under those maximums. A few other points to keep in mind.
Leave Prohibited Items at Home
There are a number of items you want to be sure are not in your car when you approach the border. This includes firearms, cannabis, as well as firewood or goods contaminated with soil. The CBSA offers a full list of prohibited or restricted items here. A number of specific restrictions apply to food, plants, and animals, so be sure to review before you head to the border.
If You or Anyone in Your Vehicle Has a DUI You May Not Be Allowed Entry
Americans with a conviction for driving under the influence may not be allowed entry into Canada--entry will be granted at the discretion of the border guard. While in some states a DUI may be considered a traffic violation or misdemeanor, in Canada a DUI is a criminal offence. It goes without saying that it's important to not misrepresent yourself or make false statements when speaking to a border control guard. If you do have a DUI and want to travel to Canada, there are options. Look into applying for a Temporary Resident Permit or apply for a Criminal Rehabilitation if the conviction was more than five years ago. 
It's Illegal to Bring Cannabis Across the Border
Cannabis and cannabis products are legal in Canada but crossing the border with them is not. Even if you're using it for medical purposes, or are travelling from a jurisdiction where it's legalized, it won't be allowed across the border. Leave it at home, and seek out a provincial cannabis dispensary when you get to your destination. And remember, it's also illegal to cross back into the U.S. with cannabis products. 
Be Sure Pets Have Their Papers 
Dogs and cats that are three months of age or older require valid certifications from a veterinarian confirming they have received their vaccinations against rabies. If you are traveling with pets, they will be subjected to an inspection of their documents and of the animals themselves, which will cost you $30 plus tax (plus an additional $5 for every additional animal).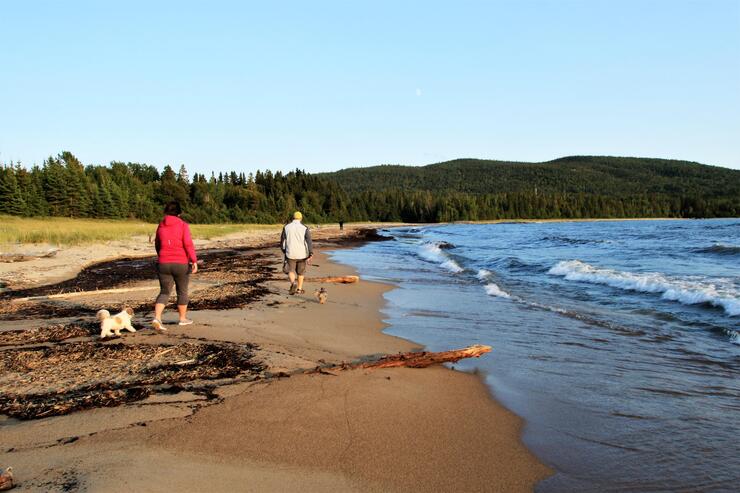 Keep Gifts Unwrapped
If you're traveling with gifts for family or friends you are visiting, be sure to leave them unwrapped, as a border security officer may need to see what is inside of them and will have to undo all the hard work you put into the wrapping.
Prepare for a Secondary Inspection 
While most Primary Inspections will move along quickly and you will be sent on your way, it's not unusual that during the inspection, you will be directed to a separate area for a Secondary Inspection. According to the Canada Border Security Agency, these may be conducted for a number of reasons, including:
Conducting a random inspection;
Asking for more in-depth answers about yourself, your trip, or your goods;
Verifying your documentation or declaration;
Having you pay duty and taxes;
Or completing additional paperwork. 
As this list indicates, at the Secondary Inspection, an officer might request a wide range of things, from inspecting your luggage or pets, processing your payment for duty and taxes, or requesting more detailed information about your travel plans. As with the Primary Inspection, provide thorough, accurate answers and give the BSO what they request to the best of your ability. A secondary inspection is fairly routine and nothing to be anxious about as long as you're following the rules. 
Make Your Way Across the Border
Once you've satisfied the border security officer, they will wave you on and you can cross the border and be on your way.
Now, Where Can You Cross the Border in Ontario?
There are 14 land border crossings between Ontario and the U.S. states of Minnesota, Michigan, and New York. 
Crossing into Ontario from New York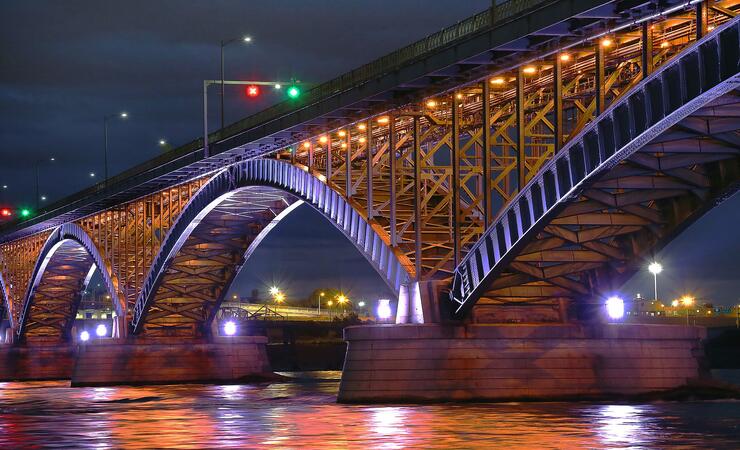 Cornwall: From Highway 37 in New York State, you will arrive at the Seaway International Bridge/Three Nations Bridge, which connects to Cornwall's Highway 138.
Fort Erie Peace Bridge: From Buffalo, New York's Interstate 90, you will get to the Peace Bridge, which connects you to the QEW in Fort Erie, Ontario.
Crossing into Ontario from Niagara
Queenston-Lewiston Bridge: Interstate 90 in Lewiston, New York crosses you over the Queenston-Lewiston Bridge onto Highway 405 in Queenston, Ontario.
Rainbow Bridge: Connecting Niagara Falls, New York and Highway 420 in Niagara Falls, Ontario, this border is particularly popular with pedestrians.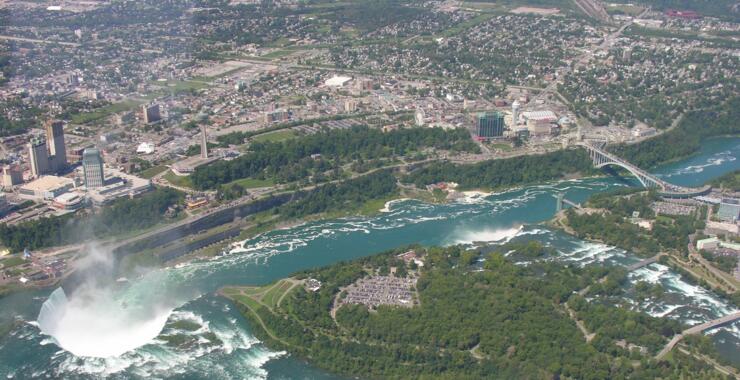 Whirlpool Rapids Bridge: A dedicated NEXUS crossing, this connects State Roads 104 and 182 in Niagara Falls, New York, with River Road and Bridge Street in Niagara Falls, Ontario.
Prescott: This crossing connects New York State's Highway 812 with Highway 16 in Ontario via the Ogdensburg-Prescott International Bridge. 
Thousand Islands Bridge: This bridge connects Interstate 81 in Fisher's Lansing, New York, with Highway 137 near Ivy Lea, Ontario.
Crossing into Ontario from Minnesota
Fort Frances: Interstates 53 and 71 in International Falls, Minnesota will connect you to The Fort Frances–International Falls International Bridge, which crosses onto Ontario's Highway 11 in Fort Frances.
Pigeon River: This crossing at Pigeon River International Bridge connects Highway 61 in Grand Portage, Minnesota to Ontario's Highway 61 in southwest Thunder Bay.
Baudette–Rainy River Crossing: Minnesota's State Highway 72 crosses to Ontario's Highway 11 via the Baudette–Rainy River International Bridge.

Crossing into Ontario from Michigan
Sarnia Blue Water Bridge: From Port Huron, Michigan, U.S. Interstates I-69 and I-94 connect to Highway 402 in Sarnia, Ontario via the Blue Water Bridge.
Sault Saint Marie: International Bridge: Interstate 75 in Sault Ste. Marie, Michigan crosses over to Huron Street in Sault Ste. Marie, Ontario.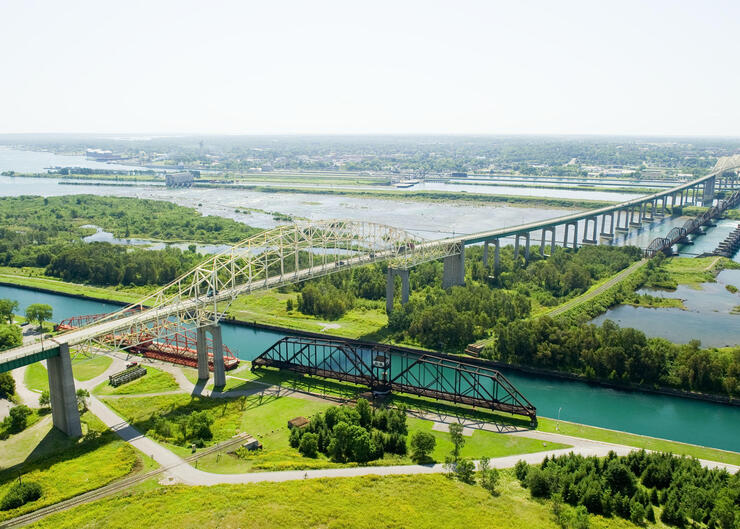 Crossing into Ontario via the Windsor-Detroit Gateway
Ambassador Bridge: I-75 and I-96 in Detroit connect to Huron Church Road in Windsor, Ontario via this bridge
Windsor-Detroit Tunnel: This connects Detroit's Jefferson Avenue with Windsor's Goyeau Street.
Arrival by Private Boat 
Private boaters must announce their presence in Canada either in person at a marine customs checkpoint or via a designated marine telephone reporting site.  Boaters can also call this designated number 1-888-CANPASS (1-888-226-7277) to speak with a border officer and obtain clearance to enter the country.
Whatever border crossing you decide to visit, it's always an exciting experience. Driving across the border signals the beginning of your Northern Ontario adventure. However you choose to arrive into beautiful Northern Ontario, we hope that you enjoy your stay. 
For more expert advice and information, reach out to the tourism folks at Northern Ontario's Sunset Country, Algoma Country, Superior Country, and Northeastern Ontario, who'd be happy to help, or call or email your lodge, resort, or campground and ask for advice!