How to book a campsite in Ontario
A complete guide to booking a campsite in Ontario.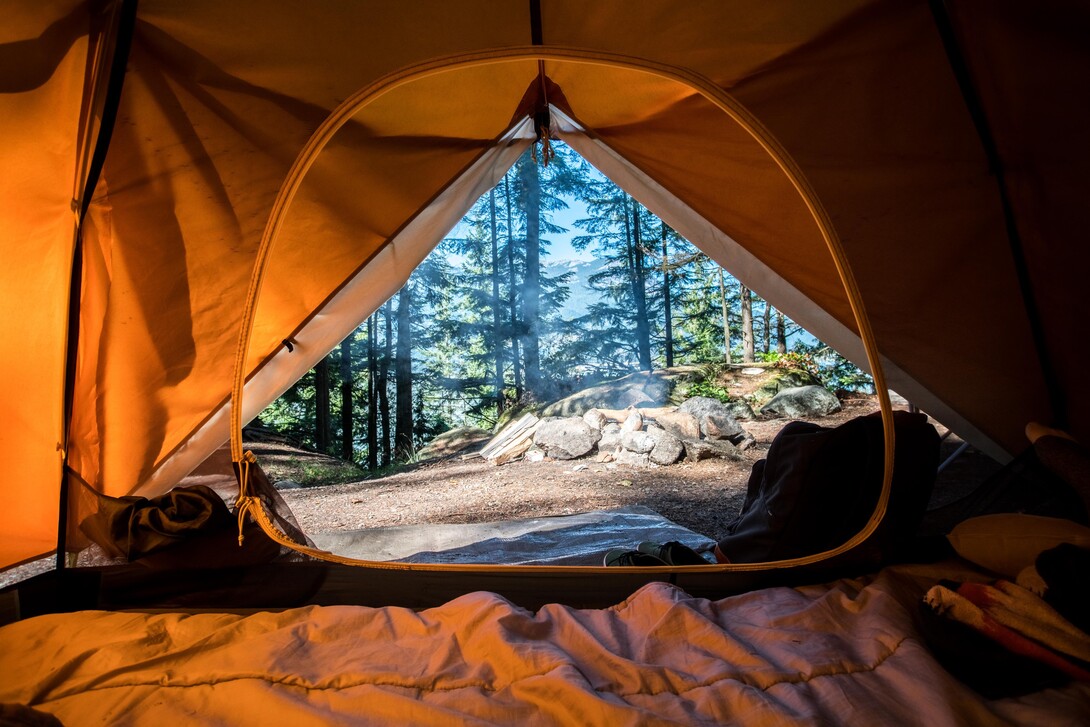 Our straightforward guide will walk you through selecting — and booking — the right campground and site for you using the online Ontario Parks reservation system!
For many Ontarians, camping is a beloved summer tradition. It's a relatively inexpensive way to explore our beautiful province while enjoying a change of pace. While there is a bit of an art to booking a campsite, particularly at a popular park like Bon Echo or Killarney, if it's your first time, there's no need to be intimidated. 
where can I camp in Ontario?
There are 3 types of sites where visitors can camp in Ontario:
Private campgrounds like KOAs. 
Provincial parks are the most popular option for Ontario campers. The sites are generally affordable and also well-taken care of, besides being situated in some of the most beautiful scenery in the province. This guide will help you book a campsite at a provincial park. 
why do i need to make a reservation for a campsite in Ontario?
While you can try your luck showing up at a campground without a reservation, you do risk being turned away if there are no vacancies, or ending up with a less than ideal site. Since many campers return to their favourite parks year after year, even becoming attached to specific campsites, we recommend visitors book a campsite as early as possible. 
where do i go to book a campsite at a provincial park in Ontario?
Campsite reservations can be made at www.ontarioparks.com or by calling 1-888-668-7275. Sites at Ontario Parks are released for booking at 7:00 a.m., five months in advance. This means if you want to go camping in May, you can reserve a site as early as December.
Tips for booking a campsite using Ontario parks reservation system
Patience is key! It may take some time to get through, especially if you're trying on a day that popular dates, like a long weekend, are released.
Note that on the reservation page, the "Select Equipment" tab refers to what you will be bringing with you to camp in, i.e. a tent, or an R.V., not the equipment that is provided.
A site can be booked for up to 23 days, which means that even if you log on first thing on the day sites are released, your desired dates may already be booked if they're part of someone's longer stay.  
Reservations are only held in your cart for 15 minutes, so be sure to complete the booking quickly, to avoid losing your selected site.
what do i need in order to reserve a campsite?
To book you'll need internet access or a phone as well as a credit or debit card. Full payment of camping fees, and a reservation fee, will be due at the time you make your booking, and a cancellation fee applies if you are no longer able to make your booking — however you are permitted to transfer your reservation to another person, as long as you don't profit from it.
How to pick a provincial park campsite
Each park offers different facilities and activities, and searching by activity in the park locator can help identify the best fit for you.
If you're open to multiple campgrounds, and not particular about activities, try a search of your dates by "Map of Ontario" on the Ontario Parks reservations site. Green dots are a quick way to identify campgrounds that have availability during your desired dates. 
Tips for choosing a campsite using the ontario parks reservation system
Campgrounds close to the GTA tend to book up quickly, so consider checking out one of the stunning parks in Northern Ontario. 
If your first-choice campground is unavailable, click the "Similar" tab on the campground search results page, which suggests campgrounds in the same general area with comparable features. 
You can also sign up to receive an email if a campsite in your search parameters opens up, by clicking the green "Notify Me" button on a campground search results page. 
You may also want to check availability at privately-owned campgrounds and on Crown Land, where camping for up to 21 days is free for Canadian Citizens, and folks who've lived in Canada for more than 7 months. (A small permit fee applies to non-residents.) Check out our guide to Crown Land Camping here. 
Differences Between Types of campSites
Most campgrounds offer a mix of sites for tent camping and R.V.s, which are recreational vehicles like motorhomes and campervans.
Car sites mean you drive directly to your site, which includes a firepit and picnic table, and you can choose between sites with access to electricity or without.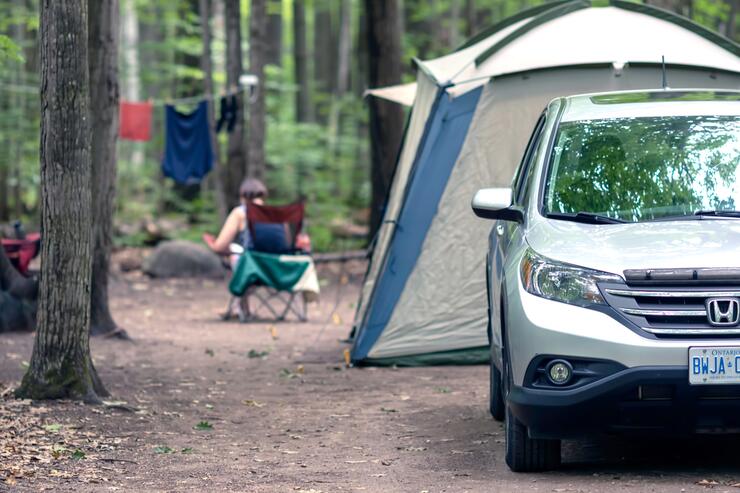 Backcountry sites are spots that campers either hike or boat to get to, carrying their gear with them. 
Some campgrounds also offer roofed accommodations, like rustic cabins and yurts, that can be reserved.  
Things to consider when selecting a site include: 
If you'll need electricity.
If you don't mind being close to other campers, or would prefer a more secluded spot.
Whether you prefer sun or shade. 
The proximity to water taps, comfort stations — which are bathrooms with flush toilets with showers — and other amenities like beaches or playgrounds.
Tips: 

Use your filters! On the Ontario Parks reservations site, you can apply search filters like "radio-free", "partial-shade" and "full-sun" to quickly narrow down the type of site you want.
When you click on a site in the search map, you can view photos of the site, available dates beyond the dates specified in your search, and details like: site measurements, how many vehicles can be parked on site, the level of privacy and even the slope of the site.
If you can't find your desired site, you can always check back — there are cancellations from time-to-time. 
What's a barrier-free campsite? 
Barrier-free campsites are equipped with a hard-surface parking area, accessible picnic table, and in close proximity to a water tap and comfort station, with paved paths when possible. Barrier-free roofed accommodations are also available at some parks. Because these sites are limited, it's important not to book them unless you specifically need an accessible site.
Once you've booked your first camping adventure, be sure to check out these resources for other helpful tips for first-time campers!