Stokely Creek Lodge
A winter wonderland in the heart of Algoma.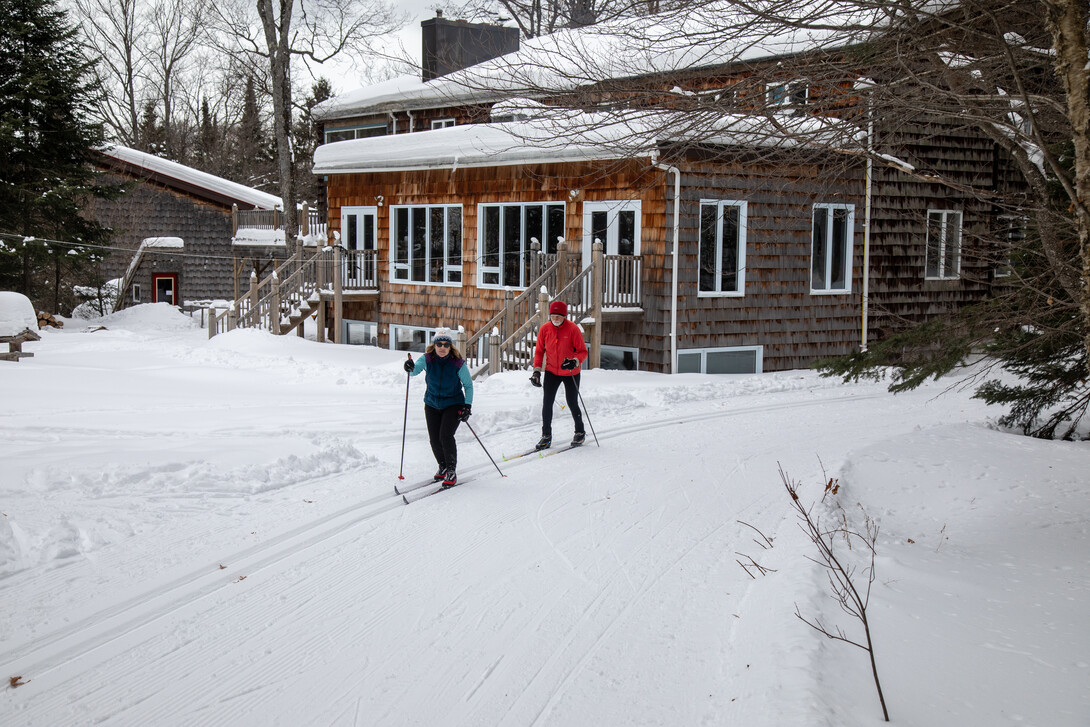 Back in the day, and by day I am counting decades, one of my favourite activities was the kick and glide of cross-country skiing.  As often happens, what goes around comes around; the idea of skis, a set track, and a day in the forest again sounds fantastic. To say that I was excited to visit the cross-country skiing gem, Stokely Creek Lodge, would be an understatement, so my arrival to find nothing might require explanation.
My temporary confusion had more to do with my rushed anticipation than with anything being wrong. My research into the best cross-country skiing locations in Ontario presented Algoma's Stokely Creek Lodge with accompanying phrases like world-class, tons of snow, and 100 km of trail. On that alone, here I am in a parking lot with no lodge in sight.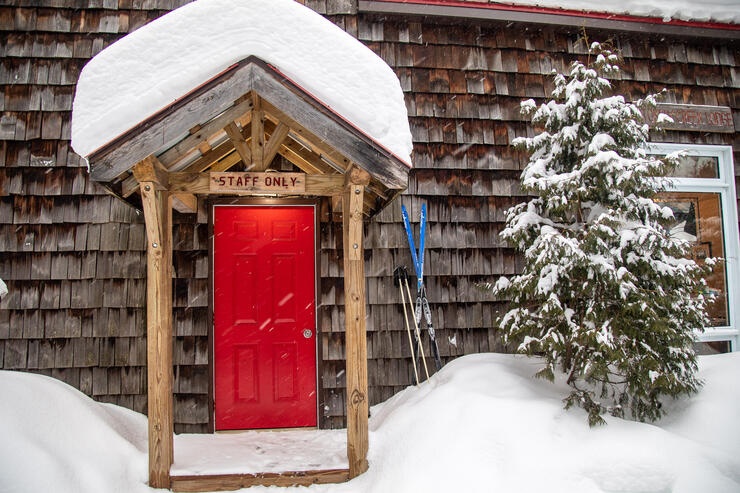 Located just 35 minutes by car north of Sault Ste. Marie, in the Algoma Highlands, Stokely Creek Lodge offers 8,000 acres of rolling terrain in the rugged expanse of the Canadian Shield, just the kind of terrain cross-country skiers drool over. And drool they have for years; repeat guests seem to be the norm here, we're talking multiple times a season for decades.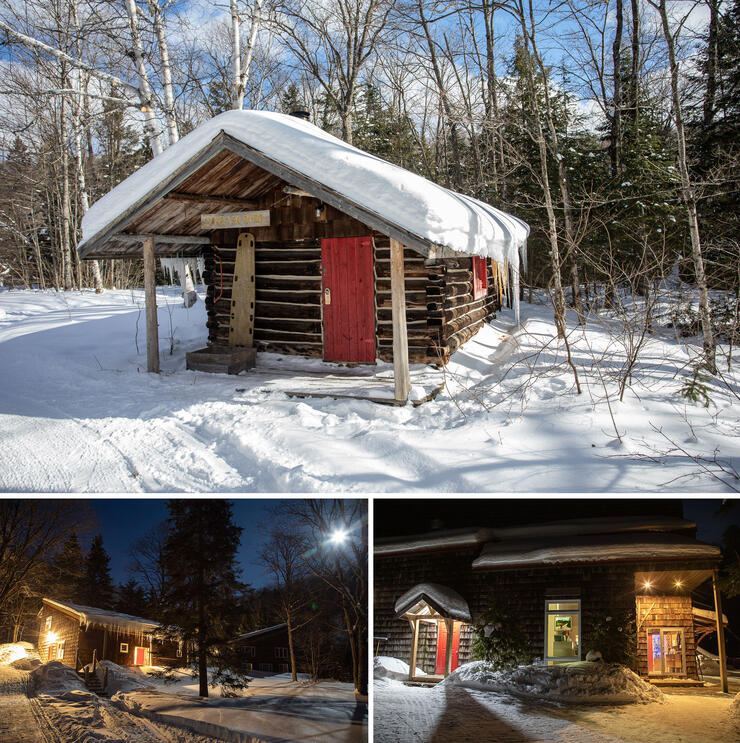 Accommodations are available in a variety of options. There are private cabins of various sizes or, in my case, a dorm-style room in the main lodge. Meals are a communal experience; there are no TVs to distract from, but there are plenty of spaces to hang out and relax by a fireplace. If going cold turkey is too much, WiFi is available to keep you connected. It doesn't take long to get used to the routine of sleep, eat, play outside, and repeat.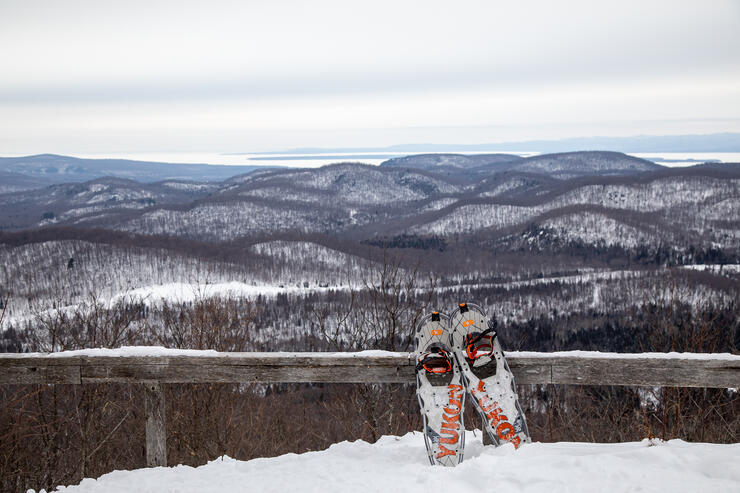 I came for the skiing but reached for my snowshoes and with good reason. While skiing is world-class, the snowshoeing is a close second and gaining in popularity. The purpose-built trails offer a perfect mix of effort and reward. Rolling terrain takes you past rushing water, ice walls, and grand views. Today's carrot at the end of the stick is the spectacular view from King Mountain and the warming hut that marks the spot. At 13 km out and back, the King Mountain trail is the most challenging snowshoe adventure here. Several shorter, less strenuous loops are available.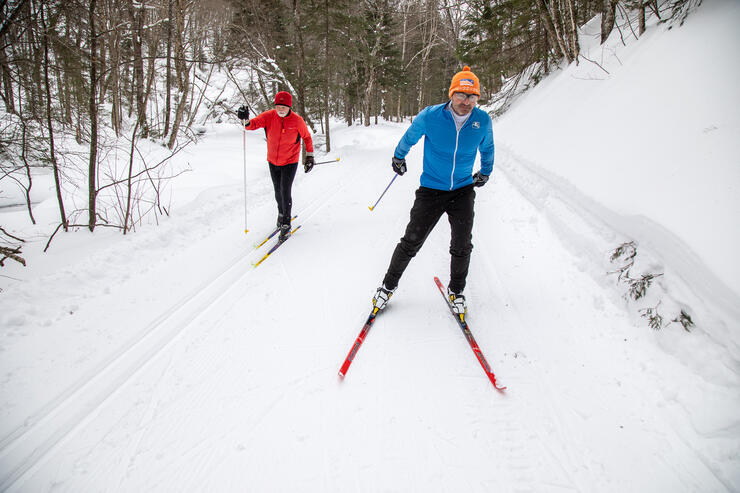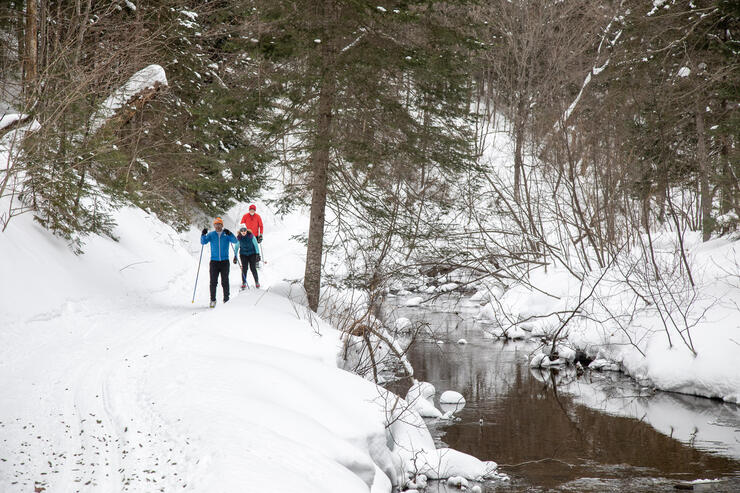 Whatever cross-country skiing style you choose to partake in⁠—skate, classic, or even backcountry⁠—you will find happiness at Stokely Creek Lodge. With 100 km of trail to explore, plotting the day's exploit might be your most arduous task. Selecting one of the six warming huts that dot the trail system as a destination might be the way to go. If you feel up to a challenge, visiting all six shelters in one outing is on top of the bragging list around here.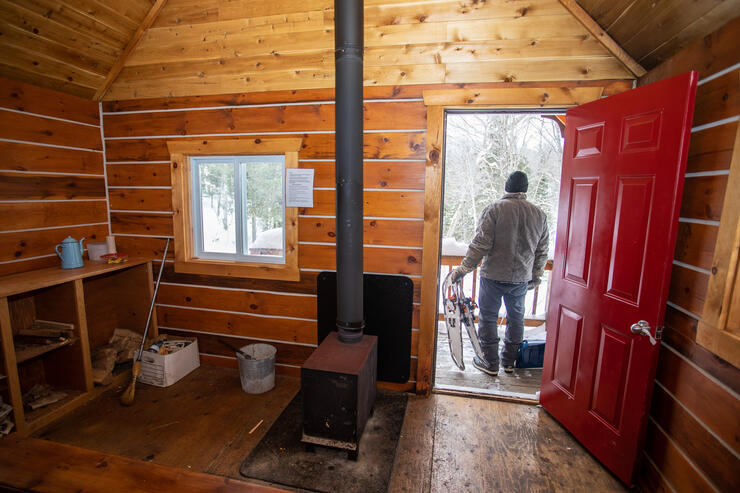 It doesn't take long to get into the rhythm of kick and glide along the perfectly groomed trail. The sounds of the lodge and the rushing creek fade into the silence of the forest. Love the challenge of the ups, the sweat on the brow, and the accompanying doubt that this uphill will ever end. Then the thrill and instant chill as you gain speed on the down. An extended lunch stop in the distinct atmosphere of a log cabin warmed by a wood stove. All along knowing that back at the lodge, today's adventure will be relived over a delicious meal and a cocktail or two in the company of new friends.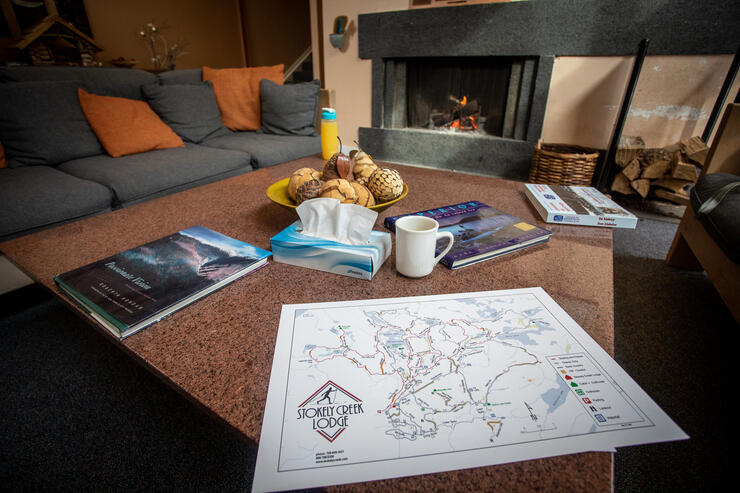 I'd say my three-day stay was just long enough to make me want to come back. I think there is a good chance I will be joining the ranks of the regulars. Stokely Creek Lodge unquestionably lived up to my expectations of fantastic skiing in a spectacular setting.
Recently, the lodge was voted the fifth-best Nordic ski resort in North America by USA Today. Spend a day here or a few, and you will doubt not the worthiness of such high praise⁠—well, you know, once you get beyond the parking lot, that is.