Canada's Ice Road Biker Takes on Champlain
By boat and bike, Brokentooth retraces the steps of the famous French explorer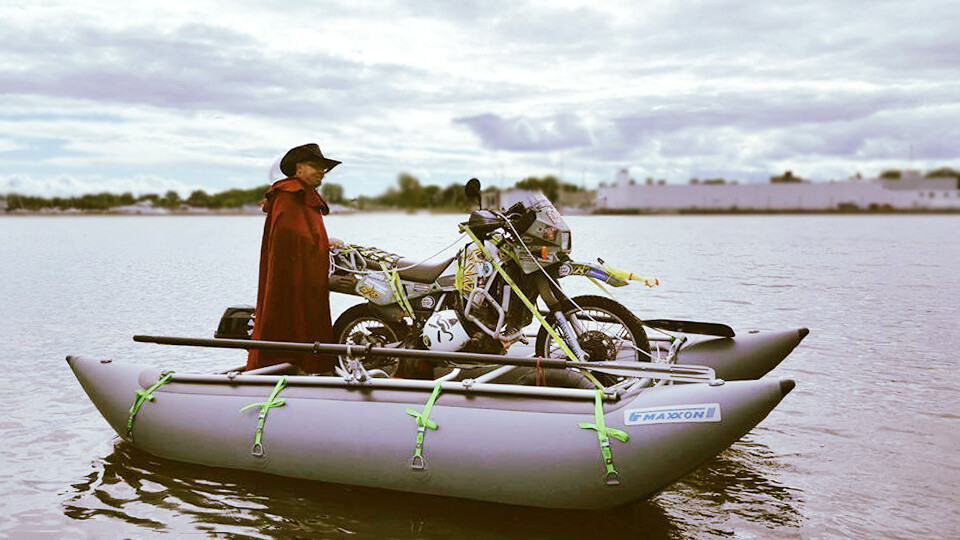 This year an adventurer nicknamed Brokentooth is retracing one of French Canadian explorer Samuel de Champlain's most epic canoe trips through Ontario. Champlain completed his trek in 1615 in a birchbark canoe.
Brokentooth—sporting his trademark feathered cap and red cape—is traversing the same hundreds of kilometres in his combo motorcycle boat. Yep, you read that right. Get a load of this thing.
Doing the Champlain Route Then and Now
For those who may be fuzzy on the history, French explorer Champlain, founder of what we today know as Quebec City, is one of the most important figures in early Canada and one of the Western world's greatest explorers. Born in France and buried in Quebec City (although his bones remain missing to this day), he was the first European to explore and map the Great Lakes.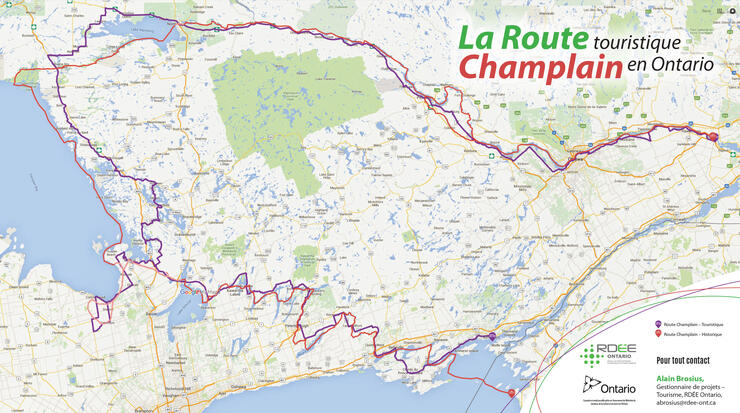 It was the French Canadian's travels, aided by indigenous guides, from Lake Ontario to Georgian Bay that set the stage for Brokentooth's own crazy adventure 400 years later. Starting at the Trent-Severn Waterway, across Lake Simcoe, Lake Couchiching, and up Georgian Bay to the French River, Brokentooth is retracing the famous explorer's steps—and adding his own trademark touches to the 1,600 km he's journeyed so far.
"Ice, salt, blood and scotch… pretty much sums it up," Brokentooth (real name: Oliver Solaro) announces on his Facebook page by way of introduction. It's a spot where eager fans can track his journey, watch clips of his trip, and shake their heads at the audaciousness of the whole thing.
Because of the difficult terrain, unpredictable weather, and the distances involved, Brokentooth has to be prepared for pretty much anything. While things are certainly easier for adventurers these days (he's got flares, beacons, an immersion suit, and floatation devices on hand), the journey involves an incredible amount of planning and perseverance, along with a sense of humour.
But first, more about the bike boat. The sturdy aluminium cataraft (cut in half then welded together to fit the bike in the middle) is built to run Class 5 rapids. The Kawasaki bike and his Green Chili Adventure Gear are lashed tight to the NRS frame and Maxxon inflatable pontoons combo while he steers from the stern. Not an easy feat.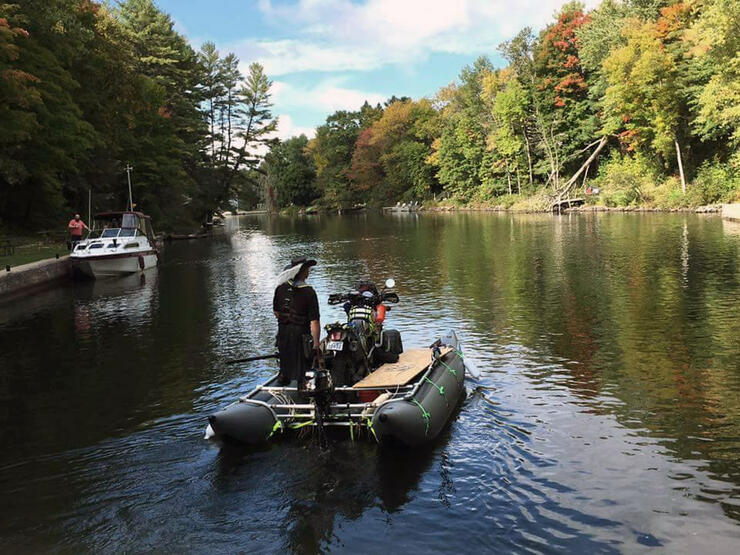 According to Brokentooth, the boat "handles like three sheets of plywood with a motor hanging off the end." Which means on windy days he's got to hole up at a campsite or motel and wait it out. When he can't float the boat, he rides the bike. Using a z-drag kit to haul the Kawasaki off the pontoons, he packs it all up and away he goes.

Before winter closed in he got about halfway to his goal—with lots of stories to show for it. He injured his shoulder, ran out of drinking water (there's no app for that—but there's something called a "LifeStraw" with a built in filter that lets you safely drink contaminated water), and got battered by nine-foot waves out in Georgian Bay.
Then there's the non-stop technical issues: cracked fuel fittings, bike grips that won't heat up. Luckily, people are always willing to help. For some reason, his bikeboat attracts a lot of attention—which means offers of shared meals, accommodations, and friendship.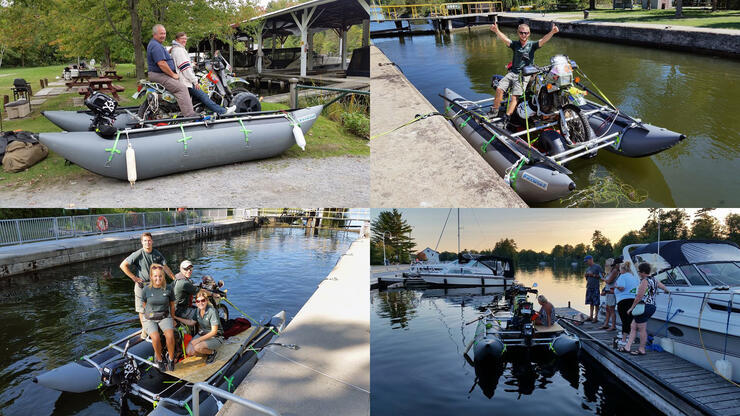 When not enjoying meals with locals or grub from a local diner, Brokentooth lives off classic camping food: can of beans, dried blueberries, and Ovaltine. (Champlain also enjoyed dried fruits on his journey—although the culinary similarities probably end there.)
Big Boots To Fill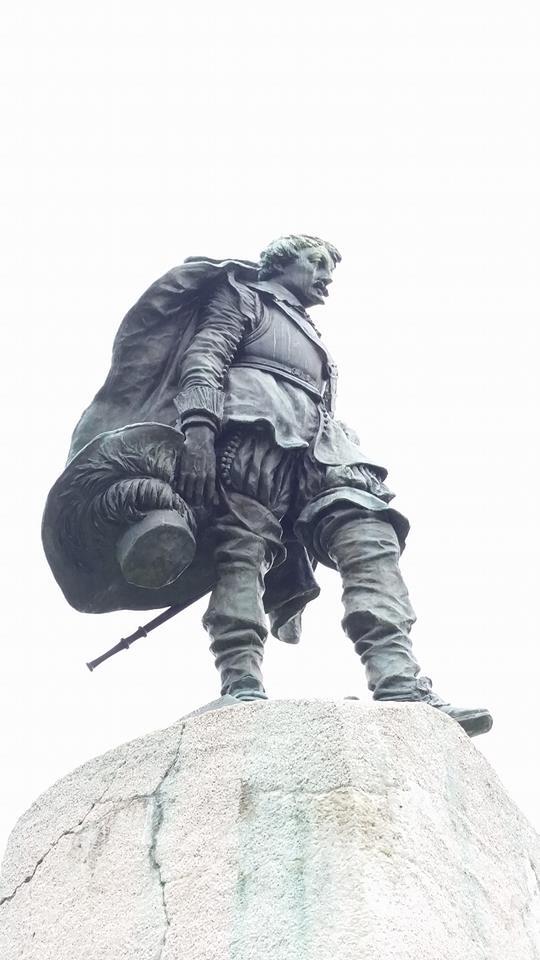 Today, the route Brokentooth follows is dotted with statues and plaques honouring Champlain's journey. Perhaps in another 400 years, or sooner, Brokentooth and his boat bike will enjoy the same recognition. That statue would be something else, wouldn't it? Stay tuned for more of Brokentooth's adventures this spring including his take on the beginning of the trip, getting up the locks of the Trent Severn Wateray.
Use #BrokentoothChamplain to follow the ongoing adventure!