A Guide to Boating The North Channel of Lake Huron
A beginner's guide to Georgian Bay's North Channel, a magical connection to the best of Ontario's natural geographical beauty. Here's everything you need to know about where to go and what to expect.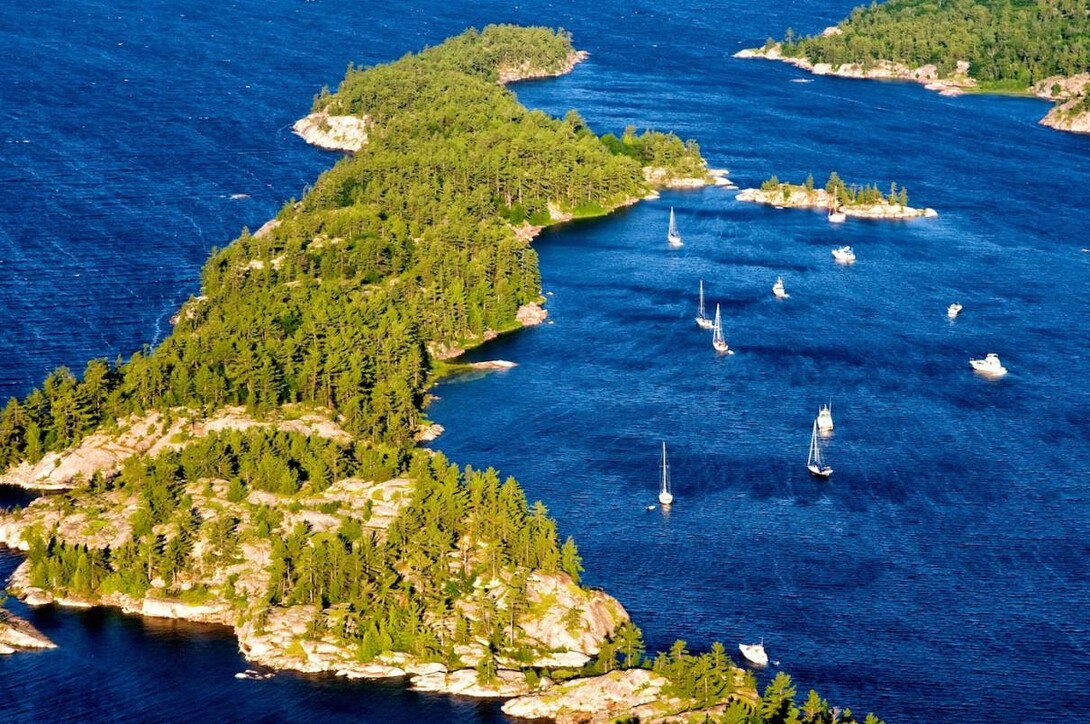 Boating the North Channel is intoxicating. It's a magical connection to the best of Ontario's natural geographical beauty. Complete the 160-nautical-mile journey across the top of Lake Huron, and you'll find the best that boating can offer. From 20-mile wide open water passages, to narrow island channels less than 50 feet  wide, you can travel in one trip what other mariners boat for a lifetime to experience. This world-famous cruising ground runs along the northern shoreline of Lake Huron and is protected by the largest freshwater island in the world, Manitoulin Island.
A Variety of Splendours
Cruising the North Channel as a holiday, you can take a week, or just about as long as you desire. While essential amenities can be found along the entire route, it's the natural and isolated beauty of the North Channel that is most attractive. With night-time skies free from artificial lights, the Aurora Borealis (better known as the Northern Lights) will dance for you in multi-colours. Make a trip to the Killarney Provincial Park Dark Sky Preserve to reveal the Milky Way—or see the show right from your boat.
What's more, there are hiking opportunities at every stop, many of which lead you to waterfalls, beaches, and colourful rock formations in granite. For diving enthusiasts, there are many shipwrecks in cold, but clear, waters. And of course, fishing is everywhere. For those in search of local festivals, markets or special fairs, you'll have no problem finding those, either.
Making your way in the north channel
You can cruise the North Channel east to west, west to east, or round-trip, depending on your departure point and available time. Many of the boaters who cruise the 30,000 Islands along the eastern shore of Georgian Bay each summer decide to head a little further north, in order to include the North Channel in their holiday plans. This makes the town of Killarney your starting point. 
Killarney offers docking, fuel and dining. As a launching-off point, it will also give you the opportunity to talk to boaters who've just completed the North Channel from west to east. It's recommended that for your first North Channel trip, you follow the well-marked channels. But in reality, there's an infinite number of variations to cruising this area. I think it's worthwhile to mention some of the popular stops when traveling from Killarney in the east, to St. Joseph Island in the west.
Places to Cruise in the north channel
Leaving Killarney, steer northwest until you spot the white granite entrance to Portage Cove. On a summer's day, you may find more than twenty boats moored in this large, safe harbour. From Portage, follow the North Channel buoys southwest to Heywood Island, where another popular overnight bay, Browning Cove, awaits you.
From Heywood Island, you can see the Strawberry Island lighthouse, which marks the entrance to the town of Little Current. The historic bridge between Little Current and the mainland swings open every hour on the hour - ostensibly for ten minutes, but it's best to be waiting - to allow boat traffic into the port. This town is a good place to eat, not to mention pick up any supplies that you might've missed. During July and August, you might also want to tune your VHF to channel 71 around 9 am, for boating information and discussion.
Leaving Little Current, head to the north side of Clapperton Island to locate an overnight stop at either Croker Island or the Benjamin Islands, where you'll find numerous sheltered anchorages. Between hiking on the pink granite rocks, to swimming and exploring the shorelines, you may want to relax here for more than one day. Leaving this island paradise and heading north, you pick up the entrance to Whales Back Channel. To the south will be Dewdney Island, where further mooring opportunities abound.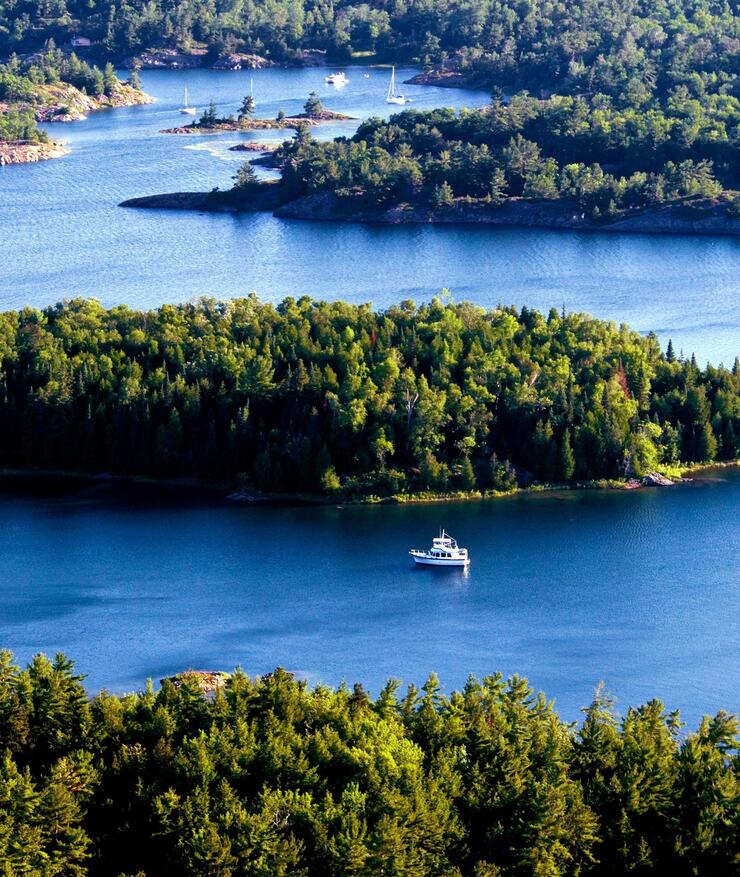 The next islands of choice along your route are Turnbull and Sanford. Sheltered harbours with sandy beaches will again invite you to stay for more than one night. Pressing onward, you arrive at the town of Blind River, where you'll find marinas, grocery stores and a chance to dine at a local fish restaurant.
The next day presents one of the longest cruise sections, over to the town of Thessalon. The attractive municipal marina is well-stocked and, if you like, they'll even loan you a bicycle to get to local restaurants. Continuing west, boaters have a choice of mooring in more island bays, or traveling around McKay Island and heading into the town of Bruce Mines. South of Bruce Mines is the very large St. Joseph Island. Cruisers at this point can continue west to Lake George, the St. Mary's River and Sault Ste. Marie—or, boat around St. Joseph Island counter-clockwise and head back to Killarney. Either route will take you under the Gilbertson bridge, which joins St. Joseph Island to the mainland.
Things to Keep in Mind while cruising the north channel
You will see boats of all sizes on the North Channel, but to handle inclement weather in comfort, a boat length of at least 30' is recommended. As with any cruise holiday on big water, it's wise to do some detailed planning and preparations before you set out. Begin with current charts, both paper and electronic. List the places where you can overnight your boat and purchase groceries. You can pack fewer clothes than you may think, but be sure to cover both hot days and cool nights. Read over your list of standard travel items, including cameras, sunglasses, sunscreen, cash and credit cards. Check that your boat is mechanically ready and pack all the relevant maintenance manuals. Communication and safety gear should include cell phone, VHF, binoculars, a box of current flares, and two anchors. To ensure land access, most cruising boats on the North Channel carry a dinghy or a pair of kayaks.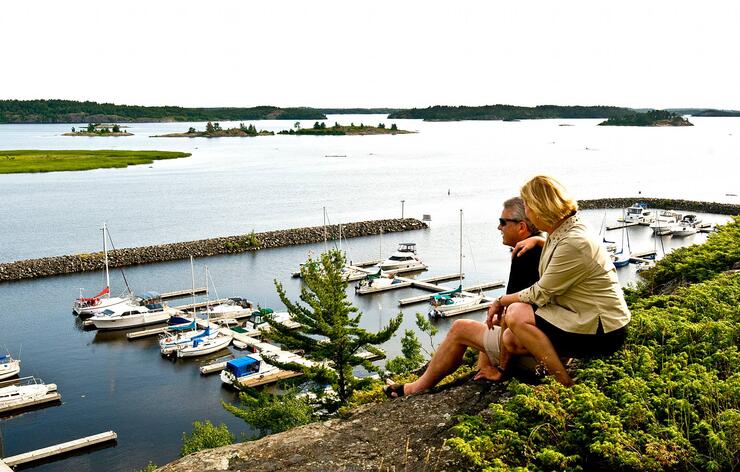 With so many destinations available, no two boaters follow the exact same route. The world offers few cruising locations with countless uninhibited anchorages, pristine beaches and remote shorelines. Ontario's North Channel of Lake Huron might well be your best opportunity.