Where to Rent Personal Watercraft in Ontario
Whether you're trying out a PWC for the first time, or a seasoned vet looking for an extra ride for a friend, this is your go-to resource.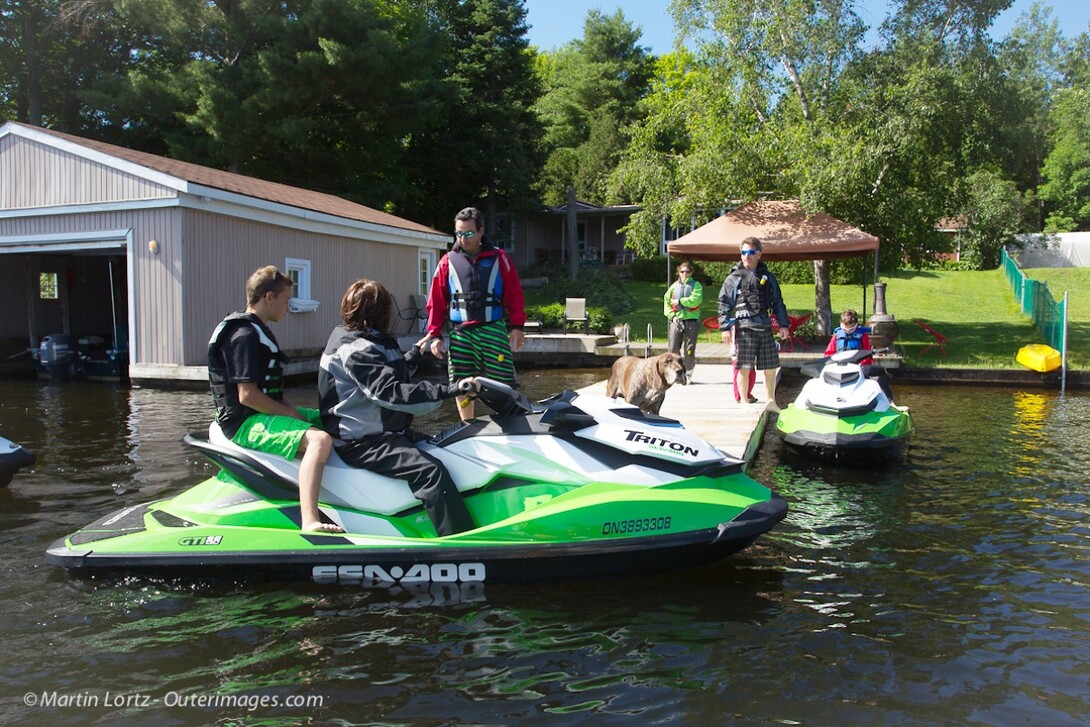 It's a good idea to try before you buy, so if riding a personal watercraft on Ontario waterways appeals to you, use this Ontario PWC rental list to try one for a couple of hours or a full day. Maybe you are already hooked, but only have time to go once or twice each summer. Or perhaps you already own a PWC, but need an extra or two for a guest weekend. Whatever your reason, Ontario has a number of locations where you can rent a personal watercraft—there are bound to be others not included on this list, but it's a good start! 
As with most powersports products for rent, the available units tend to be more entry-level than premium models, but you'll get a basic idea of what PWC riding's all about. I suggest that you ask the model year of the rental units available, because at least if you get a current or near-current year watercraft, it will likely be in decent shape. Just don't expect all the bells and whistles that can be had on more expensive models, like suspension, brake, cruise control and much more.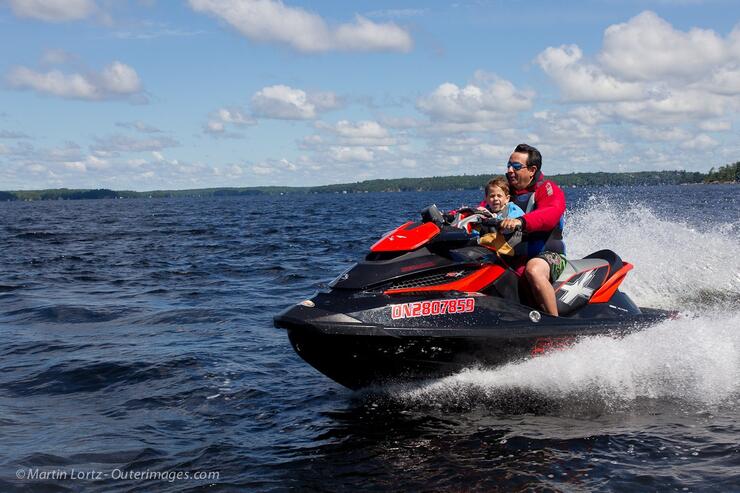 If you are serious about checking out PWC riding before a possible purchase, I highly recommend that you ride solo for your first ride. Yes, that means if there are two of you, the rental cost will be doubled, but it's really important that your first impression and early learning experience be riding 1-up, even if it's a supposedly "2-up" PWC.
Why? Because personal watercraft handle very differently with only one rider on board, especially the smaller entry-level models that tend to be shorter, narrower and a little less stable than those made for cruising. So while piling two riders on a rental may be a quick and cheap way to have fun and get wet, it won't give you a true picture of how well the unit handles or what it can really do. At the very least, ride for at least 20 minutes on your own before doubling up, so you can feel the differences. FYI: in my experience, riding double is much more comfortable on a three-seater PWC than on one with only two seats!  
To rent a PWC, you'll need to show your Pleasurecraft Operators Card. Before you leave the dock, be sure to get some basic training from the rental staff on how to operate a PWC safely, including always wearing a personal flotation device (PFD). In fact, it's probably a good idea to do some safety prep of your own before renting, so check out my article on safe riding habits so you're one step ahead. And on that first ride, always remember two things:
PWCs only steer properly when the throttle is being applied – no throttle, no steer!
Only Sea-Doo and Yamaha watercraft have a brake – every other PWC and boat do not, so you have to manoeuvre them out of difficulty, not count on stopping quickly!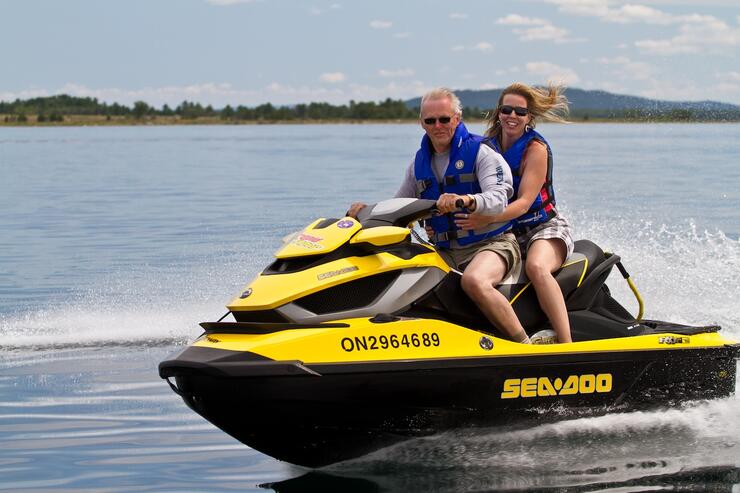 One final tip if you're thinking of trying before you buy. If you rent one from an authorized PWC dealer, their staff might be better able to answer your questions about the differences between their rental unit and other models you could be interested in. Who knows – you might even be able to get a credit for your rental fee against the purchase price of your PWC. Now get out there and enjoy some time on Ontario's water!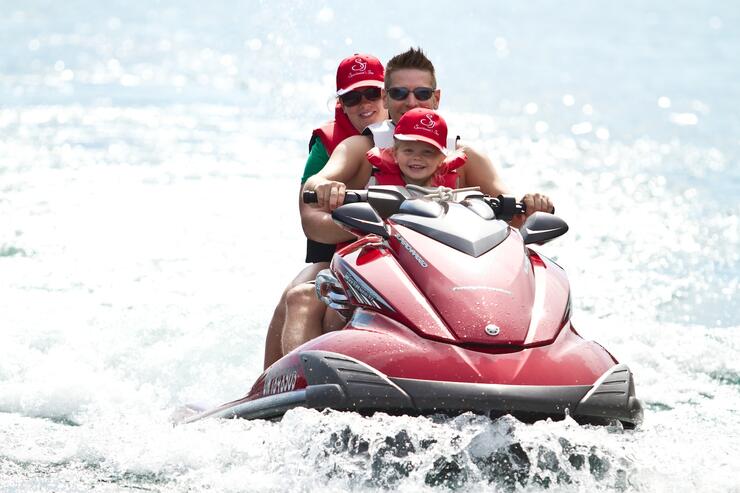 Central Ontario
Kawartha Adventure Rentals (Sea-Doo) - Peterborough, ON
Ontario Powersports Rentals (Sea-Doo, Waverunner) - Barrie, ON
Buckeye Surf and Snow (Waverunner) - Bobcaygeon, ON 
XtremeAdventures (Waverunner) - Collingwood, ON
Mariner's Cove Marina (Sea-Doo) - MacTier, ON  
Backcountry Tours (Sea-Doo, Waverunner, Jet Ski) - Muskoka/Haliburton, ON 
Northern Lake Marine (Sea-Doo) - Muskoka, ON
The Cove (Sea-Doo) - MacTier, ON
Diverse Rentals & Vacations (Waverunner) - Penetanguishene, ON 
Exclusive Sport Rentals (Sea-Doo, Waverunner) - Toronto, ON
Wasaga Waverunners (Waverunner) - Wasaga Beach, ON
Ontario Powersports (Waverunner, Sea-Doo) - Bradford, ON 
Western Ontario
Xtreme Water Sports (Sea-Doo, Waverunner) - Grand Bend, ON
Waveline Sea-Doo Rentals (Sea-Doo) - Turkey Point/Port Dover, ON 
Turkey Point Watersports (Waverunner) - Turkey Point, ON
Eastern Ontario
Outdoor Adventure Rentals (Sea-Doo) - Perth, ON
Prince Edward County Vacation Rental (Waverunner) - Picton, ON