Cruising Lake Ontario
From Niagara-on-the-Lake to Toronto, a guide to the ports of call on a must-see boating adventure.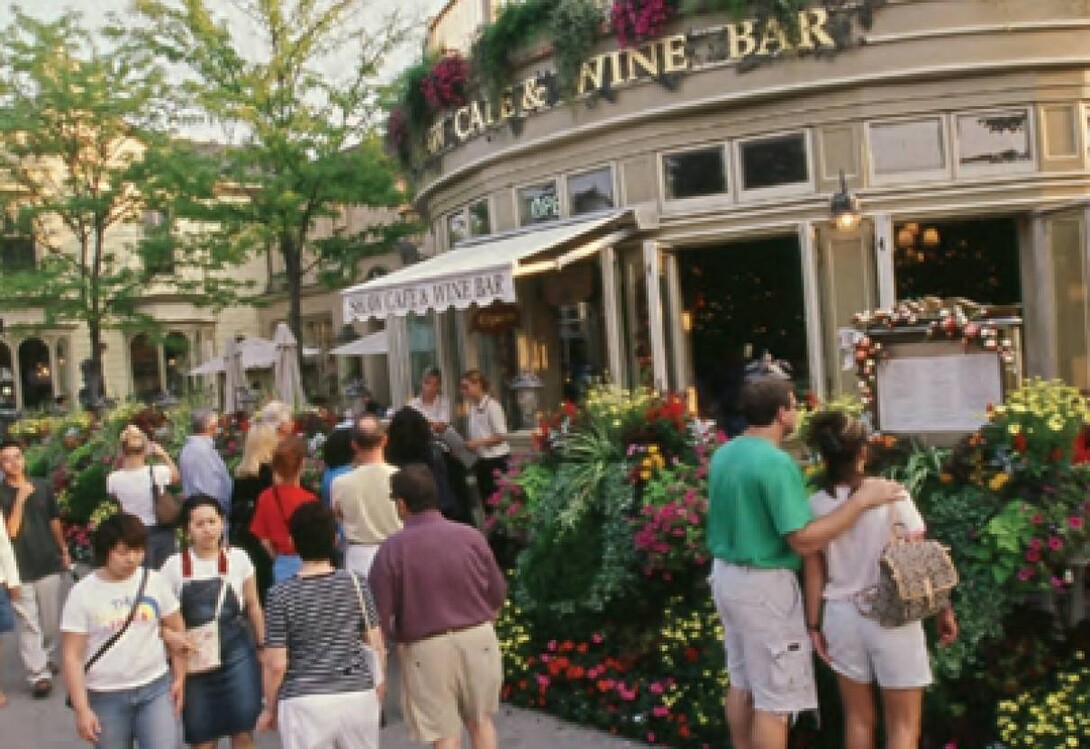 If boaters were to summarize their experiences on Lake Ontario, it would be described as diverse. Lake Ontario offers a wide range of Canadian boating destinations, from top-notch marinas in the centre of quiet historical towns and villages or in the heart of the city night life. It offers quiet anchorages away from it all or just around the corner from the action. Visitors to Lake Ontario can enjoy a day of sampling the fruits of Ontario's renowned vineyards or stroll along the many miles of Waterfront Trail. Lake Ontario has so much to offer, it's a must-visit destination for your next boating adventure.
Let's take a closer look at some of the Ports-of-call from Niagara-on-the-Lake to Toronto.
If Niagara-on-the-Lake is the first destination to visit, white buildings with red tops will come into view as you approach the entrance to the Niagara River. These are the well known lighthouses on the west bank that form the front and rear of the range. On the east bank, boaters can enjoy the views of the restored buildings of Old Fort Niagara. Niagara-on-the-Lake Sailing Club is a full service marina that offers transient docking. This is a popular destination; advanced reservations are strongly recommended.  This sailing club is also an easy walk or ride to several attractions of historic Niagara-on-the-Lake.   Boaters can stroll back through time and enjoy world-class theatre, fine dining, shopping, estate wineries, farm markets and many more historical sites.
Travelling southwest Port Dalhousie (part of the city of St. Catharines), is the next port-of-call. While here, you can enjoy a short walk to town from the Port Dalhousie Pier Marina along the Port Dalhousie Harbour Walkway or you can cruise right into town, passing the retired lighthouse onto the Dalhousie Yacht Club that offers public docks.  
Continuing west from St. Catharines approximately 17 miles will bring you to Fifty Point, passing by Jordan Harbour and Grimsby. The marina is part of the Fifty Point Conservation Area on Lake Ontario, a magnificent 80-hectare park in Stoney Creek. The marina boasts of having one of the warmest and cleanest beaches on western Lake Ontario. Change rooms are conveniently located at the nearby beach house, and visitors can also enjoy a fabulous lakefront view by walking the promenade or relaxing at conveniently located benches and shaded areas.
The next stop is often overlooked by boaters, perhaps due to the initial industrial appearance of its harbour. But don't let that deter you from making a stop at Hamilton Harbour. As you make your approach from the southwest, you will see two high-level Skyway Bridges and a lower lift bridge. Here, Harbour-West Marina is a full-service facility that can accommodate most. A short walk from the marina is the Parks Canada Discovery Centre, a state-of-the-art, interactive facility that allows visitors a virtual glimpse of Canada's national parks, historic sites and marine conservation areas.
Bronte Harbour in Oakville is another port-of-call you won't want to miss. As you approach the village of Bronte, you will pass by several marinas that offer provisions. This quaint stop is a great place to enjoy picnics in the park, a stroll along the boardwalk, or on the trails. Not far from Bronte, you will find Oakville Harbour, noted to be one of the prettiest harbours on Lake Ontario. It reflects heritage neighbourhoods and an historic downtown just a short walk from the transient docks. Oakville offers great entertainment with a variety of restaurants, summer theatre, and excellent shopping along Lakeshore Road.
Next, we will come to Port Credit that always offers an abundance of things to see and do. Credit Village Marina is located on the Waterfront Trail and is surrounded by parks. The marina has nicknamed itself the "dock and walk" marina for its ideal location along the redeveloped waterfront. Snug Harbour Restaurant is also located here. This is a popular onsite waterfront destination for boaters and city dwellers alike.
Onward to Toronto; the capital of Ontario and Canada's largest city is naturally one of Lake Ontario's premier cruising destinations. Ontario Place is a popular stop, with very accessible docking. Ontario Place has a picturesque park setting, offering visitors hours of fun activities that can include the waterslides in the water park, floating bumper boats, featured stage shows, or an IMAX film in the Cinesphere. If you haven't visited Toronto, this is a great place to spend a couple of days and nights. 
Although this is just a very brief overview of the Port-of-calls from Niagara-on-the-Lake to Toronto but if you are interested in learning more, a complete story on Lake Ontario and all it has to offer has been provided by Lifestyle Integrated. This is one article that has been provided in conjunction with the DVD cruising series.