Renting a Boat in Ontario: What You Need to Know
With over 250,000 lakes and 62,000 miles of rivers in Ontario, it's no wonder we spend the summer months on the water. Come explore!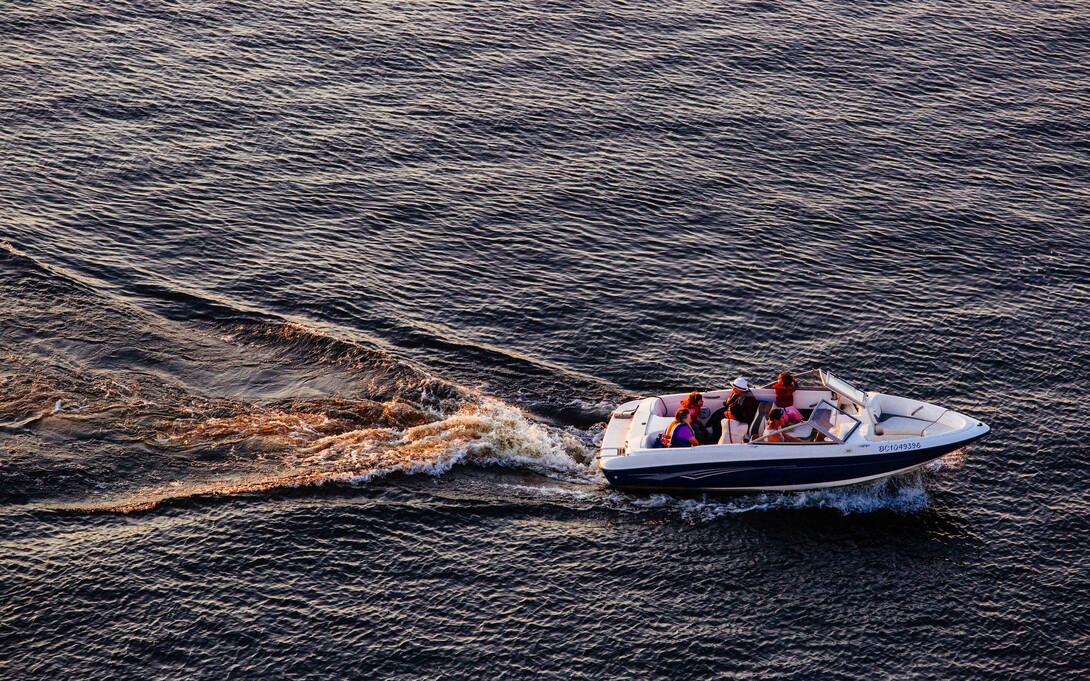 With summer fast approaching in Ontario, there's no better time to get into boating–it's an amazing way to get outdoors and experience nature on one of our hundreds of thousands of lakes, rivers, and waterways. But ownership can be a big commitment–that's why we love the ease of renting a boat. So here's everything you need to know before you go!
Wait, Don't I Need a License to Rent a Boat? 
Worried about having the right license and all the right paperwork? Don't! Getting your pleasure craft operator card is easy and affordable. Go to the BOATsmart! website and you can be licensed in just a few hours!
Although it is strongly recommended, you do not need a pleasure craft operator card to rent a boat in Ontario. There are specific requirements for a person without proof of competency who want to rent a pleasure craft fitted with a motor. This includes the completion of the Rental Boat Safety Checklist with the rental boat/outfitter representative; understanding the knowledge and skills given by the rental boat/outfitter representative; signing the Rental Boat Safety Checklist; and carrying onboard the co-signed section of the Rental Boat Safety Checklist as proof of competency for the duration of the rental. It's also recommended that you be aware of the rental operator's responsibilities.
So once you've decided to rent ... where do you start? We've put together a list of rental services across Ontario that'll help get you on the lake quickly and safely.
Where Can I Rent a Boat in Ontario? 
Here's an up-to-date list of the best boat rental services in Ontario:
Located at Hindson Marina in Penetanguishene, on beautiful Georgian Bay, Diverse Rentals is Ontario's premier rental company offering hourly, daily and weekly Sea-Doo and Waverunner rentals, as well as 17' Bowrider and Pontoon Boat rentals. Conveniently located only 90 minutes north of Toronto, they also offer a 'Stay and Play' option with their newly appointed floatels. With access to the marina amenities including the pool, playground and BBQ areas, you can enjoy the luxury of being on Georgian Bay in your floating hotel room.
"The only way to cruise the woods," Ontario Wilderness Houseboats offer houseboat vacations, on pristine Lake of the Woods. Based out of Morson, Ontario, Canada in the heart of the lake, only 30 miles from the Minnesota/Ontario border, they have eight different models of houseboats, from large 8-12 person to smaller 3-4 person sized boats. You are encouraged to cruise and enjoy the vast stretches of secluded sand beaches, relax, swim, read, and enjoy life in this refreshing setting - and don't miss the spectacular sunsets.
They don't rent boats (yet), but these folks do carry a good number of fun toys for the water. Rent PWC's like a Waverunner, Seadoo or jet ski and use on site at Kempfield Bay or trailer away to nearby Lake Simcoe, Muskoka, Gravenhurst or the Kawarthas. They will also be getting some kayaks and flyboards soon!
Combine the advantages of cottage living with the adventure of travel exploring a different town or village each day without worrying about reservations. Prepare your own meals or enjoy dining out at many of the fine restaurants along the way. Their smaller style houseboats are designed for the Trent with easy handling and maneuverable, stress-free operation in the towns and locks.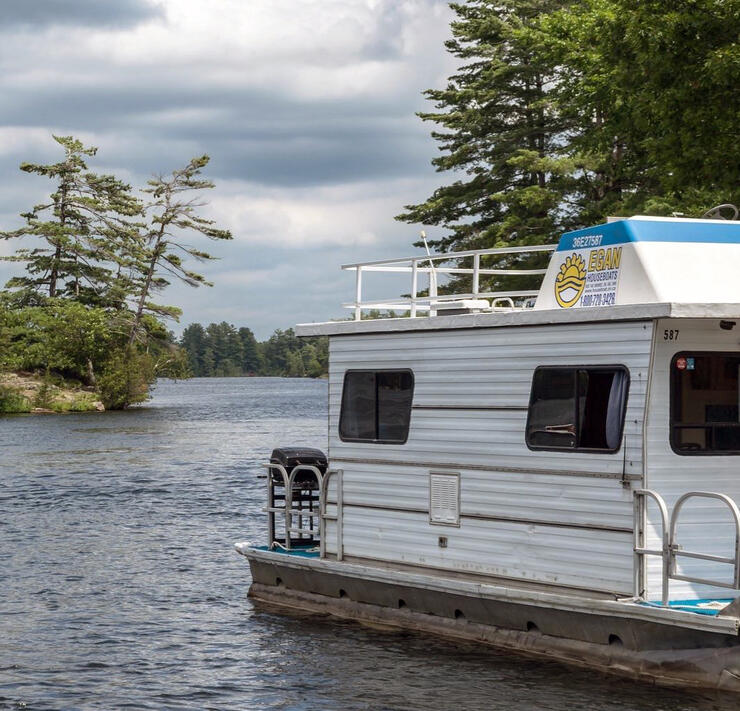 Cruise west to Lake Simcoe or east to Peterborough or find your favourite spot and drop anchor there—this is the freedom that comes with houseboat renting! Choose between 32' to 40' houseboats. Good for one to three couples or one or two small families.
Located in the heart of the Rideau Lakes & Canal Waterway, in Portland, Ontario you can enjoy docking for the night at the many historical locks along the way with many islands, hidden bays, fish sanctuaries, hundreds of miles of picturesque lakes & canals. They also offer airport pick-up from the Ottawa International and rail pick-up from Ottawa, Kingston and Smiths Falls for a nominal fee.  
Peck's Marina, under new management, is located in a scenic sheltered harbour, in the heart of the Thousand Islands, between Gananoque and west of the Ivy Lea Bridge. Whether you're looking for a cruising base or a quiet place to get away for a few days, you can't beat Peck's Marina. If visiting the area, consider renting a boat at Peck's to take in the incredible scenery of the St. Lawrence and 1000 Islands.  You can also stop in for a delicious meal, spend a few days fishing and stay in their motel minutes away from a golf course, casino and campground. Peck's has a brand new fleet of 24 foot pontoon boats that can carry up to 12 passengers. 
A little further east up the St. Lawrence River is Gilbert Marine. The crystal clear waters and the 25 City Island Parks of the 1000 Islands make it the ideal place for houseboating, camping, fishing, cruising or waterskiing. Available by the day, week or month are a range of boats from Canoes and Kayaks to aluminum fishing boats to a 20 foot Pontoon or the 200hp Thundercraft Cuddy. 
Located on Toronto's waterfront, the Harbourfront Centre is an innovative not-for-profit cultural organization that creates events and activities for a diverse group of people including sailboat and powerboat rentals. Their fleet is in great shape and has all the required safety equipment.  They rent bareboat to the public with recognized credentials, or equivalent boating experience. Their smaller powerboats require safety training provided by their knowledgeable staff. Alternatively, they'll provide an instructor to sail or drive the boat for those without experience.
Offering boat and motor packages ranging from 10 to 60 horsepower including a 21 foot, 60 horsepower pontoon boat, Blue Beacon Marina is the ideal rental spot for the novice boater. They'll supply you with the necessary navigational charts and safety equipment along with professional instruction and dockside proficiency testing to ensure the safe operation and understanding of your chosen vessel. Whether you're looking for fishing, waterskiing or just cruising, with a tube package and a selection of live bait and tackle, Blue Beacon can get you in the water and enjoying the lake in no time.  
Another option is Boat Rentals Canada with a huge fleet of up-to-date personal watercraft and rental boats that can be delivered to the location of your choice.