Ontario's 7 Best Lodges for Cyclists
Stay in comfort and pedal to your heart's content.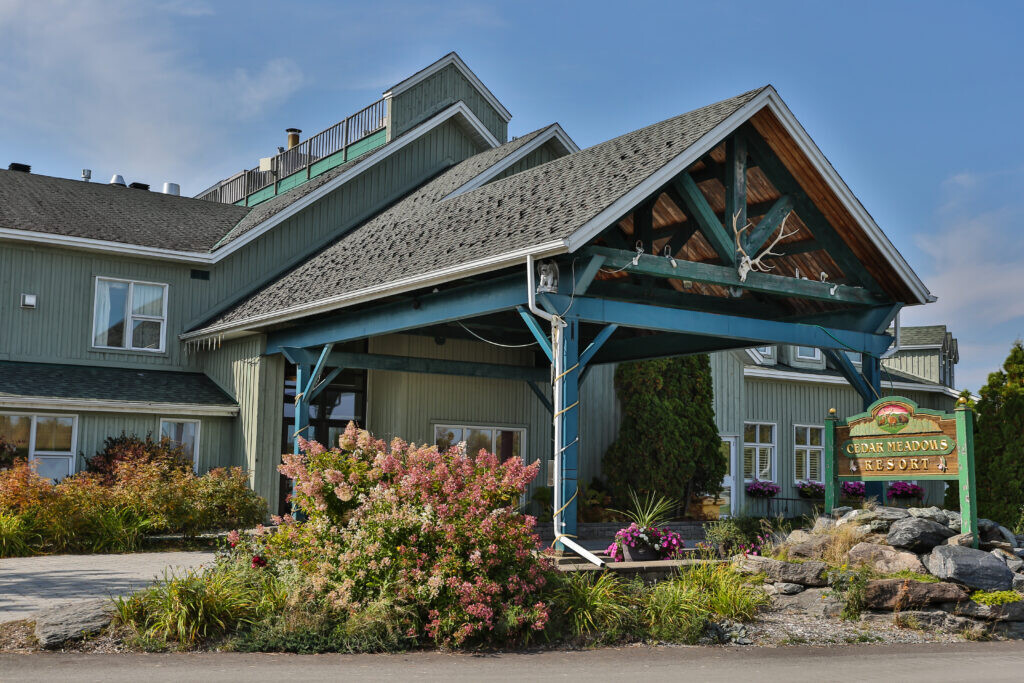 How nice would it be to roll out of bed and onto the bike trails? What if some of those hotels and lodges are just too nice to leave? It's true, Ontario is home to outdoorsy accommodations that are just as fun and unique as those sweet single track trails you're itching to ride.
We've uncovered a handful of lodges, cabins and even a yurt that don't require driving in the car to access great cycling trails, with great options to meet your cycling wishes all across the province.
Small Farm Yurt, North Bay
Tucked away on a country gravel road east of Powassan, the Small Farm Yurt Experience located on the 50-acre Foxfire Hill Farm offers one-of-a-kind stays in a yurt. The giant canvas dome provides a high-end glamping experience near some amazing self guided biking routes and only a 20-minute drive south of North Bay.
Bring your gravel or mountain bike to pedal around the rolling hills through pine forests and farmers' markets in the summer (rentals available at Cheapskates). The 100 km Powassan circle route is mostly paved, with small shoulders for riding; however, Groulx Road near Astorville is gravel. Or, a favourite is the North Bay to Bonfield loop. The 46 km route traverses gravel and paved roads, perfect for gravel riding enthusiasts.
For mountain bikers, head north 40 minutes to North Bay's Three Towers Mountain Bike Trails. From blue to black-diamond trails, the well-maintained and -signed trails offer amazing Canadian Shield riding.
Enjoy the stars over a campfire at the yurt after a day of cycling. This is wilderness living at its finest, with no wifi or running water. You can charge your devices, but the washroom is the outhouse!
Cedar Meadows Resort & Spa, Timmins
From the backyard of Cedar Meadows Resort & Spa, you can hop directly onto a gravel bike trail that leads you to the 10-km Scout Lake trail and from there to the wondrous network of mountain biking trails into Hersey Lake Conservation Area. The riding here can be intense: Hersey Lake features over 55 kms of trails, mostly blue and green; the trails are short but plentiful—options to create new routes are endless. Be sure to bring snacks and a camera as the trails have picnic tables and many lookout spots sprinkled throughout.
The hotel has a glorious Nordic spa bath for those aching muscles afterwards. The spa includes treatments and massages for deep relaxation. With an on-site restaurant specializing in local harvest, and fireplaces and Jacuzzis in the rooms, you might not want to leave the resort. Add to that a wildlife tour to see moose, buffalo and deer in the 100-acre wildlife park, and Cedar Meadows a place you'll surely wish to revisit.
Currently, bike rentals are not available in Timmins.
Killarney Lodge, Algonquin Park
Killarney Lodge in Algonquin Provincial Park is located on a peninsula surrounded by gorgeous Lake of Two Rivers, setting the scene for a quintessential Canadian lodge experience. The lodge has been family run since 1935 so the feel is cozy and special. You can paddle, hike, cycle, or listen to the loons on the lake.
The lodge is close to the 16-km Old Railway Bike Trail, accessed from the Mew Lake Campground  Highway 60. The abandoned former railway line used to connect Ottawa, Arnprior, and Parry Sound. The trail is wide enough for two bikes to ride side-by-side and its gentle grades make it a perfect ride for families. The trail follows scenic lakeshores from Cache Lake to Rock Lake Campground. Meanwhile, for hard-core mountain bikers, the Minnesing Trail (Highway 60 at kilometer 23) offers loops from 5 km to 32 km over rugged roots, climbs and rocks.
The lodge does not rent bikes; however, you can pick up a rental nearby at the Two Rivers Store, or try the Algonquin Outfitters, located off of Highway 60 on Oxtongue Lake just west of the park boundary.
Bellevue Valley Lodge, Sault Ste. Marie
This lodge is a cycling hub for much of the trails in "The Soo," region and is only 30 minutes northeast of the city and close to stunning Lake Superior. Known for its year-round outdoor activities, particularly backcountry and cross-country skiing and snowshoeing, the lodge is also a place you want to linger in the spring, fall and summer. Post ride you can relax sore muscles in a traditional Finnish sauna.
You'll find excellent options for gravel- and road riding right from the door. For mountain biking, drive 20 minutes to the Hiawatha Highlands—Sault Ste. Marie's trail riding gem. The area features over 100 interconnecting routes, all maintained by the Sault Cycling Club, so you can ride endlessly without hitting the same route. For a flowy 8 km out-and-back check out the Farmer Lake trail, the newest addition to the Hiawatha scene. Advanced cross-country and downhill enthusiasts rave about the challenging Bellevue Tower trails, with black-diamond rock jumps and swooping corners located within eyeshot of Bellevue Valley Lodge.
Check out Velorution Bike & Ski for bike rentals, repairs and local knowledge in Sault Ste. Marie.
Norm's Cabin, Goulais River
Situated on the eastern edge of the Stokely Creek Lodge trail network, this two storey lodge celebrates the legacy of trapper Norm Bourgeois. If cross-country skiers or bikers were hungry, they could stop in for a cup of coco and a snack. Sadly, Norm has passed away, but you can still visit to grab some snacks or register for an overnight stay.
The Algoma Highlands Conservancy purchased the property and rebuilt Norm's Cabin – but be warned, it's a 10 kilometer hike or paddle into the property. You must bring your own bedding and groceries. The beauty of this retreat is its seclusion—which also means no internet, and no running water. Be prepared. Access the cabin from the Stokely Creek Lodge Parking Lot.
Norm's offers outstanding access to great "adventure biking" on the double-track ski trails, with seemingly endless options to explore on rugged gravel surfaces. Lofty summits in the area entice with the prospect of biking and hiking to hilltop lookouts for impressive views of hardwood forests and distant Lake Superior. Norm's Cabin is an absolute gem in September, when fall colours set the landscape on fire.
For bike rentals check out Velorution Bike & Ski in nearby Sault Ste. Marie.
Horseshoe Resort, Barrie
Long recognized as one of central Ontario's finest winter destinations, Horseshoe Resort near Orillia is a year-round playground that has it all: multiple dining options, golf, spa services, a pool, not to mention hiking trails and tree top trekking.
But the real showstopper are the world class mountain bike trails that are out the backdoor of the lodge. The site of multiple Canadian Cup mountain bike races, the trails are endless here. Skill levels range from beginner to expert, but you can also book a mountain biking lesson or guided tour. Bike rentals are on site, too.
Just across the road you'll find another network of trails in the Copeland Forest. Expect to climb! Finally, if that's not enough for you, Hardwood Ski and Bike has hosted many World Cup mountain bike races. Hardwood also offers top-of-the-line bike rentals on site.
3 Sisters Boutique Hotel, Blyth
Only 200 meters from your room, ride directly onto the G2G Rail Trail (Goderich to Guelph) rail-trail in southwestern Ontario. The 3 Sisters rooms are conveniently located on top of the Blyth Bike shop. This great small town shop and similar business in Goderich have bike rentals, including e-bikes, too! If you bring your own bike, the hotel has a safe storage unit.
When you return from a ride, the hotel also offers a local goodie plate (think cheese, chocolate, wine). If you book all three rooms, you can book a mini concert above the terrace.
For your cycling experience, the 132 km G2G trail traverses beautiful historical bridges and local shops. To plan your excursion, which includes tons of farmers' markets and general stores, check out the interactive map. If you're riding an e-bike, there is a charging station around the halfway point. Also nearby is the Maitland Trail. Sharing the gravel path with hikers, it's a 52 km ride through farmers' fields.