7 Outstanding 100-km Bike Routes in Ontario
All types of biking, all kinds of fun.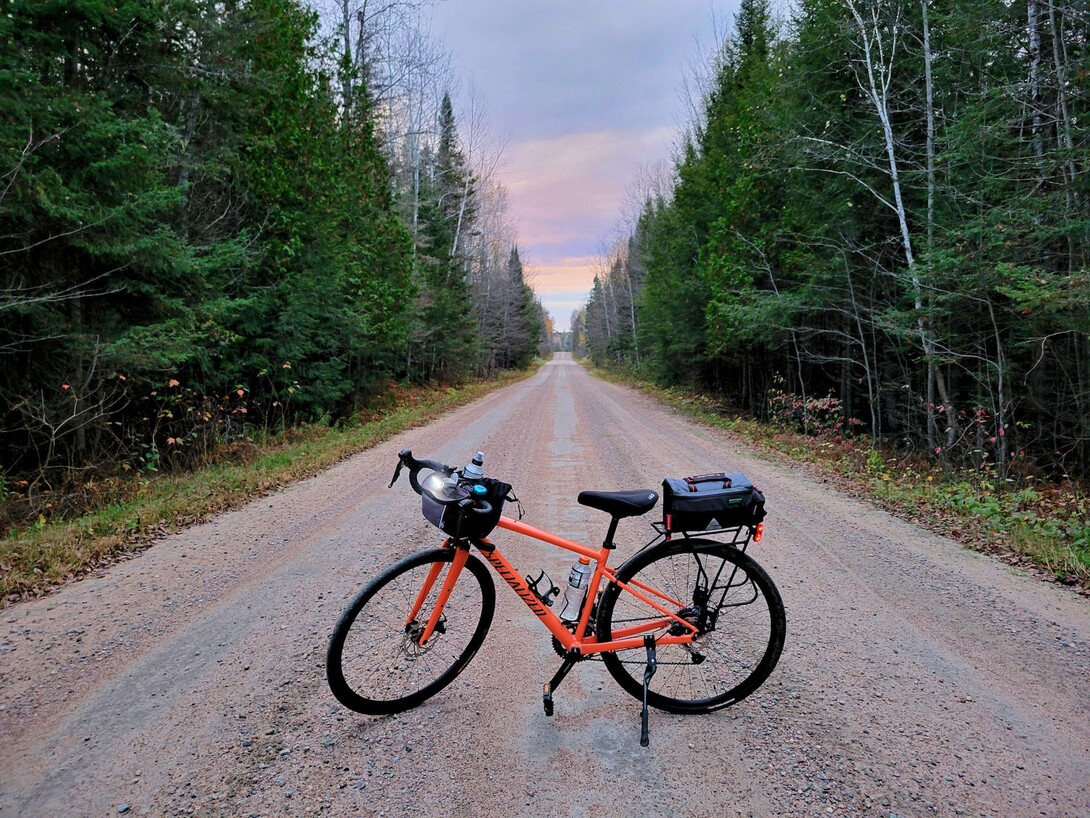 Looking to ride a (metric) century? Regardless of your preferred type of cycling, you'll find plenty of options in Ontario. Our shortlist of some of Ontario's finest 100-km rides includes something for everyone, including smooth asphalt and wide shoulders, flowing gravel backroads, and forested mountain bike trails—all with little traffic and great scenery. Besides highlighting the best rides, we've selected destinations with complementary attractions (including camping and hiking) to make for an awesome adventure vacation.
Thunder Bay Grinder
Similar to most Northern Ontario cities, the outskirts of Thunder Bay are laced with an abundance of gravel roads. Without local knowledge such a labyrinth can be overwhelming for cyclists—but local enthusiasts have identified and mapped out three challenging routes for the Thunder Grinder, one of Ontario's best gravel bike races. Fuel your competitive spirit and sign up for the event, held each September. Or download the maps and tackle Northwestern Ontario's best gravel roads on your own. An excellent 100-km ride starts at the crossroads of Slate River Valley, just southwest of Thunder Bay, and zigzags on mostly gravel roads to the communities of South Gillies and Wamsley. The route holds more than 700 metres of ascents and descents over approximately 100 kilometres of backroad bliss.
Ride Guide:
St. Joseph Island Circumnavigation
St. Joseph Island is an idyll of lush maple forests, farm fields, and pine-clad, rocky shorelines in the North Channel of Lake Huron. The Great Lakes Waterfront Trail follows the island's Highway 548, a quiet roadway that takes in the villages of Richards Landing and Hilton Beach. To make it an even 100-km ride, you'll have to add a few more St. Joseph Island attractions. Start at the small waterfront park on the mainland side of the island bridge on Highway 548, just south of Highway 17 (about 45 minutes east of Sault Ste. Marie). Ride around the island in a clockwise fashion, adding an out-and-back side trip to Fort St. Joseph National Historic Site, located at the island's southernmost tip.
Ride Guide:
St. Joseph Island's paved roads are ideal for road and touring bikes.
Make the detour to Big Point Park, just south of Hilton Beach, and discover a fantastic picnic area and turquoise Lake Huron waters for a refreshing dip.
Make it a weekend (or longer) and book a waterfront retreat at Maria's Cabins in Richards Landing. Bring your kayak for multisport adventures.
Check out the Black Bear Cafe for locally roasted coffee, homemade lunches and tasty baked goods.
Algoma Bicycle Company and Velorution are two Sault Ste. Marie-based cycling shops offering repairs, rentals, and great local knowledge. 
Bonfield to Mattawa, Algonquin Park
Mattawa is a central community on the Voyageur Cycling Route, a 645-km bike touring thoroughfare from Ottawa to Sudbury. A rural landscape dominated by rivers big and small is bisected by quiet roads, contributing to the Mattawa section's appeal to cyclists. The one-way Mattawa to Bonfield section measures about 50 kilometres, in part along the appropriately named Peddlars Drive; adding an out-and-back south on Highway 630 to Kiosk, an entry point on the north side of Algonquin Provincial Park, bumps the distance to nearly 100 kilometres. The well-marked route features a blend of gravel and pavement and includes an optional side trip to the Eau Claire Gorge, where a short hike provides stunning views of the Amable du Fond River (picnic and camping facilities are also available. Cyclists can also stay at the Kiosk campground).
Ride Guide:
Manitoulin Island's Country Roads
The secret is out: Manitoulin Island is rapidly gaining recognition as one of Ontario's best places to cycle. Despite that popularity, the island's 850 kilometres of biking routes are far from busy. Park your car and ride the ferry from Tobermory to discover quiet roads in rolling terrain, waterfalls, freshwater lakes and a friendly way of life. A great 105-km one-way road ride sticks mostly to highways 551 and 552 across central Manitoulin Island from the ferry dock at South Baymouth to Sheguiandah before heading north on Highway 6 to the community of Little Current, where you'll find good options for dining and accommodations on Lake Huron's North Channel. This ride is only the beginning, make it a Manitoulin weekend (or longer) and check out more cycling options from the Manitoulin Island Cycling Advocates.
Ride Guide:
Lake Temiskaming Shoreline
The Northeastern Ontario city of Temiskaming Shores is surrounded by a mix of the flat, pastoral farmland of the "Little Claybelt" and the hilly perimeter of Lake Temiskaming, at the headwaters of the Ottawa River. There's plenty of cycling in this area no matter what you like—all with the benefit of quiet roads. For a 100-km ride with great scenery try the out-and-back from Farr Park in North Cobalt south along Silver Centre Road (Highway 567). The route traces the western shore of Lake Temiskaming with stunning lookouts, including an optional hike to 100-metre-tall Devil's Rock. The road turns to gravel for the second half of the ride, leading beyond The Notch—a rocky gauntlet where a massive dam harnesses the Montreal River before it joins Lake Temiskaming. 
Ride Guide:
Haliburton Forest Mountain Bike
Want to ride 100 kilometres on your mountain bike? Central Ontario's Haliburton Forest has over 300 kilometres of mountain bike trails, ranging from easy to difficult in a rolling landscape of hardwoods and gem-like lakes. Many of the trails are former logging roads, which are perfect for long-distance, enduro-style riding. The 40,000-hectare area is a working forest that balances timber harvesting with recreation and adventure tourism. You'll find on-site camping, lakeside cabins and a cookhouse. Other Haliburton Forest attractions include the world's longest forest canopy walkway and the Wolf Centre. Book your trail pass online.
Ride Guide:
Parry Sound–Muskoka Lakes
This 114-km route takes in the heart of Ontario's Cottage Country from the Georgian Bay coast to sprawling lakes Rosseau and Joseph with quiet roads, quaint towns and an abundance of great vistas—especially during fall colours. Depart Parry Sound via Oastler Park Drive (on which you'll pass Oastler Lake Provincial Park) and Rankin Lake Road to begin a loop, eastbound on Highway 141. The route swings south at Rosseau, where you thread between some of central Ontario's largest lakes on highways 632 and 7, toward Port Sandfield. Finally, ride west on Highway 169 and then north on Lake Joseph Road to Rankin Lake Road for the home stretch to Parry Sound. The route has more than 1,130 metres of climbing spread evenly along the way.
Ride Guide: