11 Of The Best Bikepacking Routes in Ontario Right Now
Off-road biking + camping = awesome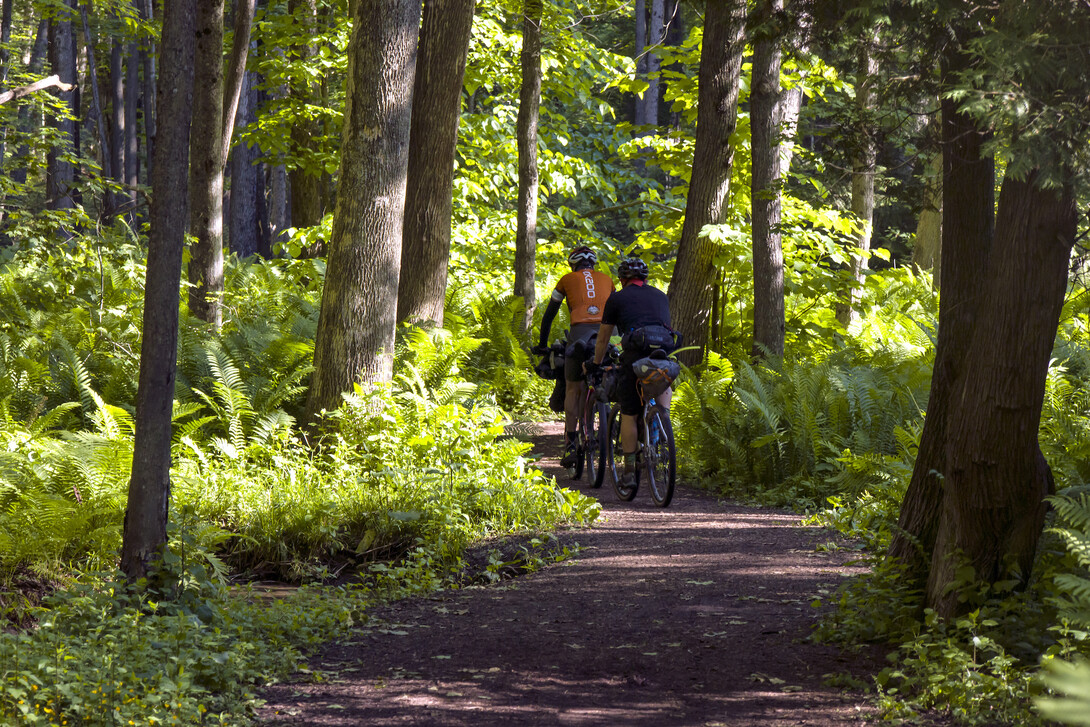 Get off the congested urban paved roads and hop onto rural Ontario backroads for a truly exhilarating and secluded ride. Connect them together and you've got a multi-day excursion that reveals a whole new perspective from the saddle. Whether bikepacking from Toronto or venturing onto a northern bikepacking loop, Ontario is full of gravel trails, former rail lines and quiet country roads to explore on two wheels.
Bikepacking is essentially riding gravel trails with your gear on your bike and setting up camp along the way, or staying at hotels, if you prefer. New to bikepacking? Discover everything you need to know to get started in our Beginner's Guide To Bikepacking.
Ready to roll out? See below for our 11 favourite bikepacking routes in ontario.
Best Bikepacking in Algonquin 
Bikepacking around Algonquin Park is the second-best way to see the park (canoeing being the first). Stopping on serene lakeshores for lunch, taking pictures of wildlife and tackling the climbs are new ways of seeing beloved Algonquin Park. There are limited bike trails within the park boundaries—discover them here—but many quiet country roads surround the park and are ripe for exploration.
Bikepacking Stores And Rentals Near Algonquin 
Algonquin Outfitters tunes, repairs, custom builds and offers weekly rides. In Huntsville, Fred and Caroline can tune up or repair your bike at Muskoka Bicycle Pro Shop and offer advice on local trails. Stock up on local farm fresh goods at Farmer's Daughter. Need a place to stay pre or post trip? Try one of these: Blue Spruce Resort, The Pines Cottage Resort and Lakewoods Resort.
Bikepacking Hastings to haliburton
Just south of Algonquin Park, this Ontario gravel route follows some varied terrain including sandy stretches, lots of loose stones and temporary construction gravel. Starting in Bancroft, expect steep climbs to ramp up at the end. Fuel up at Bancroft Brew Pub.
The scenery is gorgeous: bogs, wooden trestle bridges and lakes makes it truly one of the best bikepacking trails in Ontario. A few highlights include going into Glebe Park in Haliburton to see outdoor sculptures. Tons of bakeries and quaint general stores, including Agnew's in Wilberforce, sell everything from candy to sewing needles. See the route.
Bikepacking near Sault Ste. Marie
With a bounty of local gravel and trail options around town, Sault Ste. Marie is a prime location for launching for your bikepacking adventure. Ride a stunning, multi-day odyssey and get local insight when you join a guided ride with Red Pine Tours—they'll tailor the ride to the skills and interests of your group.
In one offering, Red Pine has teamed up with Blaq Bear Eco Adventure Routes and the Algoma Highlands Conservancy. Riders' gear is brought in by the staff of Blaq Bear, while the Red Pine Tour guides take guests through the rugged landscape of the Algoma Highlands to overnight at a cabin known to all as "Norm's."
Red Pine also offers self-supported bikepacking excursions—one- or two-night trips with various types of terrain. Based on riders' abilities, the route distances can total 60 km up to 300 km. If you want to ride all day and sleep out under the stars, Red Pine can help make that happen.
Sault Ste. Marie Bike Outfitters 
Other Sault Ste. Marie bike rental locations include: Vélorution (mountain, electric-assist and fatbikes—year-round); Algoma Bicycle Company (urban hybrid—summer only); and Parks Canada-Sault Ste. Marie Canal National Historic Site (fatbikes—summer only).
Central Ontario Loop Trail (COLT) Bikepacking
The COLT bikepacking loop is a 450-km mix of rail, ATV and snowmobile trails with some good climbing on loose gravel roads. Historical signage en route explains how the railroad was established to support the logging and mining industries. Campbellford has the spectacular Ranney Gorge Suspension Bridge and Doube's Trestle Bridge is near Omemee. 
The route is also home to some of the province's best camping including Presqu'ile Provincial Park, and a craft brewery in Brighton. There are two route options: the original 450-km route and a revised 445-km route.
Central Ontario Loop Trail Bikepacking Outfitters 
Tri & Run Sports has a part time mechanic. Frog Cycles in Lindsay doubles as a coffee and pastry shop; Eric can repair, restore or modify your bike. Cycle Transitions in Cobourg recommends calling ahead for an appointment.
Bikepacking The Burks Falls Loop
An avid cyclist created this 115-km loop which makes for a good two-day trip. It passes through Sundridge and the northern edge of Algonquin on ATV tracks, with a great stop at the Screaming Heads Midlothian art before heading towards Kearney. Stock up on butter tarts and sandwiches at The Cornball General Store at the intersection of Nipissing Road and Midlothian. See the route.
Burks Falls Bikepacking Outfitters 
The Missing Link is a one-stop-shop in Burks Falls offering pre-packaged and custom cycling tour itineraries in the Almaguin Highlands, Parry Sound and Muskoka regions. There's also a bike mechanic on premises. The Lake Bernard Bicycle Repair Shop also offers servicing.
Bikepacking Timmins to Matachewan 
On this remote bikepacking route in Northern Ontario, wildlife outnumbers people. Stock up on food, water and supplies in Timmins—Pick of the Crop is a delicious gourmet grocer—for this epic, 125-km bikepacking route on gravel logging roads. Forty percent is hard packed, 40 percent is loose over hard, and 20 percent is loose gravel—which may have to be walked depending on your set-up.
Cell service is spotty, so share your itinerary and when to expect you back before leaving. Siva's serves amazing steaks and veggie options. Once alongside the Montreal River, take in the plethora of historical homes, and stay at the Pioneer Park campground for the night then return to Timmins the next day.
Timmins Bike Outfitters 
O'Reilly Sports has servicing, gravel bikes and parts.
Park to Park Bikepacking Trail 
This 230-km multi-use trail connects Killbear to Algonquin Park. One of the most popular sections is the Seguin Trail, which runs from Hwy 69 through to Hwy 11 largely along the bed of an old railway with iconic views of Central Ontario. The other popular section is the Rose Point Trail, which is an extension of the Seguin Trail and is primarily a non-motorized section used by hikers and cyclists.
Buy a pass online to support local volunteer trail building. The trail passes through Parry Sound, Muskoka, Almaguin Highlands and Algonquin regions along old rail beds and interior roads that take you back to fur trading days. Stay in provincial parks, or, about half-way, hunker down at Bear Lake.
Parry Sound Bike Outfitters 
Parry Sound Bikes offers tune ups and repairs.
Griffith Highland Overnighter 
It's hard to choose just one bikepacking loop in Eastern Ontario as gravel roads are everywhere! Only 90 minutes from Ottawa, the Griffith Highland Overnighter is a great introduction to bikepacking in Ontario. This 70-km route is ideal for two nights and ensures lots of climbing on hydro cut line roads, camping near streams and views along the Madawaska River. There are a handful of campsites en route. Ensure you register with the Eastern Ontario Trails Alliance before heading out. Starting in Griffith, Calvyns Pub N Eatery is a bikepacking Ontario favourite.
For the hardcore bikepacking enthusiast keen on a five- to seven-day ride, the Log Driver's Waltz passes through Quebec and Eastern Ontario. It was created by the same guys that brought us the BT700 and COLT and has 8,000 meters of elevation. Hold on!
Ottawa Area Bikepacking Outfitters 
Tall Tree Cycles in Ottawa has an extensive collection of bikepacking bags and bikes.
Bikepacking The Great Trail
For cyclists interested in going the distance, the The Great Trail offers a continent-crossing 24,134-km of adventure. One of the most scenic sections travels along the northern shore of Lake Huron, running through North Bay, Sudbury and Sault Ste. Marie. And there's no shortage of gravel for those who want to get off the signed paved route and explore quieter roads.
This 570-km section can include side trips to St Joseph Island and Manitoulin Island. Pedallers will pass by picturesque Mennonite and Amish farms along Northern Ontario roads on the Canadian Shield, as well as 12 heritage rivers and 16 beaches along the clear waters of Lake Huron. Explore the official route here, including recommendations for restaurants and accommodations.
Simcoe Lake Loop Bikepacking
For a two-day introduction, this 160-km easy route is a good first taste of bikepacking in Ontario and only an hour's drive from Toronto. This loop should be on everyone's Ontario bikepacking routes to do list. Starting in Barrie (stock up on snacks at local favourite Goodness Me), ride counter-clockwise along Lake Simcoe past the Minesing Wetlands, one of Ontario's largest remaining wetlands, into Penetanguishene for a lunch at the World Famous Dock Lunch. Then, continue into Orillia for an apple fritter at Mariposa Bakery and a visit at the Leacock Museum National Historical Site. Midland is a good camping stop.
Simcoe Lake Loop Outfitters 
Barrie has no shortage of bike shops. Giant Bikes offers repairs and bikepacking bikes and accessories—their LIV Devote model and H2PRO collection of panniers is made for Ontario bikepacking conditions. MEC in Barrie also has bikepacking gear as well as bikes.
Bikepacking the BT700 (Butter Tart 700)
This is one of Ontario's most popular bikepacking routes—maybe because it's named after a butter tart. Starting and ending in St. Jacob's near Guelph (enjoy a beer finish at Block Three Brewing), this 760-km route is an epic journey through Mennonite country, hilly Mono Cliffs, markets full of fresh pastries and the scenic shoreline along southern Georgian Bay.
Download the GPS map, along with the map of amenities, to ride the self-support route along rail trails, farm roads and some single bike paths at the official BT700 website. Cycle for just a few days or tackle the entire route over an epic week.
The wine and craft beer en route are undoubtedly big reasons for bikepacking the BT700. Be sure to enjoy stops at Mudtown Station in Owen Sound, Collingwood Brewing, Coffin Ridge Vineyard and Winery in Annan, Northwinds Brewery in Collingwood and Hockley Beer in Orangeville.
BT700 Bikepacking Outfitters 
Martin's in Southampton offers rentals and quick servicing. Smitty's in Thornbury has weekend rentals, servicing and espresso. In Owen Sound, Forks Bike Shop can help get you serviced. Tune ups and servicing are also available in Caledon.
More Resources
Need more inspiration? Try these resources and start dreaming about your next adventure: Bikepacking.com and RideGravel.ca.