Best Cycling Routes on Manitoulin Island
Manitoulin Island is quickly becoming a top destination for cycle touring. It's no wonder why.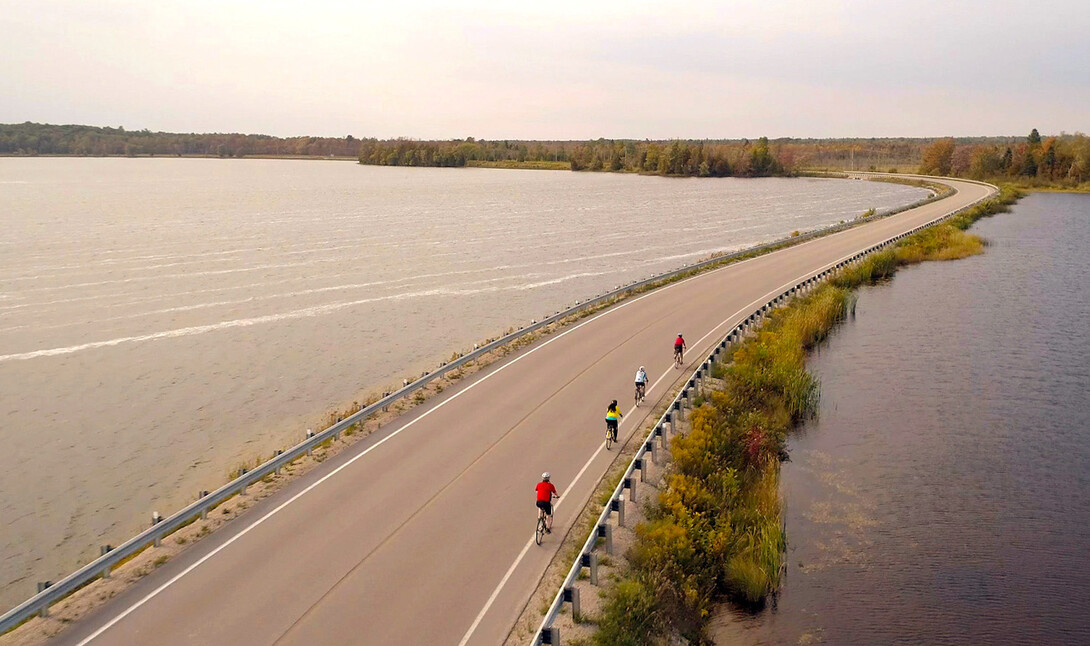 It may take a ferry to get to Manitoulin Island from parts south, but once you hit the dock, Manitoulin reveals itself as almost purpose-built for bicycles.
The contributing natural characteristics are outstanding. Being an island, there's a scenic shoreline in every direction, not to mention 108 inland lakes. The demographic characteristics also bode well for cycle touring. With only 13,000 inhabitants spread over an area seven times larger than the city of Toronto, the roads are uncrowded, to say the least. The infrastructure is pretty good also.
Thanks to lobbying by the Manitoulin Island Cycling Advocates (MICA) there are a full 150 km of paved highway shoulder, with more on the way. And the social scene is all you could ask for, with inns, restaurants, and campgrounds all eager to cater to those who are catching on to Manitoulin's rising status as a cycle touring heaven.
Ontario by Bike has a listing of accommodations and eateries on the island. You'll also find 36 of these businesses marked on a map at the MICA website. But that's not the most impressive map there. There are 14 suggested routes mapped out, complete with distance markers and elevation information for different sections.
Order the map (for $5, shipping included) and plan your ideal trip. Just make sure to reserve accommodations ahead of time for the summer. The secret is getting around.
Here are two of their recommended routes, with a few of our suggested add-ons:
Tour C: MINDEMOYA TO CUP & SAUCER LOOP,  43 km
This route has lots going for it. It's a loop, so you don't have to backtrack or arrange for a car shuttle or drop off. You can start and stop at Mindemoya, a town that's well serviced with cyclist-friendly accommodation like Twin Peaks Bed and Breakfast and many shops, gas stations, restaurants, and museums.
You can park your car at Mindemoya Park and wheel away from there, following the directions that accompany the MICA map toward the trailhead for the Cup and Saucer trail. This hike climbs the Niagara Escarpment to a lookout above 70-metre cliffs and affords views of the North Channel that separates Manitoulin Island from the mainland to the north.
If you'd like a more interpretive way to hike the area, get in touch with the Great Spirit Circle Trail. Based in nearby M'Chigeeng, it offers cultural tours and adventures with carefully planned itineraries designed and executed from an Indigenous perspective, including a guided hike up the Cup and Saucer trail.
M'Chigeeng itself is home to an Ojibwe Cultural Foundation, a museum, restaurants, several art galleries, and a unique twelve-sided, teepee-shaped Catholic Church. It's the sort of Manitoulin Island side trip option that could turn this 43-km loop into a multi-day adventure.
Tour A: South Baymouth to Meldrum Bay, 124 kilometres
This is the big one. This trip along the southern portion of Manitoulin Island, runs a full 124 km, one-way. It could be done as a two-day overnight by a speedy cyclist, but why not take advantage of accommodation options along the way and do it at a slower pace?
Instead of starting at the ferry terminus town of South Baymouth, spend the night before departure slightly north and east at Gordon's Park. The mostly off-the-grid resort has wilderness campsites, tipi-tenting, bunkies, and hammock camping. It's also been designated by the Royal Astronomical Society of Canada as a Dark Sky Preserve, being a top destination for stargazers.
Take a leisurely day pedaling to kilometre 33 (on the original itinerary) to Providence Bay, a sandy, arcing beach that looks south onto Lake Huron. The small town is home to Auberge Inn and On the Bay Bed & Breakfast, the later of which usually has garage space available for bicycles.
Or, if you are up for more adventure, Providence Bay Park is a trailer campground with tent sites available for $35 per night. Talk to the park to reserve space, and to arrange for a charter fishing boat out onto Lake Huron to go after some lake trout or salmon.
The next day you'll pull into Meldrum Bay and settle into the welcoming front porch of the Meldrum Bay Inn. This former fishing and logging village at the far end of the wedge that is Manitoulin Island is very much the end of the road, unless you want to push on a little farther to the Mississagi Lighthouse and Campground and treat yourself to the best sunsets on the island.
On your way back east, take a right turn onto Misery Bay Road after 37 km to detour south to Manitoulin Islands only provincial park, Misery Bay. The day-use-only park has more than 15 km of hiking trails, a boardwalk, and a bird-viewing platform overlooking the wetland, with more than 50 educational programs operating out of the park Visitor Centre throughout the summer.
Once back out on Highway 540, it's just under 20 km east to G.G.'s Diner in Evansville, a good place to fuel up before diverging from the official route to roll north along the Burpee Road causeway to spend the night at Lake Wolsey Cottages (call ahead). Here you can rest up for the home stretch, or spend an extra day and rent one of their fishing boats.
Spend another night at Providence Bay on your way back, or push on toward Gordon's Park. By then, you'll be ready for the type of food served at a place called the Kick Ass Cookhouse at Kicking Mule Ranch. It's just east of Gordon Park and offers horseback trail rides, in case you want to settle into a slightly wider saddle for a spell the next morning.
THE ISLAND IS CALLING YOU
Be sure to pack along some extra inner tubes and tools, since the bicycle service on the island is hard to come by. By all other measures, though, the rolling hills, friendly locals, unbeatable views, helpful businesses, and quiet roads of Manitoulin Island make this a cycling getaway you'll want to keep getting back to.