12 Fantastic Bike-Friendly Campgrounds in Ontario
Enjoy the province's amazing trails and pristine campsites.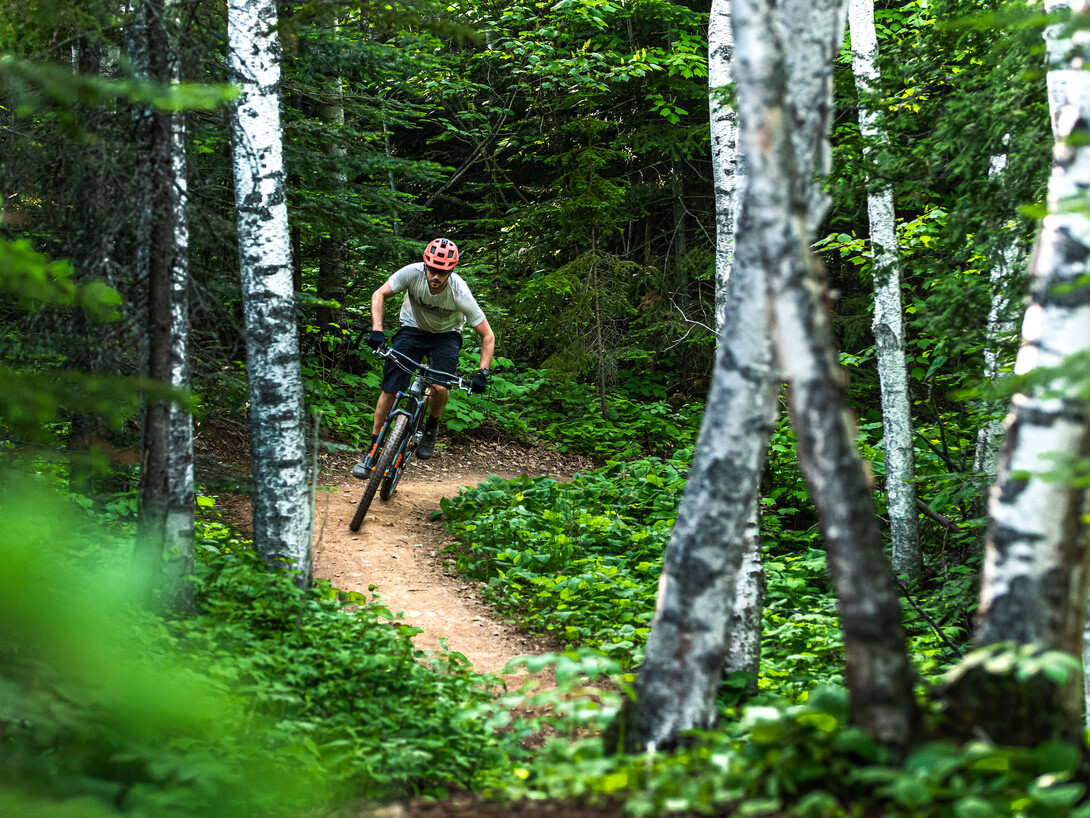 Riding in Ontario is so good, cyclists need more than a single day in the saddle. Whether you are planning an ambitious multi-day tour or looking for a comfortable and convenient basecamp from which to explore, you'll find a welcoming network of bike-friendly campgrounds across Ontario.
What exactly makes a camping area "bike-friendly"? You can expect the campgrounds on this list to have some combination of the following:
Secure daytime bike lock-up area, such as bicycle stands or posts for bike parking in most visible location possible
Cycling information, including any published cycling route maps
Friendly, knowledgeable staff who can direct cyclists to information on area cycling routes, local bike shops and hours, bicycle rental and tour operators, and weather reports
Basic bicycle repair toolset
Healthy, local food and beverage options, if served on-site
Other amenities or attractions for cyclists on the go, such as laundry facilities, rentals, beach areas, and trails
For even more bike-friendly businesses, Ontario By Bike is a great resource for visiting cyclists.
Best Bike-Friendly Campgrounds in Thunder Bay
Thunder Bay and the spectacular North Shore of Lake Superior boast road rides, gravel routes and mountain biking trails that reward riders across a range of interests. Explore the city on a nearly 60-kilometre network of bike paths and recreational trails. For road riders, the 56-km ride out-and-back to Kakabeka Falls Provincial Park is a classic. View the spectacular "Niagara Falls of the North" and recharge at the Moose Coffee Shop, a popular meeting point for area riders. Find more route suggestions here.
Trowbridge Forest—known to the locals as Shuniah Mines—is Thunder Bay's own mountain biking Mecca. With some 21 km of singletrack, and 36 km of total trail, the area features a series of flowing ridgelines, rugged boreal forest and natural, hand-carved tread with plenty of rocks and roots. Visit the Blacksheep Mountain Bike Club website for an excellent interactive trail map, and an exciting master plan for future trail development. Read more about the Shuniah Mines riding experience and area history here.
Trowbridge Falls Campground offers unparalleled trail access and a beautiful setting for visiting mountain bikers. Nestled in the Boreal forest beside the cascading rapids of the Current River, this municipal campground is a gateway into the heart of the Trowbridge Forest trails network.
On the south side of the city, Chippewa Park Campground is an absolute gem. Right on the shore of Lake Superior with sandy beaches and sweeping views, this well-appointed campground and family park is ideally situated for rides west along the Kaministiquia River. Cyclists can choose from tent sites or cozy log cabin rentals.
Rent equipment, get tuned up, or just get some local advice at Thunder Bay's friendly bike shops: Petrie's Cycles, Rollin' Thunder and Fresh Air Experience.
Best Bike-Friendly Campground on St. Joseph Island
The northern expansion of the Great Lakes Waterfront Trail follows the North Channel of Lake Huron from Sault Ste. Marie to Sudbury. Pedal the entire 460-km multi-day tour, or choose from a variety of excellent day rides. The 68-km loop around St. Joseph Island is a local favourite that follows well-paved, low-traffic coastal roads. Discover more island rides here.
St. Joseph Island's rolling countryside is especially lovely in the fall, when the maple hardwood forests blaze like a leafy sunset. Stock up on sweet treats along your ride—roughly 18 percent of all Ontario maple syrup is produced on the Island.
Two waterfront communities, the Village of Hilton Beach and Richards Landing, offer charming places to stay, great food, parks, gardens and plenty of beautiful swimming beaches. Hilton Beach is home to one of the most picturesque marinas in the province. Stroll the 1.5-km waterfront boardwalk and refuel at the Island Bar & Grill.
In Richards Landing, settle into a shady picnic table and sip on ice-cold coffee at Black Bear Café. Shop for locally made goods at the Saturday Maker's Market in Cenotaph Park. Then pitch your tent at Fred's Tent & Trailer Park and enjoy locally sourced delicacies, fresh baked goods, or fish and chips at The Wharf Restaurant.
Vélorution is the nearest full-service bike shop, 45 minutes from the island in Sault Ste. Marie.
Best Bike-Friendly Campground in Sudbury
Sudbury offers riders a tremendous variety of dedicated cycling routes and spectacular mountain biking trails. Fans of singletrack can put knobby tires to the test on the bare rock ridges of the Precambrian Shield at Walden Trails Park, Kivi Park and Lake Laurentian Conservation Area. Recreational riders will find more than 25 km of community trails exploring all corners of the Nickel City along the Rainbow Routes Trail Network. Download the trail map to plan your ride—ambitious cyclists can circle Ramsey Lake on the grand Tour de Sudbury route.
On the south side of the city, Carol's Campsite and RV Park is popular with local campers and offers quick access to the outstanding trails at Lake Laurentian Conservation Area and Kivi Park. Cyclists will find a designated tenting area, hot showers, and laundry facilities, as well as canoe rentals and a beach for a refreshing après pedal dip in Richard Lake.
If you're in need of a bike tune-up, rental, or cycling gear, check out these welcoming Sudbury bike shops: Sessions Ride Company, Adventure 365, or The Outside Store. And if you're dying to try fat biking, there are on-site rentals at Kivi Park.
While you're here, don't miss out on Sudbury's vibrant culinary scene. Start your day at Salute Coffee Company. Cheese-lovers can grab lunch on the outdoor patio at La Fromagerie. After your ride, satisfy carb cravings with delicious wood-fired pizza or fresh pasta at di Gusto authentic Italian dining. Top it off with the city's best milkshake at funky Flurple's—"a little ice cream window with a lot of heart".
Best Bike-Friendly Campgrounds on Manitoulin Island
Surrounded by the azure waters of Lake Huron, Manitoulin Island is a haven of quiet paved country roads, pastoral landscapes, and artsy villages. Add to this the 108 inland lakes that dot the island and Manitoulin's ardent cycle touring culture and it's hard to imagine a better place for laidback, lake-to-lake road rides. Manitoulin Island Cycling Advocates' (MICA) comprehensive website maps 14 routes spanning 800 km of pavement and gravel, as well as bike-friendly accommodations, dining, and attractions. They also organize all-inclusive, 5-day cycling vacations (featuring lakeside lodging) in June and September.
Bikepackers and cycle campers have no shortage of safe and scenic campgrounds to choose from across Manitoulin Island. Batman's Cottages and Campground, with a gorgeous sandy swimming beach right on Lake Huron, and the lakeside sites at Providence Bay Tent & Trailer Park are great options, depending on the route you've selected. Manitoulin Eco Park, just 13.5 km from the Chi-Cheemaun ferry landing in South Baymouth, is a designated Dark Sky Preserve with open meadow camping and guided astronomy events throughout the summer, making your night under the stars truly spectacular.
Breakaway Sports and Cycle in the gateway town of Little Current can help with bike servicing, repairs, and accessories. Stop for lunch at Maja's Garden Bistro, serving yummy vegetarian, vegan, and meat-lovers options in an enchanting outdoor garden, and stock up on organic baked treats for breakfast. Grab a post-ride pint at Manitoulin Brewing Co.
Best Bike-Friendly Campground in West Nipissing
Showcasing the rugged beauty of rural and Northern Ontario, the Voyageur Cycling Route rewards touring cyclists with loads of breathtaking rides exploring a hinterland of lakes, rivers, parks, and farmland between Sudbury and Mattawa. For a knockout weekend loop ride, try the 178-km Vive le Nord! Route.
This route celebrates the region's Francophone history and culture with a smooth road ride alongside the West Arm of Lake Nipissing. Spin along quiet country roads, surrounded by cornfields, horses, and sunflowers, and cycle through pristine northern forests with the water never far from view. Tour the organic berry orchards at Boreal Winery—Canada's coldest climate winery—and sample the delicious spoils of all that sun-ripened goodness. Traverse bridges with expansive lake views as you pedal through the wildlife-filled wetlands of Mashkinonje Provincial Park. Stop for a stroll on the floating boardwalks of the Loudon Peatland Trail, then continue on to the charming hamlet of Lavigne.
Stay at Joli Voyageur Resort and Campground and make it a relaxing weekend tour. Owners Carole and Rodney Wolfe welcome cyclists to their lakeside cottages and campsites. Wings, pizza, and pints are just down the road at the storied Lavigne Tavern, where you can also catch live local entertainment.
Best Bike-Friendly Campground in North Bay
Cradled between the shores of Lake Nipissing and Trout Lake, the city of North Bay is surrounded by beautiful Canadian Shield landscapes of sparkling waters, glacier-polished bedrock and verdant forest. Even better, the city is home to an avid cycling community and outstanding recreational trails and road riding.
One of three popular loop rides in the North Bay area, the 45-km Corbeil Circle Route rewards riders with frequent water vistas of Lake Nipissing, Trout Lake, and various small wetlands and waterways in between. Part of the route follows the Kate Pace Way, a 12-km paved, waterfront path from North Bay to the town of Callander. If time permits, take a side trip on the easy, five-km Cranberry Trail to a pretty cranberry marsh and gorgeous view of Callander Bay.
Base your North Bay cycling adventures at Fairview Park Camping and Marina, situated on the historic La Vase River with access to Lake Nipissing. The peaceful park offers a variety of bike-friendly campsites and cozy cottages. Rent a kayak or canoe for an early morning or evening paddle on the La Vase River, or just bask in the heated pool after a long day in the saddle. Located within city limits, the campground enjoys easy access to the shops, dining, and amenities of downtown North Bay.
If you need bike servicing, accessories, or rentals, try local bike shops North Bay Cycle Works, Cheapskates or Wheelhouse.
Best Bike-Friendly Campgrounds near Saugeen Shores
Stretching 500 kilometres from Sarnia to Tobermory on the tip of the Bruce Peninsula and back down to Wiarton, the Lake Huron leg of Ontario's Great Lakes Waterfront Trail is an epic ride for adventurous touring cyclists and bikepackers. Pedal the whole route or take in some of the highlights on a handful of day rides. The endless sunsets, gorgeous sandy beaches, turquoise waters, friendly small towns, fascinating historic sites, and great camping opportunities will blow you away.
Centred on the twin communities of Port Elgin and Southampton, a ride around Saugeen Shores offers a fantastic introduction to this beautiful region. Start with the 11-km Saugeen Shores Rail Trail, and link to the waterfront Northshore Trail and 14 km of forest trails at MacGregor Point Provincial Park for a longer loop ride suitable for hybrid and mountain bikes. Or take a spin inland along the peaceful Saugeen River. Nearby, the town of Kincardine boasts a fine trail system with lakeside riding, excellent beaches, and connections to Inverhuron Provincial Park. Find 13 more incredible rides in the Bruce County Cycling Routes map.
For superb, bike-friendly camping, look no further than these three Ontario Parks right on the shores of Lake Huron. Just south of Port Elgin, ecologically diverse MacGregor Point Provincial Park protects a seven-kilometre stretch of coast and offers well-spaced campsites and on-site bike rentals. Near Kincardine, Inverhuron Provincial Park boasts beautiful lakeside campsites, a multi-use trail system, and a kilometre-long sandy beach. Finally, Sauble Falls Provincial Park is a great spot to rest up before tackling the more rugged terrain of the Bruce Peninsula.
For bike repairs, sales, and rentals stop by Thorncrest Outfitters or Martin's Bicycle Shop in Southampton.
Plan Your Trip Now
These welcoming, bike-friendly campgrounds make it easy to explore Ontario's best road routes and trail rides. Immerse yourself in the province's diverse cycling communities and feel at home wherever your spoked wheels take you.