Cycling Clubs in Ontario
If you want to get the most out of cycling, join an Ontario cycling club.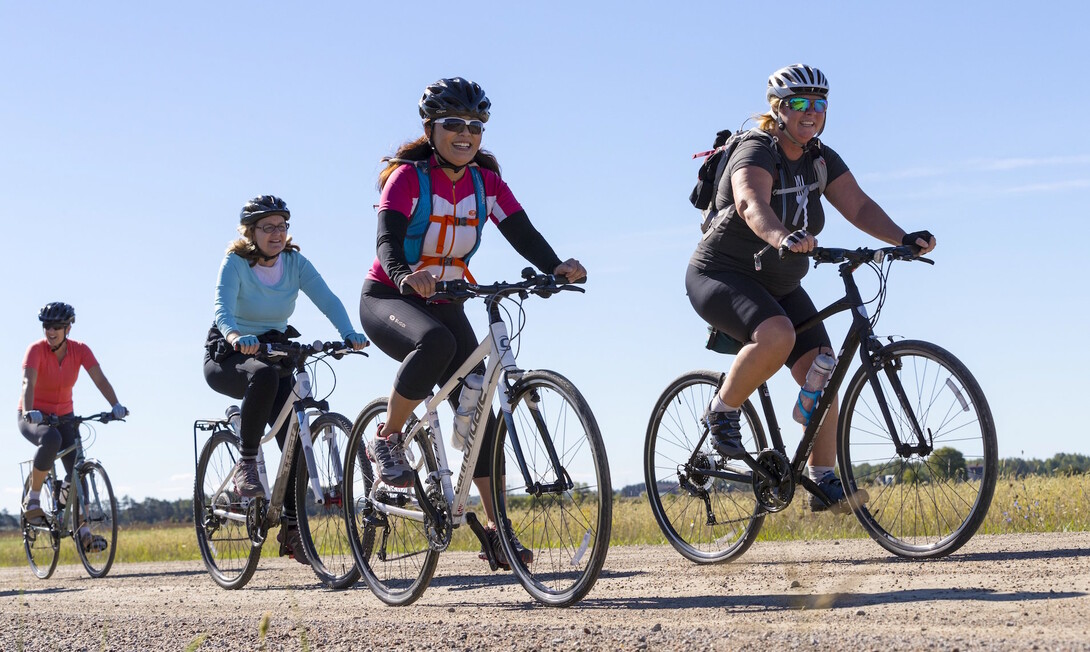 Some things are best done alone, but the list is limited. On the other hand, there are things that, when done with a group, become infinitely more rewarding. Cycling is one of those things. Why not join an Ontario cycling club in your area?
When you join a bike group, you become part of a community of like-minded two-wheelers. You benefit from shared knowledge and advanced expertise. You increase your options for getting out, and enjoy a boost in motivation to do so.
Across Ontario, you'll have options to join a road cycling club, an off road cycling club, a mountain biking club and many more. There are clubs that welcome all sorts of cyclists: beginners, dirt hogs, road warriors. The best part about these clubs is their very composition. They are composed of enthusiasts, and made of pure enthusiasm.
Northern Ontario Cycling Clubs
North Bay
North Bay Mountain Bike Association
This nascent group is committed to the hard work involved in building a local trail system. A $35 annual membership supports the process of networking and negotiating with landowners to improve and expand access to trails. Group goals include managing trails and organizing group rides, youth programs, and events like fat bike skills clinics.
Sault Ste. Marie
This omnibus club has more than 100 members and organizes weekly events for all disciplines: road racing , mountain biking, winter fat biking, cyclocross, and road touring. It draws on a wealth of mountain biking trails and scenic roads in the Algoma region. Starting in 1977, it's been instrumental in working with landowners and the conservation authority to develop the area's cycling destinations.
Events include three cyclocross races (including one designed to welcome beginners), road cycling skill clinics for those looking to get familiar riding with groups, trail maintenance sessions, bike maintenance sessions, Wednesday night group rides, and regular The Whole Enchilada outings, which trace the entire 10-km network of Hiawatha Trails in one go.
Annual adult memberships are $30; the group encourages visitors to get in touch through their website for information on events.
Sudbury
The Sudbury Cycling Club is the hub for road cyclists in Sudbury. They benefit from the dedicated Delki Dozzi Track, an off-road but paved route located between the Gatchell and Little Britain areas of Sudbury. The track is only a kilometre long, but it has elevation changes and significant turns to help racers hone their skills. Twice a week, Tuesdays and Thursdays from 6 pm to 9 pm, the track is reserved for the exclusive use of club members for time trials and training.
The club ventures out onto open roads during the weekends, with about six group rides scheduled each year. If you're not sure you want to join but would like to dip your cleated shoe into the club scene, opt for a Club Try-Out night, a regularly scheduled introduction to group riding and bike handling skills.
Though the club keeps an eye toward racing and going as fast as possible, it welcomes all levels of riders.
The 150-member-strong roll call of this club is testament to the quality of the mountain biking in the Sudbury area (within city limits, actually). The club is named after the Walden Trails Park, home to 13 km of purpose-built and volunteer-maintained trails.
Members of the club can take part in weekly fat biking group rides in the winter and a slate of recurring and one-off events in the summer, including monthly social rides, women-only events, and Bush Pig Opens, the club's race series. 
Starting in late May or early June, there are group rides on Tuesdays at 6:30 pm and Sundays at 10 am (excluding Race and Social Ride nights). Volunteer trail maintenance continues through the year.
An annual adult membership is $60, but the club's website points out that "Visitors to the City are welcome to join in our group rides, events or contact us for information on riding opportunities in our area."
This is the serious-minded racing offshoot of the Walden Mountain Bike Club. It offers training and coaching programs for youths (10 years and older) as well as teens and adults who want to try competitive cross-country racing. Members represent Northern Ontario at the provincial and national levels, so some travelling is involved. There are weekly rides Tuesday nights for coaching and training purposes. Though riding robust bikes over rough terrain as fast as possible is the thrust of the group, it's not so finish-line-focused that it forgets there is more to biking than cranking pedals.
Thunder Bay
This club is the one-stop shop for skinny tire cycling in Thunder Bay, offering road races, time trials, criteriums, cyclocross races, and group tours. Organizers suggest that if you want to try out racing, you start with a Time Trial event. They are held most Thursday evenings (6:30 pm, April to September). You will race against yourself and the clock, so there's no peloton to worry about. Distances are between 5 and 20 km.
Criterion events are for the more experienced, and take place at the Maplewood Road Landfill Site west of town. Cyclo-Cross races take place from September to November and consists of repeated laps of a roughly 3-km course that changes from pavement, to wooded trails, to grass, to steep hills and various obstacles that require the rider to dismount and briefly run with the bike. Women's rides happen every first and third Wednesday evening of each month.
Finally, the club's Touring Rides are a way to get cyclists out together for casual rides on area roads. They will travel up to 70 km at a pace of up to 25 km per hour, with shorter and slower options always available. These groups are typically around eight to 10 cyclists and always led by volunteers. Tour rides run from early June until late August and start Sunday mornings. Annual adult memberships are $36 per year.
Started in 1998 by some self-described "rowdy" teenagers wanting to race knobby tires, the club has expanded to promote mountain biking in all its forms around the Lakehead, now running a series of fun events, races, and regularly scheduled social rides. They have a guiding hand in the building and maintaining of trails in Trowbridge Forest and Shuniah Mines. But they also ride, of course, putting on about seven events every month, including races, skills clinics, women-only rides, and group rides.
Find an Ontario Cycling Club Near You
Ontario By Bike is an excellent resource for cycling and mountain biking. It works to develop cycle tourism in Ontario by certifying and promoting bicycle friendly businesses, trails and cycling clubs.
Find great regions to ride, links to useful cycling maps and itineraries with certified bicycle friendly accommodations, restaurants, cafes, wineries, bike shops, tours and rental locations enroute. Download their annual Cycling In Ontario Guide.
If you google "cycling club near me", you'll get a long list of road cycling clubs and mountain biking clubs to choose from.
To make it easy for you, Ontario By Bike provides a comprehensive list of Ontario cycling clubs, organized by region. Find a club near you:
Join an Ontario Cycle Club 
Connect with other cycling enthusiasts. Join a club to get the most out of your cycling passion.